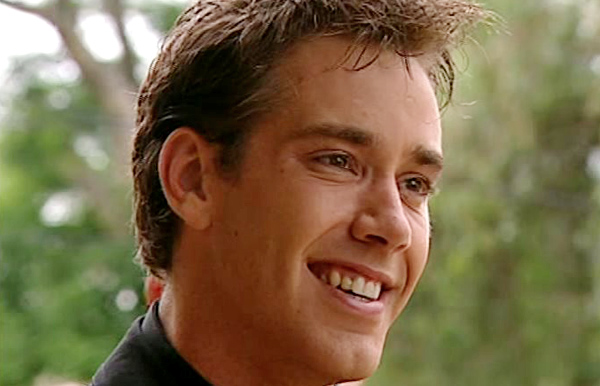 Kieran Fletcher (2000)
Spencer McLaren
Episodes: 2828–2854
Marital Status: Sally Fletcher (2000, engaged)
Occupation: Doctor
---
When Sally returned from a round the world trip, she astonished everyone by bringing with her a fiancè, Kieran. They had coincidentally booked into the same hotel in Ireland, where, since the pair had the same surname, the staff had mistaken them for a married couple and given them one room. This had resulted in a whirlwind romance and they planned to get married quickly in Summer Bay, with Kieran making plans to be a local GP.
With the caravan park up for sale, Kieran, aware how much it meant to Sally, made plans to buy it. He approached Joel Nash about arranging a viewing, upsetting Gypsy, who was still struggling to come to terms with her parents' split and the fact it meant selling their home. Kieran quickly smoothed things over with her but also put in an offer a lot lower than the asking price and tried to pressure Alf into accepting it.
Kieran began taking more and more of an interest in Gypsy, flirting with her and eventually making his interest plain—he wanted her to have an affair with him. Colleen saw him touching her arm but assumed Gypsy, who had no interest in getting involved with Kieran, was the one at fault. Kieran's two-faced behaviour began to unravel when Alf and Joel sold the caravan park to the Sutherland family, who were willing to pay full price, and Joel began to notice Gypsy was stressed. Kieran warned her no-one would believe her because of her reputation before telling Joel she needed professional help.
After walking in on Gypsy talking to Sally, Kieran cornered and threatened her, while still insisting that she wanted him, which was witnessed by Hayley. Kieran seemed dismissive of small town life, upset at having their wedding reception in the surf club. He welcomed his friend Luke Harvey to town to be his best man and kept his distance as Sally was reunited with her family and old friends.
Kieran and Sally's wedding began, with them saying their own vows, but when Kieran started pledging to be faithful, Gypsy stood up and announced what he had been doing. Kieran initially tried to dismiss it but Hayley revealed she'd seen him holding Gypsy and her trying to pull away, with Colleen also relating what she'd seen. Sally ran out of the church and Alf stopped Kieran following her. Kieran went down the beach with Luke, saying he was a fool to think he'd be happy in a small town like Summer Bay, although Luke was unimpressed that Kieran's idea of settling down involved being married with a mistress. Sally's foster brothers, Frank and Steven, found them on the beach, and Steven challenged Kieran to a fight. Kieran happily agreed, only to find out too late that Steven was a karate black belt.