Neighbours Spoilers – Aaron, David and recast Nicolette return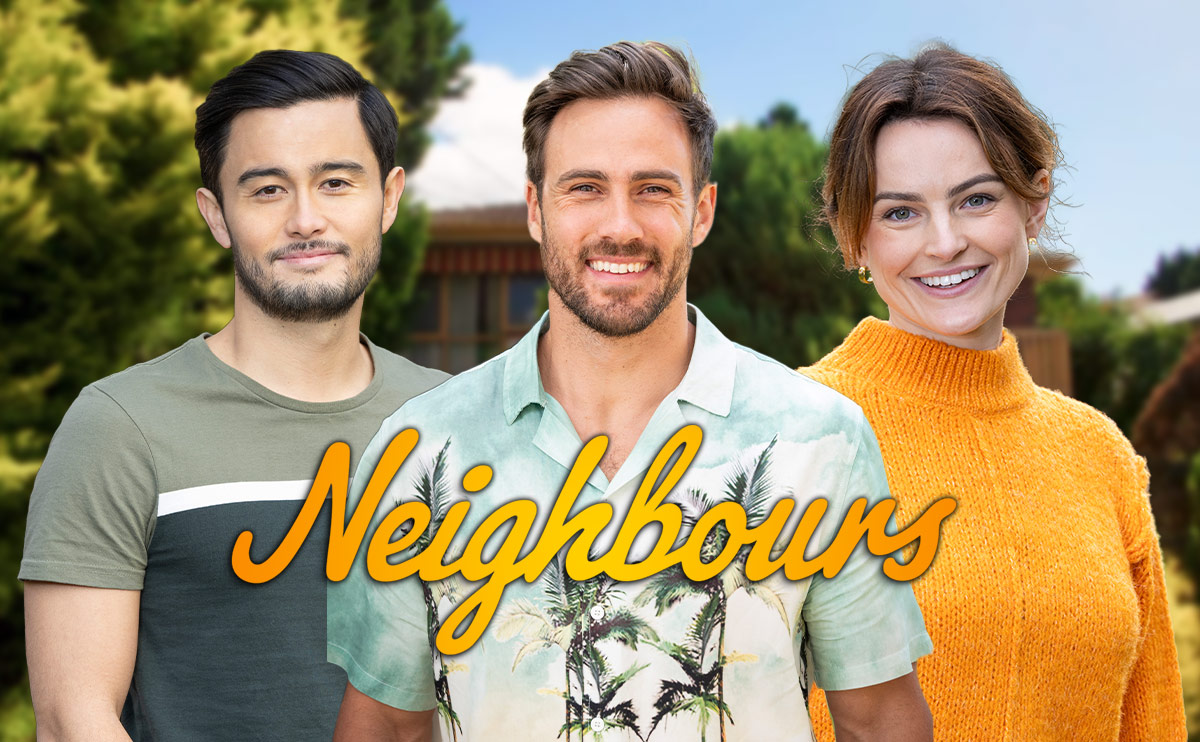 Neighbours has confirmed the return of Nicolette Stone, Aaron Brennan and David Tanaka, as part of its 'Tell-All: Flashback Week'.
That's right, what every Neighbours spoiler fanatic has known for months has finally been confirmed – the co-parenting trio of Nicolette, Aaron (Matt Wilson) and David (Takaya Honda) are heading back to Ramsay Street.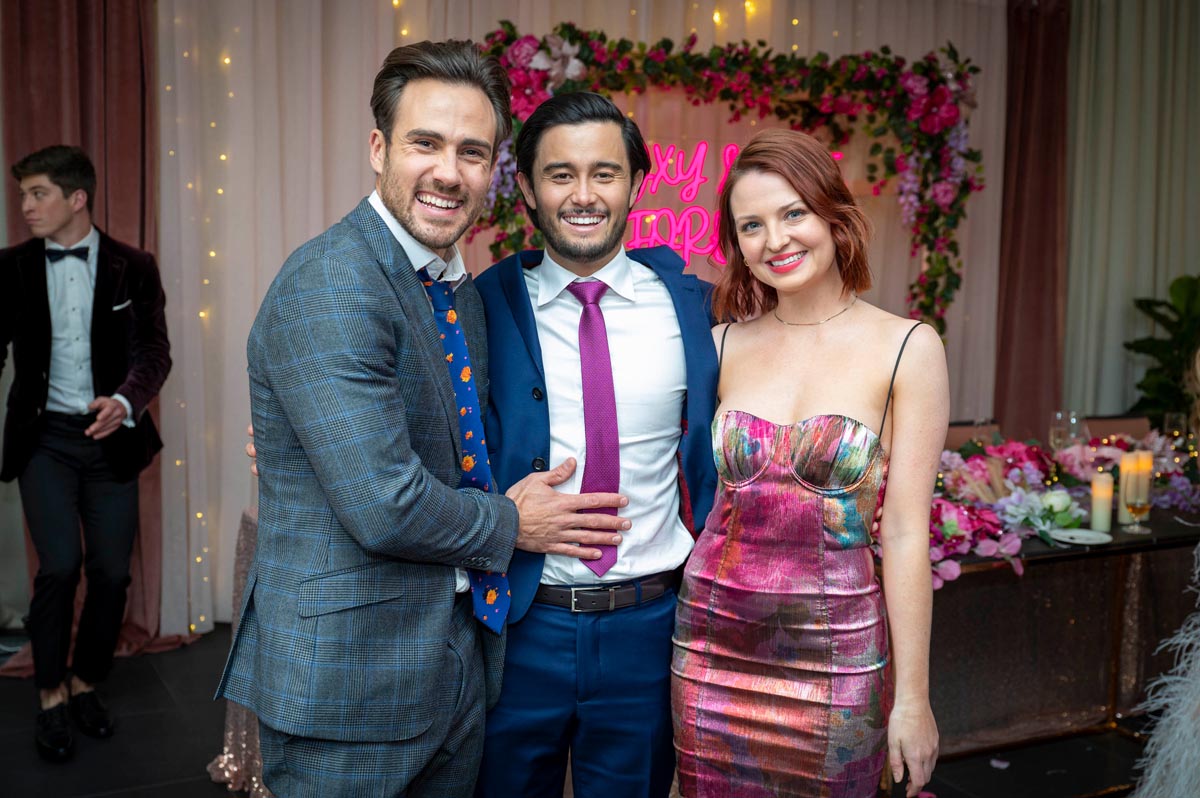 As soon as Neighbours' return was announced in late 2022, rumours began flying about which characters would be returning and which wouldn't.
Charlotte Chimes was reported to have stated in an Instagram Live broadcast that while her character, Nicolette Stone, would be returning, she herself wouldn't, with the character instead being recast.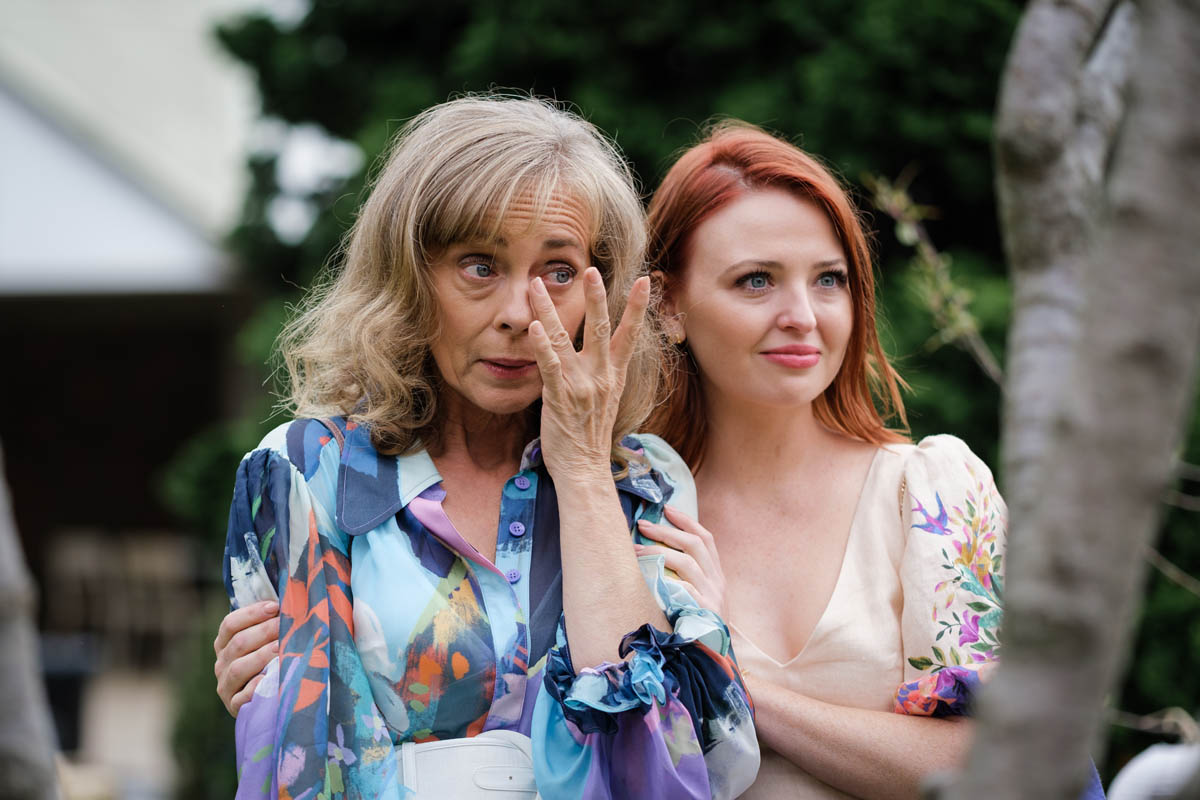 Nothing was reported after that point, and when Neighbours gradually revealed which characters would be returning, there was no sign of David, Aaron or Nicolette.
However, when the show finally returned in September 2023, a segment on 10 News First, broadcast from Nunawading Studios, briefly showed Matt Wilson on the set of The Waterhole, filming what appeared to be a wake. The clip was removed from the show's social media channels shortly after, but it was too late – fans were quick to re-share the clip and Aaron's return to Erinsborough was all but confirmed.
The first hint of David's return came last week, in the form of the short synopses which the publicity team release for upcoming episodes. In the episode airing on Thursday 23rd November, the week after Flashback Week, the synopsis tells us that "David finds himself between a rock and a hard place."
While Thursday 23rd is the first mention of David, we can confirm that he, Aaron and Nicolette all return to Erinsborough during Flashback Week, appearing in both present-day Erinsborough and the flashback scenes, which take place in the aftermath of Toadie (Ryan Moloney) and Melanie's (Lucinda Cowden) wedding, and around the time of Paul (Stefan Dennis) and Terese's (Rebekah Elmaloglou) vow renewal.
Nicolette's recast has also been confirmed, with Hannah Monson taking over from Charlotte Chimes.
New look Nicolette made her first very brief appearance in last Thursday's episode, in a shot of Jane's family photographs on a bookcase at No. 24.
Flashback Week will finally explain the events that saw Toadie and Melanie's marriage dissolve, and will delve into exactly why Paul left Terese at the alter on the day of their vow renewal.
While Paul always explained that he simply wasn't cut out for marriage, and that he left Terese to protect her, he's never divulged exactly what made him come to this conclusion, especially after putting in the effort to win Terese back.
Just before the show's return, Stefan Dennis teased that "all will be revealed" with "an awful lot of unwinding".
"It looks like Paul was being his usual bastard self, and actually, he did it out of love for Terese, he did it to protect her, not to do the opposite," Stefan explained. "The story will unfold."
For those who need a quick refresh, here's what the co-parenting trio had been up to in the lead up to the show's final ep of 2022.
When Nicolette first arrived on the scene in 2020, she was quickly thrust into the orbit of David and Aaron, who had decided to look into becoming parents. After a drunken night with a turkey baster, the trio learnt that Nicolette was pregnant.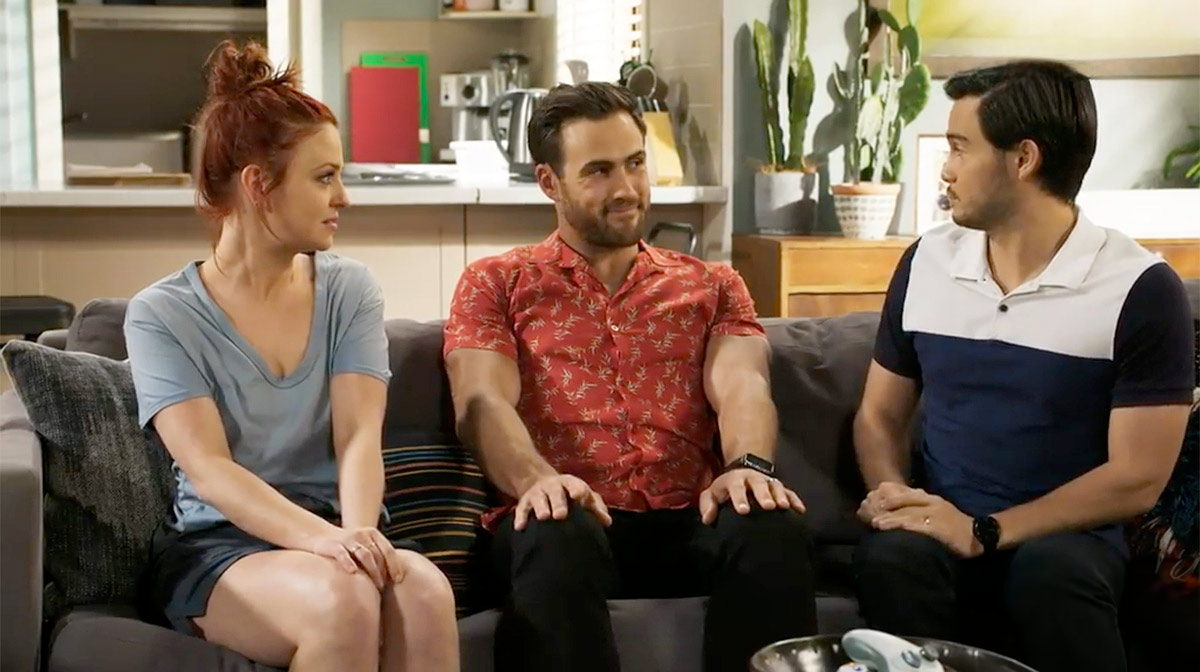 Although things ticked along nicely for the most part, ructions formed when Nicolette came to believe that Aaron's sister Chloe (April Rose Pengilly) – to whom she had recently proposed – had cheated on her with David's brother Leo (Tim Kano) and she fled Erinsborough.
Seeing how distraught David and Aaron were, Paul (Stefan Dennis) went to find Nicolette and purchased back the baby she'd given birth to… only it turned out the purchased baby was actually Abigail, the daughter of Britney Barnes (Montana Cox) and Leo.
Following her return to Erinsborough, David and Aaron failed to trust Nicolette, but after several months, the trio once again were united as the tight-knit bond we'd all come to know and love.
While Nicolette was entertaining a dalliance with Paul's niece Kiri (Gemma Bird Matheson), David found himself caught up in Freya's (Phoebe Roberts) drama. He failed to help her abusive ex Gareth from dying (Jack Pearson), which landed him in prison.
As the series drew to a close, David was released from prison, allowing him and Aaron to make the decision to move to New York with Nicolette, to join the rest of David's siblings.
However at the last minute, the plans were thwarted when they chose to stay in Erinsborough. With two years having passed, and no sign of them (until now!), it remains to be seen just what caused them to leave No. 32.
Now, all of that will be explained!
Flashback Week begins Monday 13th November.
New episodes of Neighbours air Monday–Thursday on Network 10 and 10 Peach in Australia, and on Amazon Freevee in the UK.
---
Monday 6th November (Episode 29 / 8932)
Orders from home force Reece to question everything. An anxious wait brings two families to breaking point as history threatens to be rewritten.
Tuesday 7th November (Episode 30 / 8933)
Tensions are brought to a head as a startling revelation is made. Paul's desperation for answers reaches a new low. Holly ramps up her efforts to land on a certain someone's radar.
Wednesday 8th November (Episode 31 / 3934)
Paul smells triumph as Reece and Byron inch closer to answers. Relationships are in crisis after a shocking discovery. Nell makes a dangerous choice.
Thursday 9th November (Episode 32 / 8935)
Reece's search narrows. Toadie's world is thrown upside down. A familiar face returns with the promise of shocking revelations.
Monday 13th November (Episode 33 / 8936)
The residents of Ramsay Street are challenged when long-held secrets come to the surface.
Tuesday 14th November (Episode 34 / 8937)
The revelations continue when an unassuming resident of Ramsay Street steps forward to confess their part in the troubling secrets of the past.
Wednesday 15th November (Episode 35 / 8938)
As the web of secrets continues to unravel, surprising new players enter the fold.
Thursday 16th November (Episode 36 / 8939)
The past catches up to the future as tensions and secrets come to a head.
Monday 20th November (Episode 37 / 8940)
The residents of Erinsborough navigate their new reality.
Jane's attention turns to an issue very close to home.
Reece makes a devastating discovery.
Tuesday 21st November (Episode 38 / 8941)
Desperate for justice, the residents of the Sharehouse lead a manhunt.
Nell battles with complex emotions.
Toadie fights to keep his family together.
Wednesday 23rd November (Episode 39 / 8942)
Reece makes a surprising discovery.
Toadie grapples with his feelings.
High tensions cause sparks to fly.
Thursday 24th November (Episode 49 / 8943)
Reece is faced with a heartbreaking decision.
Mackenzie makes a difficult sacrifice for her friends.
David finds himself between a rock and a hard place.
Spoilers in your inbox every weekend!