Emmerdale – Who did Mackenzie save in horror car crash?
Yesterday's Emmerdale finished on a literal cliffhanger, with Mackenzie having to choose between saving Charity or Chloe after an accident. Who did he save?
The love triangle between Mackenzie (Lawrence Boyd), Charity (Emma Atkins) and Chloe (Jessie Elland) looks to have reached a dramatic end this evening, following a horror car crash which saw the trio on a literal cliffhanger.
It's been 5 months since Charity and Mack split, shortly after their wedding, after she discovered that he was the father of Chloe's baby Reuben. Mack and Chloe have been making a go of things since then, and have now become engaged, but love-rat Mack gave in to temptation and slept with Charity only a few weeks ago.
After Charity warned Mack that he should tell Chloe about their tryst, knowing that things would never work with a secret constantly festering under the surface, Mack defied her advice and has instead proposed that he and Chloe move up to Scotland, running away from the problem entirely.
However, as Mack and Charity discussed their dalliance outside the Woolpack toilets, little did they realise that Chloe was behind the door and had heard every word.
A chat with Tracy about how she coped with Nate cheating in the past initially put Chloe's mind at ease, believing that she would in time be able to forgive Mack.
But as Mack and Chloe prepared to take a short break to Scotland in advance of the move, Mack and Charity finally decided to put the past to rest.
As Charity promised Mack she'd never say anything to Chloe, Chloe was again there to witness it from afar. Approaching as Mack embraced Charity and planted a final kiss on her head, Chloe asked the pair what was going on.
As we returned to the scene in tonight's episode, Mack and Charity explained that they were ensuring there were no hard feelings between them. Chloe put on a brave face as Charity wished them safe travels, and thanked her for being a good friend, but we could see that Chloe had turned a corner and was seething at the encounter. She wanted revenge.
Offering to drive on the trip up north, we saw Chloe's inner thoughts in stylised shots, as she revealed her plan to dump Mack in the middle of nowhere before driving off.
"You, me and the open road… I'm really looking forward to it," Chloe assured Mack with a wry smile.
As the pair made their way down the country roads, Chloe kept up the bravado as Mack talked of his relief about getting away from the village for a while. When he told her that he loved her, Chloe replied that she loved him too, as inner turmoil raged away.
"You don't even know what love is… and after today, you're never going to see me, or your son, again" we heard her thinking.
The situation took a surprising twist when the pair then ended up coming across Charity on the side of the road, who had run out of petrol!
With Charity now as a passenger in the back seat, the atmosphere slowly became very tense. Chloe watched Charity and Mack squirm as she spoke about the good and bad memories of the village.
"Matt Hilton [director of the episodes] went for a real stylised way of showing it to the audience," Emma Atkins explained to EverySoap and other press at a screening of the episodes last week. "With them having no idea, it's more exciting for the audience. The fact that Charity and Mack are unaware that Chloe's now heard about that notorious evening that they slept together, the jeopardy is even more intense."
Both Mack and Charity were soon smelling a rat when Chloe deliberately missed the turn to Hotten, claiming there were roadworks down that way, and Chloe upped her game by talking about how she and Mack were much better suited than they ever were.
"Oh, here's me going on about how brilliant we are, and you're just completely by yourself," Chloe told Charity after Mack told her not to rub it in. "Don't worry though, I'm sure you'll find someone, eventually."
At this point Charity decided she'd had enough of the passive aggressive mindgames and asked to be let out of the car. Then, as an argument ensued between the three, a van came out of nowhere and smashed into the side of the car.
Leaving the road, the car was launched though a stone wall and barrel rolled over a field, coming to rest at the edge of a cliff.
Mack was the first to come to, and spotting his phone lying nearby, he left the car to call the emergency services. It was only when the car suddenly shifted and began to lean over the precipice that Mack realised the dangerous situation they were in.
As Mack desperately held onto the car to stabilise it, Charity came to and realised her leg was trapped. As she attempted to free it, the car shifted, which brought a panicked Chloe round.
Attempting to calm a panicked Chloe, Mack asked him to trust her, as he explained the only way out was for them both to move towards him slowly.
"Mackenzie," Chloe said as the car again began to rock. "Promise me, that whatever happens, Reuben knows that I love him."
Asked if Chloe was giving up at this point, figuring that Mack would choose to save Charity if it came down to it, Jessie Elland told us that she didn't think that was the case,
"I don't think it's giving up, and I don't think she has any perception of him having to save anyone," she explained. "That moment when they're both trying to climb out, I think it's that severity of the situation and knowing that it could plummet with all three of them at risk."
"I think [revenge] is out of her mind at that point, because it is such a high-stakes situation."
"There is a moment, and I don't know if it comes across on screen," Emma adds, "Where they both look at each other and join forces to try and survive. That's a nice moment, as there hasn't often been that between us."
"I don't think Chloe is a malicious person," Jessie continues. "I think she was just really devastated by what she'd found out that she need to have some kind of reaction, and some way to get revenge. I don't think that want for revenge comes from a place of malice, she was just going to leave them in the moors."
As they make a final bid to make it to safety, Chloe looked over at Charity and told her "We've got this." But at that moment, it became clear that the car was about to go over, with Mack not having the strength to stop it.
Mack was faced with an impossible choice as he looked at both Chloe and Charity, arms outreached towards him. He knew he could only save one.
As the car plummeted off the cliff, we saw that Mack had taken the hand of one of the passengers, saving them… but the question remains as to which one! If you've been watching closely, you may be able to tell…
Whilst we cannot reveal the identity of who makes it out alive, producer Laura Shaw has provided a little teaser about what's to come next. "The opening of Wednesday's episode.. and I've worked here 20 years… is probably my favourite opening of an episode I've ever worked on."
"Regardless of who's gone over, the village will naturally be in shock," Emma added. "There'll be a lot of concern, worry and care for those that were involved."
---
Emma also revealed that the stunt was a first for her, in her 23 years of playing Charity.
"It was cool for me personally as it's my first big stunt in the whole time I've been here," she explained. "Everyone's been going 'You're kidding?', but I've missed a lot the stunts for annual leave or whatever. So for me it was a mega block.
"The week where we were out in the quarry filming the big stuff was just like being in a film, I found it epic. I loved every moment and it was such a wonderful team, I felt like we were part of a dream team."
"It was an incredible experience," Lawrence Robb agreed. "It was my first stunt as well I guess. I'd run through a bit of fire a couple of years ago to save a certain serial killer, but other than that it was my first stunt and it was brilliant, everything about it—the team, these two [pointing to Emma and Jessie], it was incredible."
"We had the perfect block," Jessie Elland added. "Perfect team, the weather was really nice when we were filming, it was just really really fun."
---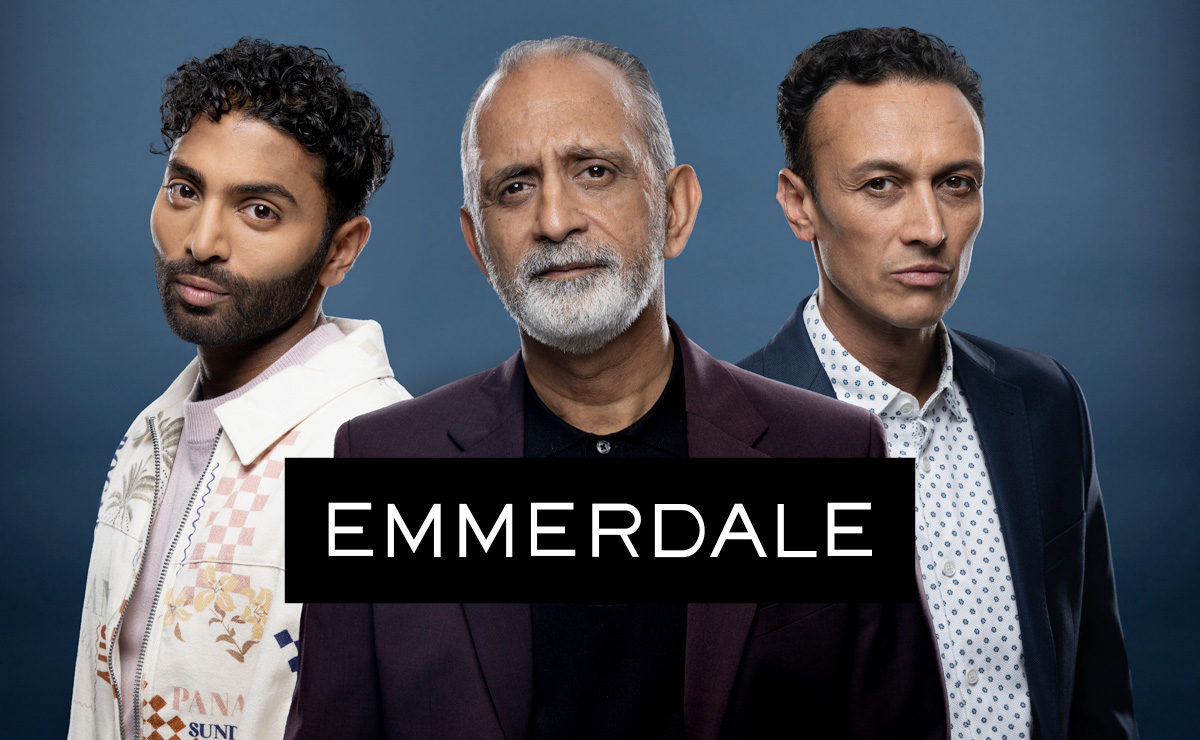 Amongst the fallout of last night's shocking accident, and Lydia's (Karen Blick) devastating reveal to her family, Emmerdale have tonight teased a potentially intriguing plot point with newcomer Amit Sharma (Anil Goutam).
---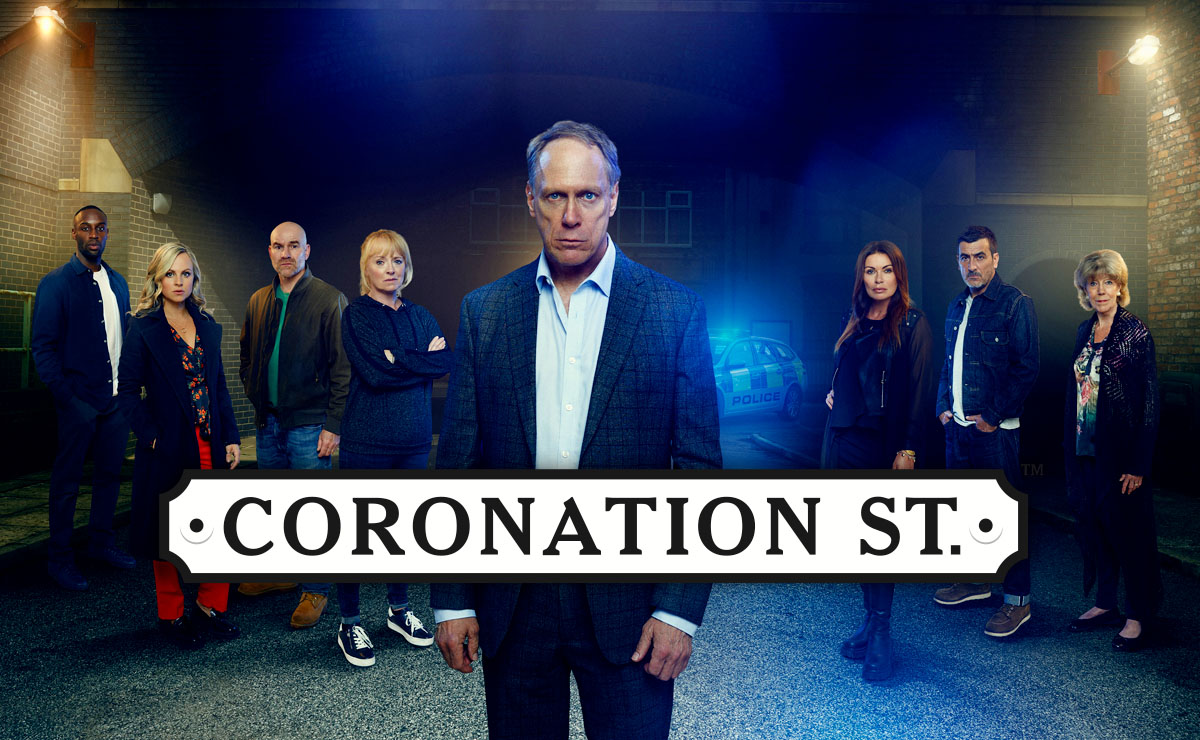 As Coronation Street kicked off Super Soap Week, Stephen looked to add to his body count after he's caught out. Has he really killed Tim Metcalfe?
Spoilers in your inbox every weekend!