Three more weeks of Neighbours Spoilers revealed!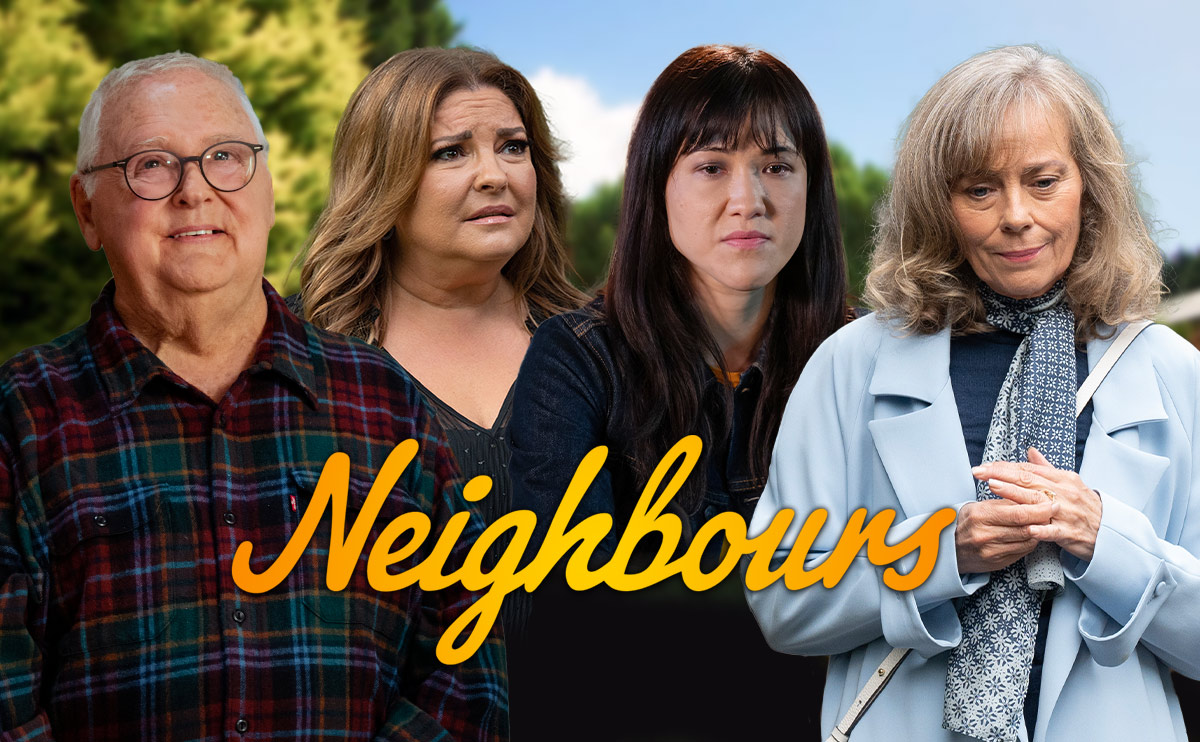 Neighbours has released episode synopses and pictures for the show's fourth, fifth and sixth weeks, giving us a look at what's in store throughout October.
We're just entering our second week of Neighbours: The Next Chapter on Network 10 and Amazon Freevee, but the show has now released spoilers for weeks 4-6, teasing storylines up until the end of October.
It's already been a busy week in Erinsborough. Two years have passed in Ramsay Street, and in that time Toadie (Ryan Moloney) and Melanie (Lucinda Cowden) have split, Paul (Stefan Dennis) jilted Terese (Rebekah Elmaloglou) at their vow renewal, Mackenzie (Georgie Stone) and Sadie (Emerald Chan) have become good friends, and there've been numerous departures and new faces.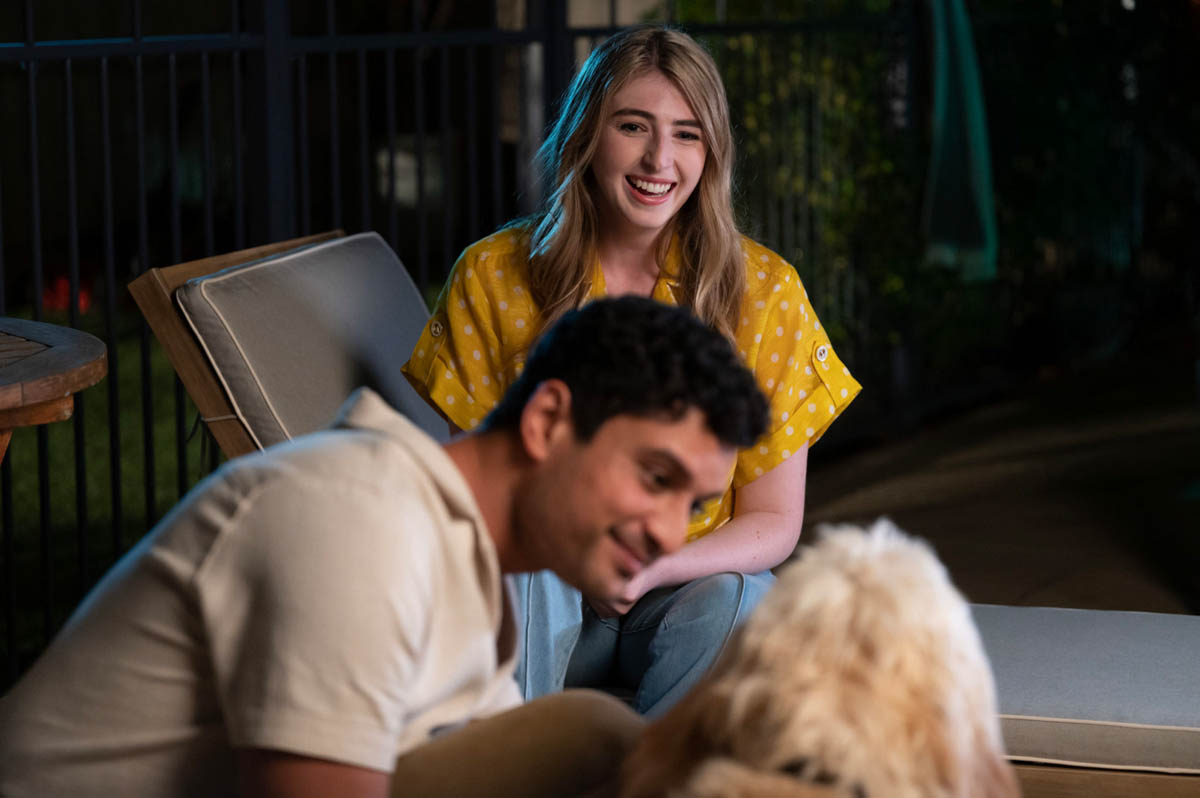 In the first week back, Toadie and Terese married, Susan (Jackie Woodburne) revealed her resentment towards Karl (Alan Fletcher), newcomer Reece (Mischa Barton) was unveiled as an investor in Lassiters, and Mackenzie hinted at feelings towards housemate Haz (Shiv Palekar).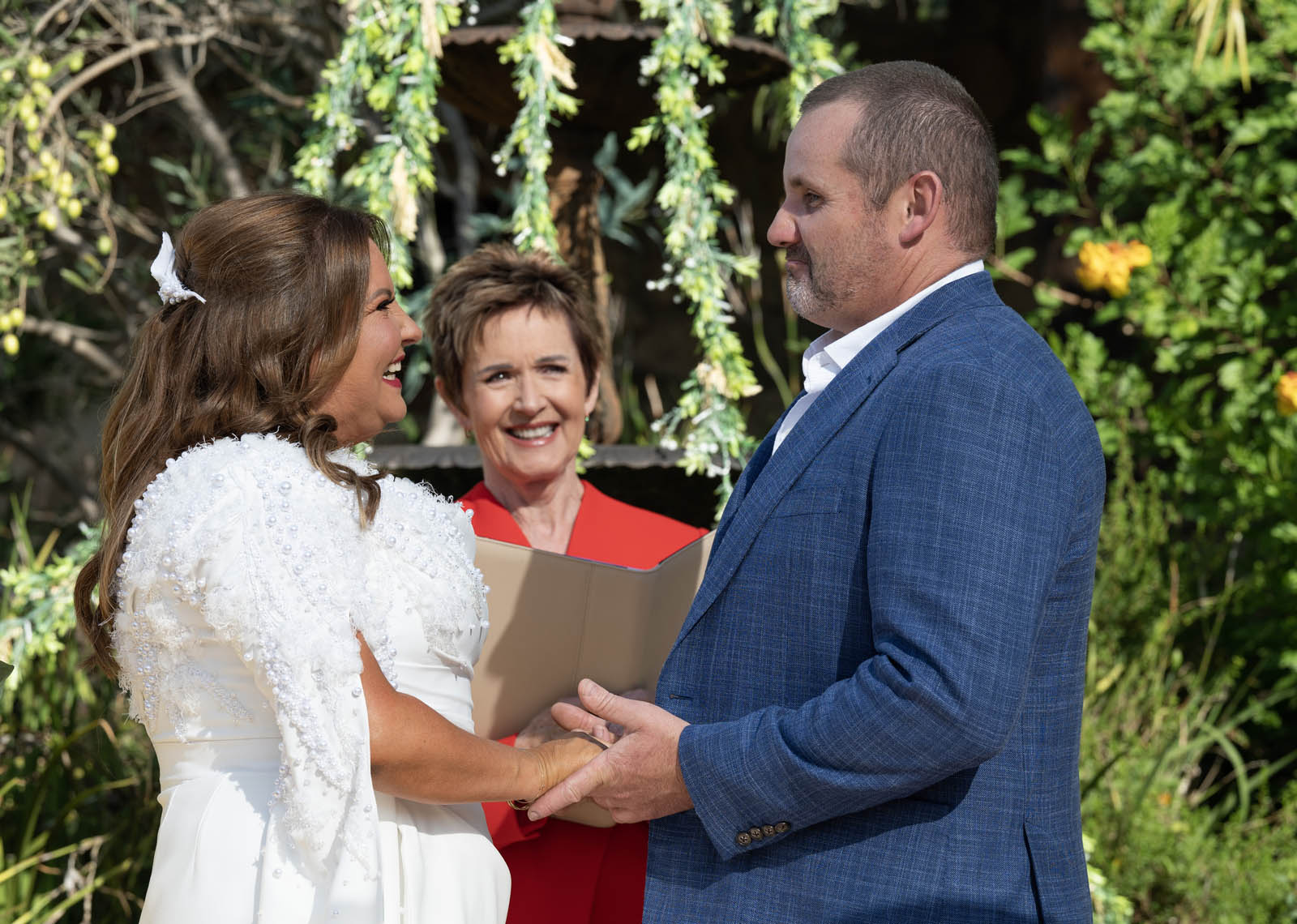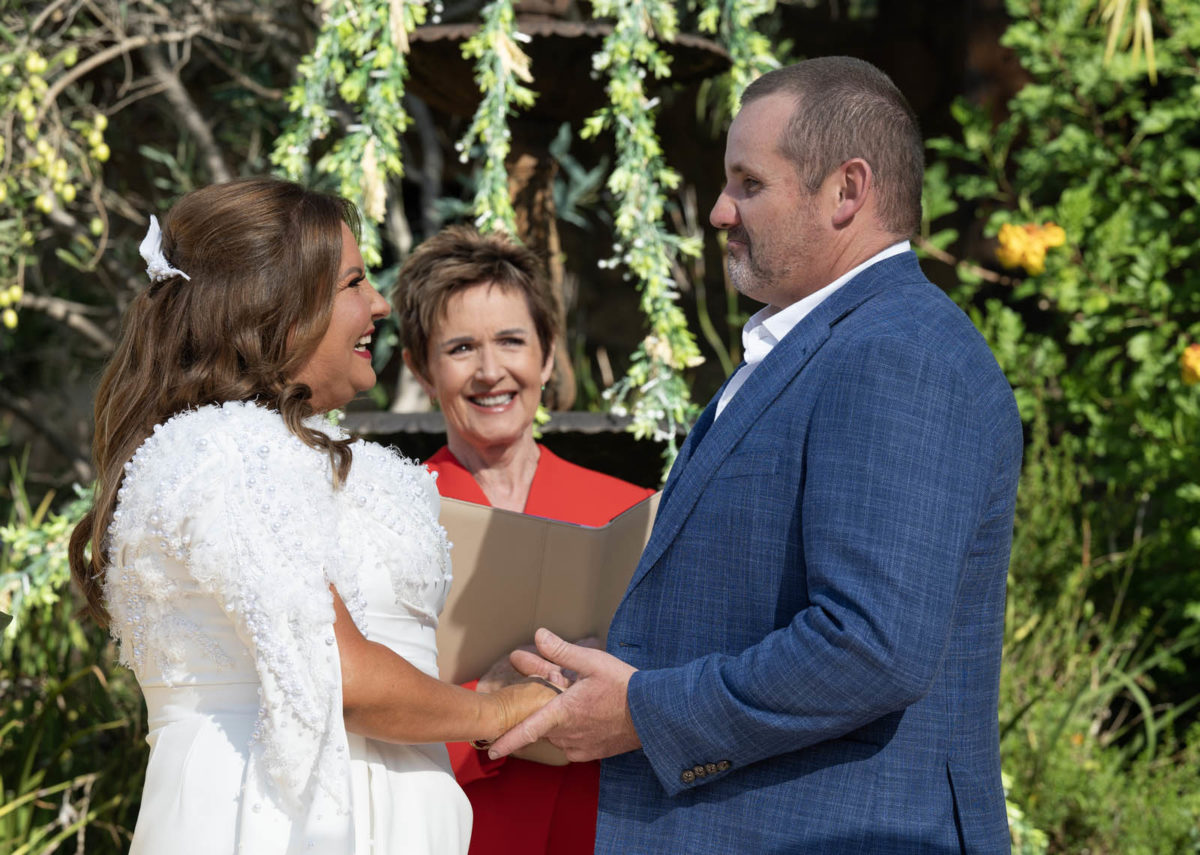 In episodes airing over the next fortnight, JJ's (Riley Bryant) digging takes an unexpected turn, Terese's business venture encounters a roadblock, and Harold makes a devastating admission.
Elsewhere, Terese discovers the truth of secrets that are very close to home, while Mike (Guy Pearce) finds himself the victim of his own impulsiveness. Read the rest of the Weeks 2 and 3 spoilers here.
Now, looking further ahead to Weeks 4 to 6, Jane (Annie Jones) is dealt a devastating blow, with pictures hinting it involves her new job as Principal of Erinsborough High.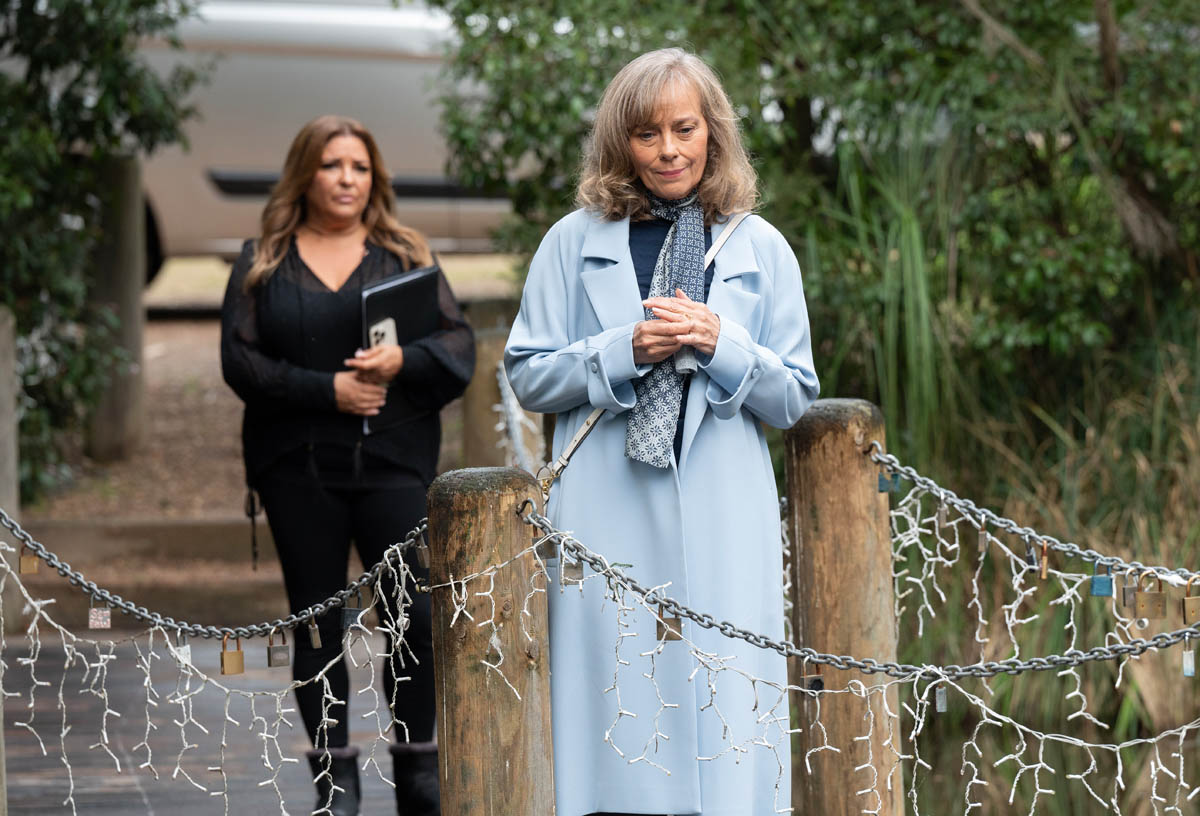 New photos show Jane in the corridor of the school, ripping up architectural plans in front of Terese, while parents including Wendy Rodwell (Candice Leask) watch on in the background. Could the storyline be related to Terese's proposed retirement village?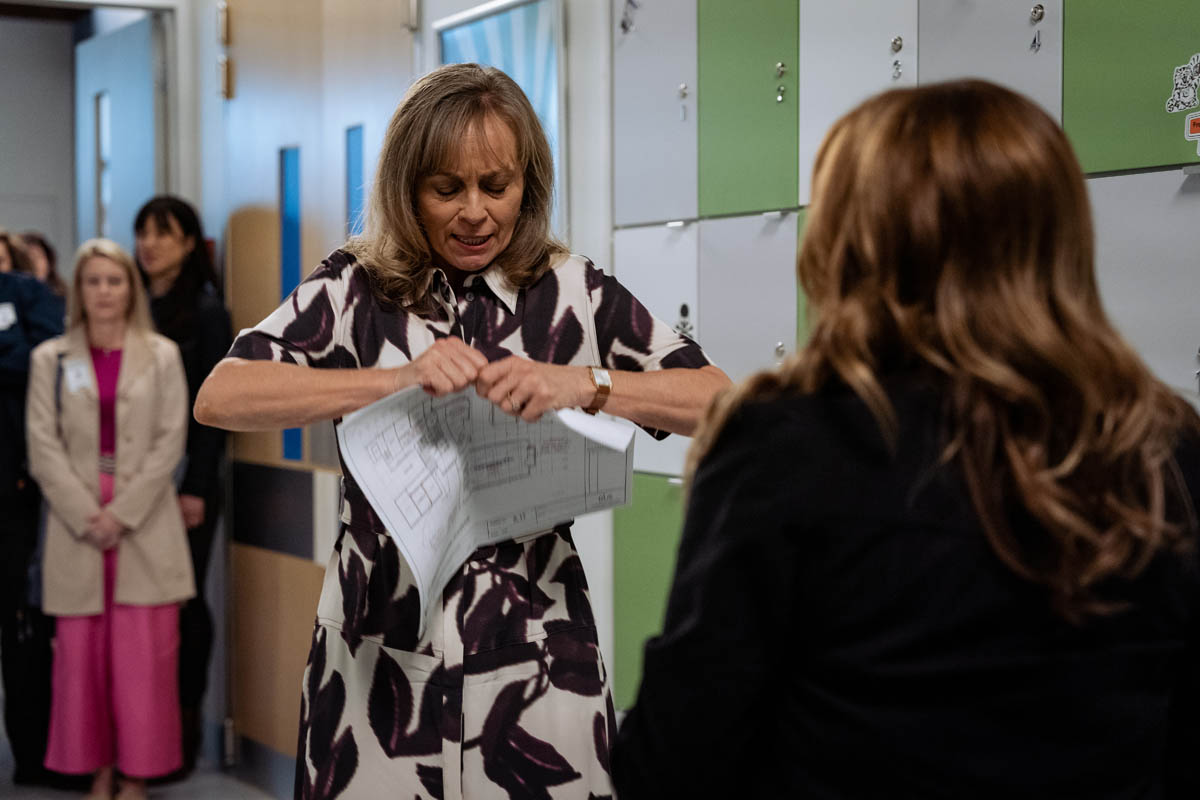 Paul's rivalry with Reece Sinclair continues, as he makes a "calculated move that has explosive consequences at Lassiters," while Reece is troubled by a personal discovery before an unwelcome guest from home pays her a visit.
Could it be her sister, who Mischa Barton recently told Back to the Bay is the real reason for her arrival in Erinsborough?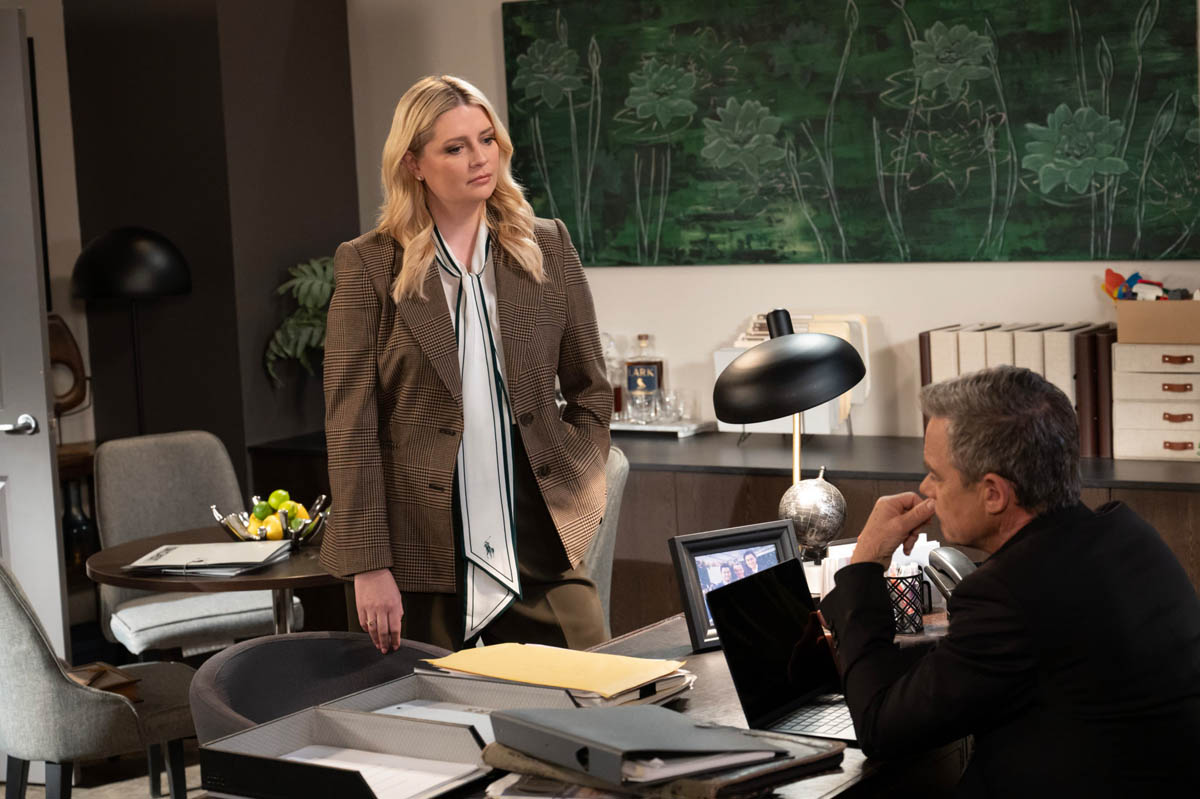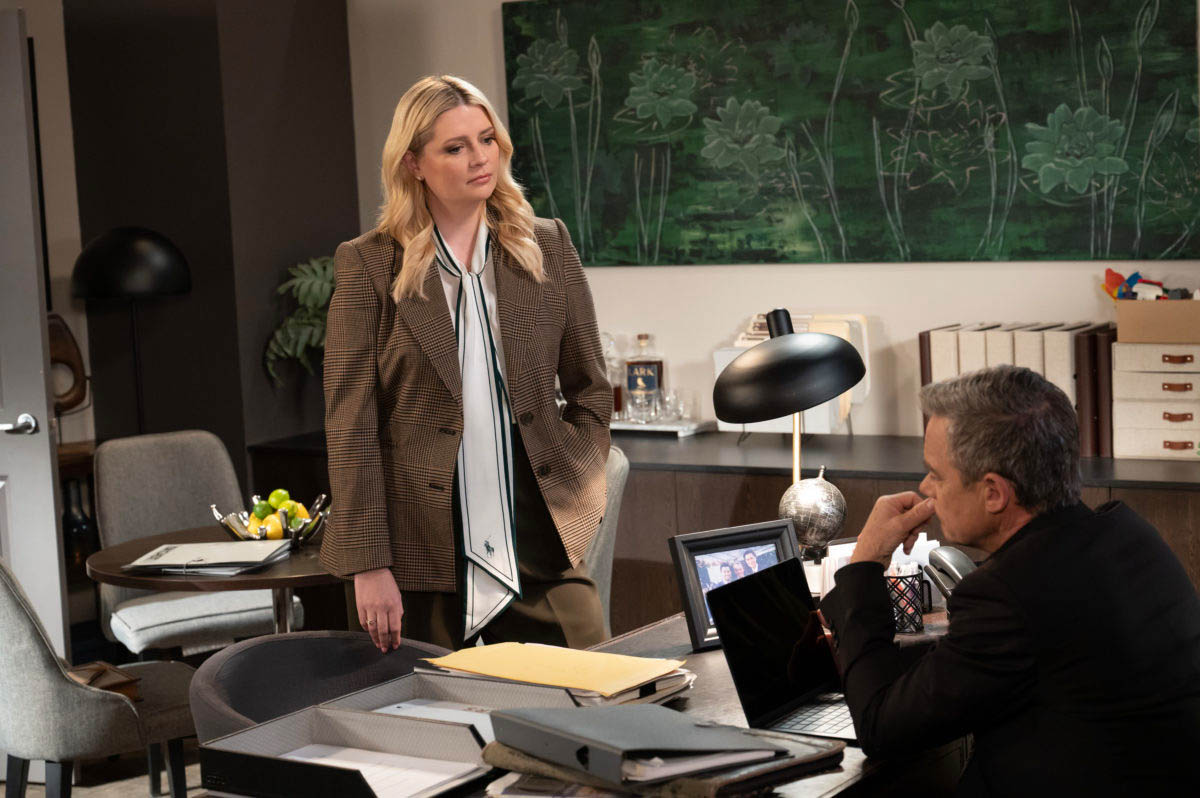 There's also a violent display affecting the Varga-Murphys, as their past comes back to haunt them. The first week's episodes have seen them reveal that they're worried about someone from Cara and Remi's past – could they make an unexpected appearance on Ramsay Street?
The photos also show the Varga-Murphys in the living room of Number 30, which was recently vacated by Toadie. They were only staying in Number 24 temporarily, while Jane and Mike were in England, so could they be about to make their Ramsay Street adventure much more permanent?
Wendy (Candice Leask) is also set to receive a devastating blow, leading her to dangerously take matters into her own hands.
New photos show the Rodwells interacting with JJ Varga-Murphy – will her bad news have something to do with the teen's growing curiosity surrounding the street?
While producers are keeping things under wraps, fans suspect that JJ is trying to track down his biological father, and the new photos suggest that his investigation – if it is related – will have consequences for Wendy, as she's pictured looking upset.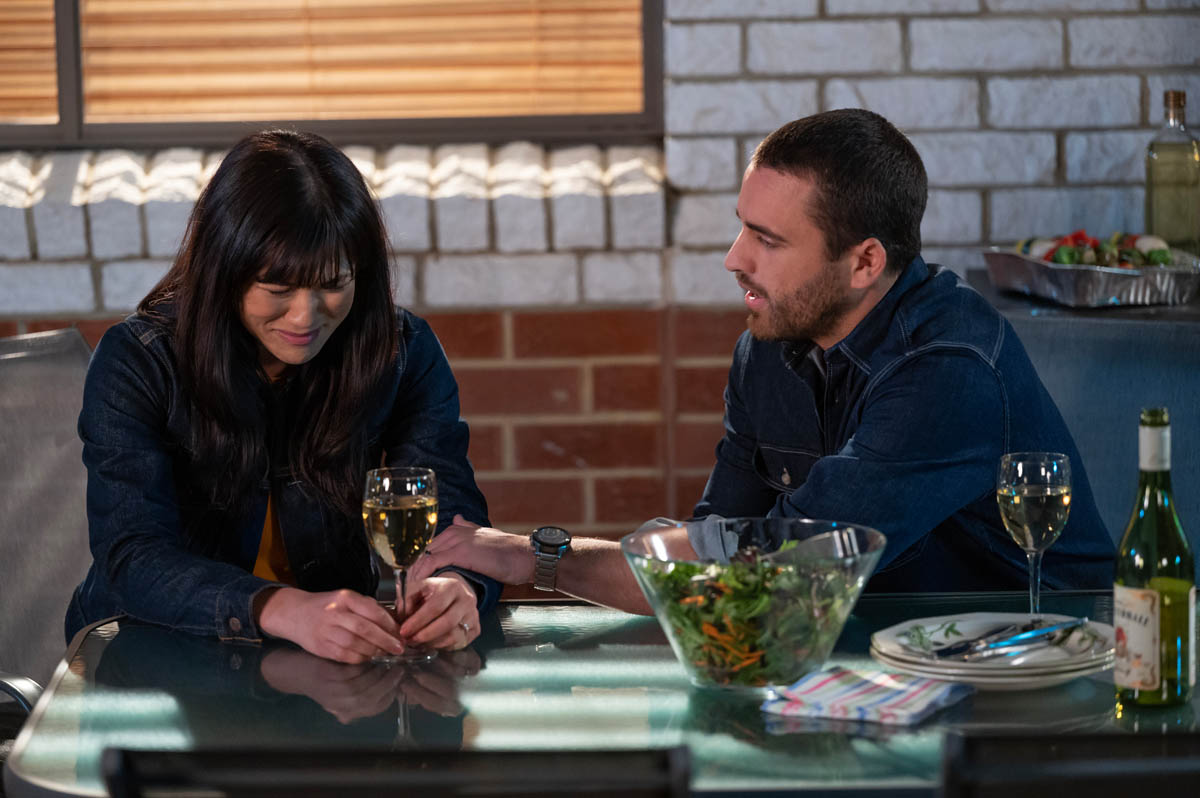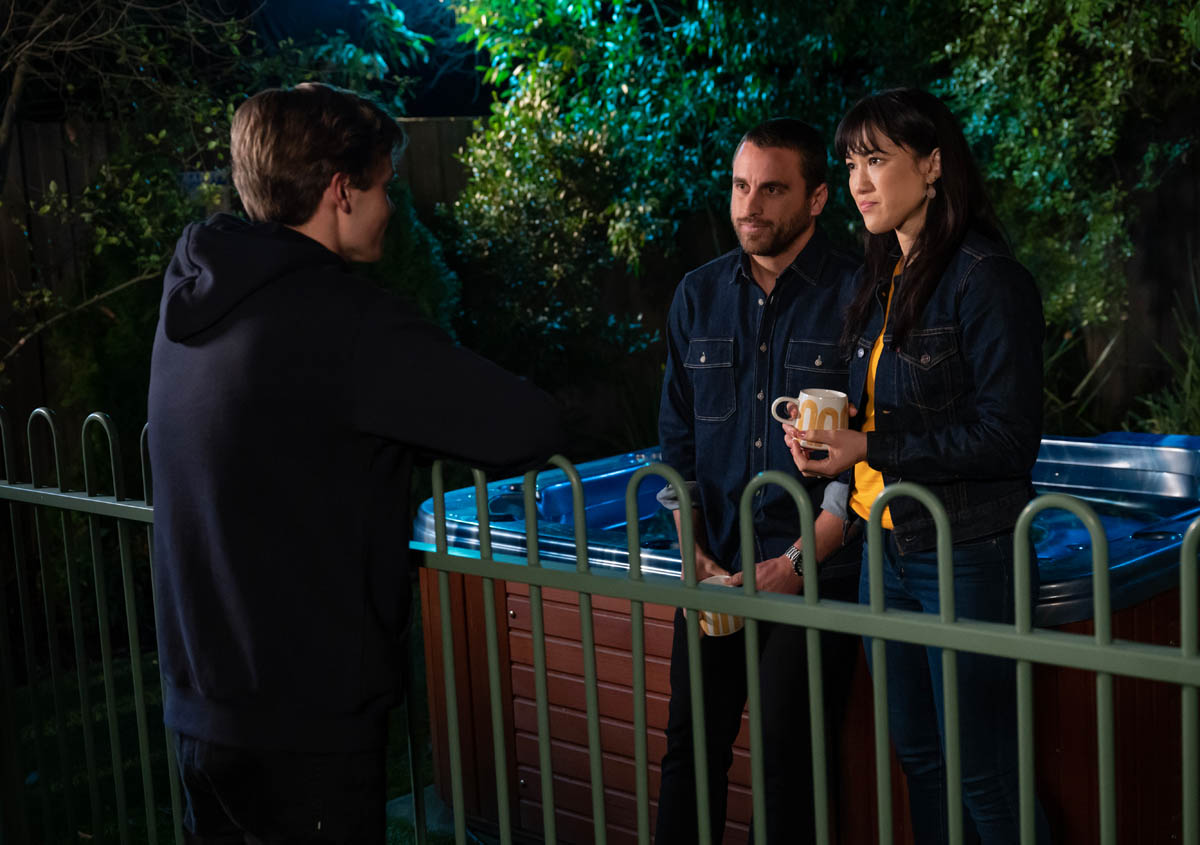 There's drama for Toadie too, as he faces up to the issues threatening the happiness of his family.
Keep reading for all the synopses.
Synopses for the first three weeks of Neighbours episodes, covering up until 5th October, can be found here.
---
Week 4 (9th to 12th October)
Monday 9th October (Episode 13 / 8916)
Paul digs up startling new information in his quest for dirt on his rival.
Jane spirals as she deals with a devastating blow and the potential fallout of a close friendship.
Haz finds out the hard way that he may have bitten off more than he could chew, when he decided to become a pet owner.
Tuesday 10th October (Episode 14 / 8917)
Paul makes a calculated move that has explosive consequences at Lassiters.
Mackenzie takes a leap of faith, placing her well and truly outside of her comfort zone.
Harold has an extravagant plan.
Wednesday 11th October (Episode 15 / 8918)
After being dealt a devastating blow, Wendy dangerously takes matters into her own hands.
Byron faces up to some hard truths.
Toadie makes a shocking realization.
Thursday 12th October (Episode 16 / 8919)
Toadie is shocked upon the discovery of a deceit.
Byron plans the perfect, all-Australian date.
The Varga-Murphys face a rocky start as they further ingrain themselves in the community.
Week 5 (16th to 19th October)
Monday 16th October (Episode 17 / 8920)
The Kennedys find themselves questioning their allegiances.
Mackenzie finds herself at the centre of a dangerous ticking timebomb.
With her guilt piqued, Wendy is forced into an uncomfortable situation.
Tuesday 17th October (Episode 18 / 8921)
Byron steps outside of his comfort zone as two worlds collide.
Mackenzie's faith is restored, but not everyone shares her confidence.
Toadie raises concerns that could threaten his marriage.
Wednesday 18th October (Episode 19 / 8922)
Paul comes up against a hard line of questioning.
Byron makes a shock admission that threatens his relationship.
Mackenzie's besties are determined to find out more about the new spark in her life.
Thursday 19th October (Episode 20 / 8923)
The Varga-Murphy's past comes back to haunt them in a violent display.
Reece is troubled by a personal discovery.
Terese is pushed well and truly outside of her comfort zone when she receives a surprise gift.
Week 6 (23rd to 26th October)
Monday 23rd October (Episode 21 / 8924)
JJ's erratic behaviour becomes increasingly troubling.
Jane's new plan hits shaky ground.
Reece is paid a visit by an unwelcome guest from home.
Tuesday 24th October (Episode 22 / 8925)
Mackenzie is forced to confront a horrifying truth.
Toadie faces up to the issues threatening the happiness of his family.
Jane makes poor decisions after facing yet another blow.
Reece's time in Erinsborough is at risk due to the meddling of an outsider.
Wednesday 25th October (Episode 23 / 8926)
Byron is forced to question his relationship when he discovers that things are not as they seem.
Mackenzie grapples with a devastating loss.
A contentious offer leaves Jane reeling.
Thursday 26th October (Episode 24 / 8927)
Reece struggles under the weight of her lies.
A huge decision is made on the future of Erinsborough.
In an attempt at peace, Cara addresses her issues head-on.
---
For all of our Neighbours content, head to our dedicated Neighbours Spoilers page.
---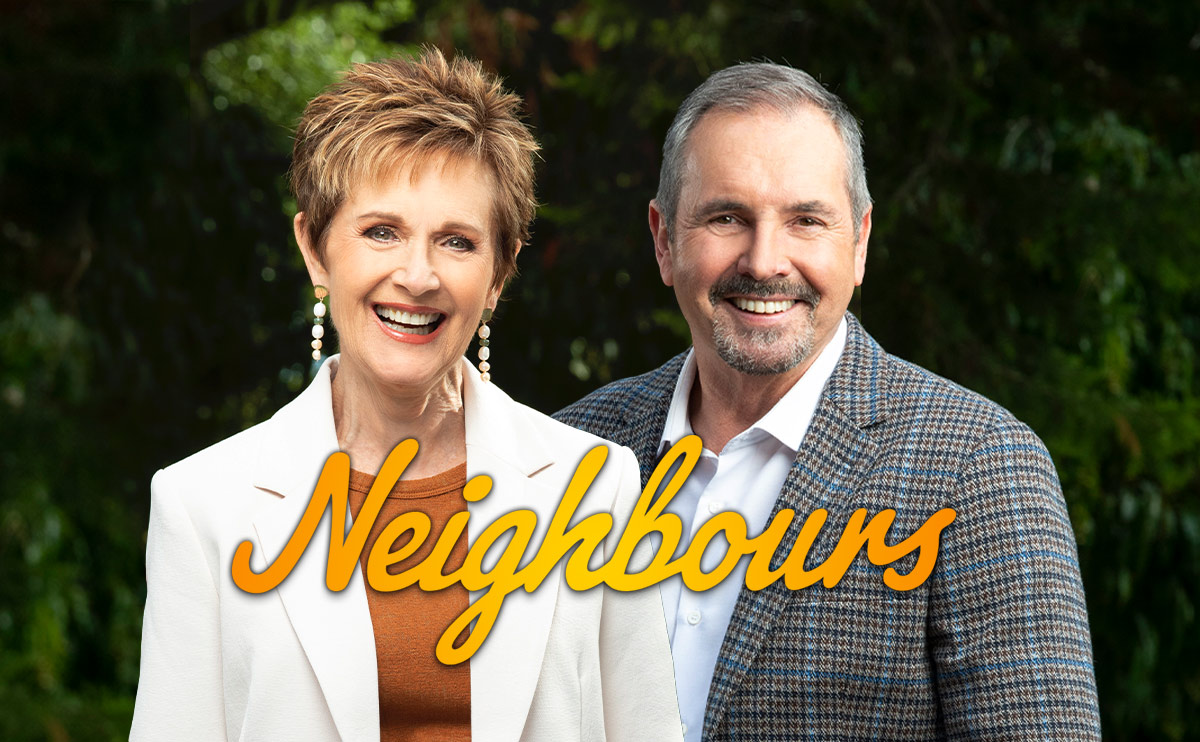 As Neighbours reveals a rift between Karl and Susan, Alan Fletcher tells Back to the Bay what's in store for the Kennedys.
---
View the gallery of one of the biggest surprises in Neighbours' 38-year history – the wedding of Terese Willis and Toadie Rebecchi!
Spoilers in your inbox every weekend!