Home and Away Spoilers – Marilyn and Irene battle over beauty products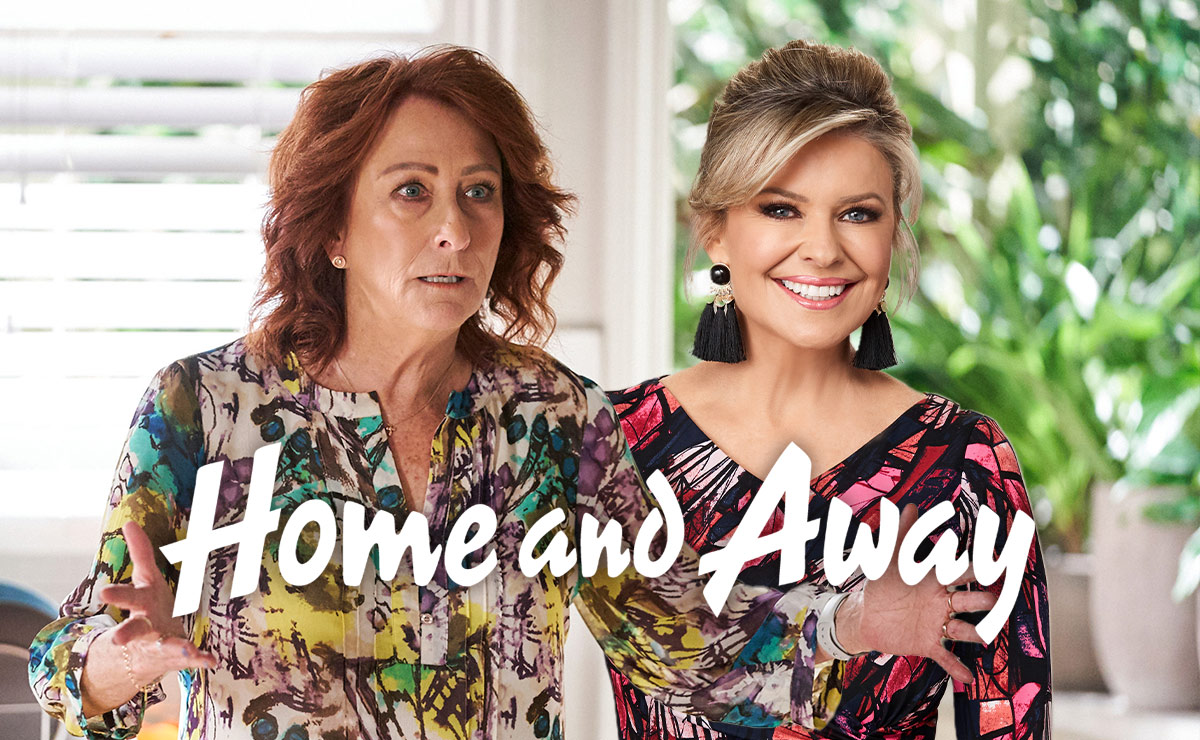 This week on Home and Away in Australia, Irene returns to discover Maz has transformed the Diner into a beauty store, but the worst is yet to come…
Marilyn (Emily Symons) faces another hurdle in her plan to make some quick cash this week, when she gets on the wrong side of Irene (Lynne McGranger).
After hearing from ex-husband John (Shane Withington) that their son Jett (Will McDonald) is getting married, and that John was offering to pay for it, Marilyn has been determined to raise some cash so that she can also contribute.
Falling back on her experience as a beautician, Marilyn was quick to find an organic skincare company online, Stunning Organics, who were looking for 'brand ambassadors'. Friend Roo (Georgie Parker) was a little dubious, but Marilyn assured her that she'd done her research and the company was legit.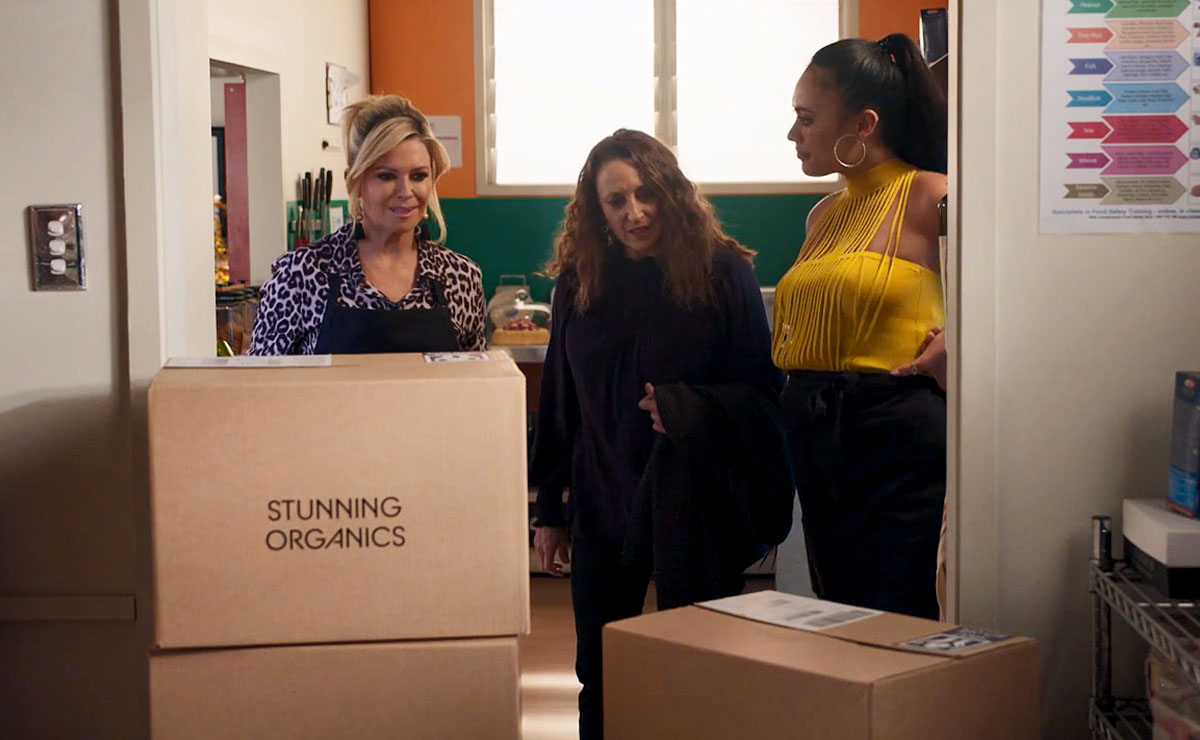 After enlisting Kirby (Angelina Thomson) to help her gain some traction on social media in advance of the products arriving, Marilyn was taken aback when nine boxes of products were delivered—she was only expecting three!
With the company claiming that it was exactly what Marilyn had ordered, and apparently not willing to take any returns, Marilyn came to the conclusion that it was her own mistake and she'd clearly clicked on the wrong deal.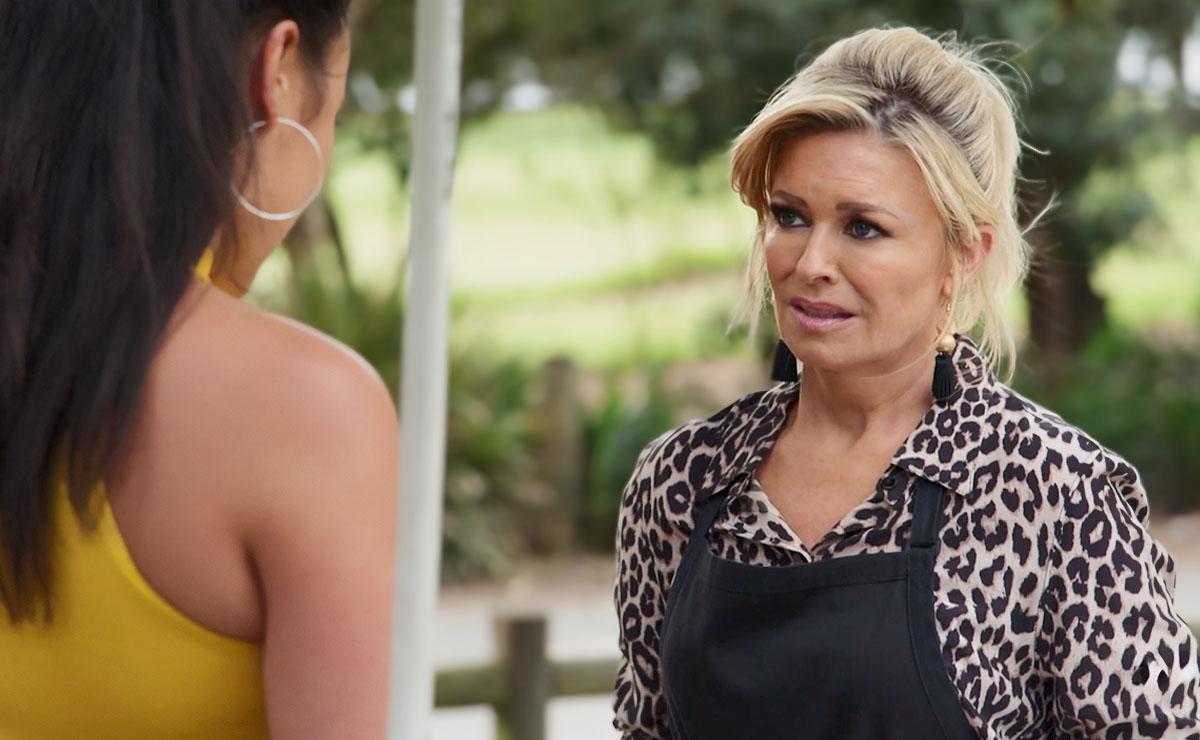 But now Marilyn has been left with triple the amount of products that she had prepared for, with further three boxes to arrive every week. If she doesn't manage to sell them all, she's going to lose a huge amount of cash, which will only snowball into bigger debt every week.
Building on Kirby's idea to have demonstrations of the moisturiser and toner on offer, Marilyn decided to set up stall in the diner, so they can work on shifting some of the stock whilst on shift.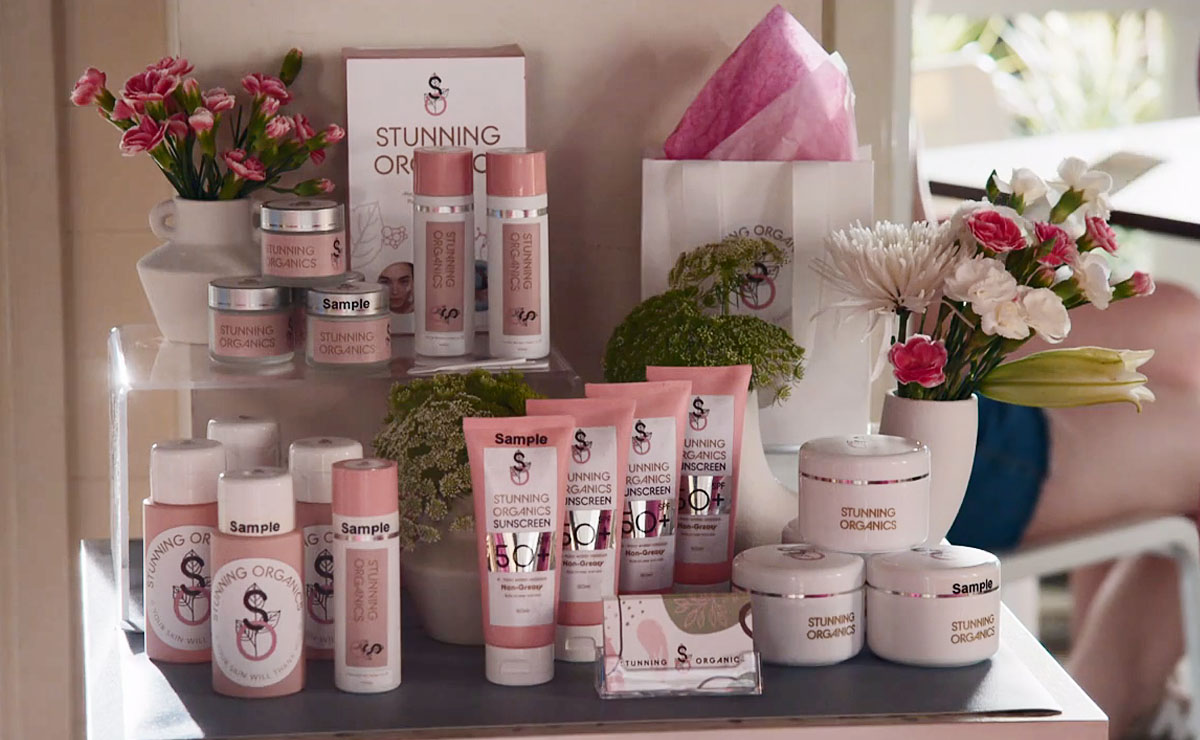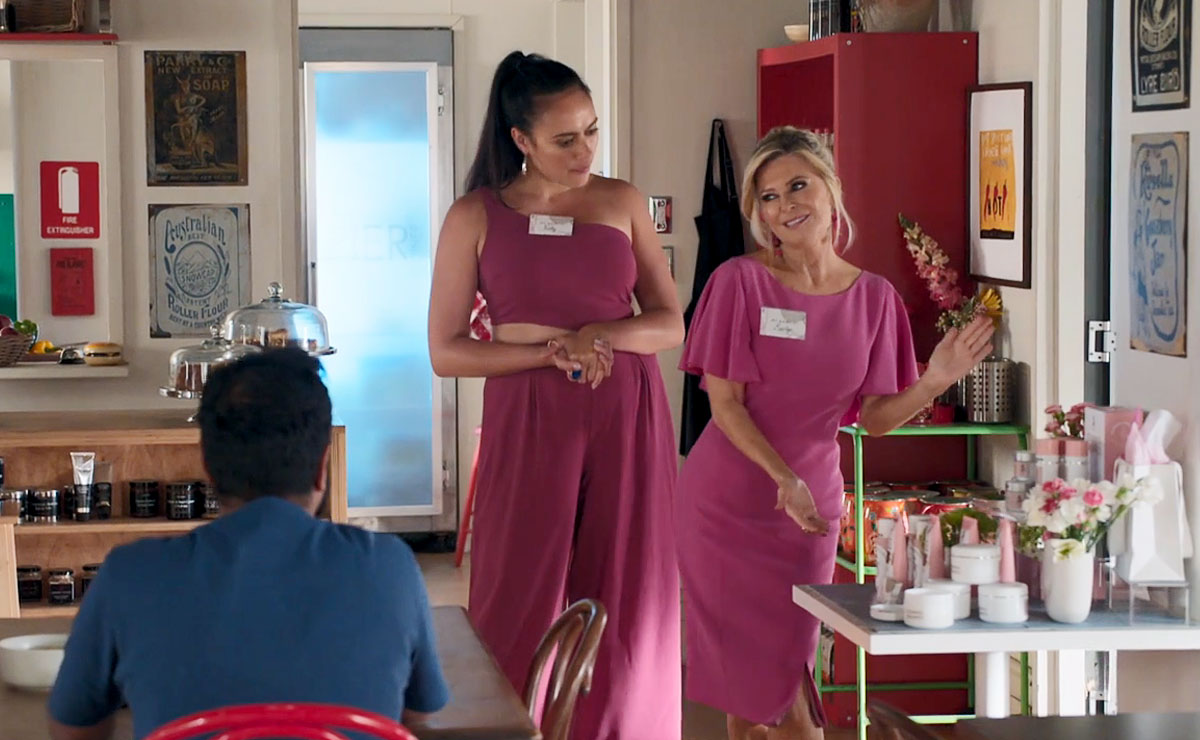 Kirby was sure to ask Marilyn whether diner owner Irene would be okay with it, and again after Marilyn then started to offer a free coffee with every product purchase, but Marilyn was convinced that Irene wouldn't mind…
This week, Irene returns to her workplace to discover it's been transformed into Maz's salesroom. Not only are her products on display everywhere, but Irene realises that her friend is offering a free coffee with every purchase, eating into the Diner's profts with every sale.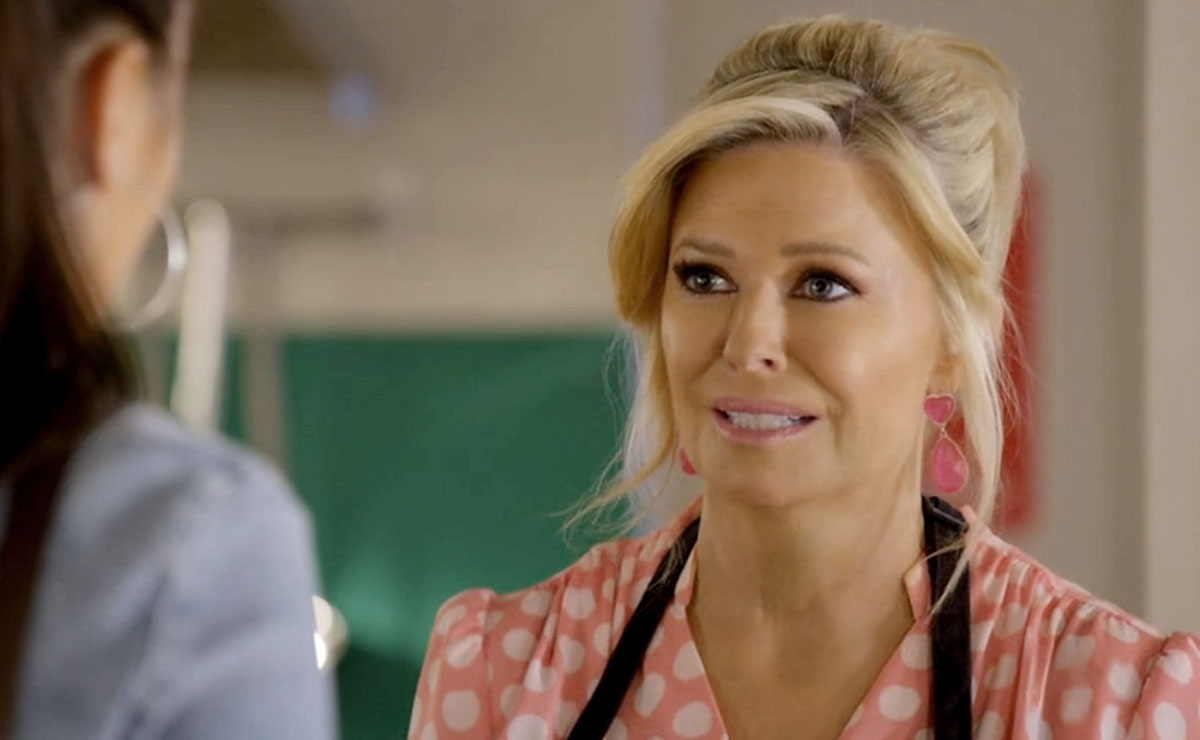 They have a tense argument in the kitchen, and Kirby finds herself stuck in the middle.
Yet the worst is yet to come. Irene and Maz's friendship prevails and they soon put the argument behind them – until another shipment of boxes arrives!
A promo for this week's episodes shows Marilyn in Irene's beach house, surrounded by boxes of the ill-fated cosmetics.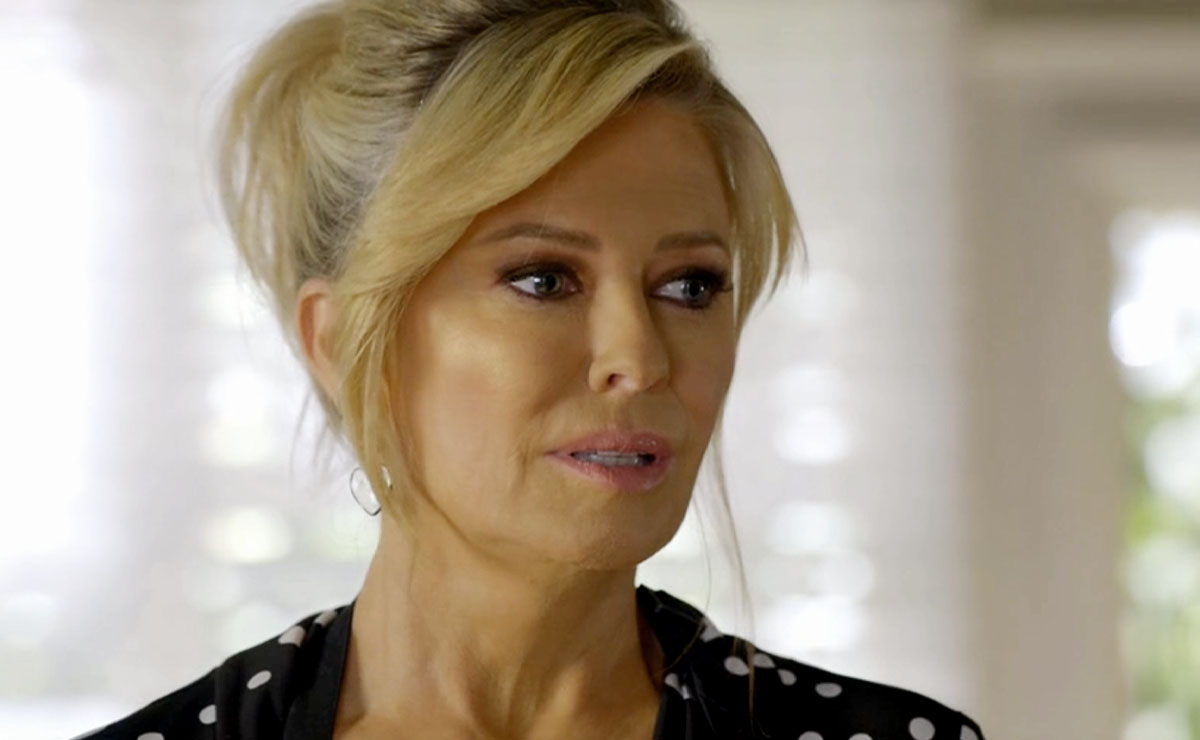 It's the first time that the Beach House has appeared on the show in 9 months – the last time being when Cash (Nicholas Cartwright) readied himself to propose to Jasmine (Sam Frost).
No wonder Irene is annoyed, she gets the house nice for its on-screen return only for Maz to fill it with boxes!
With Maz increasingly panicky over how she'll shift so much profit, Roo offers to model for the range. Yet the biggest problem comes when she tries some of the cream. She smothers it over her face, but within seconds a burning sensation kicks in.
As Bree rushes to take a look, she decides it's best to take Roo into hospital…
Has Marilyn made a monumental mistake?
---
Elsewhere in Summer Bay, the unexpected arrival of Kahu Parata (Jordi Webber) continues to make waves.
Tane's (Ethan Browne) cousin turned up unexpectedly last week, after Tane had told him whilst on honeymoon in New Zealand with Felicity (Jacqui Purvis) that he'd be welcome to visit Summer Bay at any time.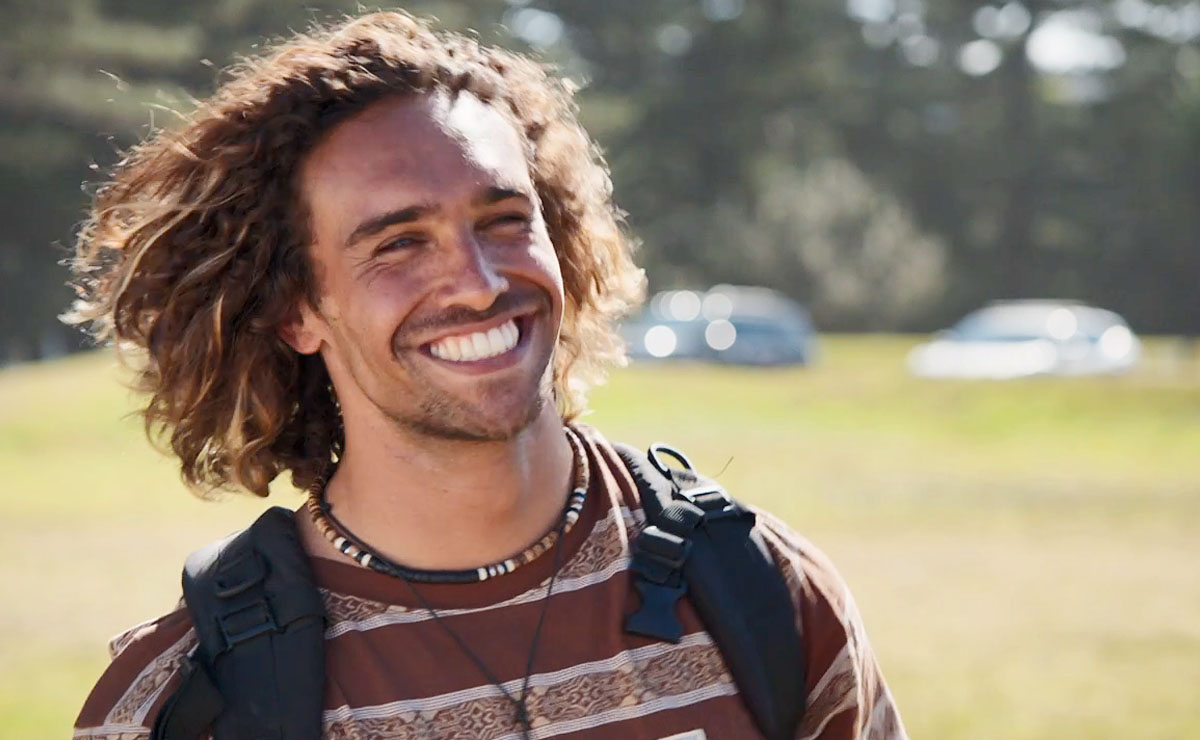 After hearing that Kahu was like another brother to Tane, Ari, and Mikaere whilst growing up (that must be why we've never heard of him before now!), Flick was a little put out by the fact that she had competition for Tane's attention in only the first few weeks of their marriage.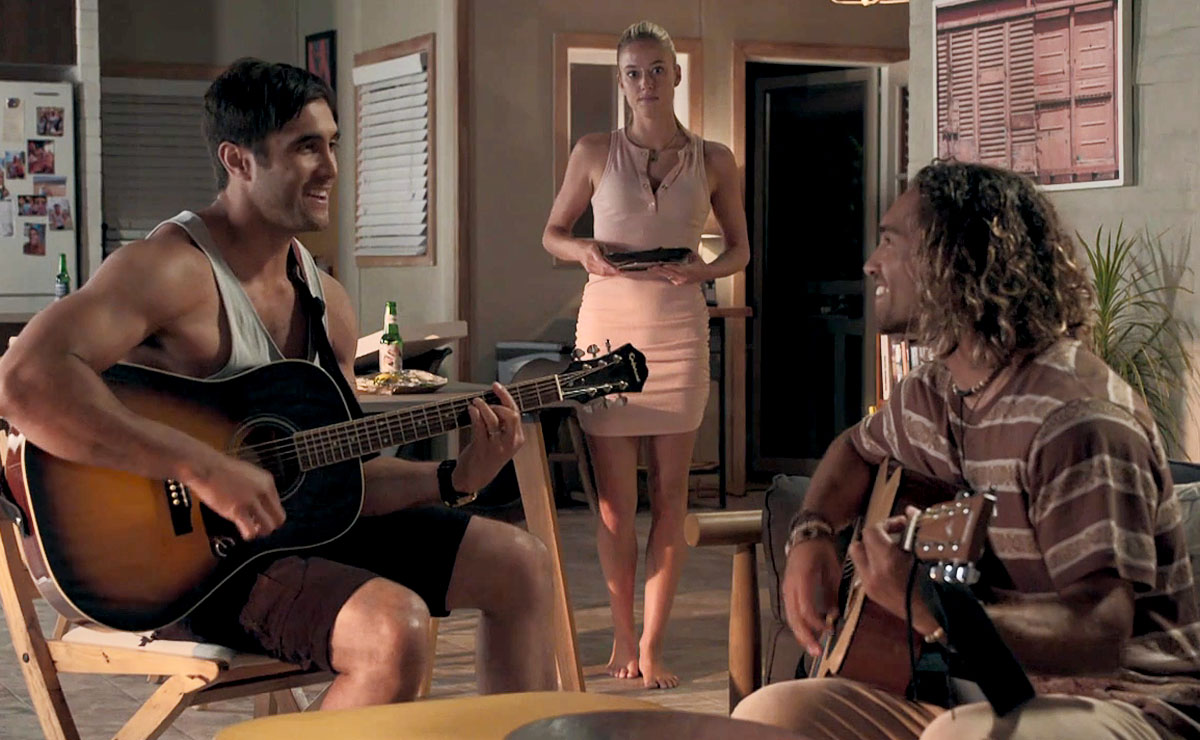 When Tane told him that he had a boring day ahead of him, looking for a new personal trainer for the gym, Kahu was quick to put his hand up, leaving Flick to wonder just how long he was actually planning to stay with them.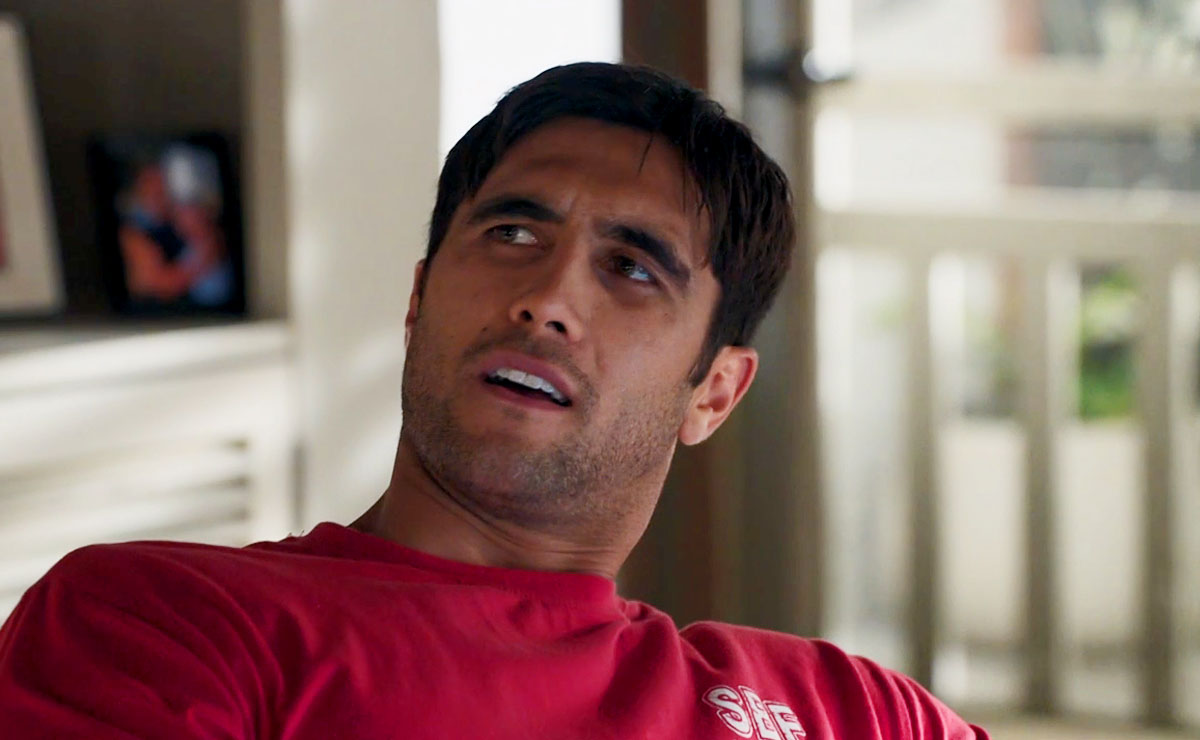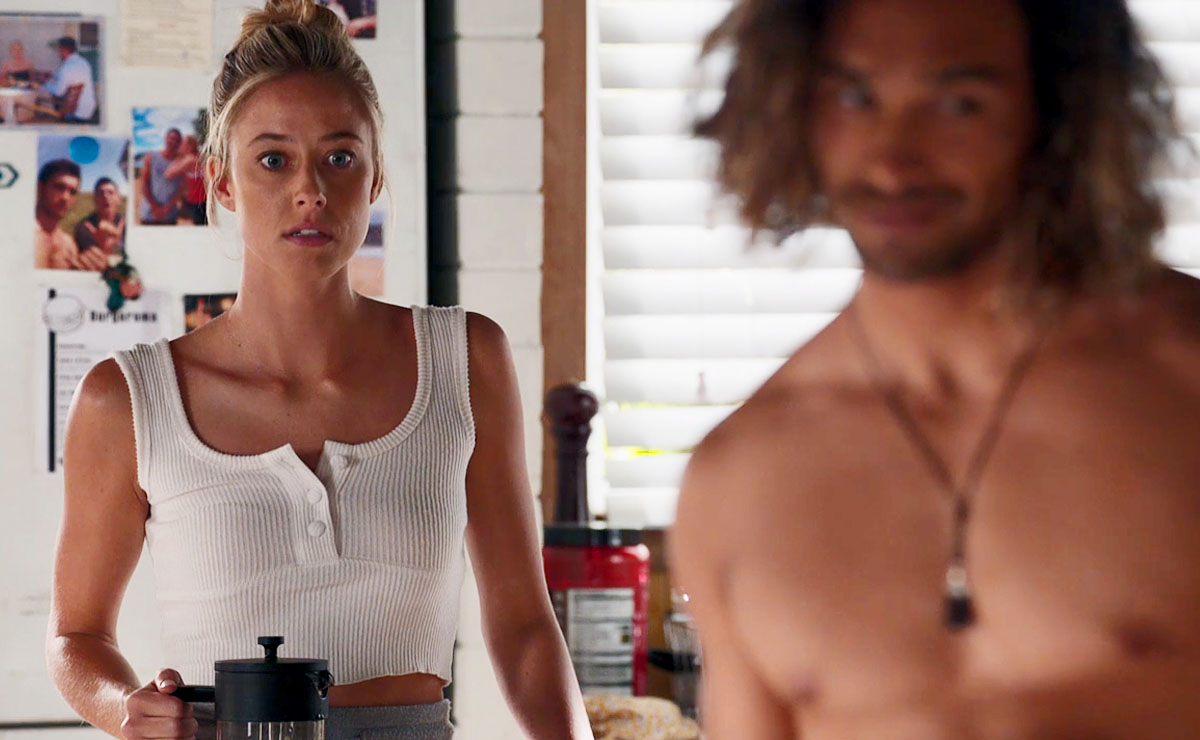 "Flick likes Kahu but wonders why he's here and how long he's staying," Jacqui told TV Week. "She's still in the honeymoon phase and doesn't want anyone to steal her love away."
Tane offers Kahu a temporary position this week, but finds himself in a pickle when he realises that Kahu doesn't actually have the necessary credentials.
"You can't train people without a qualification," Tane explains.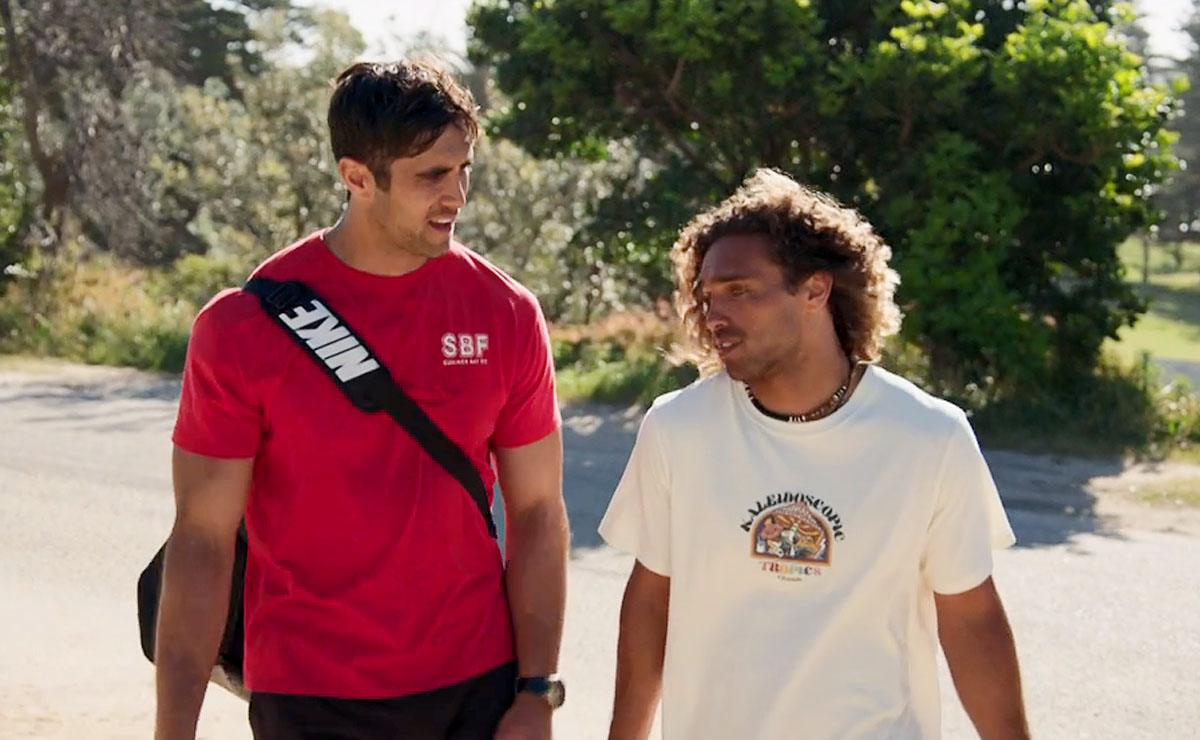 "You said you were understaffed," Kahu cockily replies. "Beggars can't be choosers!"
Before Tane can make any decision, they bump into surf club president Alf (Ray Meagher). After being introduced to the big cheese, Kahu promptly announces that he's the gym's new personal trainer.
Alf is pleased to hear that the position has finally been filled, as Tane finds himself put in an impossible position.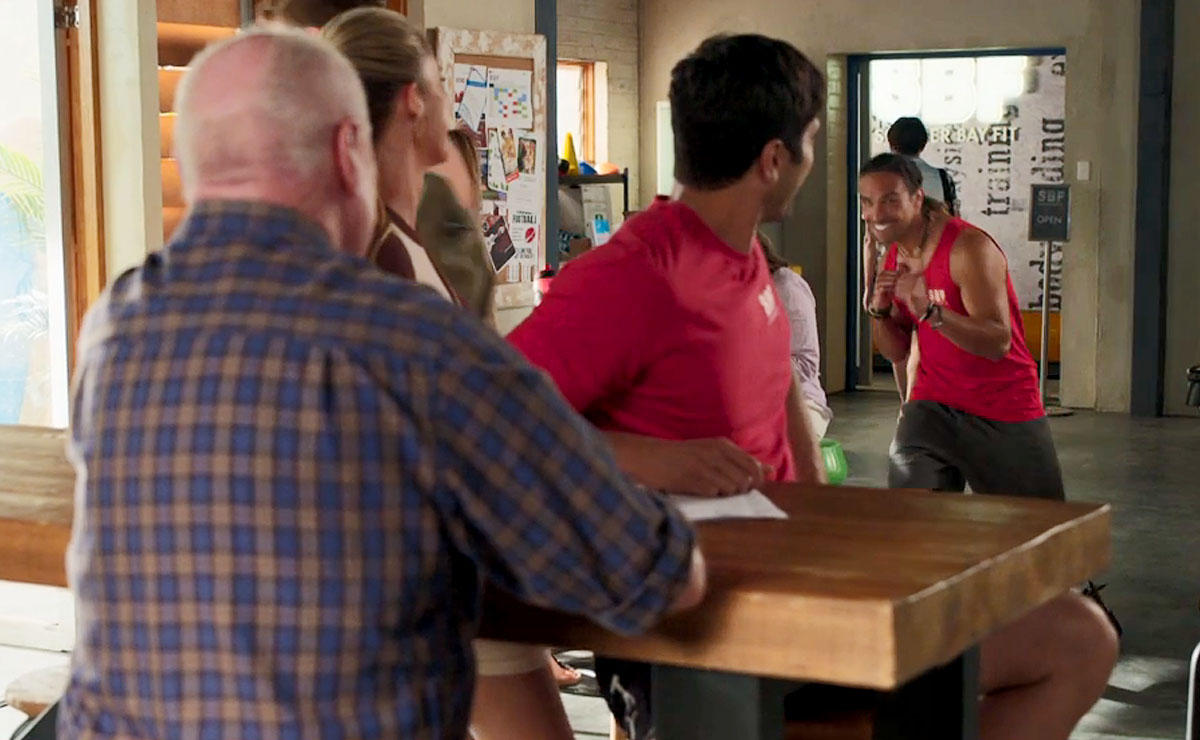 "Kahu hasn't quite learned the value of honesty, working hard and trust," Jordi explained to TV Week.
"He has a carefree attitude. He's this cheeky, fun, mischief, surfie, rolling stone who comes into town and brings the music. There's a lot of movement in him and a lot of 'no care' attitude, which is what makes him very fun to play with."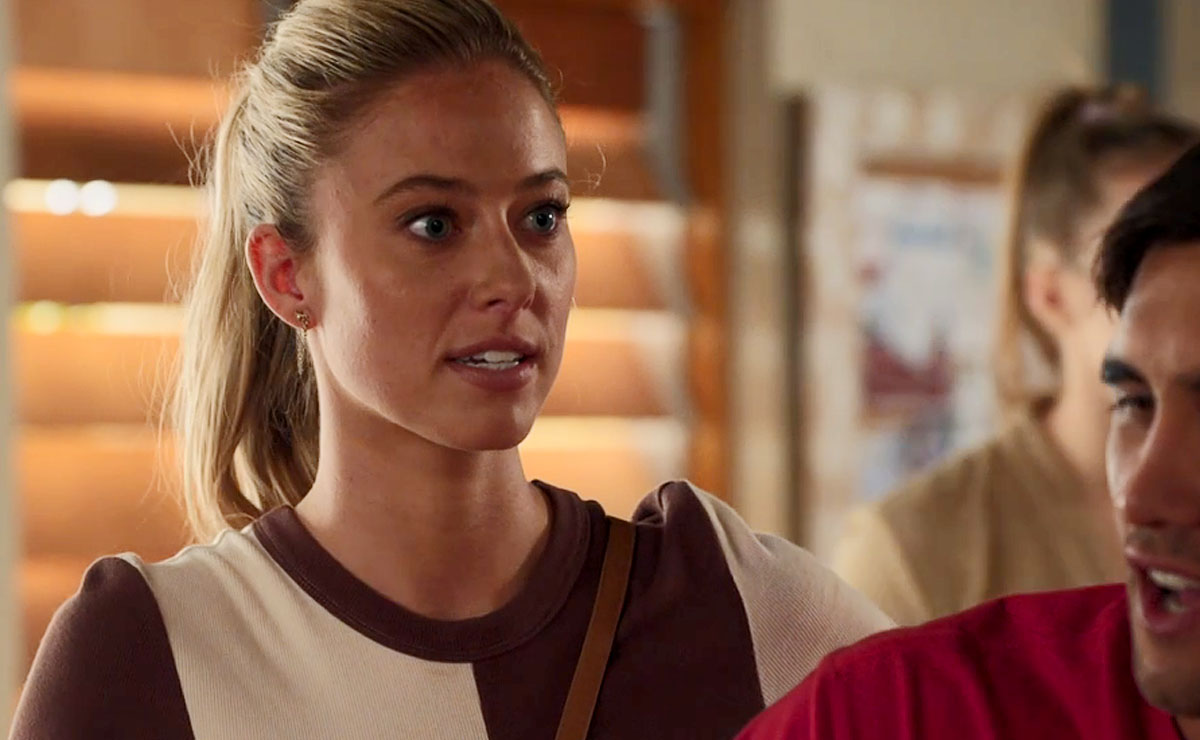 When Flick later arrives at the surf club, she's surprised to find the unqualified Kahu emerge in his new Summer Bay Fit uniform, as he reveals that he's Tane's 'new project'.
Knowing full well that any client incident with Kahu at the gym could jeopardise the business, has Tane made a huge mistake?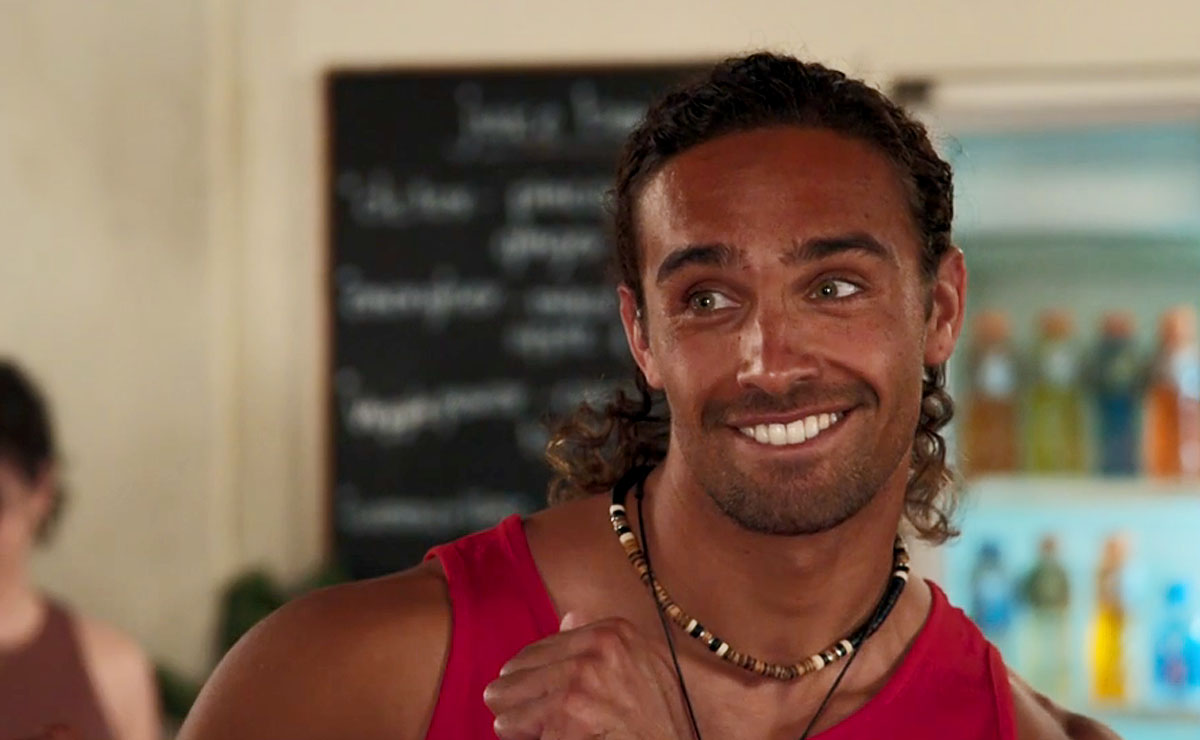 ---
Monday 17th April (Episode 8012)
Tane mixes family and business. Felicity adjusts to Hurricane Kahu. Lyrik plans their next move.
Tuesday 18th April (Episode 8013)
Eden seeks advice from Kirby. Mali offers his support to Mackenzie. Marilyn's in hot water with Irene.
Wednesday 19th April (Episode 8014)
Xander and Rose clash. Marilyn falsely accuses John. Justin's counselling is off to a fiery start.
Thursday 20th April (Episode 8015–8017)
Xander considers a career change. Marilyn's makeover ends in disaster. Justin makes a breakthrough.
Mali's makeover makes John jealous. Marilyn fights fire with fire. Are Justin's anger issues the last straw for Leah?
Marilyn wants out. Eden's song is a hit. Remi has big ideas for Lyrik. Mali takes pity on John.
---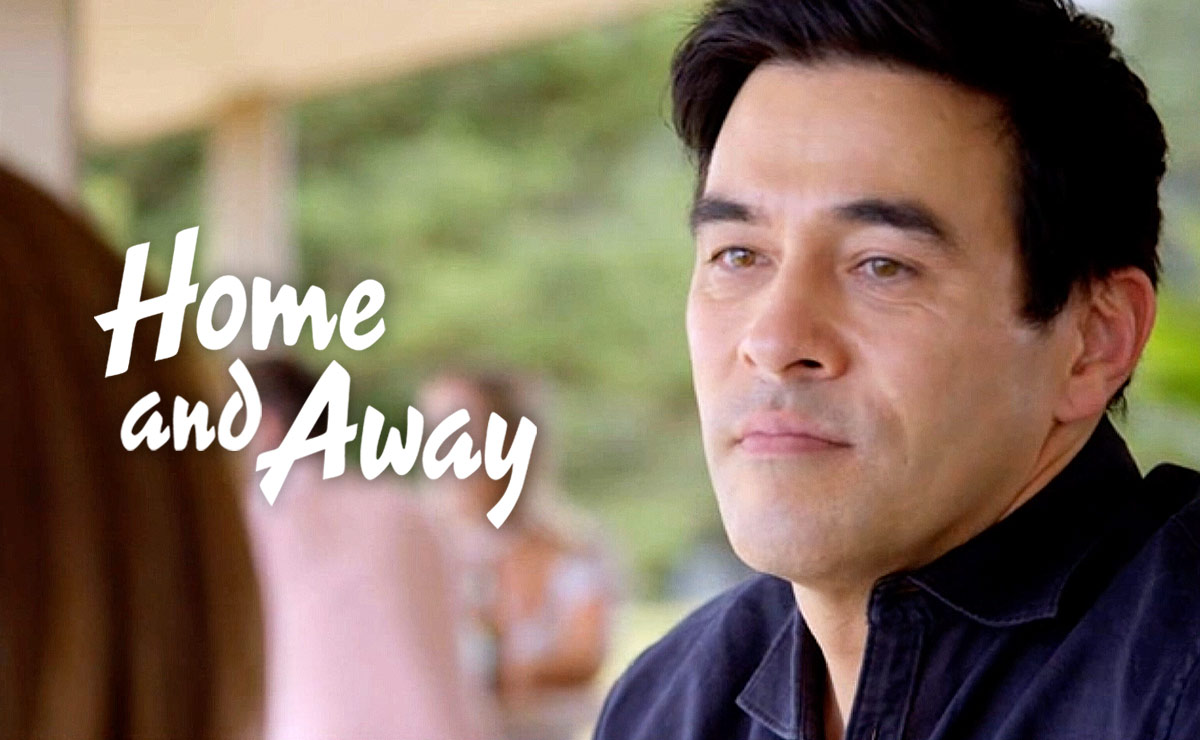 A new Home and Away promo shows that Leah and Justin's relationship is on the rocks, while Rose embarrasses herself in front of Mali…
Spoilers in your inbox every weekend!