New promo shows Blockbuster Week of Home and Away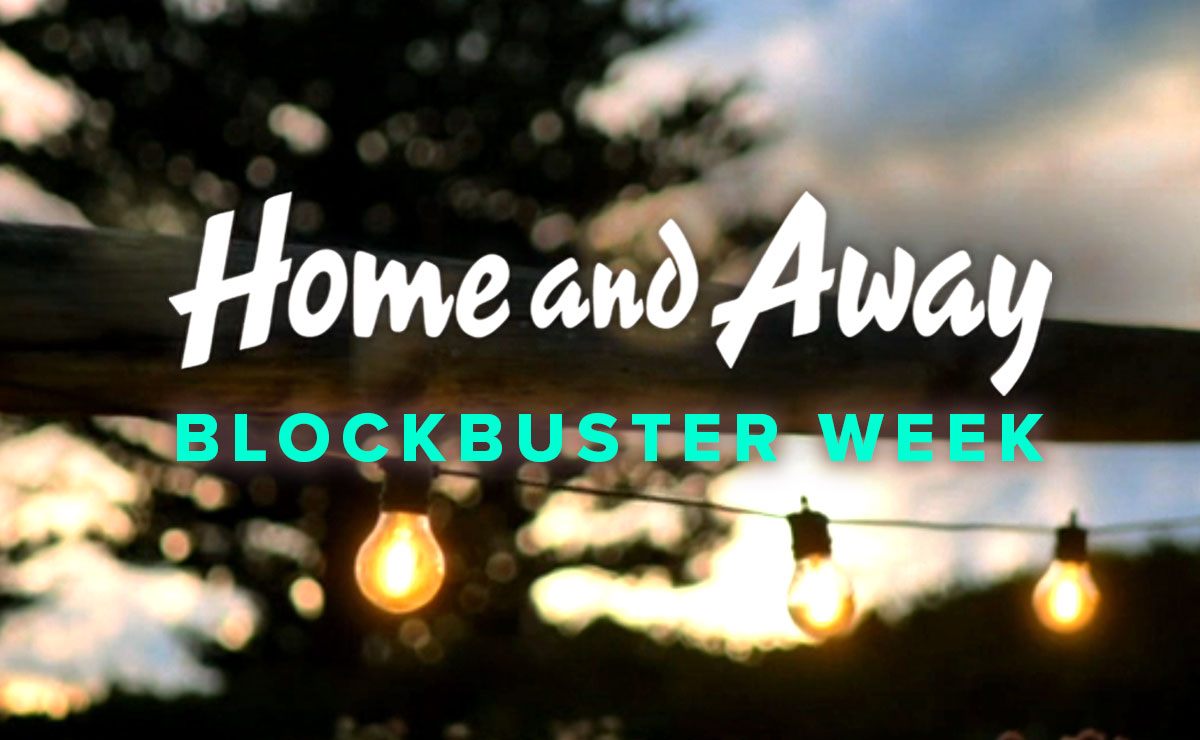 A series of Home and Away promos is currently teasing a 'Blockbuster Week' for the show, with drama in store for many of our favourite characters.
As Home and Away approaches its 8000th episode, a dramatic series of episodes will see Justin (James Stewart) take the law into his own hands, Xander (Luke Van Os) face danger as he and a colleague are ambushed, and Felicity (Jacqui Purvis) and Tane (Ethan Browne) take a second attempt at getting married.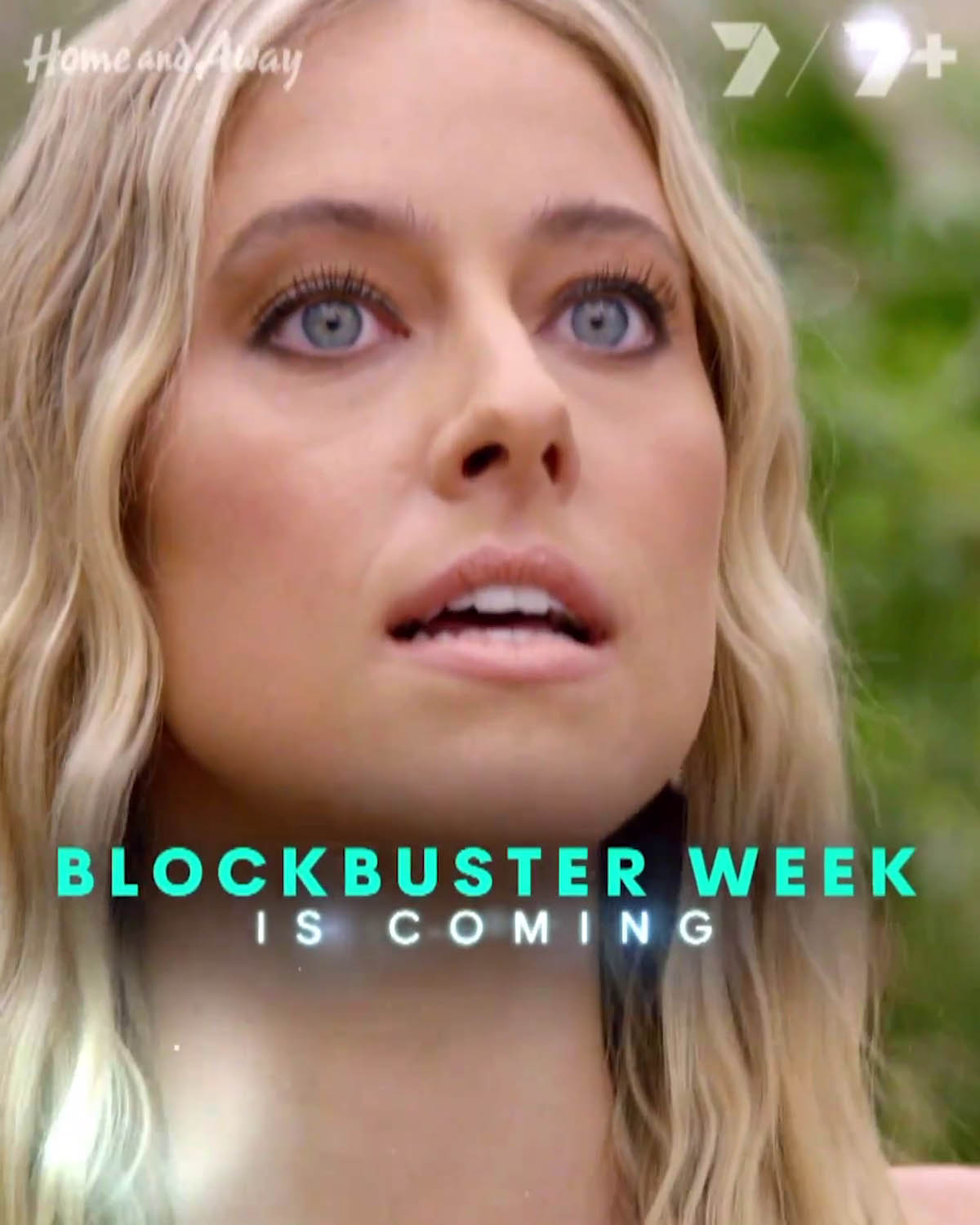 Starting on a positive note, the promo teases what will hopefully be the happiest day of Tane and Felicity's lives… take two.
Their first attempt at getting married ended in disaster when Felicity and Eden (Stephanie Panozzo) were involved in a car crash on the way to the wedding, a result of the Death Adders bikie gang cutting the brake lines of the ute Eden was driving – the intended target actually being Felicity's brother Cash (Nicholas Cartwright).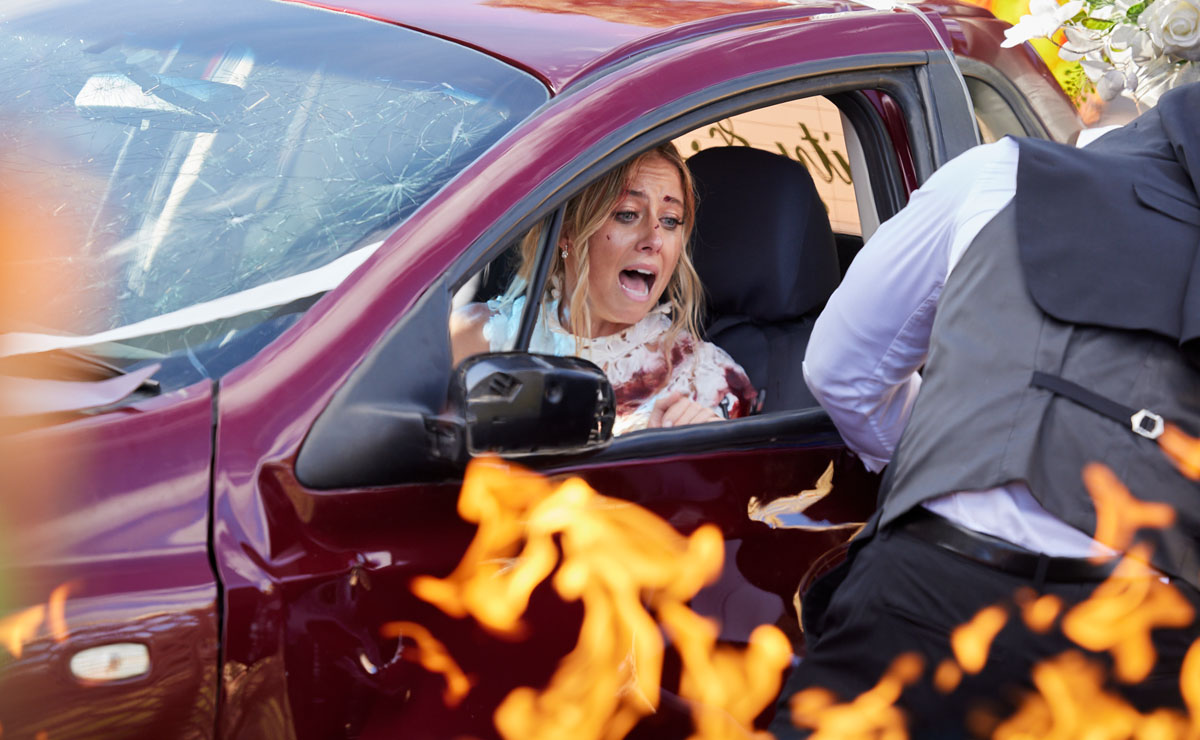 Eden ended up in a coma, and in the months that followed, Felicity blamed herself, knowing that Eden was only driving the ute that day because she had gotten cold feet about marrying Tane.
Felicity broke things off with Tane and moved out of the house she shared with him, and it took a trip back to her childhood home for her to finally face her demons and reunite with her fiancé. She re-proposed to Tane on the beach in last Monday's episode, and now it looks like their second attempt at a wedding is just days away.
Felicity has already said that she doesn't want to go back to their original venue, wanting to avoid any memories of that painful day. From the shots in the new promo, it'll be a much more casual affair this time around.
Cash walks his sister down a tree-lined aisle, and while Flick is wearing a wedding dress, Cash is dressed down, sporting a plaid shirt.
"To the best day of my life," we hear Felicity say.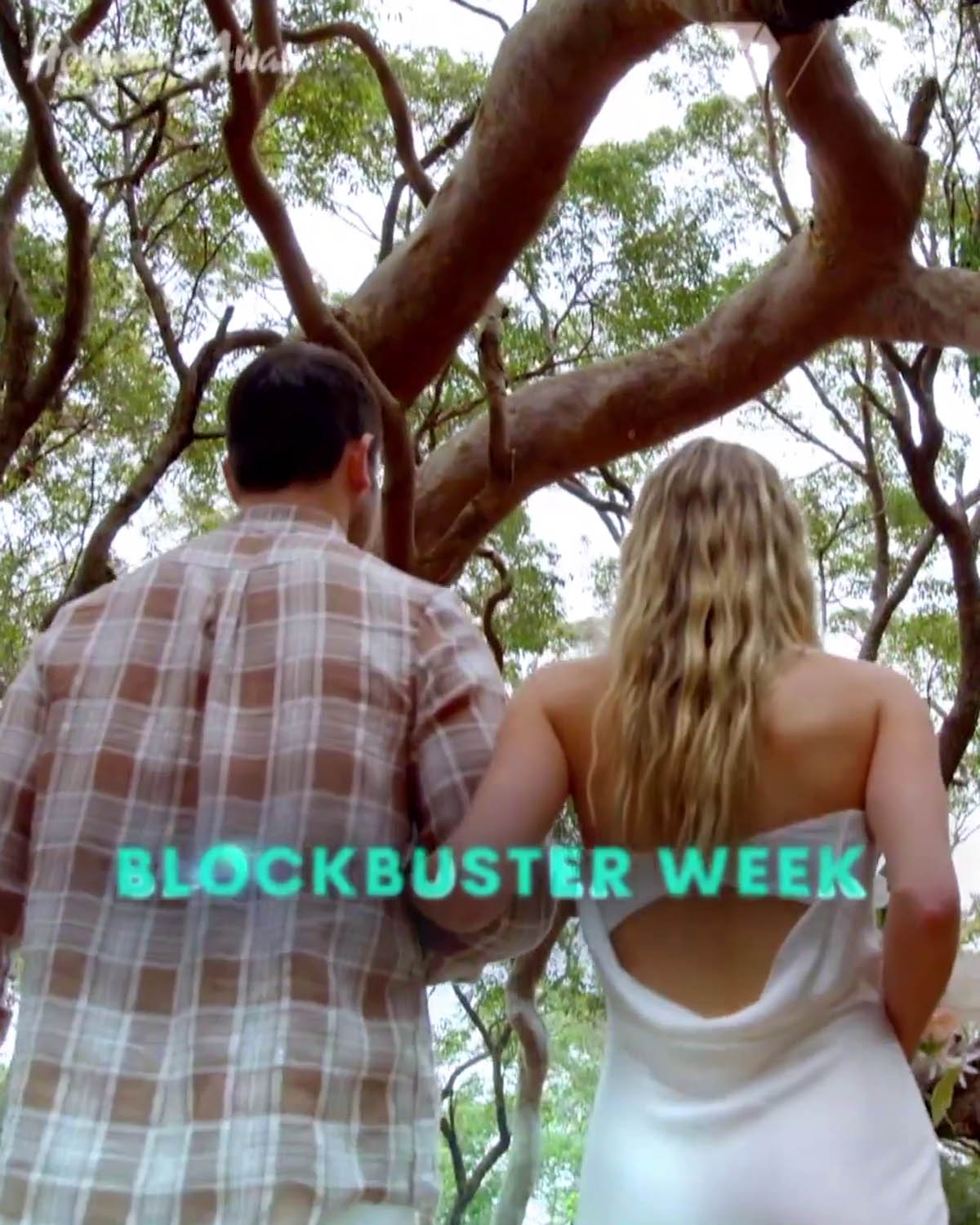 The reception takes place at Salt, as we see a shot of Felicity still in her white wedding dress, and Tane in a white shirt, as Flick jumps up and down with joy.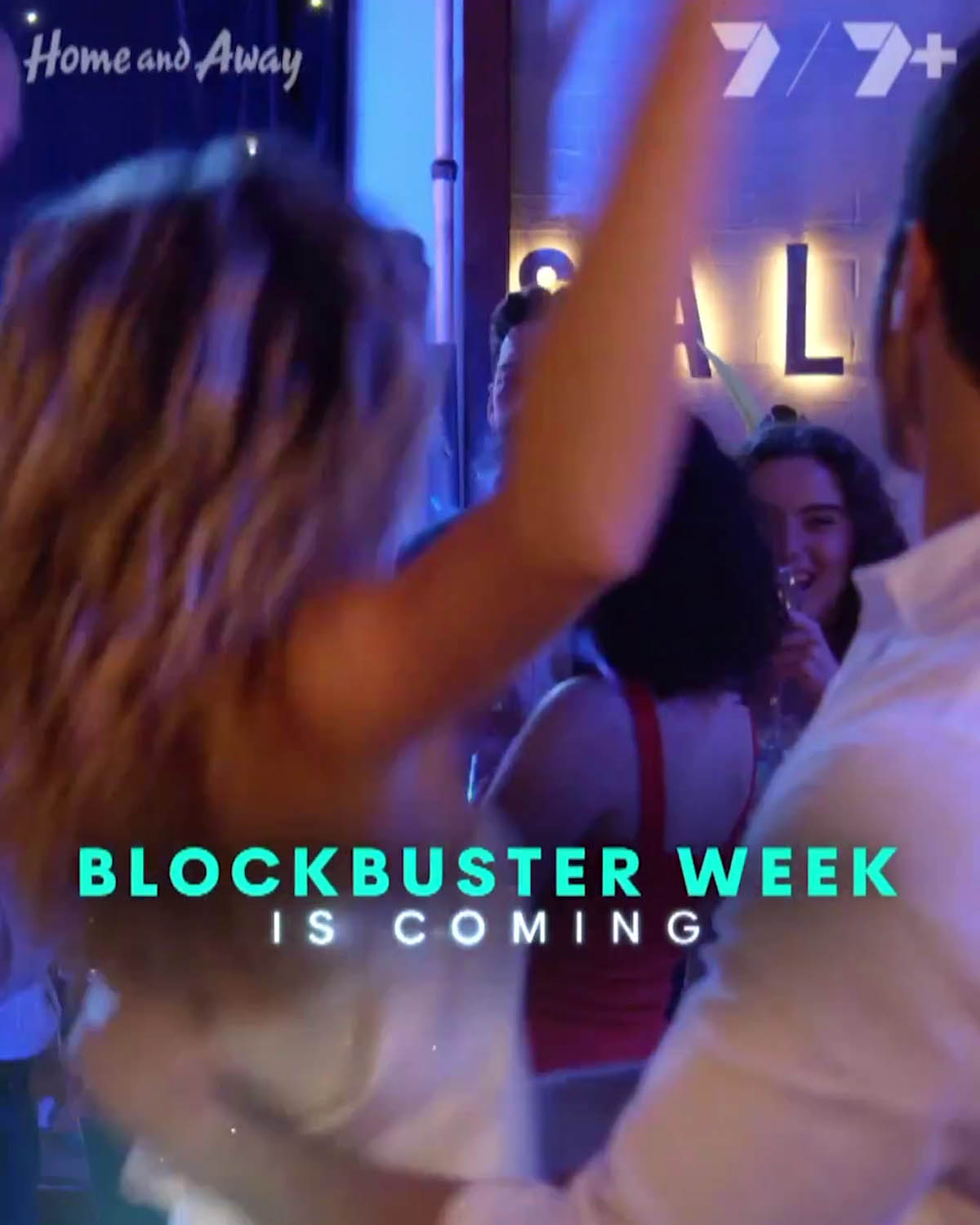 Fans of the show who've watched filming at Sydney's Palm Beach have recently spotted actors Ethan Browne and Jacqui Purvis wearing wedding rings while shooting scenes, suggesting that this wedding does go ahead without a hitch, and that Tane and Felicity are finally about to be husband and wife.
Read more on Tane and Felicity's wedding here.
The new series of promos, various versions of which are currently airing on Seven in Australia, also show more of what's to come in Ava's (Annabel Wolfe) disappearance storyline.
At the end of last week, Ava got into a blue campervan with a stranger, Conor (Tom Dawson), after running off from Theo (Matt Evans), who had made it clear to her that they would never be a thing.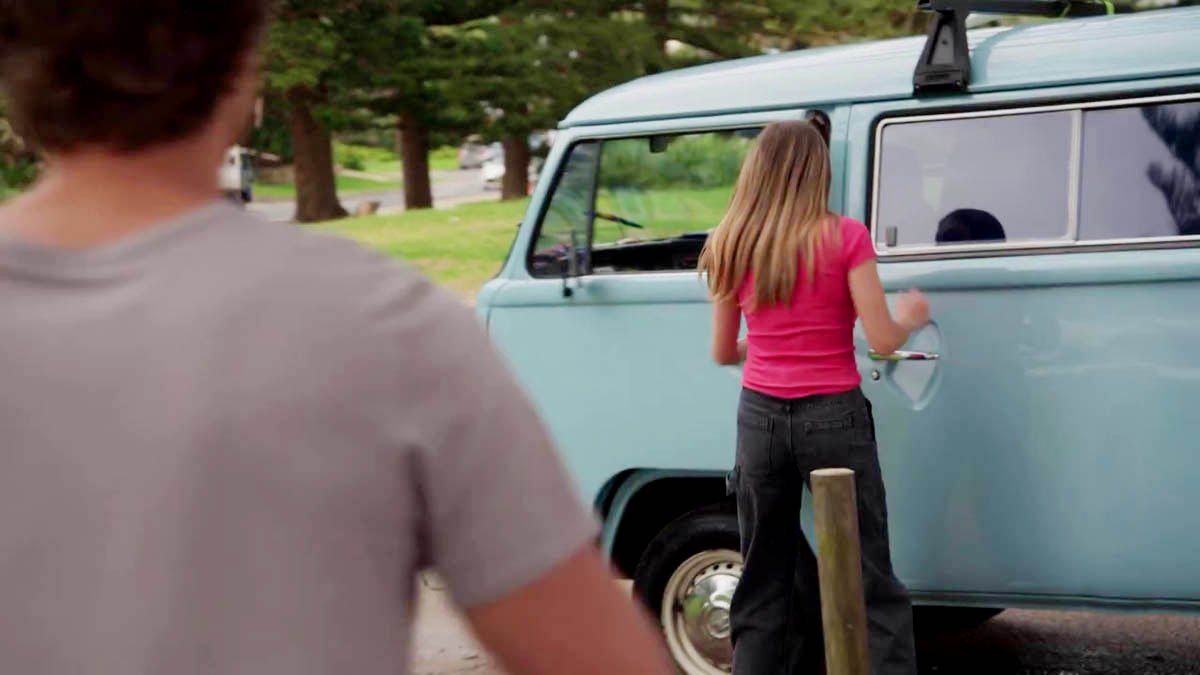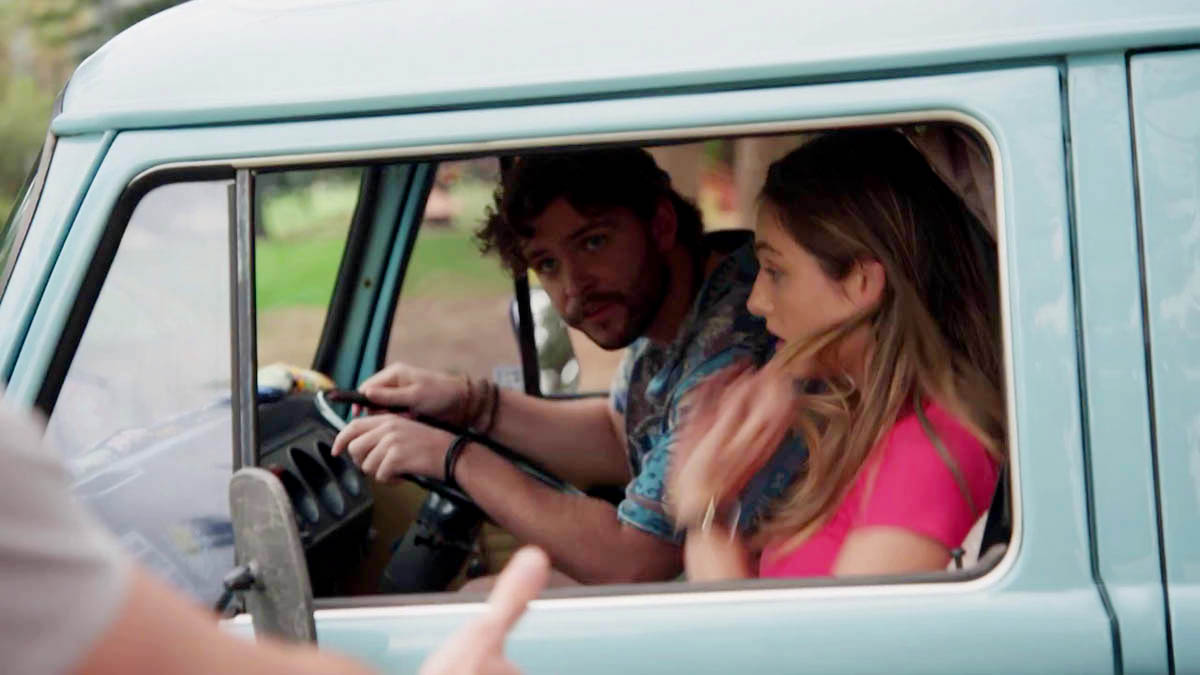 In another promo for the storyline, we see Justin's anger at his daughter's disappearance, and the 'Blockbuster Week' promos give us a clearer look at what's in store as he takes the law into his own hands.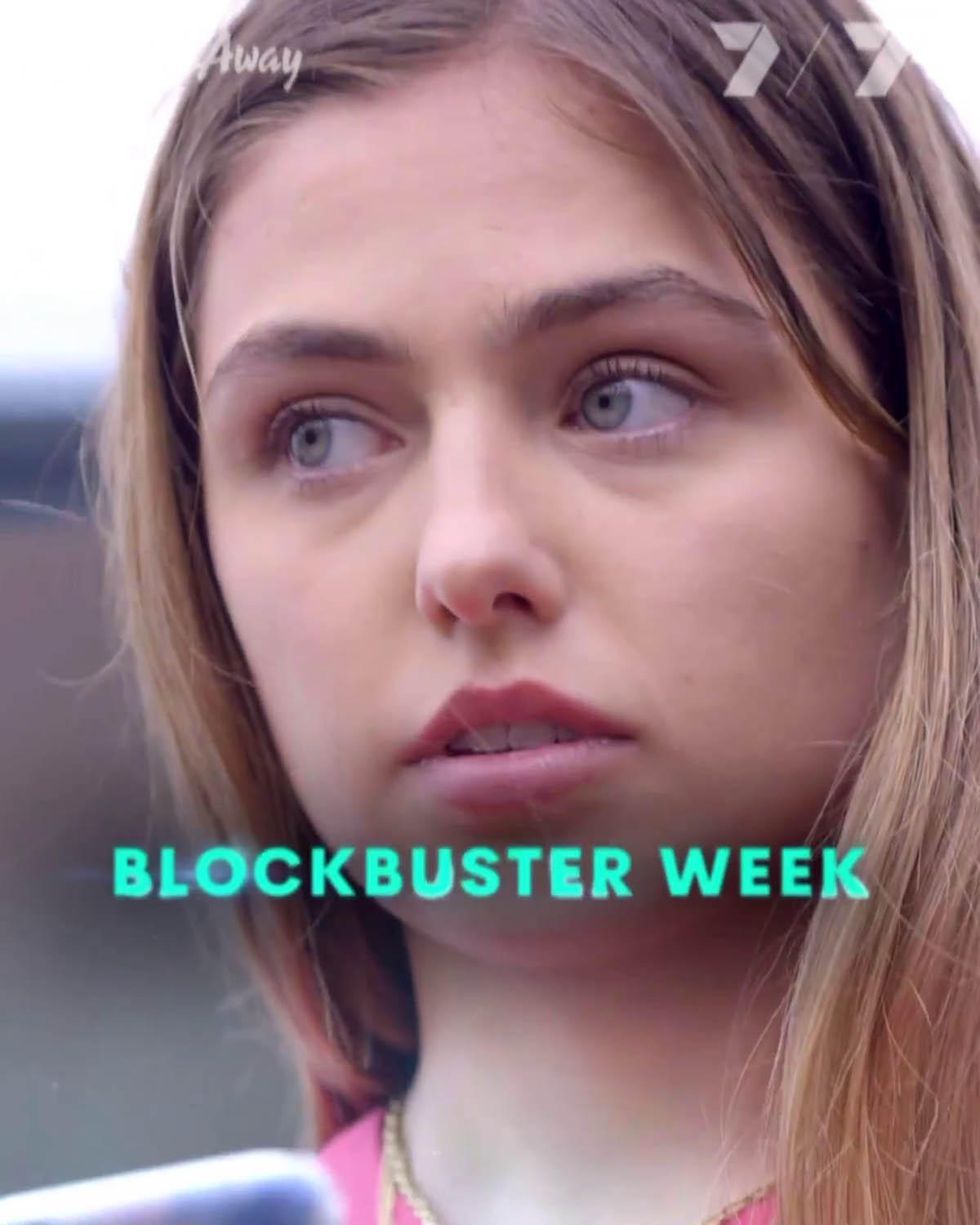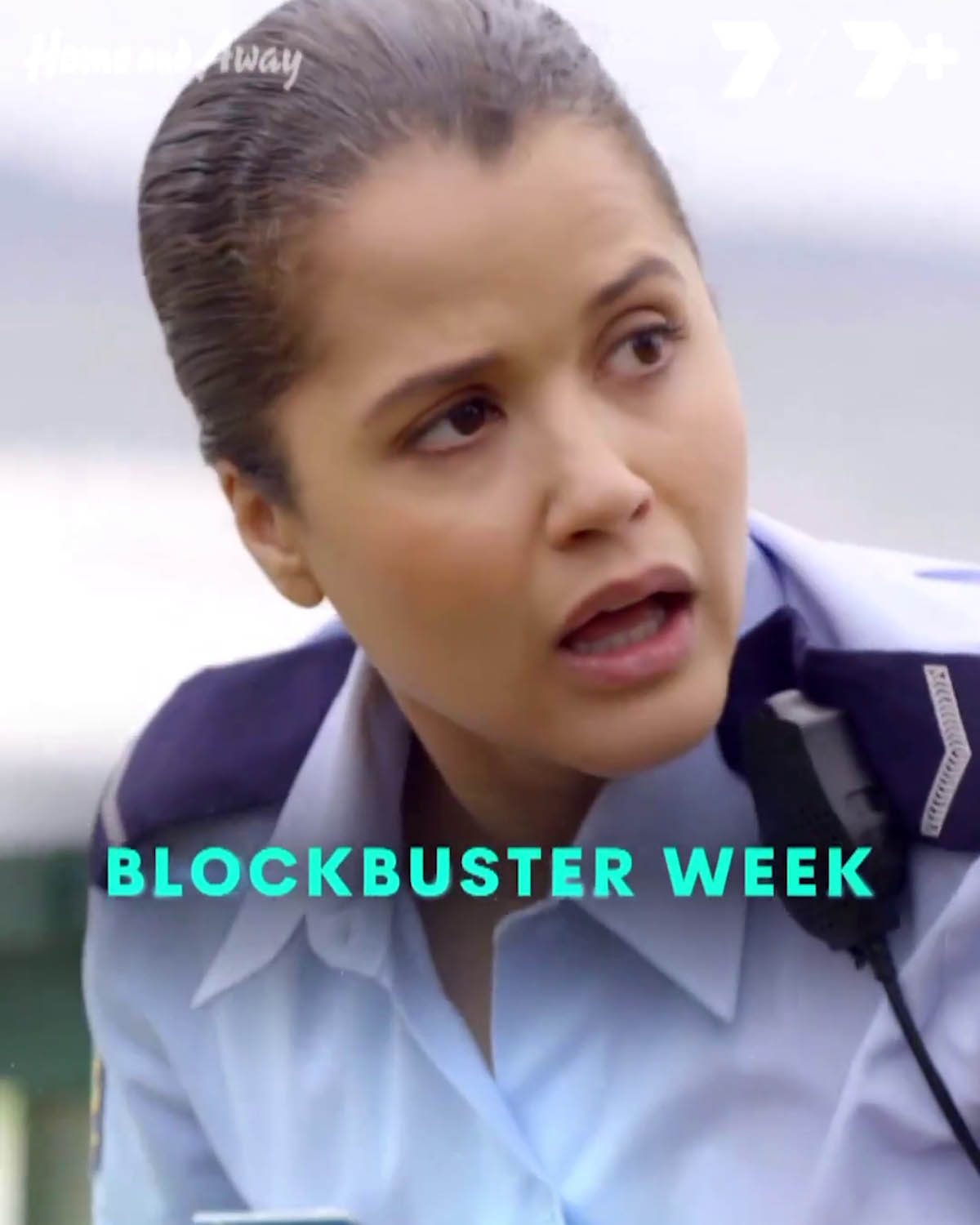 We hear him tell Rose: "My daughter's missing and I need you to find her."
Back at the Morgan house, Justin tells someone: "If this man has done something to her, he's a dead man."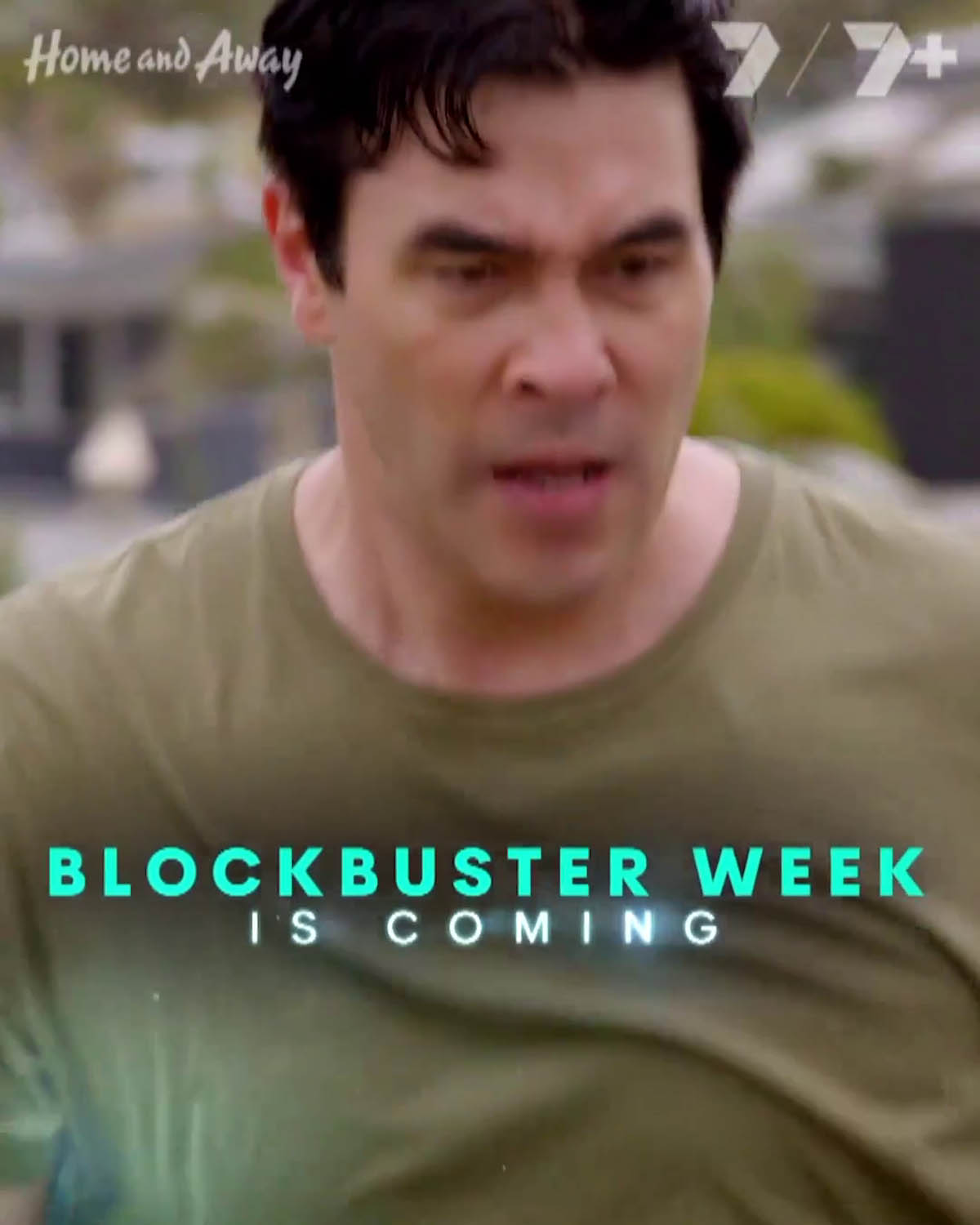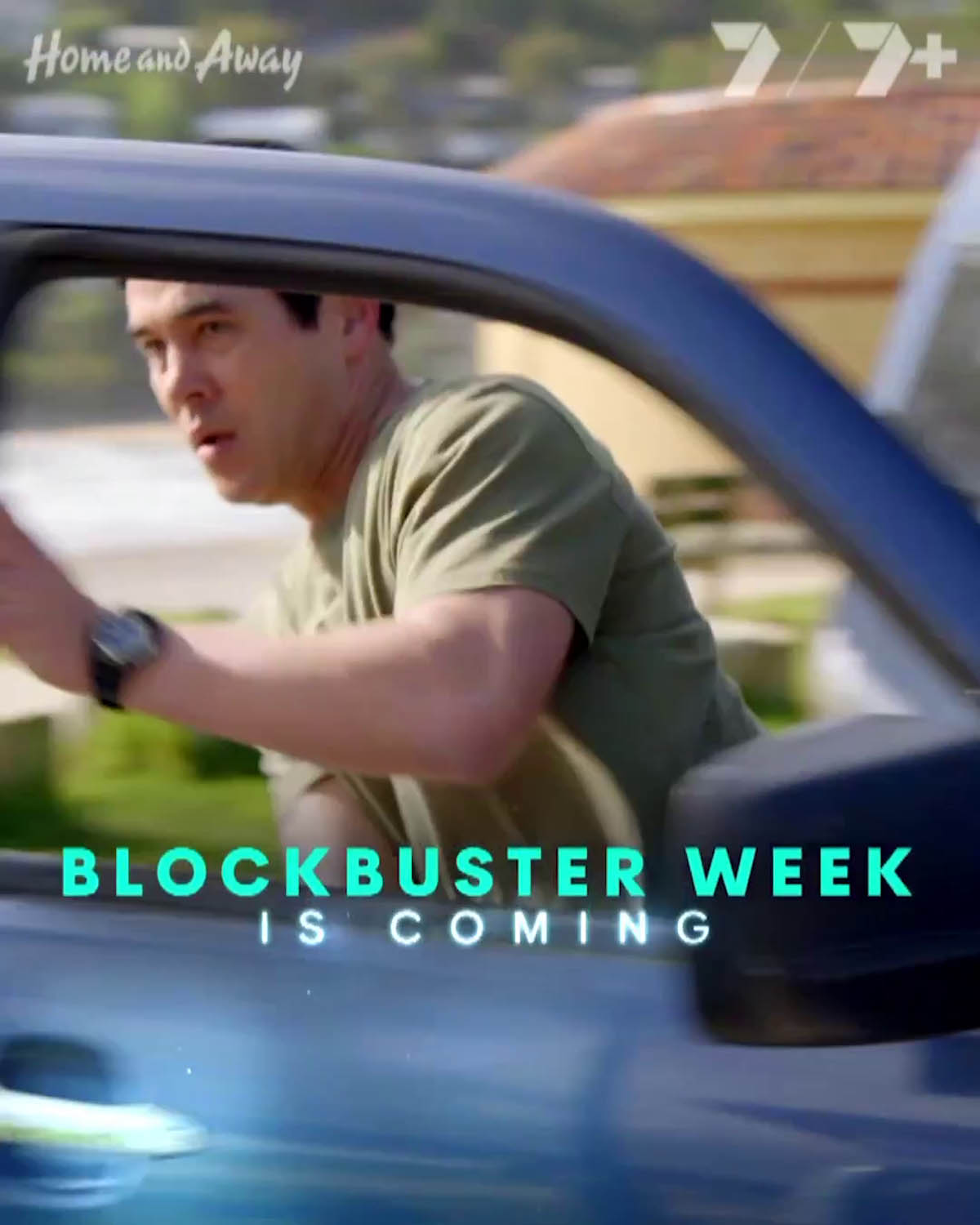 We then see Justin looking enraged as he comes across the man he believes has done something to his daughter, as Conor gets changed next to his distinctive campervan.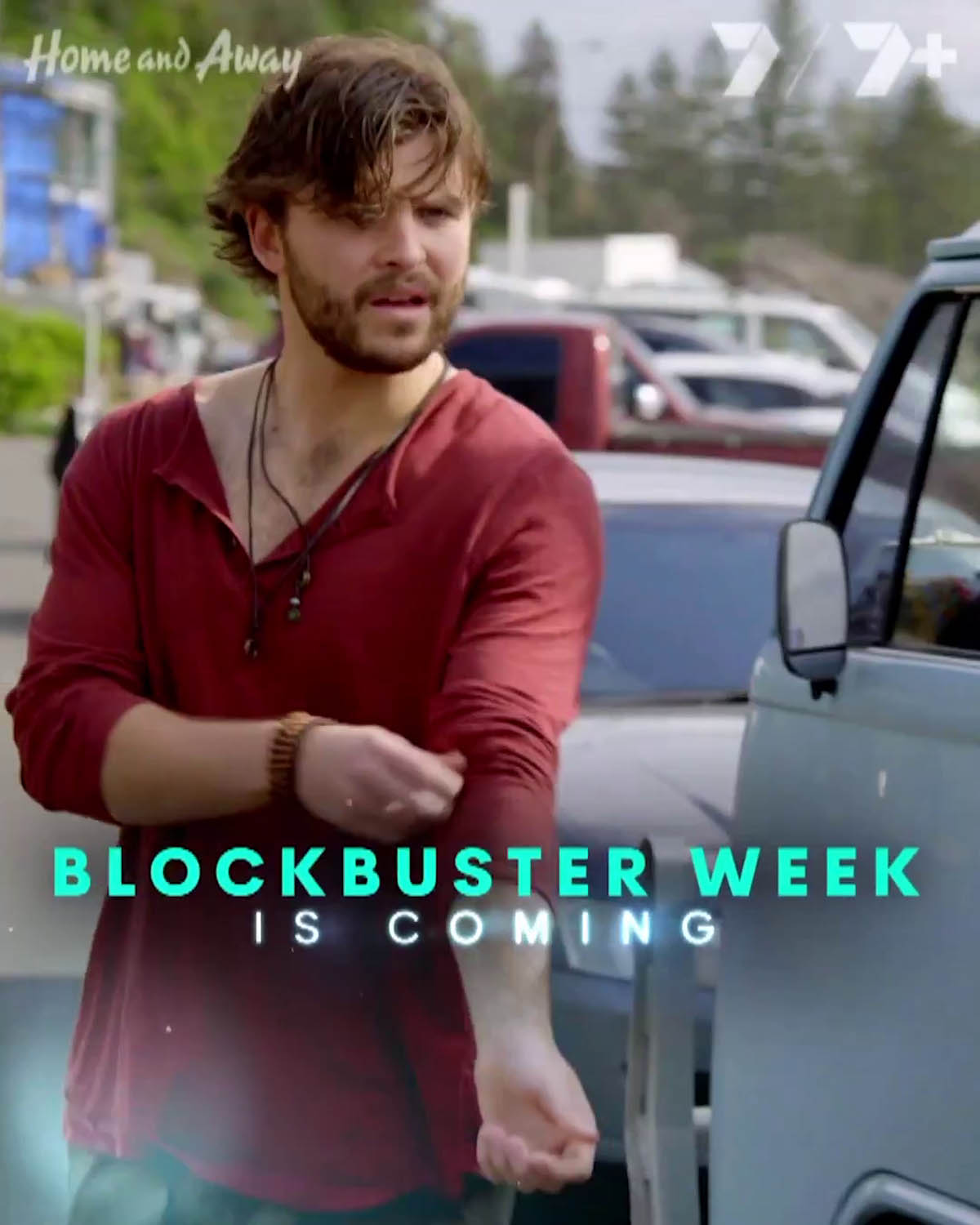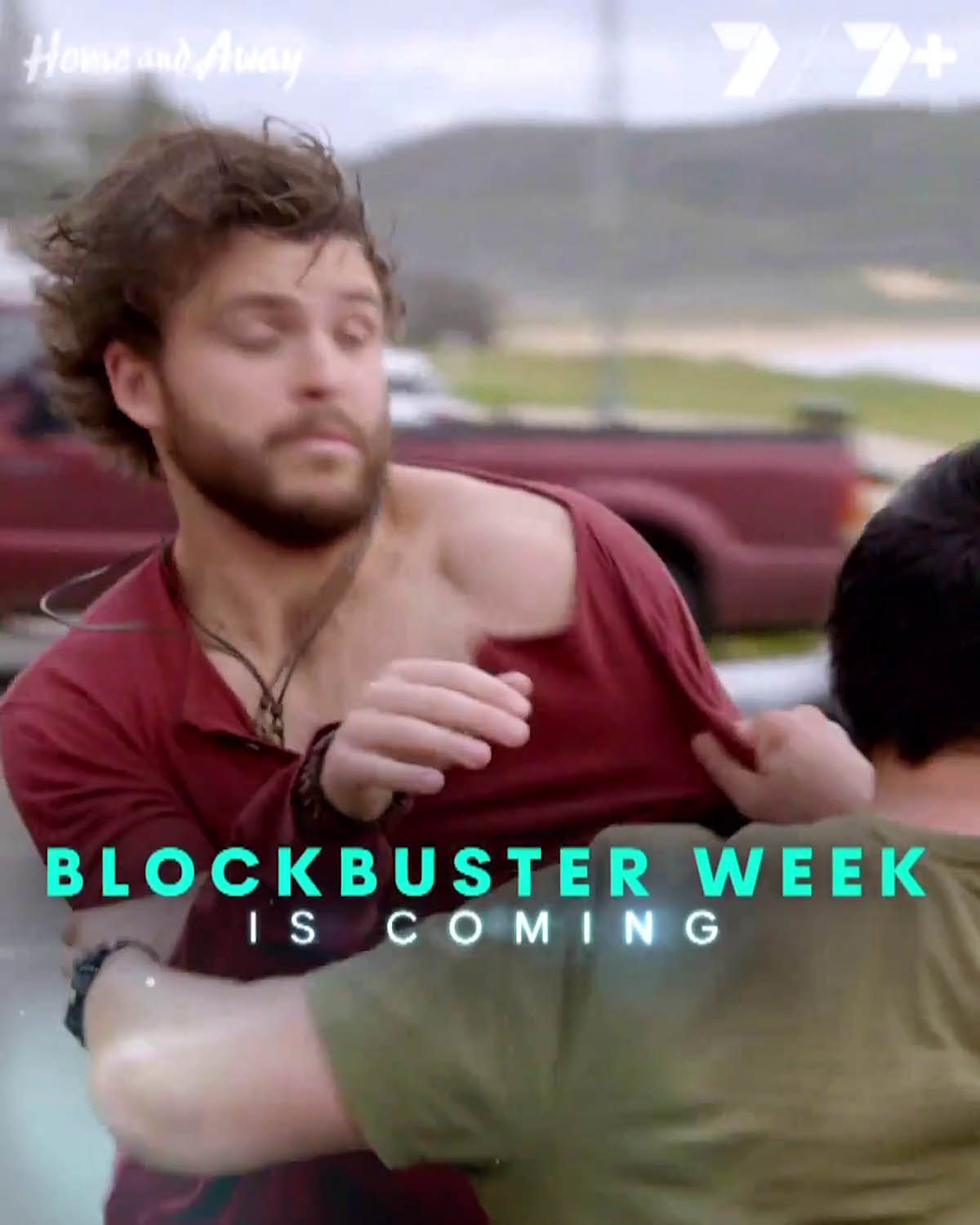 Justin grabs Conor, before flinging him across the front of a nearby car.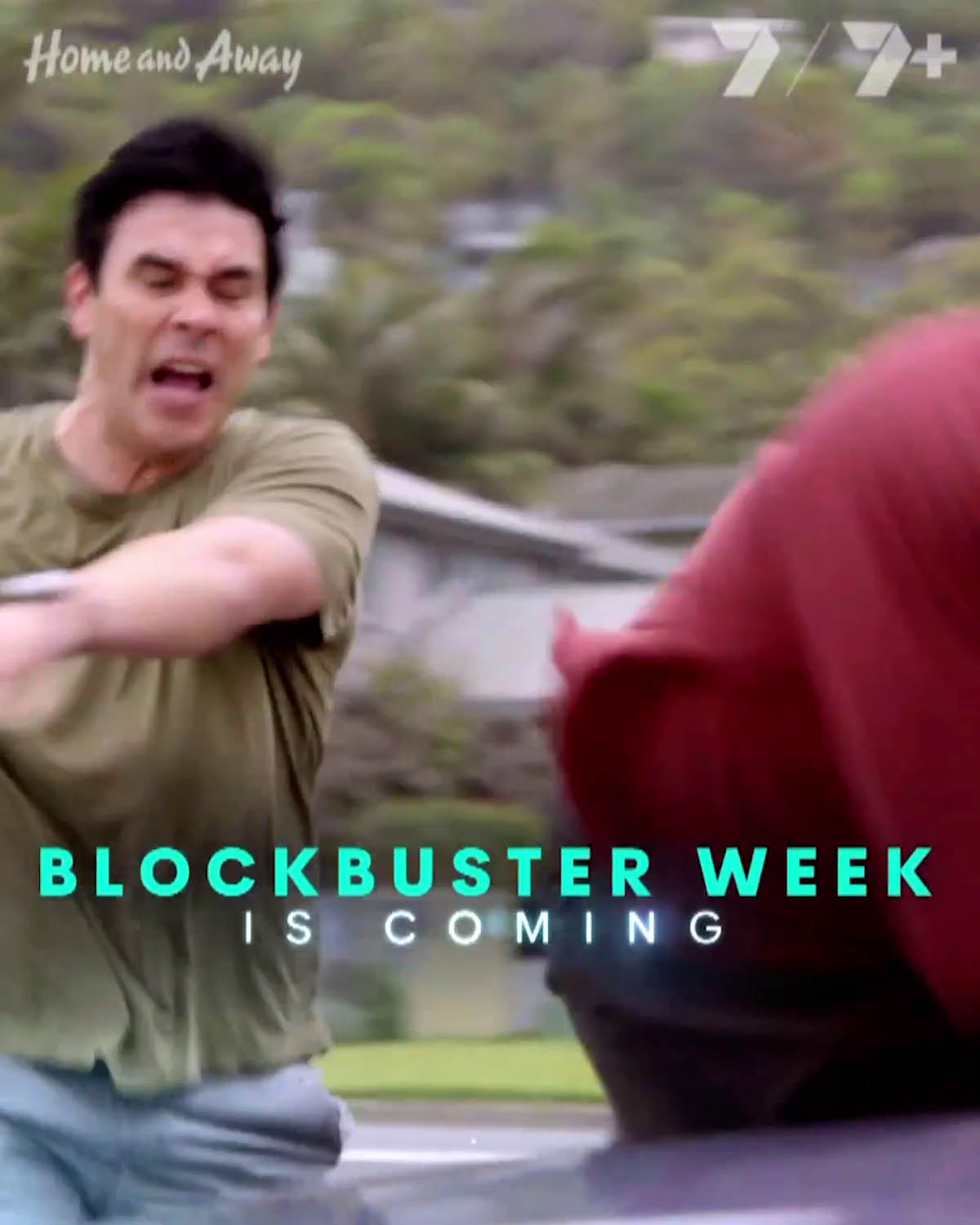 It looks like Justin may have to face the consequences of his actions, as Cash pulls up alongside Justin's ute and rushes towards the fighting pair.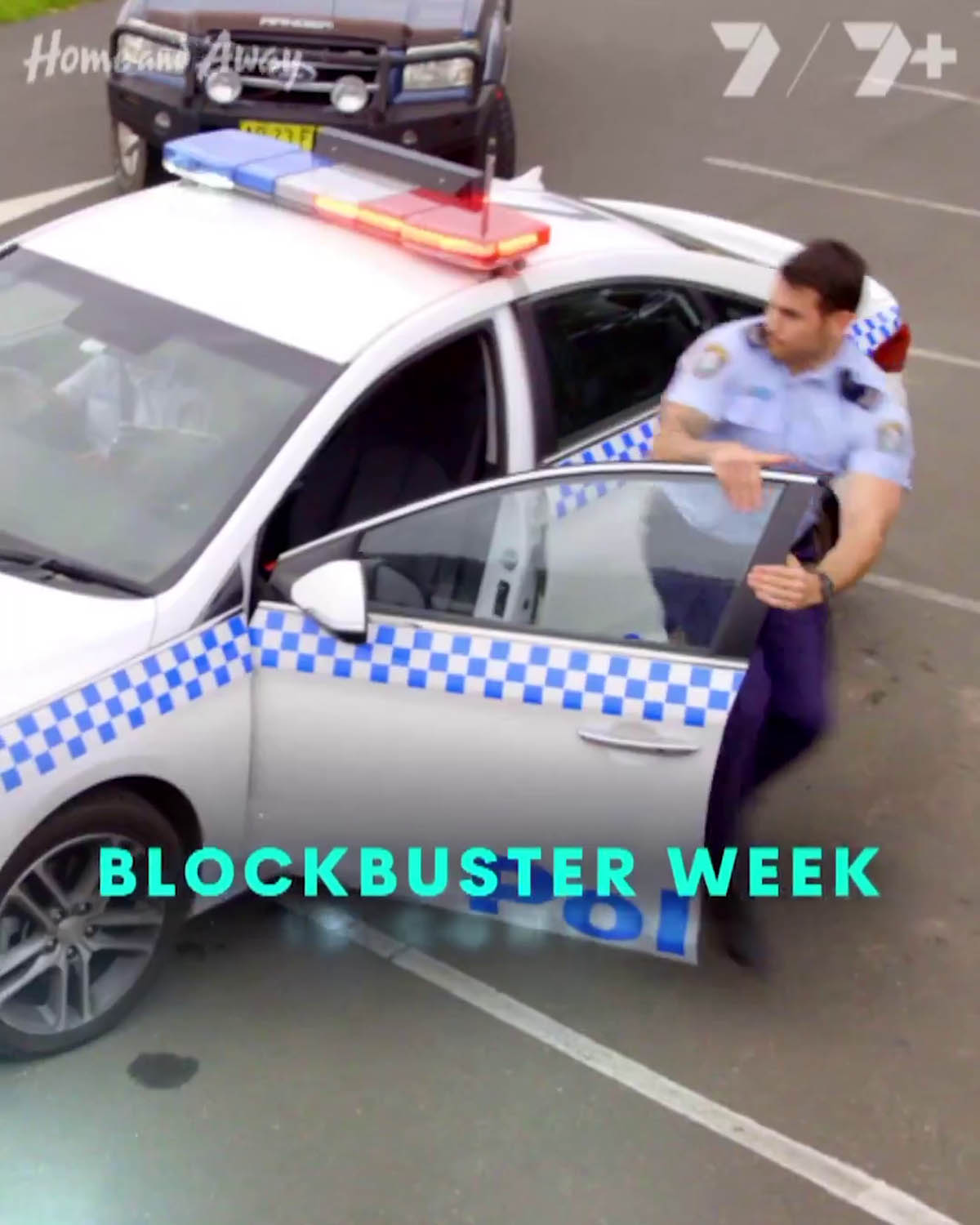 More importantly, will Ava be okay?
One version of the promo also shows Mackenzie in floods of tears – has she heard news from Gabe?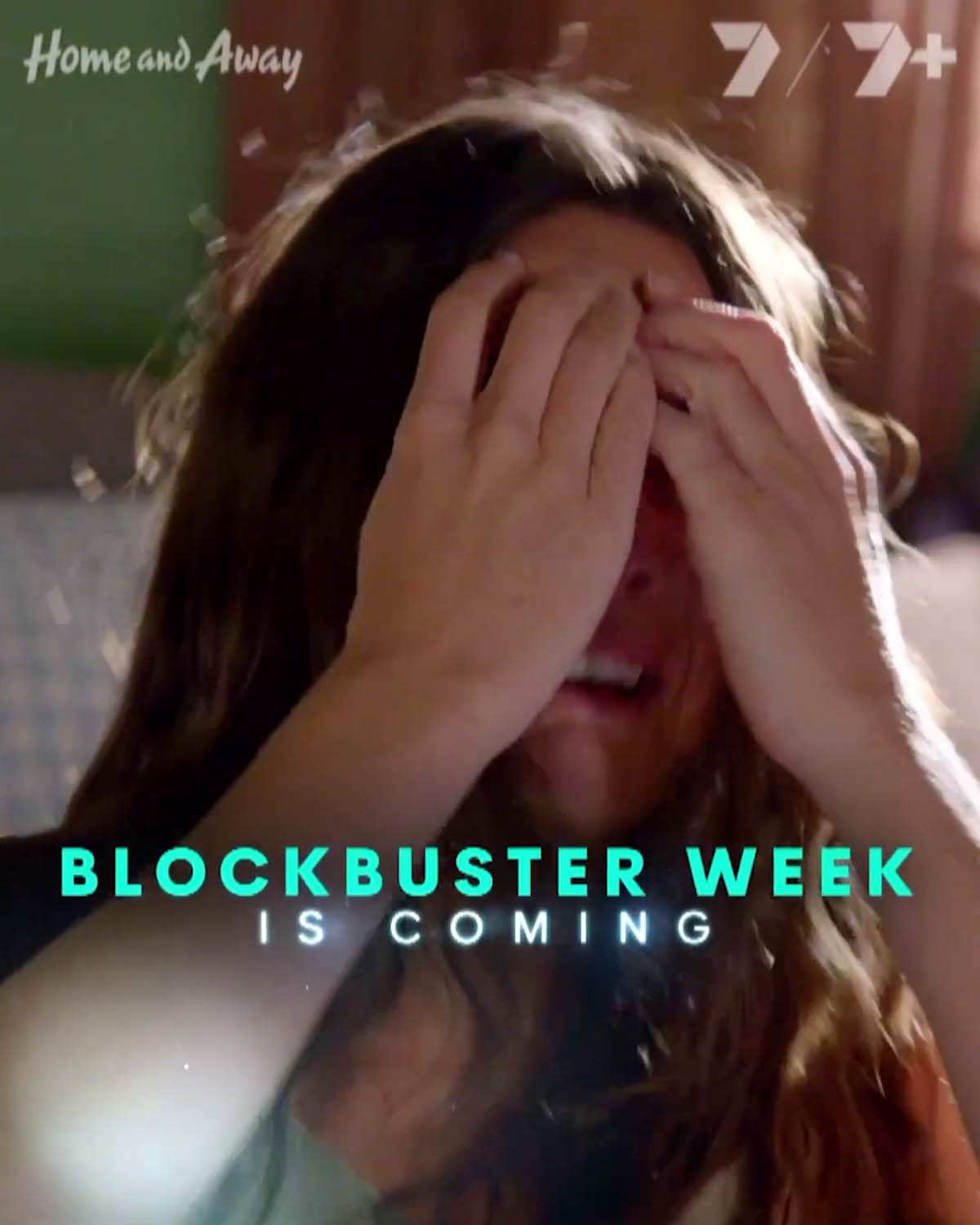 Recent episodes have seen Mac's ex-fiancé Gabe (Akos Armont) discover that his cancer has returned. He fought off non-Hodgkin lymphoma before he walked back into Mackenzie's life earlier this year, but while he believed he was in remission, recent tests showed that the cancer was indeed back.
He initially decided not to fight it, but after Mackenzie promised that she would be with him every step of the way, he finally attended his first chemo session.
However, when he saw Mackenzie struggling to hold back tears that same evening, he decided he couldn't put her through it, and walked out on her once again, with only a note explaining his actions.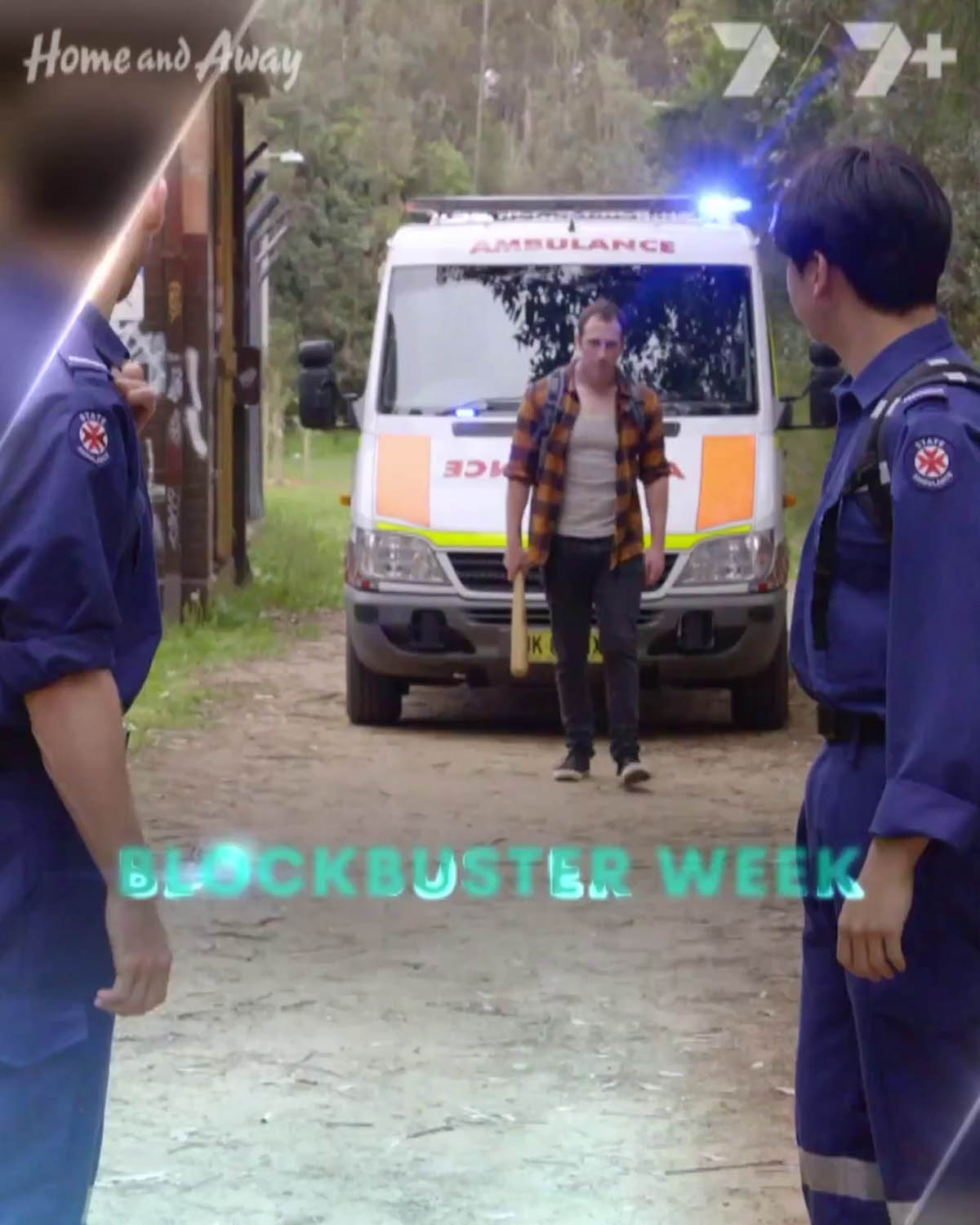 The promo also shows Xander in serious trouble as he and paramedic coworker Jamie are ambushed by a number of men armed with baseball bats and metal poles.
In last week's episodes, Xander and Jamie were chatting with Mali (Kyle Shilling) at the Coffee Cart when they spotted a dodgy-looking man hanging around near the back of their ambulance.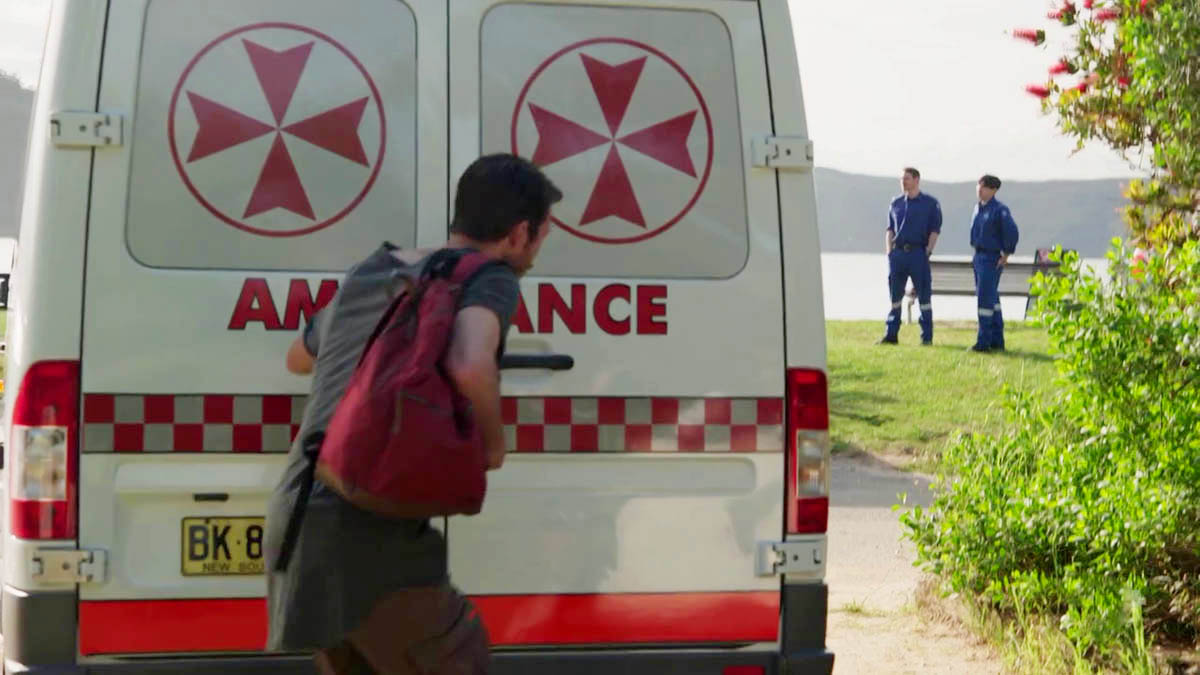 As Jamie shouted, he ran off, and Xander explained to Mali that it was a regular occurrence in their job – the man was likely after the drugs inside the vehicle.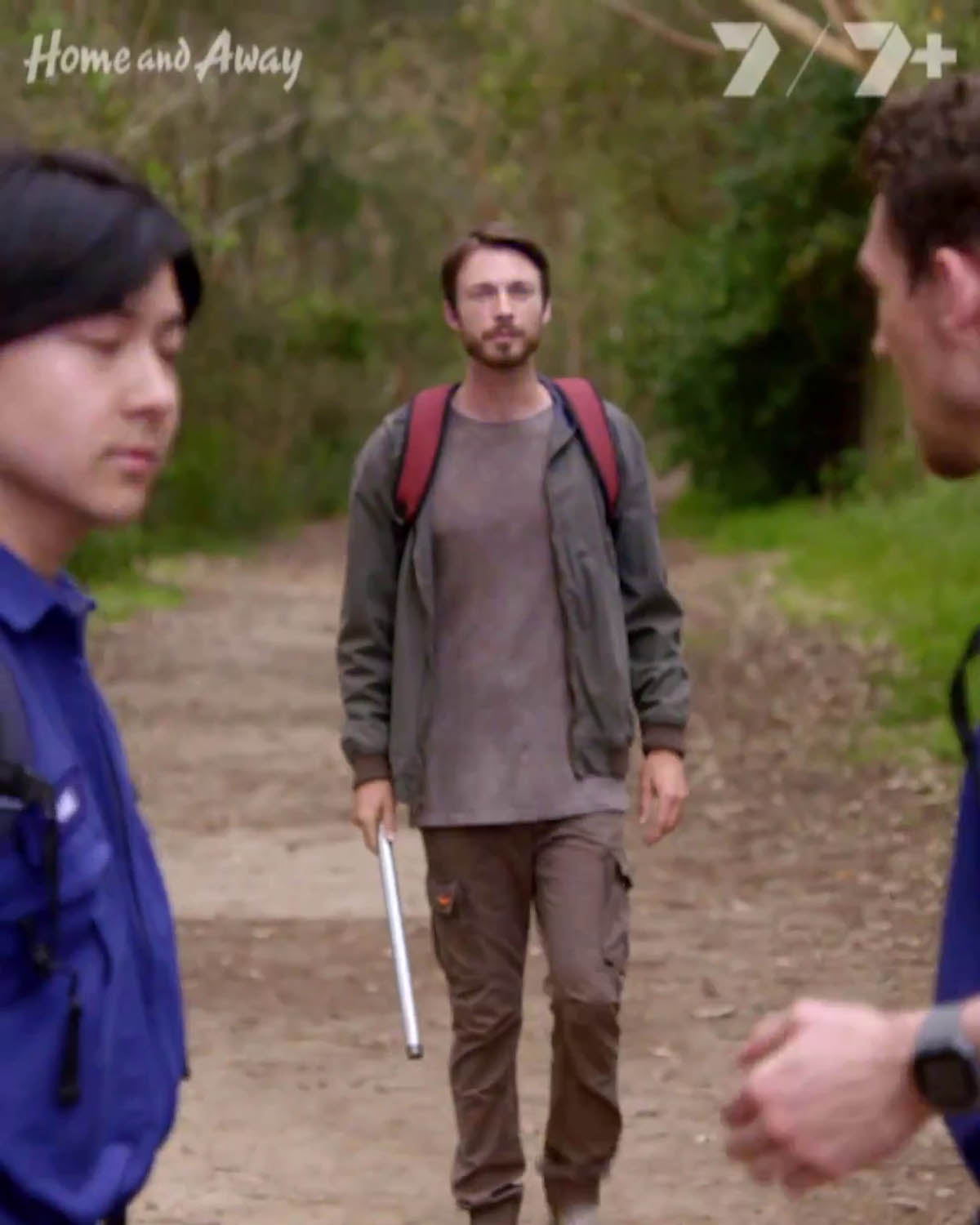 While the stranger was caught in the act this time, it seems he's not ready to give up.
The promo shows that Xander and his colleague get ambushed by a group of at least three men, whose baseball bats and metal poles suggest that they're not messing about.
"Ok guys, look, we don't want any trouble," Xander tells them – but will words be enough to get him and Jamie out of this sticky situation?
While the promo claims to be for one single week, it's unclear whether this is the case, and it appears to show clips from the next two weeks of episodes.
The scenes featuring Justin, Ava and the surfing stranger are expected to air in Australia this coming Monday and Tuesday, but Felicity and Tane's second attempt at a wedding day isn't expected to air until next week.
There's also no sign of Xander in this week's spoiler synopses, suggesting his ambush will also air next week.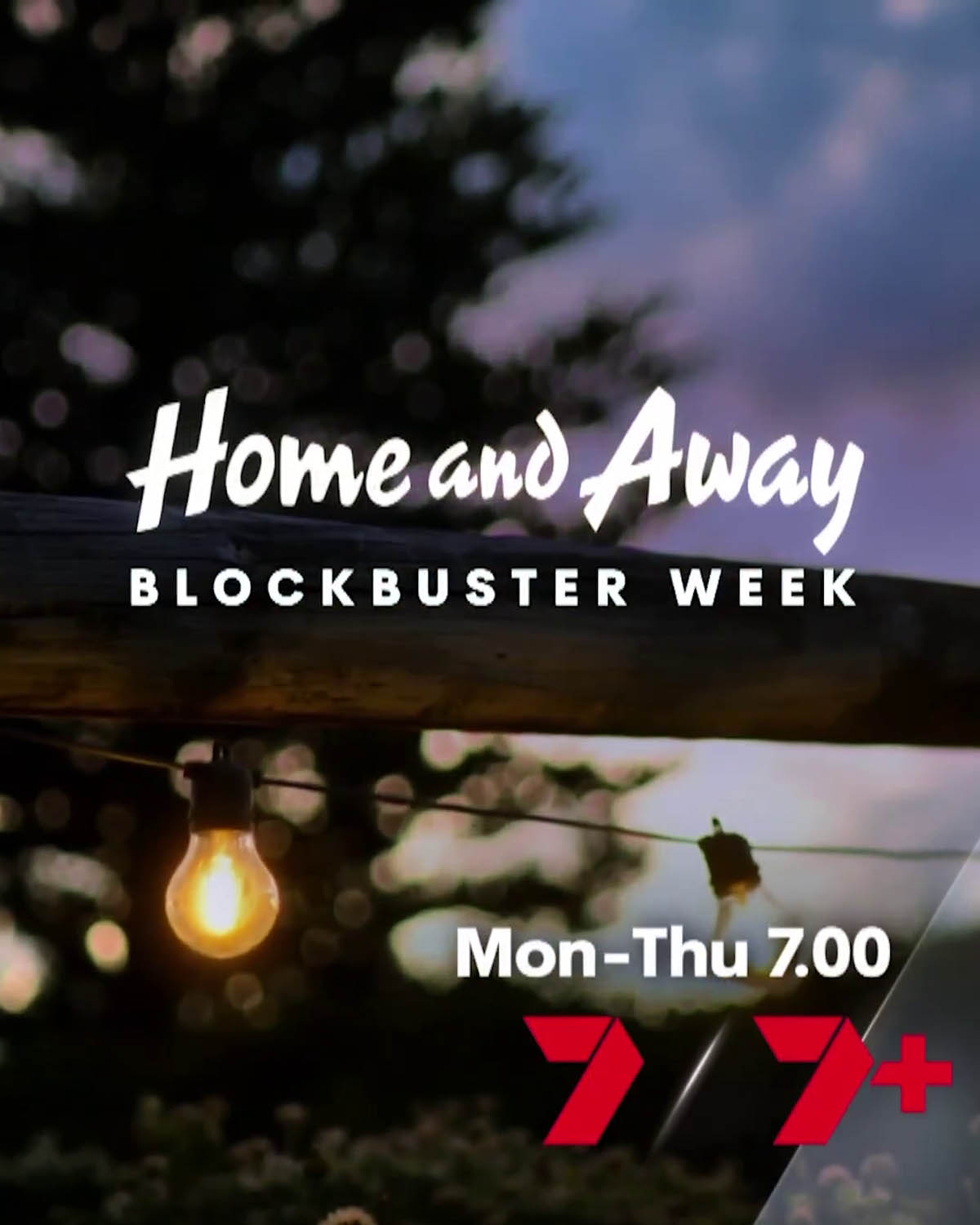 Next Monday 27th March will see a big milestone for Home and Away as its 8000th episode airs in Australia.
UK viewers will see the drama from mid-May.
---
Monday 20th March (Episode 7996)
Justin goes into protective father mode. Theo makes a desperate play to get a hold of Ava. John turns his ire on Mali.
Tuesday 21st March (Episode 7997)
Justin faces the consequences of his actions. Leah returns to the Bay. Can Mali bring John around?
Wednesday 22nd March (Episode 7998)
Can Ava and Justin reconcile? Will Bree tell Remi the truth? Cash and Felicity settle on a wedding date.
Thursday 23rd March (Episode 7999)
Tane and Felicity prepare for their big day. Eden pushes Remi to be with Bree.
---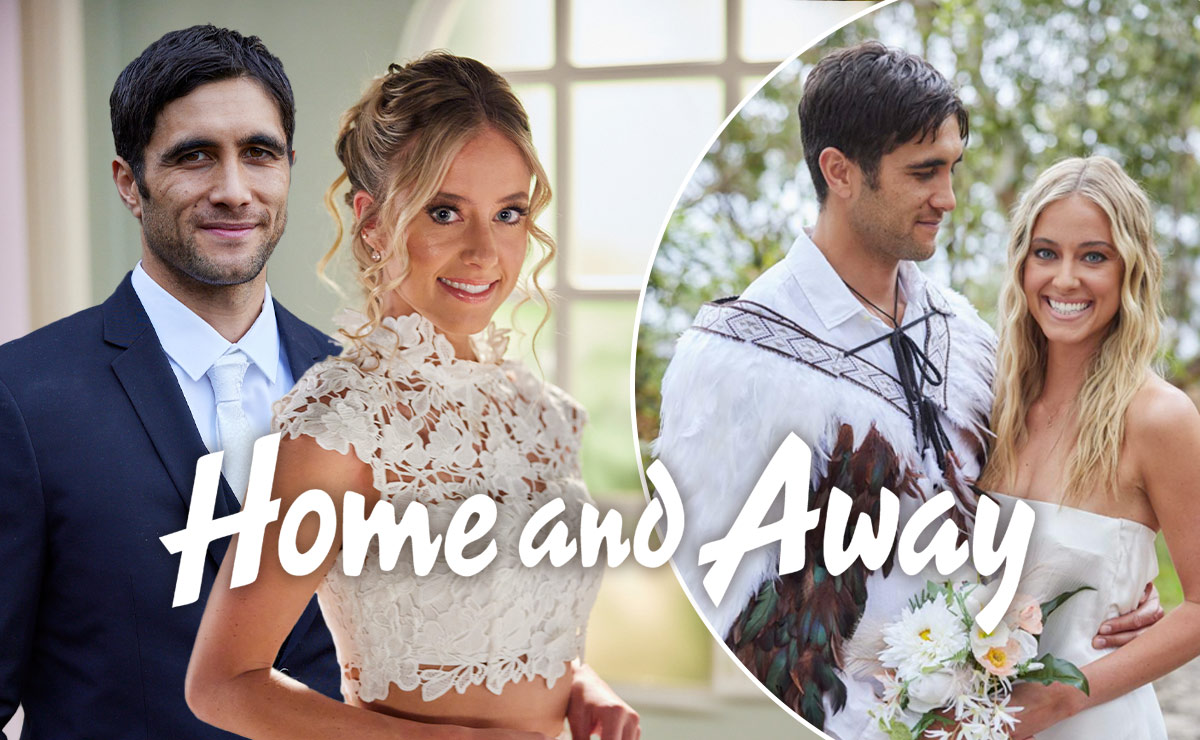 Home and Away will mark its 8000th episode in style next week, with the wedding of Tane Parata and Felicity Newman.
---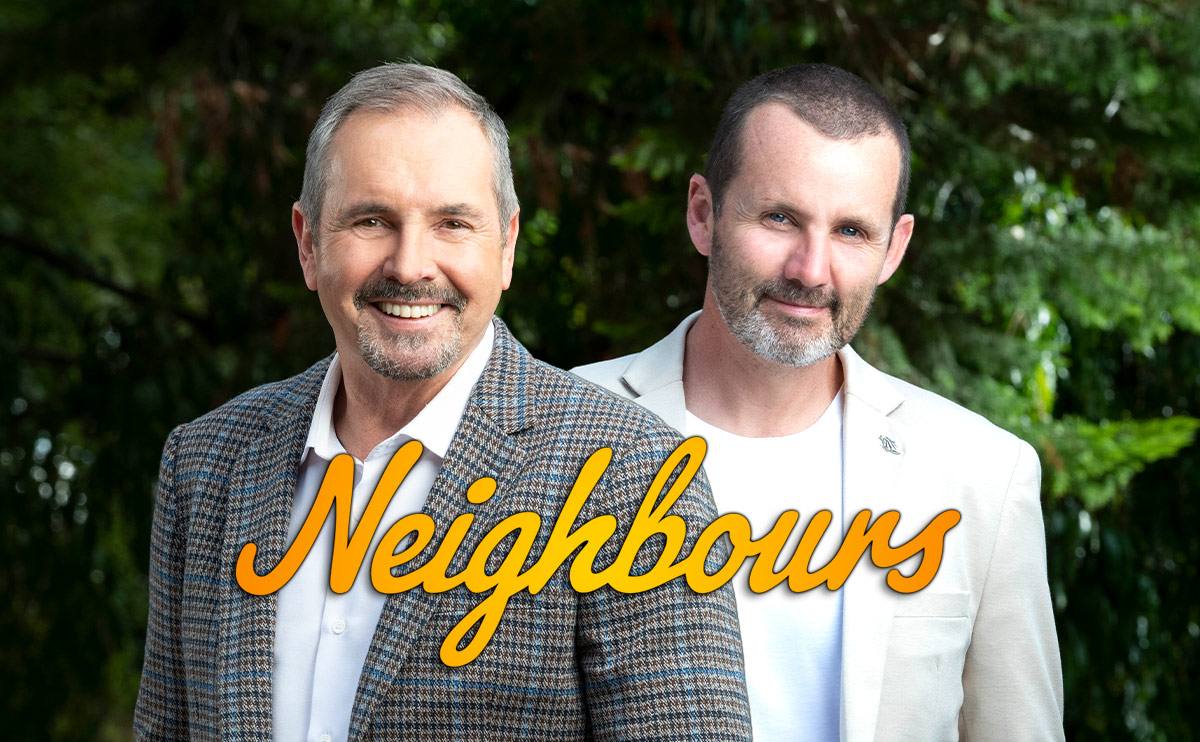 In an interview with Neighbours' Ryan Moloney and Alan Fletcher, we discuss the show's shock return, how they see it evolving now it's on a streaming service, and when they'll first meet the new cast members.
Spoilers in your inbox every weekend!