This Week's Emmerdale Spoilers – 2nd to 6th January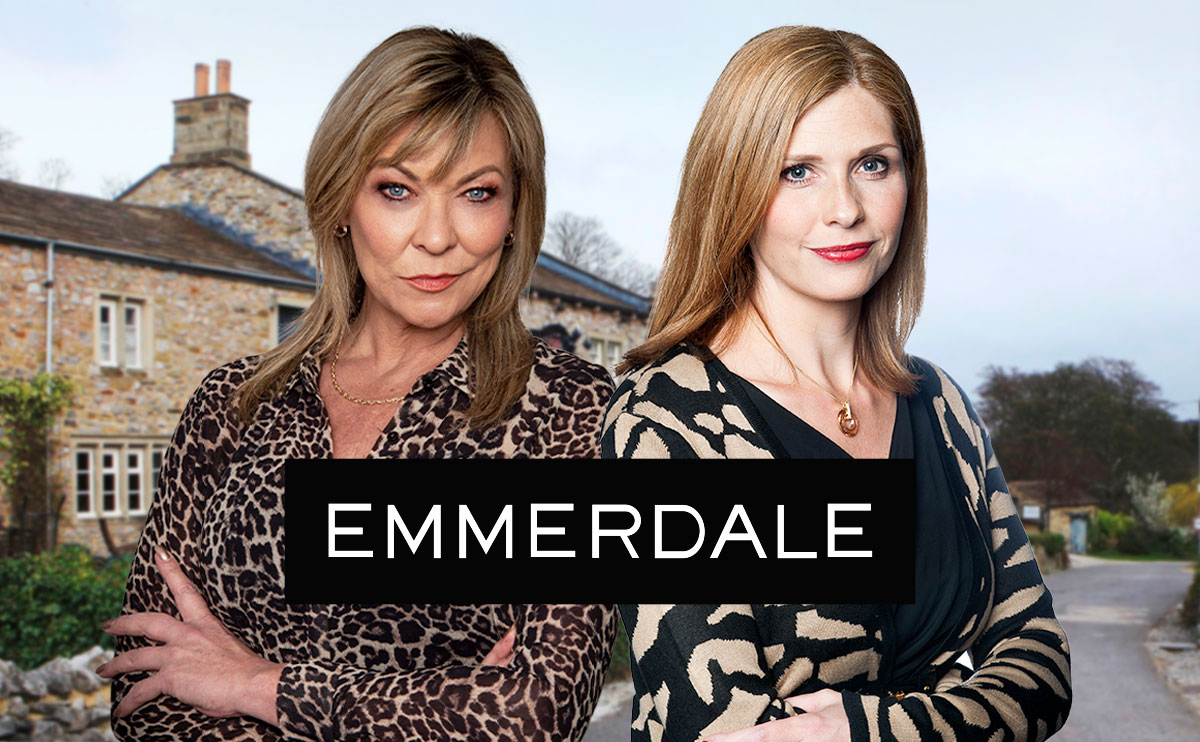 Coming up this week on Emmerdale, Bernice gets herself a new job, Naomi's attempts to help April look set to backfire, and Kim makes it clear to Gabby that romance with Nicky is off-limits.
Having decided to retake control of life, by agreeing to start HRT as she goes through the menopause, Bernice (Samantha Giles) has a renewed vigour to seek a better purpose.
As she spoke with Liam (Jonny McPherson) on New Year's Eve, Bernice admitted that it didn't feel good to be working as an employee at Pampamanda, given that she used to own it, and whilst she was doing her bit for the community in looking to start up a menopause support group, it was time to concentrate on her career.
An opportunity soon made itself known when Pollard (Christopher Chittell) and Brenda (Lesley Dunlop) spoke of their travel plans. Whilst Bernice assumed that Pollard's son David (Matthew Wolfenden) would be taking over at the B&B, now that his own shop is up for sale, Pollard admitted that he didn't think his son was quite up for the job. Bernice was quick to jump up and offer her services.
This week, whilst Nicola (Nicola Wheeler) is shocked when she learns of Brenda and Pollard's plan to retire, Bernice is throwing herself into planning what she could do with the B&B if given the chance.
It doesn't take long for Bernice to convince Pollard that she's the right person for the job, and she's chuffed to bits when he relents and offers her the position.
As Bernice recruits Bob as her right-hand man, the two bounce various ideas off each other in their plans for the business, but Bernice is soon brought back down to earth with a bump…
Telling Mandy (Lisa Riley) that she's quitting her position at the salon, Bernice is thrown when Mandy insists that she work out her one-month notice. Business is already suffering, and Mandy is faced with the prospect of having to close the salon altogether.
Mandy is furious when Bernice then schemes to take Wendy (Susan Cookson) and Bob's business away from the salon, and decides to fire Bernice on the spot! But Bernice is happy, her plan has played out just as she intended!
---
Meanwhile, April (Amelia Flanagan) is still feeling down in the dumps over the whole Arthur (Alfie Clarke) situation. Initially hurt by her crush's rejection, April was surprised when Arthur was later forced to reveal that he is in fact gay.
Whilst April had no problem with this, and was quick to show her support, it still dented her confidence.
April finds a new confidant in the form of Naomi (Karene Peter), who has just started assisting April's father Marlon (Mark Charnock) in his return to work in The Woolpack's kitchen. Naomi is able to give April a much-needed confidence boost, but April's attitude with Marlon and stepmum Rhona (Zoe Henry) leaves a lot to be desired.
The pair are exasperated over the 13-year-old, and when Rhona catches April wearing bright nail varnish, she attributes this newfound rebellion to Naomi's influence.
When Naomi hears what Rhona's been saying, she confronts her in The Woolpack. As Marlon watches on, hopelessly caught in the middle, an argument ensues between the two women.
When Nicola, who is still bitter about Naomi's passive involvement in the attack on her last year, hears of the latest developments, she's quick to drip poison about Naomi to Rhona.. will Naomi's attempt to help April backfire completely?
---
Plus, Nicky (Lewis Cope) is settling into his new job looking after the kids at Home Farm, but will his appointment cause regret?
Gabby was all too happy to hire the hunky nanny, and not just for the skills listed on his CV, as she and Dawn (Olivia Bromley) shadowed boss Kim (Claire King) whilst vying for a job on the estate's new stud farm. However Gabby is unimpressed when Kim warns her off Nicky this week, making it clear that the idea of any romance is off-limits.
In the meantime, Dawn and Billy (Jay Kontzle) are thrilled that Nicky is getting on with the kids so well. Clemmie (Mabel Addison) in particular has had a tough year, so there was some considerable worry with introducing a stranger into the household which could cause further unsettlement.
But Dawn's initial reservations about hiring a nanny are still niggling at her, and she finds herself regretting missing out on all the fun the kids have been having whilst she's at work.
As Dawn prepares herself for a big meeting, she's soon guilt-ridden over the fact that she's missing out on Clemmie's swimming, which spurs her to make a drastic decision…
Kim is furious when she learns of her stepdaughter's plan, and as the pair argue, things soon reach boiling point… is Dawn about to throw away a huge opportunity?
---
Monday 2nd January (Episode 9564)
Brenda tells shocked Nicola that she and Pollard are retiring.
Gabby is unimpressed when Kim warns her off of Nicky.
Bernice shows off her plans for the B&B.
Tuesday 3rd January (Episode 9565)
Bernice is chuffed when Pollard gives her the job.
Leyla is highly strung as she juggles the stress of work.
Dawn is wistful when she learns that she's missed out on all the fun.
Wednesday 4th January (Episode 9566)
Bernice and Bob bounce off each other as they make plans for the B&B.
Marlon and Rhona are exasperated over April's attitude.
Leyla is left hugely conflicted.
Thursday 5th January (Episode 9567–9568)
Naomi confronts Rhona about the accusations she's a bad influence on April and an argument escalates.
Dawn makes a drastic decision.
Bernice is thwarted in her plans to get started at the B&B.
Friday 6th January (Episode 9569)
Things reach boiling point as Dawn and Kim argue.
Mandy is livid.
Nicola drips poison about Naomi.
Spoilers in your inbox every weekend!