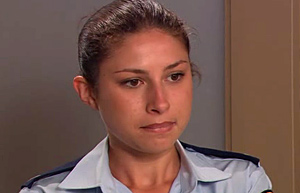 Georgina Watson
Jaclyn Albergoni
Episodes: 4659
---
Watson was first seen in 2008 when she told Jack that Kane had been transferred, following his arrest for robbery. A regular at the police station Watson appears to be a very junior team member. She was switched on enough to spot Charlie's lie that saw a helicopter dispatched to search for Nicole and has, on numerous occasions, had to remind fellow Officers of the rules, only to then see her advice ignored.
She warned Charlie not to enter the storm drain but was ignored. She tried to help both Jack and Rachel in the police station during the investigation into the development site but was dismissed by both of them. She was frustrated when Charlie demanded she do everything in her power to keep Tim Collins in custody, despite Watson's reminder that it was against the rules, only to have Charlie release him after she had completed the work.
She was proven to be trustworthy after Charlie included her in the sting to bring down Angelo and seemed to have a lot of respect for Charlie, often mothering her and trying to convince her to think things through before acting on them.