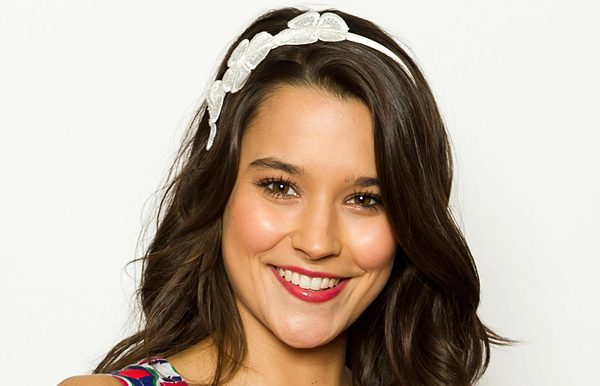 April Scott (2010-2013)
Rhiannon Fish
Episodes: 5097–5873
Parent: Joanna Scott
Sibling: Bianca Scott (half)
Marital Status: Dex Walker (2013-present)
Occupation: Medical Student
---
April was first seen admonishing Xavier for throwing photos of himself and ex-girlfriend Ruby into the sea, telling him he was spoiling the environment and could cause the death of an innocent sea creature. She made enough of an impression on him for him to instantly jump in to retrieve them and put them in the bin and they soon got on well. She was a new arrival in town who was in his year at school. They met again when she found him handing out flyers for Tony's boxing class and was quick to sign up, especially when she learned Xavier was involved. After he made several futile attempts to phone her, she rang him and asked him for his address before going round for a chat. When she started at Summer Bay High, Xavier introduced her to Ruby, making it clear they were over. While helping Tony and Xavier clear out the shed for the boxing classes, April recalled how a friend was attacked during a protest in Paris and how helpless she felt.
Xavier was having difficulty handling his mother Gina's romance with John Palmer but April managed to shake him out of it by encouraging him to take a dip in the cold sea. After exchanging a few kisses and falling asleep on the beach, they accepted they were now a couple. She was finally joined by her older sister Bianca, who was supposed to be in Summer Bay before her but had been delayed. She arranged a dinner at the Diner for Bianca to meet Xavier but Bianca spent the evening flirting with Liam, after inviting him and Ruby to join them. Xavier told April he was worried about Ruby, who seemed left out, but when he tried to talk to her about it she kissed him. He told April what had happened and she pretended to be angry with him before revealing she was actually all right with it. Bianca soon got them thrown out of their home by getting into a fight with the landlord so Xavier persuaded Gina to let them stay at their place. April worried about the effect Bianca's volatile nature would have on their living arrangements and, when Bianca got into arguments with John, they soon found themselves homeless again until Irene took them in. She was worried that Ruby seemed to be avoiding them so followed her to the Diner and asked her if she had a problem with them living together. Ruby assured April that she wasn't the problem. She gave some support to Xavier when he was worried about Tony and Rachel arguing.
April asked Gina to install recycle bins at the school and was shocked and slightly disappointed when she agreed without much argument. Wanting a challenge, she came up with an idea to ban the sale of bottled water, so people would have to fill bottles from water fountains rather than throwing them away. She and Xavier asked John to present the proposal to council and, while she didn't want Xavier threatening and blackmailing him to get his co-operation, she was fine with using Gina to get him to co-operate. She was pleased with the rally John organised at the local tip but not so impressed when he and Xavier came back with a not-particularly-environmentally-friendly car. She competed with Xavier for a job at Angelo's restaurant and won out. She also gave him some advice about the people smuggling money. She was upset, however, when she overheard John expressing his disappointment when money allocated to his Highway to Summer Bay project was used for an investigation of the water bottle ban proposal.
John challenged her to come up with an idea to make him money so she presented him with a proposal for using environmentally friendly buses as a door to door service, which she claimed was being used in Sweden. She admitted to Xavier that the Swedes had rejected the proposal and he urged her to tell John. She refused, saying helping the environment was worth the deceit, but when Gina overheard them she made them tell John. April refused to acknowledge she'd done anything wrong and when she learned John had known she was lying all along she confronted him. However, she was impressed when he stood up to her and apologised, agreeing she needed to be taught a lesson but saying Xavier didn't.
She supported Xavier when John had a heart attack and, when Xavier worried about whether to let John propose to Gina, gave him a list of questions to see whether Gina loved him or not. They were both left bemused when Gina rejected the proposal. She also gave Dexter advice on how to handle his girlfriend Adrian, only to end up admonishing him never to tell a girl you'd discussed them with another girl when he told Adrian about the advice. She helped Xavier try to get John and Gina back together by stalling Gina so Xavier could get John to talk to her. She was upset when John pulled out of the bottled water campaign after the break up, since she had just e-mailed her dad about it and didn't want him to know she'd failed. She was pleased when he changed his mind and spoke up for them, failing to get the ban but getting more water fountains installed. When Xavier discovered John and Gina had got back together without telling him, April helped him understand the situation better.
She was thrown when Bianca's ex-fiancé Vittorio arrived in town and they got engaged again. Worried, since Vittorio had cheated on her before, she preferred Bianca's other suitor Liam and suspected Bianca's heart wasn't in it and she still loved Liam, especially when she demonstrated a reluctance to discuss the arrangements and kept listening to a phone message from him. She tried to push them together by getting them to supervise a rubbish collection she'd organised and was left watching on bemused as Liam and Vittorio competed with each other. She asked Liam to teach her guitar so he'd spend time at the house with Bianca but her plans were derailed by the arrival of their mother Joanna, who was determined the wedding should go ahead. She made sure both Liam and Bianca were going to be chaperones at the Year 12s' informal formal then enlisted Xavier's help to make sure Vittorio wouldn't be there, also going along as a waitress with Xavier to keep an eye on things. She was delighted when Bianca and Liam left together but horrified the next morning when Bianca insisted she was still marrying Vittorio. She had a go at Nicole for helping Bianca with the wedding dress and refused to be bridesmaid before making a point of turning up to Bianca's hen party with a t-shirt of Liam on, although she did end up attending the service. She was delighted when Bianca halted things and ran off with Liam but her mood soured soon afterwards when an angry Joanna took her back to Europe.
She returned after six weeks to the sight of Xavier kissing Summer Horgan-Jones. She assured him she still wanted to see him and hadn't been with anyone else but seemed distracted. She was also uncomfortable staying with Liam and Bianca, who were still on their honeymoon period, so moved back in with Irene. She revealed her mother had tired of her after a few weeks so she'd ended up in France with her father and was still in touch with his assistance Rene. She stole some chemicals from school, having been inspired by her father's eco terrorist methods, and, when Xavier questioned her about her intentions, told him she was planning to use them to sabotage a factory that was polluting the local rivers. She was annoyed when he reacted negatively, telling him to keep quiet but admitted that she had no real plan. Xavier tried to dispose of the chemicals but accidentally exposed them both to toxic fumes in the process. April recovered enough to stagger down to the beach but then collapsed and, although she was quickly rushed to hospital, Xavier was in a bad way when he was eventually found. After listening to everyone assuming Xavier was to blame, she waited until the next day to admit the truth to Irene, Bianca and Gina. She was devastated when Bianca told her father what had happened and he lambasted her for her childish behaviour, since she'd only done it to impress him, and again when Gina banned her from seeing Xavier. When she only received a detention as punishment and Gina told her she could see Xavier, she broke up with him, which, along with her failing to defend herself against Emily Logan's bullying, caused Bianca to ask her if she was punishing herself.
She started hanging out with Dexter, helping him with his blogs, and was uncomfortable when Xavier came to the house and tried to win her back with a message in French. She was unhappy to be paired with Emily for a science project and didn't feel like celebrating her 17th birthday. When Bianca tried to cheer her up by booking a meal for her and her friends at Angelo's restaurant, she claimed she didn't have any friends. She was also upset that her parents didn't contact her and she was only sent an iPad by her father's assistant, which she gave to Dexter. She was reluctant to attend a birthday dinner Bianca organised but Dexter persuaded her to go along. The only thing that made her smile was a necklace Xavier had bought her, but when he suggested they get back together she rejected the idea and gave the necklace back.
She also became paranoid about some marks on her skin, going to the hospital and asking Sid to test her for skin cancer and having a mole removed despite him saying it was nothing to worry about. She shared a brief heart to heart with Ruby about their respective problems. She was persuaded by Dexter to appear in his blog about double standards towards relationships but was upset when she received some negative comments. When given some simple Geography homework to do – a map of a made up country – she repeatedly did more maps, even staying up all night to work on them. She was thrown into a panic when Jase McKenzie messed up her carefully laid out pens at school and Liam confiscated them, especially when Bianca suffered an electric shock the same day. Her obsession with keeping things in order became more apparent and she told Dexter if she didn't people would get hurt. She spent ages working on a poetry assignment and kept all her clothes in neat order. She ignored Dexter's claims that she had OCD but was unable to fight her urges. She expressed her disapproval over Xavier lying to Miranda Jacobs to get her to date him and agreed to accompany Dexter to the party Ruby and Casey were organising at a holiday mansion, only to be thrown into a swimming pool by Heath Braxton and the River Boys and have to be taken home by Xavier and Miranda. With Bianca away, she spent all night doing the ironing and then skipped school to write Bianca a text message in exactly 200 characters, refusing to discuss her actions with Dexter or Liam. She was annoyed that Dexter had told Liam what was going on and hid from Irene and Bianca, insisting there was nothing wrong with her, only to break down in tears when Bianca messed up her neatly folded clothes. After a chat with Sid, she made up with Dexter, acknowledging he was the only person she didn't push away, and Bianca. She spoke to a counsellor and realised she had abandonment issues because of her poor relationship with her parents.
She told Bianca to give Liam space after he was dumped to his record contract only to get into an argument with him when he told Summer she was wasting her time trying to learn the guitar and be told to keep an eye on her own life. She was impressed with Xavier's plan to protect against erosion by planting shrubs on the beach and, when Dexter told her Xavier still liked her, she joined him and discussed their break-up, after which they got back together. They both tried to avoid neglecting Dexter but he was mostly left watching them kissing. She wasn't convinced by Bianca's desire to give Liam space and went round to his house to try and rouse him, calling Bianca when she, Xavier, Dexter and Ruby saw him on a cliff top. She suggested to Bianca that if she stayed away from Liam he wouldn't know she still liked him and tried to reassure her when he left town. After accompanying Xavier on an abortive trip to a music festival, she tracked Liam down in rehab and persuaded Bianca to go and see him for closure.
She went along with Xavier's plan to set Dexter up on a double date with Summer so he'd be more comfortable with them being affectionate around him and later turned up late for a date with Xavier because she was reassuring Dexter about Nicole taking George back, before turning down Xavier's offer to teach her to surf. She was shocked to hear Dexter was dating a classmate, Kate Hanlon, and got into a jealous argument with her when the teens went away together. She and Dexter ended up spending time alone while the others surfed and he admitted he was only pretending Kate was his girlfriend but their conversation was interrupted when Xavier was dragged out of the water after hitting his head. She seemed uncomfortable being around him at the hospital but shut Dexter down when he seemed to be about to tell her he liked her. When he turned up at her house and kissed her, she reminded him she already had a boyfriend and was annoyed to hear Bianca had slept with Heath, accusing her of cheating on Liam. She cancelled a date with Xavier to go and see Dexter and told him she needed to be honest with Xavier but then kissed him. They began seeing each other in secret but she was uncomfortable with the situation. She didn't feel able to break up with Xavier after he was injured in a fight with Casey and told Dexter they needed to stay away from each other for a while.
She continued to meet Dexter in secret and, after Xavier had tried to arrange for them to go away together for schoolies, she broke up with him without giving a reason. She ultimately decided to be honest but before she could talk to Xavier he saw her and Dexter kissing. After Xavier had punched Dexter, she tried to talk to him to sort things out but only made matters worse because he thought she wanted to get back together. When she saw Xavier spending time with Kelly, she advised her not to hurt him. She managed to repair her friendship with Xavier and helped Kelly keep her job when she nearly ran over Colleen.
She tried to help Bianca by tracking down Liam, only to find he had checked himself out of rehab, and then had to help Bianca deal with being raped. When Liam returned, she was threatened over his plans to testify against Heath and looked after him when he was beaten up. She also looked after Bianca when she started having flashbacks to the rape and, on learning the culprit was Kelly's brother Dean, had a go at her about it. At Xavier's request, she spoke to Kelly and told her no-one blamed her for what Dean did but supported Bianca when Kelly's appearance sent her into a panic. She was upset when Liam and Bianca broke up.
She advised Dexter over a suggested visit from his mother Jody and was pleased to be introduced as his girlfriend. Realising Irene was hiding something, she looked in her bag and found a card for a breast surgeon, forcing Irene to admit she had breast cancer. She offered to work at the Diner to help her out and defended Irene when Miles made a comment about her taking off. She helped Dexter search for his new sister Sasha in a storm and clashed with Gypsy when she arrived in town, annoyed at her disrupting her ordered way of doing things and feeding Lily a casserole Colleen had made for Irene. When she, Xavier and Dexter learned the school was to be demolished, they organised a protest during which April chained herself to the gates and was arrested. She was released without charge and claimed victory when the school stayed open, unaware Gina had blackmailed them with incriminating documents.
She cut short a date with Dexter to look after an ill Irene and took her to hospital. The experience led to her deciding to become a doctor and telling Dexter they needed to cool things down until after her HSC. She ignored Xavier and Dexter's attempts to get her to go to a Year 12 party, insisting she needed to study. Irene and Ruby persuaded her to go but she left early since Dexter was too busy keeping an eye on Sasha to spend much time with her. While accompanying Irene to her chemotherapy, she got chatting to an intern, Phil Jamison, about stimulants. She asked Heath to get her some but he refused so she went round Dexter's and stole Sid's prescription pad, using it to get the pills she needed to keep awake before returning it to the house. However, she was terrified when she learned Sid had alerted the police and guilty to be awarded dux of the year. She planned to confess but Ruby talked her out of it and disposed of the drugs, although Heath realised what had happened when he saw her. April collapsed whilst giving her acceptance speech and Ruby told Sid what was going on. She offered to accept her punishment but Sid felt she was sorry and kept the matter quiet.
Feeling guilty, she apologised to Sasha, Gina and Ruby, then wondered why Dexter was off with her. Xavier told her Dexter had been thinking about sleeping with her and she assumed that was it, only to be left nonplussed when she discovered Dexter was upset she hadn't apologised to him as well. When Bianca began spending time with Liam while he was in hospital, April was pleased at the thought of them getting back together but sympathised with Heath when she learned Bianca had slept with him again and found out he'd slept on the beach in a drunken depression. She made things up with Dexter and they made plans to lose their virginity together after a party at the surf club but she cancelled when Irene felt ill. When Marilyn and Sid turned up, April agreed to go to the party anyway but arrived to find Dexter kissing another girl, Dallas Phillips. She went home in tears and next day saw Dexter accepting the congratulations of their classmates who thought he and Dallas had slept together. She locked herself away in her room and refused to see him or forgive him.
She spoke to Heath when Darcy tried to see Bianca and he confirmed Dallas had said Dexter turned her down. Xavier invited her out to the restaurant where Dexter was waiting where she told him she believed him but didn't trust him, worried he'd brag about her the way he had Dallas. She felt flattered when a group of Rive Boys wolf-whistled her. She turned down Dexter's request to go to the formal together and told Ruby she wanted to lose her virginity after the formal. She roped Heath into driving her, Xavier and Ruby to a car rally but Bianca chided her for spending time with him. A member of her debating group, Jonathan Brewer, asked her to the formal but she turned him down and asked Xavier instead, confirming to Ruby she was planning to sleep with him. She stocked up on sexy lingerie but when Bianca found out what she was doing she agreed to reconsider. However, she then saw Dexter coming out of Dallas' caravan and assumed they were together. She put on a revealing dress and tried to seduce Xavier but was interrupted when Dexter learned what was going on and drunkenly attacked her date, prompting Xavier to make it clear he wouldn't betray Dexter. After sitting by the beach feeling depressed, she ran into Heath, who was similarly down over his family leaving. They went for a drive and she kissed him, then when he took her home she slept with him, smuggling him out of the house the next morning.
April made her peace with Xavier and then approached Heath, only to find that he viewed their night together as a one-off. At Liam and Bianca's engagement party, April got dressed up and followed Heath down to the beach where they started kissing. They were interrupted by Liam and a furious Bianca but she went home with Heath and spent the night with him. However, he ended things when he learned she had been a virgin. After Dexter approached her suggesting they be friends, it gave her the idea to tell Heath she just wanted to be casual but he claimed he'd just been using her to get back at Bianca.
April and Bianca headed to the hospital when Irene was taken ill with a heart condition, brushing off Heath's attempt to talk to them. There, she found out Dexter and Dallas were just friends and Bianca made her promise not to see Heath again because of the stress it was putting Irene under. Heath later told her he'd lied about using her and apologised and she nearly slept with him again but didn't want to break her promise. She changed her mind when she overheard Liam accusing Bianca of being jealous but, with Irene also unhappy, she asked Heath to keep their relationship secret. He initially refused before turning up in her bedroom and agreeing.
Having failed to get into medicine, April decided to repeat Year 12.She was thrown when her new teacher, Henrietta Brown, turned out to be an old girlfriend of Heath's, especially when Heath went out with her and left April studying with Casey. She was cold towards Henri at school and turned her away from Bianca's hen night before sneaking out to see Heath. She was shocked when she returned and heard Bianca says Heath's name instead of Liam's in her toast. When Liam saw her with Heath, he got her to admit what Bianca had said.
She met up with Heath on the day of Liam and Bianca's wedding, which resulted in Bianca being late to the service when she went to warn him off. April decided to be open about the relationship and invited Heath to the reception with her but was distraught when he chose to spend time with Henri and reminded her they weren't supposed to be exclusive. He later turned up in her bedroom again and, when he confirmed nothing had happened with Henri, she let him stay the night and told him he could use the front door from now on.
She tried to convince Heath to go on a date with her but he told her he had to work. She was upset when she went to the restaurant and found he wasn't there, although it did give her an opportunity to smooth things over with Dexter. She relaxed slightly when she found out he'd been watching Brax cage fight but was unhappy when she found Henri had been there. She went round to see Heath and walked straight into a house party but got into the swing of it. When she found out Bianca was pregnant, she promptly shared the news with Heath.
She was shocked when Henri gave her a C+ for an assignment and thought she was victimising her out of jealousy but both Henri and Gina warned her she needed to focus on her studies instead of spending all her time with Heath. After getting advice from Bianca and Ruby, she told Heath she couldn't spend all her time with him and needed to trust him to be faithful; he agreed to an exclusive relationship. She tried to avoid having Henri round for dinner by inviting Heath round, telling him it would be just the two of them but when Heath found out she'd lied he walked out.
She was delighted when Heath took her out for dinner at Angelo's and told him she loved him. When she found a brochure for a romantic getaway at his house, she assumed he'd booked it for the two of them but when she turned up she found Henri there. Heath admitted he'd cheated on her and had never wanted to be a boyfriend and they broke up. She briefly played truant from school to avoid Henri. She accompanied Bianca to her ultrasound when Liam was detained and was shocked when the dates showed Heath was the father. She was uncertain when Liam and Bianca decided to keep it a secret and defended Heath when Bianca was threatened by Trent "Sully" Sullivan to get Heath to leave him alone.
When Heath commented on how he regretted missing out on so much with Darcy, she told him the truth. Bianca was furious and told her that if Liam ever found out Heath knew she would leave town and cut April out of her life. Darcy found out after overhearing April and Heath talking about it and, when the news got back to Liam, Bianca told April she wanted nothing more to do with her. Upset, April went to Dexter and told him what was going on, then arranged to spend the night at his place, ignoring Sid's instruction to tell Irene and Bianca where she was. She got home to find Bianca and Liam moving out. She suspected Heath and Henri were together when she saw Henri's cardigan at the house and followed her to the restaurant only to see her kissing Casey instead. She confronted Casey but agreed to keep quiet.
She helped Xavier pick out a birthday present for Sasha and was invited to the celebratory barbeque by Dexter, where she inadvertently brought the tensions between Romeo and Indi to a head by commenting on the expensive earrings Logan Meyer had bought Indi. She became jealous when she saw Dexter and Lottie had becomes friends, prompting Dexter to suggest she was only interested because someone else was. She was devastated when she heard Bianca and Liam were leaving town and hadn't even told her but soon after she and Bianca exchanged apologies and reconciled. She convinced Heath to withdraw his request for a DNA test by telling him there was a risk of miscarriage. She said an emotional farewell to Bianca as she prepared to leave town but in the end Bianca didn't leave after breaking up with Liam and asked April to be her birthing partner.
Jealous of Dexter and Lottie, she invited herself along a fossil hunting trip they were making and, when she tripped and hurt her ankle, exaggerated the injury to get Dexter's attention. At the hospital, she told him she loved him, only for him to reply that she wasn't the person he'd loved and he couldn't trust her. She supported Bianca when she was taken to hospital with high blood pressure. When Dexter told her he and Lottie were together and she later learned Lottie had stayed over at his place, she assumed they'd slept together and jealously accused Dexter of taking advantage of her. Bianca then took a turn for the worse and she tried to reassure Heath over it while relying on Dexter for support. When Bianca had to be taken into theatre for an emergency caesarean, April was horrified when Heath told the doctors to prioritise the baby over her until Bianca revealed she had told him to say it. Bianca then had a bleed on her brain and ended up in an induced coma.
She was furious when Dexter kissed her while comforting her, and when Sasha had a go at her for her reaction, but after talking it over with Irene she kissed Dexter and told him she loved him. She was pleased when Bianca recovered consciousness and went back to Dexter's place where she offered to sleep with him. However, they were interrupted when Indi came home upset and, when Bianca was diagnosed with post-natal psychosis, reacted badly when Dexter suggested going back to his place. However, after they later spoke at the hospital, she went ahead with sleeping with him. She struggled to cope when Bianca had to be sedated after going missing from the hospital, and when Bianca came round with no memory of events she was unable to talk to her. She went back to Dexter's place and slept with him, after which he helped her get some sleep.
When she walked in on Bianca and Heath kissing, she insisted Heath wouldn't be able to commit and tried to dissuade them both from starting a relationship, leading to a row with Dexter over her motives. She avoided him afterwards until she found a good luck note he had left in one of her textbooks and conceded she was jealous that Heath could commit to Bianca when he couldn't to her. She pondered if Casey and Ruby were a couple and learned that Sasha liked Casey. After she and Dexter had done some digging and learned Casey was single, they tried to set him and Sasha up by inviting them both out for drinks, only for Casey to turn up with Ruby, who kissed him in front of everyone, leaving Sasha upset.
She and Dexter were twice interrupted while trying to get intimate, first by Sasha then by Irene, so decided they needed to get their own place. She made several attempts to break the news gently before blurting it out to Irene and Bianca. The couple made a presentation to their families to convince them the plan was viable. Sasha nearly managed to talk them out of the plan but they eventually found a flat they liked only to discover they needed a guarantor. Sid quickly stepped in and they got a lease on the house. After their family helped them move in, April took delivery of the bed and sat down to welcome Dexter when he returned home. Instead, Bianca turned up with the news Dexter had been badly injured in a car accident. She maintained a vigil at his bedside in hospital. When she found out that Ruby, who was visiting Dexter, had caused the accident by cutting the brake tube on Indi's car, she angrily confronted her and told her she was going to jail. She began staying at Irene's again while spending most of her time at the hospital but her constant insistence that Dexter was going to be all right caused Sid to angrily point out to her how serious his condition was. She was left devastated but returned to the hospital and was with Sid at Dexter's bedside when he recovered consciousness. Dexter was left with a brain injury and April tried to nurse him but he reacted angrily at her wiping his mouth. Sid persuaded her to go home and, when she returned after doing research on his condition, told her that Dexter didn't want to see her. Casey suggested Dexter was trying to give her a way out and April headed to the hospital where she had a go at nurses Alex and Romina when she overheard them complaining about how much work Dexter was. Dexter overheard and apologised for rejecting her. She made him an orientation chart to try and jog his memory but it just reinforced how much he'd forgotten.
She supported Dexter when he wanted to return home and Sid eventually agreed but warned April taking care of him was a massive task. April moved into the farm and tried to organise a roster to look after him but only managed to upset Sasha, who complained about how bad things had got since Dexter's return while he was in earshot. She had to give up the lease on her and Dexter's house. When Casey came to the farm to try and talk to Sasha, April angrily turned him away; even before she found out he'd slept with her and then discarded her. She was shocked when Sasha told her Dexter was worried they hadn't been intimate since the accident and tried to sleep with him but found the experience uncomfortable and ran off. She spent the night at Irene's but when she returned to the house, Dexter had decked out their room with fairy lights as a romantic gesture and she suggested that instead of trying to recapture what they had they should concentrate on moving forward.
She managed to convince Heath to support Bianca at the hospital when Rocco was ill with meningitis and, after he recovered, helped Bianca move in with Heath. She then received the news that Rocco had died and refused to let Dexter go with her to see Bianca. She ran away from him when he tried to talk to her afterwards, spending the night at Irene's. She told him she didn't see the point in doing her exams and getting into medicine after doctors couldn't help him or Rocco but after learning he had been to see Gina to talk about special dispensation her enthusiasm was restored and she told him she didn't know what she'd do without him. She delivered a moving eulogy at Rocco's funeral.
When Romeo and Indi renewed their vows in a private ceremony at the farm, she and Sasha nominated themselves as bridesmaids. She tried to spend time with Bianca but she kept avoiding her to go and see her new boyfriend Adam Sharpe. They eventually met for lunch but Bianca quickly made her excuses when April asked her about her future plans. Sasha advised her to take the direct approached, so she confronted Bianca with a photo of Rocco, then managed to get her to open up by going along to one of Adam's parties. She got into an argument with Heath while she and Dexter were eating at Angelo's when he was reluctant to forgive Bianca for her recent behaviour but it was curtailed when Dexter felt ill and they had to take him home. She was upset when Dexter initially kept the fact he'd had a seizure from her. When she later went to see him, he broke up with her, saying it was obviously too hard on her. She confided in Irene, which resulted in Irene telling Sid what was going on in the middle of Roo and Harvey's wedding reception. April tried to apologise to Dexter but he told her he still loved her and they walked away from an angry Sid together. He spent the night at her place but she annoyed him by stopping him watching quiz shows because they taxed the brain too much and mashing up his food. After she agreed to give him some space, she revealed she'd got into medicine and was congratulated by Bianca and her friends.
Dexter admitted he was worried she was leaving him behind and she encouraged him to go back to university. She took him along to the open day, unaware that he was supposed to be having a scan at the hospital, and witnessed him having a minor seizure. After he was told the seizures would likely continue, she insisted they would still be happy and decided to move back into the farm full-time. She avoided orientation week in order to spend time with Dex, prompting him and Sasha to throw a toga party for freshers at the farm. However, April felt left out as Dexter chatted to his uni friends as well as worrying he was getting too stressed and being unhappy about his rejecting Sid's concerns, although they later cleared the air. She witnessed Casey and Tamara kissing and warned Casey that he needed to tell Sasha about his new relationship. She arranged for Tamara to take over her old room at Irene's, upsetting Sasha with the result that she and her friend Rosie gave April a hard time when she came to school to address the class, although she and Sasha later cleared the air. She joined the Walkers in trying to convince Sid he still had purpose in life.
However, she became worried when Dexter had difficulty putting his uni schedule together and suggested he stay at home with Sid, who had spent time as a voluntary patient as a mental health clinic, which left Dexter feeling she had no faith in him. When she was unable to prove otherwise, he felt she saw him as a patient rather than a boyfriend and told her they needed to take a break, prompting her to move out and leaving them uncertain whether or not they were spending time together. She was left distressed when her first day at uni was a disaster, with her lecture being moved and her unable to find the right room, and told Irene and Bianca she was lost without Dexter. She initially pretended to Dexter and Sasha that everything was fine but Sasha saw through the pretence and she and Dexter agreed to be honest with each other. She began to show OCD symptoms under the stress and sorted out a detailed colour-coded map of her movements for the day only to break down in tears when a lecture was cancelled. Dexter comforted her but when she assumed it meant they were getting back together he put her straight. She felt rejected so Irene and Bianca suggest she make friends at uni. She invited a classmate, Brett Smith, to the Diner to study with her but he mistook it for a date and things got even more awkward when he turned out to be a friend of Dexter. Dexter took her home and helped her get her timetable sorted. When Dexter confided in her about how he wasn't allowed to help patients at work, she again felt they would get back together soon.
She was bewildered when Bianca got angry about Heath proposing to her. When Heath asked her about getting permission from Bianca's parents, April told him he had her permission and reminded Bianca of the bond between them. Things improved at uni when she managed to impress lecturer Jake Twomey with her intimate knowledge of how hard things were on relatives of a patient and they shared a coffee together, meaning she had to turn down an invitation from Dexter. When she went to see Dexter, she found him having coffee with his hospital colleague Steph Green. She attended Heath and Bianca's engagement party and gave Tamara a makeover for the occasion. She was jealous when Dexter turned to Steph rather than her when Romeo was diagnosed with cancer and disappeared and tried to warn Steph off, accusing her of putting pressure on Dexter, only for Dexter to tell her off and decide they needed a proper break and to spend time apart. He later admitted he kissed Steph. April interpreted the confession as him wanting a clean break so they could get back together but when she turned up at his house hoping for a reconciliation she found he and Steph had slept together. Dexter told her they might not get back together.
When Irene told her about Rosie being raped, she joined Sasha in supporting her. She had a girls night in with the pair which left Rosie feeling more positive but Sasha's talk about Dexter and Steph convinced April it was over and she wished Dexter luck. She attended the self-defence class that Zac was arranging. Indi tried to set her up with Chris Harrington but April told her that, while she'd accepted she wasn't getting back with Dex, she didn't want to be with anyone else either. Indi then set her up with a now single Dexter at Angelo's. April sympathised when he told her his seizures had returned and he'd had to report Steph for not doing tests on patients properly but got angry when she found out he'd had sex with Steph at work and stormed out. She later calmed down enough to help him write his account of the incident for work and they reunited, although April refused to stay over with him until he got rid of the bed he'd slept with Steph in. She tried to help him prepare for his meeting with the board with a mock interrogation but he walked out when her questioning got too personal, saying he wasn't going to go to the meeting. She decided it was up to him whether he went or not and so made no attempt to track him down but fortunately he turned up.
April was assigned to the hospital on her placement, meaning she was working with Sid and Dexter. She went to Sid for advice with assignments, ignoring Dexter's attempts to help. She was annoyed when Dexter constantly patronised her at work and revealed he thought he was smarter than her but was forced to concede he had a point. She comforted Tamara when Casey pushed her away after being arrested and then looked after her when she was brought in with dehydration and amnesia. She reluctantly allowed Kyle in to see her but warned him that she might form an artificial attachment. She convinced Bianca to make a statement to the press when they wrongly accused Zac of sexually assaulting a student. She and Kyle took Tamara home and tried unsuccessfully to jog her memories of Casey but she was concerned that Kyle had started getting close to Tamara, accusing him of taking advantage of the situation. She tried unsuccessfully to build bridges between Tamara and Casey. She found an engagement ring Dexter had bought for her but was relieved when he told her he'd changed his mind and agreed with him that they weren't ready for marriage yet.
When she saw how distressed Dexter was at his failure to make headway with his bucket list, she arranged a Parisian meal for them at the farm. This backfired when she was bitten on the ankle by a snake. After inadvertently sending the ambulance to the wrong address, Dexter took her to hospital himself where she ended up suffering an allergic reaction to the anti-venom. She pulled through and she and Dexter were left stronger by the experience. When Sid announced he was leaving town, Dexter told her he wouldn't go with him without her and April agreed they should both go. However, she concluded with her OCD she wouldn't cope with the move and was relieved to find Dexter had already decided to stay. Instead, she moved back into the farm with Dexter.
She failed to make a good impression on her new supervisor, Peta Bradley when she turned up late for her first shift with her and found that Peta refused to give her as much leeway looking after patients as Sid did. She tried to impress her when given filing to do, by colour coding patient records, but Peta chided her for wasting time instead of getting rest and, when Dexter tried to stick up for her, accused her of getting her boyfriend to fight her battles. When Peta told her to do some more filing when she was about to leave, she left anyway despite Peta telling her not to come back if she did. After taking advice from Irene and Dexter, she decided to assert herself more but Peta still talked over her, so instead she decided to report her for bullying. Dexter convinced her to keep a record of their run-ins but Peta soon saw her doing it. Peta let April take the lead when Casey was brought in with alcohol poisoning, then recommended she be transferred. After another clash with Peta, she reported her, prompting Peta to tell her she needed to toughen up. She reacted by being blunt with Tamara when she tried to ask her advice about Casey and Kyle.
Bianca asked April to be bridesmaid at her wedding to Heath but April turned down the offer, citing her history with both Bianca's weddings and Heath. When the wedding ended in disaster, on Bianca learning he'd slept with another woman, April was quick to turn on Heath but equally quick to change her mind when Bianca decided to get married after all. When Casey was hospitalised with spinal damage after a car crash, April had to talk Brax out of changing doctors when he was put out by Peta's abrupt manner. Although she stopped Ricky bullying Casey about doing physio, she was delighted to see him getting closer to Tamara and dismissive of Dexter's sympathy for Kyle. When Peta overheard them discussing the situation at work, she felt them working together was a bad idea and tried to get one of them to quit. April protested that Peta wasn't Dexter's line manager but Peta responded by saying that meant April would have to go. April tried to confront her but learned Dexter had already resigned. She pleaded his case with Peta but when Peta told her she could be a surgeon if she didn't have any distractions she thanked Dex for his sacrifice. In the end, though, she talked Peta into letting him have his job back. Despite their difficulties, April insisted on making a farewell speech to Peta when her time as a locum ended.
April repeated her mistake with Peta's successor Nate Cooper by having a go at him after mistaking him for a journalist writing a hatchet job on John and Marilyn's new tour scheme. He gave her more responsibility but seemingly only out of disinterest. April was certain there was something wrong with him and after overhearing part of a phone conversation she jumped to the conclusion he had been through a bad break-up. In fact, he was simply resenting being posted to a small town and, on learning of April's altercations with Peta, tried to get her to report him so he'd be fired. April and Dexter tried to make him feel more at home by throwing a welcome party. She convinced Spencer to talk to Sasha when it was revealed he was bipolar.
After Romeo's ashes were scattered, Dexter proposed to April and she accepted. She was annoyed when Dexter announced it on Facebook and bothered when Nate suggested they were too young but relaxed when Dexter told her she made him happy. With Indigo planning to go travelling, they decided to arrange the wedding in two weeks. April was infuriated by Dexter's attempts to arrange a Star Wars theme wedding and was contacted by her father, who felt her getting married was an ideal time for them to rebuild their relationship. He arranged a post for her at a university in Paris which she found herself considering. She intended to turn it down but when Dexter found out he concluded they should both go. With Dexter insisting on a couple as best man and matron of honour, April chose Casey and Tamara, feeling the way they'd overcome their problems was inspirational, unaware that they had just broken up. With the pair planning to leave immediately after the wedding, April had a sudden panic attack prior to the ceremony, fretting about how much she was asking Dexter to give up. Bianca talked her into going through with the wedding and, after the ceremony and reception, she and Dexter were given a lift out of town by Sid and Indigo.