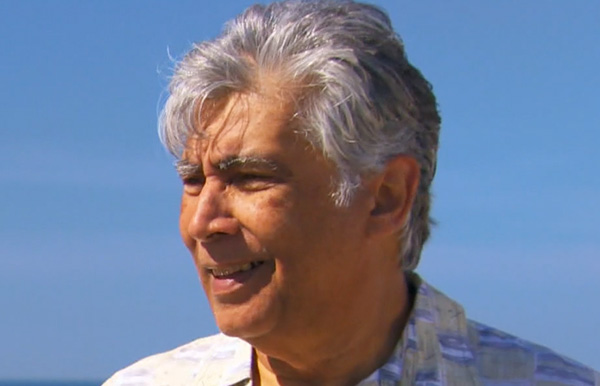 Russell Harris (2017; 2018; 2019)
Monroe Reimers
Episodes: 6792; 6838; 7048
Siblings: Bobby Harris
Marital Status: Alice Lawson (separated/deceased)*
Children: Willow Harris and another unnamed daughter
---
The father of Willow Harris and of Sri Lankan heritage, Russell had previously been a resident of Mangrove River where he lived with his wife Alice and two daughters. When Willow was 10 years old, Alice left the family, taking Willow's (unnamed) sister with her. In the early-mid 2010's, Russell was diagnosed with Alzheimer's disease and was subsequently moved into residential care.
Russell was first spoken of when Willow was trapped in the boot of a car with Justin Morgan, having both been trying to hide from Boyd Easton who she owed money to. Willow told Justin that her Triumph car belonged to her father, and some of her fondest childhood memories were of Russell taking her out for a drive every Sunday after her mother Alice had left them.
Russell was first seen being admitted into Northern Districts Hospital, after falling down the stairs at his nursing home. Whilst Russell was still unconscious, Willow received a text from Boyd hinting that he had been responsible for her father's fall. Russell soon woke up and was found to only be suffering bruising and mild concussion. On entering his hospital room and seeing Justin and Willow, he confused them for his brother Bobby and wife Alice respectively, and tried to organise a fishing trip with Justin.
The following year when the Triumph went missing, Willow and Justin suspected Dean of stealing it. Colby eventually discovered the car at the beach, with Russell sat inside it. Knowing Russell from his days in Mangrove River, but unaware of his Alzheimer's which had occurred in the six years since Colby left the town, Colby called off the search and phoned Willow. It transpired Russell had slipped away from the nursing home, taken the car from outside Willow's caravan and was waiting for her, believing that they'd planned to go for one of their weekend drives. Russell was in good spirits and Willow took it as a good sign that he at least remembered where she lived. Colby suggested that Willow should be the one to chauffeur an excited Russell for a change, and the two went off on their adventure.
In 2019, Russell came to Northern Districts Hospital when Willow was fighting for her life after being shot by Ross Nixon. Recognising Dean, he asked what had happened. As Dean started to explain about Ross, who Russell knew, Justin changed the subject and said they should focus on Willow for the moment. Russell sat by an unconscious Willow's bed and softly sang a Sinhalese lullaby to her. Before leaving, he promised to visit the next day and asked Dean to look after her.
*The status of Willow's mother is unclear. In 2017, Willow had said that her mother walked out on the family when she was ten years old, taking Willow's sister with her. However in 2019, Willow stated that her mother had died when she was very young.