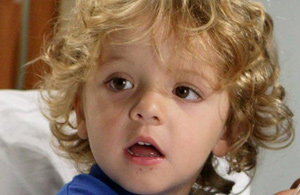 Oliver Phillips
Oliver Davis
Episodes: 4643 – 4973
Parents: Kane and Kirsty Phillips
---
We first saw the cutest boy in the Bay when Irene received a mysterious phone call and headed to meet someone, returning with Oliver. Realising he was running a temperature Irene called for Rachel and told Ollie that he had to play a game of silence and not answer any questions he was asked. Rachel arrived and told Irene that Ollie was very ill and needed to go to hospital.
In hospital Ollie received regular visits from Irene and Annie and still refused to speak despite the Doctor and Police's best attempts. Meanwhile Irene was seen on the phone assuring Ollie's parents that he was doing okay and soon enough Ollie received a very special visit from his Daddy, fugitive Kane Phillips.
A few days later Oliver's mother Kirsty kidnapped him from the hospital intending to take him on the run again after Kane's failed robbery attempt. They were both in the car as it was chased by the police but Kane dropped them off and they returned to Irene's.
With his Daddy in prison Ollie lived with his Mum at Irene's and was responsible for inadvertently exposing Belle's relationship with Aden when he ran into her room, causing Annie and Geoff to see them in bed together. He destroyed Belle's work by colouring on it so Kirsty decided to move them to a caravan. They lived in a caravan for a while and whilew his Mum worked at the school Ollie was babysat by Colleen and VJ's grandmother Stella.
He moved into the caravan park house with his Mum and became part of a family with Miles and Jai. While playing in the caravan park with his Mum and miles he ran into his Daddy who asked him to keep quiet about seeing him but Ollie was excited and talked about Daddy during a game of pirates. Kane later returned to the bay a free man, wanting his family back and after Kirsty decided to go with him Ollie said bye to Miles and Jai before leaving the Bay with his Mummy and Daddy.
He was next heard of when his mother Kirsty returned to the Bay saying that his father Kane had taken him away. She managed to track them down and bought Ollie back to the bay, only for Kane to reappear and snatch Ollie back. He was upset to see his Daddy leave the bay for good but enjoyed being back at Irene's with Kirsty. He was even more delighted when his mother made up with Miles and they moved back into The Caravan Park.
Ollie turned up at the beach house with perfect timing to sit between Geoff and Claudia just after they'd found out she was pregnant. He also discovered his rebellious streak just as Miles was trying to persuade Kirsty to try for another baby. Some weeks later, while Kirsty and Miles were away on the trek, Ollie was left with Irene who asked Geoff to babysit. Unfortunately, having just found out he wasn't the father of Claudia's baby, Geoff was in no mood to deal with Ollie acting up and shouted at him, leaving him hiding upstairs in tears.
When Kirsty found out she was pregnant, she had to break the news to Ollie. He seemed quite excited about the idea of a baby in the family although he sounded as though he'd rather have had a puppy. He and Alf later took Miles on a fishing trip to cheer him up after Kirsty turned down his proposal. He was with Miles and Kirsty when they sprung Liam and Nicole in the house and was on hand to wave off Jai and Annie when they left for Japan. Shortly after Kirsty lost the baby, Oliver met his grandmother Shelley for the first time when she came to Summer Bay to comfort her. Kirsty then took Ollie to live with her family in the city.