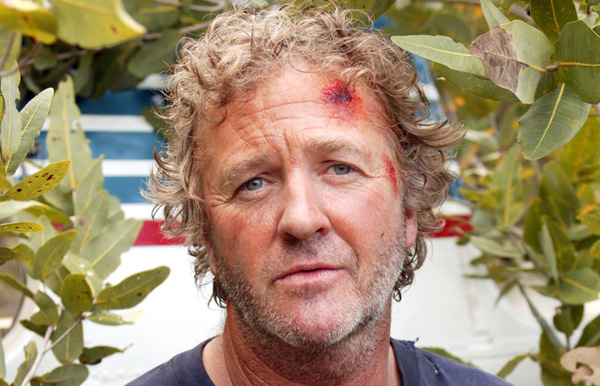 Colin Page (2006)
Shane Withington
Episodes: 4215–4231
Siblings: Lucy
Occupation: Helicopter Pilot
---
Colin was a helicopter pilot who was assigned the task of flying Martha, Kim, Robbie, Kit and Belle to the city for a consultation with a burns specialist following the explosion at Jack and Martha's wedding reception. He was first seen at Northern Districts hospital introducing himself to his passengers. Not long after the chopper departed from the Bay, it crashed in bad weather and all radio contact was lost. Everyone thought they were dead and the search was scaled back but what they didn't know was all 6 had survived the crash and were lost in the bush with very little food and water.
Tempers frayed among the survivors and at first it was level headed Colin who tried to calm the bickering. Colin wanted to go looking for help, as he thought they would never be found otherwise, but Kim thought they should stay where they were. Colin insisted he had more experience in these situations and the group voted with Colin, against Kim's wishes. During the journey the problems with Colin and Kim escalated and they continued to argue about directions and strategies.
Also during the journey, Colin bonded with Belle. He said she reminded him of his sister Lucy. Belle then broke down and Colin comforted her. He later observed that Belle seemed distant from the others and encouraged her not be such a loner.
After Belle and Kit had an argument, Kit fell down a cliff. This caused more friction between Colin and Kim as Colin defended Belle and they almost got into another fight. Colin then wanted the group to split up, as he thought they would have more chance of being found, but the others wanted them to stay together. Because of Kit's injury, she slowed the group down considerably. Colin became annoyed about this and his mood didn't improve when Kim gave Martha the last of the water. He told them that they desperately needed water and they had to keep moving. Later Colin thought they had found a creek but the group were devastated when they discovered it was dry. Colin blamed everyone for walking too slowly and another argument with Kim followed. The ill feeling between the two was not helped by the fact that Colin kept calling Kim names like 'kid', 'sunshine' and 'pretty boy'!
The group ploughed on but Kit couldn't continue any longer. Colin continued to tell them they needed to keep moving as they were in more danger if they didn't. Kit wanted them to leave her behind and Colin said she had a point. Kim strongly disagreed and when Colin called him a moron he punched him. The two began fighting and Robbie tried to split them up. Kit told them they need to leave her but Kim said he would stay with Kit as the friction between him and Colin would not help the group.
Colin, Martha, Robbie and Belle continued their journey and they finally appeared to have stumbled upon some water. Everyone decided to drink it apart from Robbie who thought the stagnant water was contaminated. It turned out Robbie was right and the rest of the group became really ill. Belle was then bitten by a spider and Colin tried to comfort her. As darkness approached the group seemed to give up their fight for life, even Colin. Robbie called out to Colin but there was no answer.
In the morning, Martha stopped breathing so Robbie began trying to resuscitate her. He was about to give up when Colin encouraged him to keep going. Robbie called out for help and just at that moment the rescuers arrived. Everyone was rushed to hospital and later Belle asked about Colin. Irene said he was OK and was airlifted to the city as soon as he was admitted to hospital. Belle was disappointed she couldn't say goodbye as he had really supported her through the ordeal.