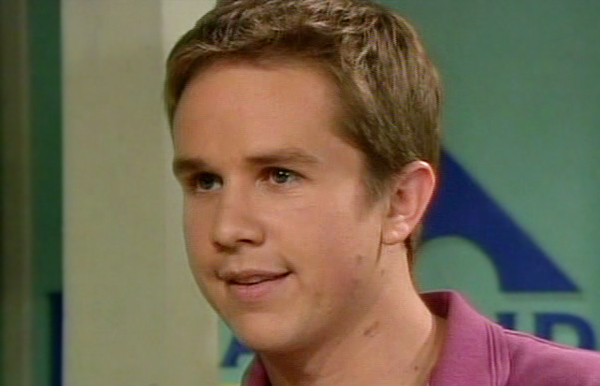 Michael James Dunn (2002; 2003)
Trent Atkinson
Episodes: 3388–3419; 3526–3544
Parents: Mrs Dunn
Occupation: Student, Boathand
---
Mikey was an autistic boy who began attending Summer Bay High in order to get his HSC. Seb was assigned to look after him but his first day had mixed results when he experienced a bout of flatulence in Angie Russell's class: The class was disrupted as Mikey and everyone else started laughing, prompting Angie to keep them back. Nevertheless, Seb took him to the Diner so he could get to know the other students.
Mikey had to be rescued by Josh when he got into trouble swimming. He was entranced by Sally's red shoes in class so she let him look after them for the lesson. When the fire alarm went off during class, Mikey was frightened and hid behind the lockers. He was found by Sally and Seb but in his panic he hit Sally. She didn't bear a grudge, tutoring him and letting him help her in class.
When Seb lost Mikey at the mall, he was worried he'd gone back to the beach and drowned but he turned up in one of the classrooms. Seb and Nick later discussed flying with him, prompting him to go up on the school roof and consider jumping to see if he'd fly. Recalling his love of red, Sally borrowed Irene's red jacket and went up on the roof, managing to get his attention and convince him to come down. Don considered taking him out of mainstream classes as a result but ultimately agreed to give him another chance.
After being taunted by Angie about poor schoolwork, Nick convinced Mikey to help him cheat at a textiles exam which Mikey had taken the previous year; Mikey asked the supervising teacher if he could take the exam as well, then swapped papers with Nick at the end. After the deceit was discovered, Nick apologised to Mikey for using him and got Irene to take him for a ride in her car to make up for it.
As the school year drew to a close, Mikey suggested to Seb, Nick and Jade that they have the end of year party on the beach but Don vetoed the idea. Having completed his HSC, Mikey made a speech in his final class, and gave Sally a bunch of flowers. He attended the end of year dance where Don made a special presentation to him. He thanked everyone at the school for their help, including Angie (who he referred to as "Tarangela" within her hearing).
Mikey turned up on Sally & Flynn's doorstep the following year, having been given a work placement in Summer Bay helping Scott out on the Blaxland. When Sally told him she and Flynn were getting married, Mikey told her they couldn't because Sally had to marry him. He was eventually convinced otherwise, but got upset with the noise that the builders working on Flynn's new surgery were making, and inadvertently tore Sally's wedding dress. On the boat, Scott began to get frustrated with Mikey's habit of compulsively tidying tools away before he'd finished with them, finding him more of a hindrance than a help. After taking a booking without checking with Scott, and inadvertently knocking the toolbox into the water, Scott eventually decided he would have to let Mikey go.
Mikey managed to be a hero one more time when Christopher Fletcher ran away after everyone found out he was gay. Mikey located him hiding under the wharf and sat with him, giving him his lunch, before informing the other teens of his whereabouts. Not long after, Mikey's mum came to collect him, having found him a new work placement elsewhere, and he told Sally he'd be back soon to check that Flynn was looking after her.