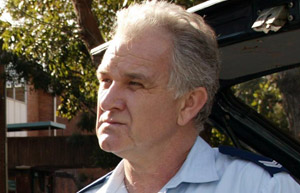 Senior Constable Darren McGrath
Kim Knuckey
Episodes: 3915 – 4716
Marital Status: Pat McGrath
---
First seen in 2005, as Jack's senior Officer in a small town police station, McGrath was often seen attending to crimes himself and co-ordinating major incidents.
Despite being a stickler for the rules, McGrath often covered for Jack and turned a blind eye to his many misdemeanors, regularly defending him to Senior Officers including to Ross Buckton after the murder of Sam Holden.
In 2008, Jack was overheard telling Ross that McGrath had been transferred.