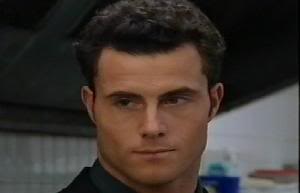 Stefan Hubert (2000)
Damen Stephenson
Episodes: 2906-2913
Occupation: Owner of "Chez Stefan"
---
When Vinnie took Leah out for a posh meal to celebrate there five months and umpteen days anniversary he took her back to the place of her infamous strip. Unfortunately for Vinnie he ran short of cash and Stefan, the owner of the restuarant wondered just how Vinnie was going to pay up. When he found out that Leah was the cook at the Bayside Diner he asked if she could cover a few lunches for him to pay for the meal. Leah accepted despite Vinnie's protestations against the idea, saying it was him that should be doing the work to pay for the meal.
After doing a shift, Stefan asked Leah if she could move to the restaurant permanently. Leah, accepted and reluctantly left the diner. Vinnie began to get very suspicious, thinking that Stefan might be cracking onto Leah, especially when Leah kissed Stefan when she had fallen drunk. Stefan then revealed that he had trouble with his partner, Mel.
Leah gave Stefan advice on his partner, presuming Mel was short for Melanie, and after the chat, Stefan and Mel made up. Stefan and Mel went around to tell Leah and Vinnie that Leah would no longer be required at the restaurant and much to Leah and Vinnie's surprise, Mel was a man and Stefan was gay.