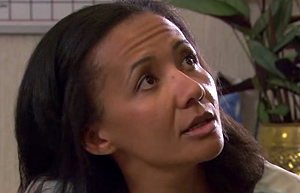 Paula Gill (2009)
Paula Arundell
Episodes: 4796, 4814-4816
Occupation: Journalist
---
Paula was a senior staff member at the Coastal News who met Belle when she turned up late for work and told her she'd missed a meeting.Paula explained that the front page story had fallen through and told Belle to bring her a story to make up for it.When Belle turned up with a story about someone dealing drugs at school, having spoken to Charlie, Paula didn't seem entirely convinced of her abilities even though the editor, Jerry, was enthusiastic about it.
She continued to be significantly less impressed with Belle than Jerry was, giving her an extra assignment just as she and Aden were about to go out on a date.Belle later saw Paula kissing Jerry at the hospital and learned that they had been in a car accident and married Jerry was having an affair with her.Belle agreed to keep quiet when Jerry told her she could take over as acting editor while he was in hospital, only for the paper's owner to overrule him and make Paula acting editor.
One of Paula's first decision was to put Belle on Weddings and Obituaries and, when Belle went home to write the story up, she turned up there and told her she wanted her in the office when she wasn't doing interviews.She later searched Belle's drawer at work and found it full of empty pill bottles.When Belle turned up late again, she told her the assignments for the day had been handed out and she was on general stories.She later walked in on Belle arguing with Rachel about asking different doctors for pills and seemed to believe Belle's claim that she was researching a story about doctors overprescribing.However, she then walked in on Belle taking pills in the toilet and, when Belle claimed they were for a headache, showed her some of the empty bottles she'd found.Realising that Belle had a drug addiction, she told her to get herself sorted and that she was fired.