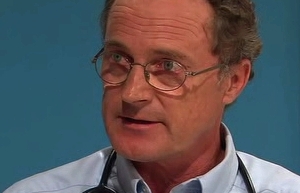 Dr. Fagan (2008; 2009)
Richard Healy
Episode: 4659; 4672; 4902-4903
Occupation: Microsurgeon
---
When Rachel revealed to Tony that she wanted to start trying for a baby, she enlisted Dr Fagan to carry out a reversal on his vasectomy. Tony went to the hospital but was told by Dr Fagan that the chances of him ever having children were low due to post-operative scarring from when he had the vasectomy.
A few weeks later, with Tony scheduled to have the operation anyway, Rachel spoke to Fagan about the fact that another patient had been brought in after arresting during an operation and ended up on life support. Fagan told her that it was the result of an allergic reaction to the anaesthetic, and the anaesthetist had been out of his depth, assuring her there was nothing to worry about. Tony chose to go ahead with the operation.
The following year, Fagan treated Trey Palmer when he was found apparently collapsed in the bush. Soon after, when it transpired that Trey had actually planted a bomb under the school bus, Fagan treated Hugo for injuries sustained in the explosion, telling Alf, Martha and Xavier that they would have to remove the shrapnel and warning them there might be brain damage.
*Dr Fagan may also be the doctor who operated on Sally after she was stabbed earlier in 2008, who was credited simply as Surgeon.