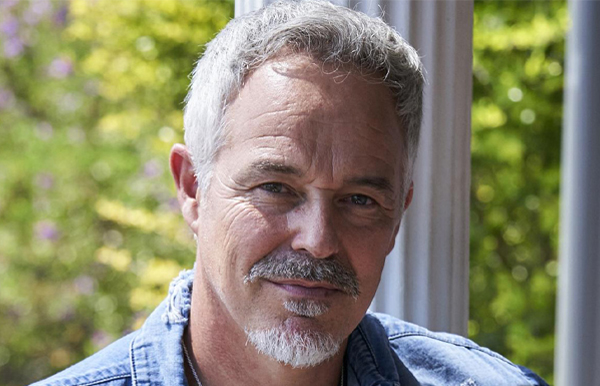 Evan Slater (2020)
Cameron Daddo
Episodes: 7330–7359
Date of Birth: 12th September 1965
Parents: Juliette Harper
Siblings: Owen Davidson
Children: Ryder Jackson
Occupation: Musician
---
Evan arrived in Summer Bay, looking for his son Ryder. It transpired soon after that he had met Quinn on a cruise ship and the pair had engaged in a brief relationship, in which time Ryder was conceived. Ryder was welcoming to his father but thought something was amiss. Roo agreed and found Evan on the beach where he admitted he had mesothelioma. He confirmed he only had months to live. He refused to tell Ryder for fear of his reaction, however Roo offered up an ultimatum – if he didn't tell Ryder, she would. Evan decided against revealing the truth to Ryder, instead telling him he wanted to get to know him better.
Over the next few days, Ryder and Evan bonded. With their relationship growing stronger, Ryder asked Evan to meet Alf. Along with Martha and Roo, the men went to lunch. Roo confronted Evan about his decision to get to know Ryder and after informing Alf of the truth, Roo broke the news of Evan's fate to Ryder. Sworn to secrecy, Ryder talked his father into doing a charity performance at Salt. Evan worried he wouldn't be able to fulfil his son's wishes, but agreed nonetheless. As the event approached, Roo caught him coughing profusely. When asked if he should perform, he relayed a story of playing a gig with food poisoning. This assured Roo he could do it, especially for Ryder.
Evan's gig at Salt was a hit. He sang multiple songs, including one he wrote when he found out he was a father. Afterwards, Ryder admitted he knew that his father was sick. The next day, Ryder found him missing from his van. However, Alf found him at the hospital where he admitted to his son that he was in the end stage of his illness. Ryder left for a bit and upon his return, he learnt Evan had checked himself out. He found his van cleared out and rushed to stop him leaving town at the bus stop.
Although reluctant, Evan agreed to stay in town in the Summer Bay House. Ryder took time off work, telling his father he wished to look after him. With his condition worsening, and now requiring an O2 cylinder full time, Evan taught Ryder how to play the guitar. However, it wasn't long before Evan decided to leave town, destined for palliative care in Brisbane. Ryder was crushed, but accepted his decision after some initial hesitation. Roo decided to go with Evan to be with him in his final weeks.
She returned four weeks later with news of Evan's passing. Posthumously, it eventuated that Evan had an identical twin, Owen, both of whom were adopted out at birth by their mother.