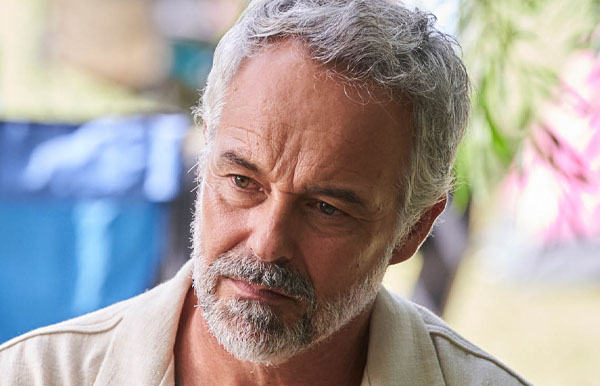 Owen Davidson (2020)
Cameron Daddo
Episodes: 7395–7429, 7454–7460
Date of Birth: 12th June 1965
Parents: Juliette Harper
Siblings: Evan Slater (deceased)
Spouses: Unnamed ex-wife (divorced)
Children: Emma Davidson and another unnamed daughter
Occupation: Banker
---
After the death of Evan Slater, Roo returned to Summer Bay and was shocked when only a short time later, she saw him – or at least, someone that looked like him. Initially Ryder and Alf believed she was seeing things, but when they saw him with their own eyes, they asked him to come to the Summer Bay House. Upon arriving, he walked in on Roo and Marilyn doing a séance as they believed Owen was a ghost. He was uneasy by the situation at first, but when Ryder explained that he looked identical to his father, Owen warmed to him and his family.
Wanting an explanation, Owen contacted births, deaths and marriages and learnt that he was adopted out at birth and that he had a twin brother – Evan. Ryder was quick to teach Owen all there was to know about Evan. From his crazy ability to guess the exact temperature in a moment, to the fact he played at a music festival Owen was at in 2013. Owen revealed he could also play the guitar and surprised the family with his ability.
With Owen now firmly invested in getting to know Ryder, he grew closer to Roo and eventually asked her out on a date. The pair enjoyed their dinner at Salt, waited on by their nephew. However afterwards, Owen ramped up the time he spent with Ryder, making Roo jealous. After spending hours throwing herself at Owen, Roo surprised him with a kiss. Happily, Owen reciprocated. The pair then made their way to the bedroom. Soon after, Alf learnt the truth about their relationship and Roo organised a dinner for Alf and Owen to get more comfortable with one another.
The following morning, Roo went to visit Owen and he asked her to leave. Ryder went to visit him and learnt that it was his birthday. Saddened, Owen admitted he is mourning the loss of his brother. To cheer him up, Roo and Ryder organised a birthday lunch to celebrate and remember Evan.
A few days later Owen began to question his place in Summer Bay. Deciding he needed a change, Owen announced he was going to leave town, leaving Roo shocked and upset. Alf gave him a serve, warning him not to hurt his daughter. Owen, knowing he wanted to go visit Evan's grave, asked Roo whether she would like to accompany him. She agreed, and the pair quickly left on their adventure.
Roo returned to town a few weeks later, reticent about Owen's whereabouts. It soon emerged that Owen had left her, and she didn't have any idea where he was. He arrived in Summer Bay a short time after Roo returned, but she refused to see him. She revealed that she was in fact the person who ran off on Owen having called him Evan while having sex. The pair had trouble reconciling after this, and chartered rocky territory. After going on another date, Roo realised that she doesn't and couldn't love him the way she loves Evan. Owen decided to leave Summer Bay after learning this. He said his goodbyes to Alf, Roo and Ryder before driving out of town in his kombi.