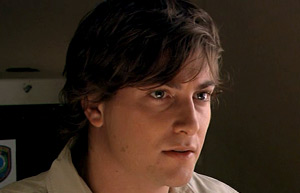 Dave Elder (2006)
Daniel Lissing
Episodes: 4237-4271
Occupation:Fire officer
---
The newly-arrived fire chief, Dave was quickly pressed into service when a fire broke out at Summer Bay High. After his team had got it under control, he spoke with Jack and Tony, explaining that while there had been a lot of smoke there was no structural damage. One of his subordinates then found a kerosene can which he took to Jack and Rice, telling them the fire had been started deliberately.
He was later seen talking with Jack and Rice at the scenes of two other kerosene related arsons, a farm shed and the wharf. When their prime suspect, Drew, was found to have an alibi for one of the fires, Jack and Rice began looking for other suspects. When Dave came to the station to ask them about their progress, Jack became suspicious of him, especially since Dave had only moved to town two weeks before the fires started. Jack did a background check on Dave and learned that he had also been aware that Drew had a previous history of arson and been involved in an unauthorised fire during a training exercise at his last posting. He also discovered Dave had lied about where he had done his training.
Dave began to look even more suspicious when it was discovered that the hair belonging to Peter Baker found at one of the fire scenes had been checked out from the forensics lab by someone claiming to be a police officer named Dave Elder. Dave was brought in for questioning by Jack and McGrath where he insisted that the person who set up Drew had now set up him. He agreed to take part in a police line-up and the forensics technician, Jimmy, confirmed the person who took the hair wasn't present, putting Dave in the clear.