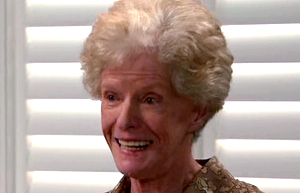 Enid Clay (2008)
Heather Christie
Episodes: 4728
Marital Status: Arthur Clay
---
Enid turned up at the Diner to speak to Belle. She said her husband, Arthur, was very ill in hospital but he had some important information to tell her about the development site.
Enid watched as her husband told Belle that the developers should be stopped as there was toxic waste dumped in the landfill but she looked concerned when he said he would be willing to tell the police everything.
When Belle returned to the hospital later with Angelo she was met by a very upset Enid. She told Belle that Arthur had a stroke and he only had a day or so to live.