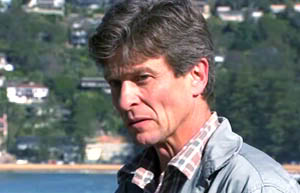 Orson Cardillo (2009)
Mark Lee
Episodes: 4989 / 4991
Marital Status: Bonita Cardillo
Occupation: Gardener
---
Orson was Donna DeBono's Gardener who had worked for her for a number of years. When Donna was sent to jail, she paid Orson 6 months up front to look after the house and garden but returned to find he had disappeared. The next day, Colleen spotted Orson at the beach and told him to call Donna as she was looking for him. Colleen wanted to talk about Lou DeBono's murder investigation but Orson looked nervous, saying that he didn't know anything about it and then walked off. Later, Geoff saw him creeping around Donna's house but he ran off. Donna saw him on the security cameras and decided she wanted to speak to him herself rather than go to the police.
The next day, Bonita, Orson's wife, told Donna and Irene that he was bribed to keep quiet about a man breaking into Donna's guest house and planting a gun. Orson was terrified so kept quiet about it despite Donna going to jail for the murder. Bonita said she didn't know where Orson was but the police said that if he didn't come forward he would be charged with impeding a police investigation. Donna thought that Orson might have been the one to plant the gun but Bonita said there was no way he would have done that.
The next day, the police were called to an incident at the roadside. Orson was found slumped in his car and was taken to hospital unconscious. It was discovered that he had suffered a heart attack and was kept under armed guard at the hospital. We never found out who had bribed him but the police suspected it was Hugo.