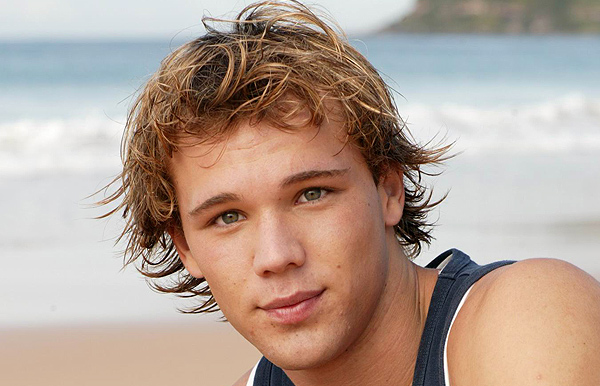 Geoffrey Campbell (2007-2010)
Lincoln Lewis
Episodes: 4443–5010
Parents: Jim & Tania Campbell (both deceased)
Siblings: Annie Campbell
Occupation: Student, Missionary
---
Geoff made his first appearance in the Bay after he and his sister, Annie, found Martha sleeping in their barn. Martha needed to get back into town, so Geoff offered to drive her there. When Annie and Geoff arrived, they had a milkshake at the Diner. Whilst they were there, they met Sally and Alf who were intrigued as to what school they went to. Annie replied, saying that they didn't go to school.
Both Annie and Geoff were real farm kids. Geoff had worked on the farm ever since his parents died in a car crash and their grandfather Bruce, who was very religious, worked him hard.
Sally headed to the Campbell's farm to see Bruce because she was concerned that Annie and Geoff weren't getting a proper education. Before Bruce could say much, Annie had to be taken to hospital because she had cut her arm on a barbed wire fence. Whilst she was there, Sally asked Bruce if Annie was being educated at all. Bruce said that she was home taught. But the expression on Geoff's face indicated otherwise.
Tensions were high between Geoff and local boy Lucas Holden. Geoff squealed when he saw Luke sinking his dad's boat, causing even more tension between the two. When Geoff told Tony that Lucas was responsible for the boat sinking, he hit the roof!
Bruce eventually came around to the idea of sending Geoff and Annie to school after their parents will was found. The will included information about money that had been set aside for their education, and so Annie and Geoff were enrolled at Summer Bay High.
When Geoff found out that Annie was being given reading lessons by Lucas, he wasn't happy to say the least. Things got even more heated when Geoff decided to join the local footy team. Tony kept an eye out for "golden boy" Geoff, which Lucas wasn't happy about because he felt he was favouring him over his own son. But Tony assured Lucas that that wasn't the case, and told him that there was one thing Geoff would never be – his son.
After visiting the farm and finding Geoff ploughing in the middle of the night, Tony gave Bruce a talking to. Bruce explained that ever since his grandchildren had been going to school they had become disrespectful and hadn't been doing there chores properly.
Aden Jefferies was the next person to cause problems for Geoff and he too thought that Tony was favoring the "golden boy". Wanting to get revenge on Geoff, Aden and some of his mates spiked Geoff's drink, causing him to pass out, before he was put into the boot of Tony's car. He was rescued the next day but his angry grandfather forced him to leave the team and work solely on the farm.
Geoff found evidence that his parents had wanted him and Annie to go to school and was upset his grandfather had lied to him so he poisoned the sheep. The truth came out and Geoff was kicked out of home and moved in with Tony, despite animosity between him and Lucas. He rescued Annie after Bruce locked her up and she moved in with him at Tony's. After realising Annie needed a female role model, Irene took Annie to live with her and she and Geoff were separated once more.
After Annie ended up in hospital, Bruce softened towards his grandchildren and they were reconciled with Bruce even coming to watch Geoff's football game and causing Geoff to play well. Soon after though tragedy struck as Bruce collapsed on the farm and Michael announced that he was dead. When Bruce's will was found, everyone was shocked to hear that he had appointed Michael as Geoff and Annie's legal guardian. An upset Annie tried to find peace on the farm but instead she found Michael and Martha naked in the barn and told Geoff who attacked Michael. They were banned from the funeral as a result but the news that the farm was about to be repossessed bought about a reconciliation. Despite Michael's best efforts, they lost the farm and Annie and Geoff moved back in with Irene.
As a result of the game his grandfather watched, Geoff was offered a football scholarship and left the bay for the city. When Reverend Hall fell ill, Geoff returned to the bay and told Annie that he no longer wanted to play football. He announced that he wanted to be a Minister instead. Whilst visiting Reverend Hall in hospital he agreed to untie him and Reverend Hall later escaped and was found by Annie. He tried to kill her but Geoff and Roman managed to come to her rescue. He was upset when the incident caused Annie to lose her faith, luckily it was soon restored.
Geoff discovered girls and found himself with a crush on a fellow schoolgirl Britney. Annie tried to talk him out of liking her, pointing out that her friend Melody would be a better match. Melody got the wrong idea about Geoff's intentions after he was nice to her and thought they were in a relationship so Geoff bluntly put her in her place. Instead he asked Britney to accompany him to bible class but she laughed in his face. Realising how shallow he had been, he asked Melody out and they began dating.
They managed to weather a storm when Nicole tried to cause trouble between them by offering Geoff kissing lessons and suggesting to melody that Geoff hadn't enjoyed their first kiss. luckily they realised what Nicole was up to and Geoff got his revenge by setting her up for kissing lessons with some other geeks from school. There was more trouble between him and Melody when Melody's mother disapproved of the relationship and slapped a restraining order on Geoff, causing him to split up with her. She was later attacked by Axel and Geoff tried his best to support her.
In the meantime Nicole got herself a new boyfriend in Elliot and Geoff told Ruby that he didn't trust him, causing Ruby to comment that he liked nicole himself. His jealousy deepened when Elliot seemed to hold Nicole underwater during a scuba diving lesson but he insisted he did it to build her confidence. Convinced something was wrong, he joined Nicole and Elliot on the dive boat as it haeded out to sea. Elliot and Nicole went diving, but Geoff was suspicious when Nicole didn't surface. He threatened Elliot with a spear gun and jumped overboard to search for Nicole as Elliot shot him in the leg with the gun.
Geoff found Nicole at the bottom of the sea, but he lost grip and they separated. He woke up on an isolated island, with a cut leg and an unconscious Nicole. He revived her and they ended up sleeping together before they were rescued. Afterwards they struggled with the fact they both wanted different things, with Geoff even asking Nicole to marry him and ended up deciding to just be friends. He was shocked to discover that Nicole could be pregnant but the test was negative.
He supported Nicole through her dramas with her mother and they reunited but Melody returned to town, hellbent on winning Geoff back. The game playing continued with Melody sidelining Nicole and manipulating Geoff, even causing him to ask het to the formal. On the night she was grounded so Geoff turned up alone and so did Nicole. They worked together in the aftermath of the formal disaster to rescue people.
They began arguing soon after with Geoff accusing Nicole of fancying Trey Palmer and Nicole hurt that he didn't trust her. Nicole planned a surprise trip for her and Geoff and they headed off for a few days on the island where they were stranded 6 months previously. However, their happiness was soon shattered when they met a strange man, Derrick, who started talking about killing people. They tried to escape but Derrick chased them. However, Geoff managed to knock Derrick over the head with a log which caused him to fall onto his knife. In the morning they were rescued by Roman and Hugo but the experience drove a wedge between Geoff and Nicole.
Geoff broke up with Nicole after they discovered they are too different and have very different views on what's important to them. Geoff then resigned from his role as school captain. Meanwhile he was excited when Martha bought his parents old farm and hired a new farm hand, Claudia, who he had known from school. He and Claudia slept together but were caught out after the caravan they were in caught fire. They bacame an item and Geoff was shocked to find that Claudia was pregnant. After her parents threw her out she moved in with geoff and was a support to him while Irene was stuck in prison.
He was shocked when she confessed she was considering having an abortion and took off into the bush for a few days to clear his head. When he returned, he told her that if she kept the baby he would stand by her and they would be a family and she agreed. When he heard that Irene had hit Annie while drunk, he told her in no uncertain terms that while he would support her he wouldn't let her harm anyone else. He and Claudia had difficulty with the lack of space and gained something of a respite when Belle moved out, allowing them to move into her room. He comforted Nicole over her break-up with Trey.
Geoff was discomforted when Claudia's old boyfriend Lachie turned up and claimed he was the baby's father. He believed Claudia when she said he was lying but during a rugby game with the Reefton Lakes team Lachie played for, Lachie repeatedly fouled Geoff and taunted him. Geoff ended up snapping and going in hard on a tackle and was horrified when Lachie was left hospitalised with a danger he was permanently paralysed. When Claudia admitted she had lied and Lachie was the father, Geoff tried to throw her out of the house but relented when he discovered she had nowhere else to go, agreeing she could stay on until she found somewhere, moving back into his old room away from her. When he saw Lachie verbally abusing her, he told her she could stay as long as she wanted but instead she left town after saying a tearful goodbye.
Geoff was faced with a moral dilemma when he found out Aden was being threatened by a bookie he had done a deal with into throwing a game. He asked Geoff to help him out but Geoff refused and did his best during the game. Aden threw a clumsy pass that resulted in Geoff picking up a minor injury. Seeing Aden continually mess up, he persuaded Tony to put him back on and scored the winning try. He later told Tony what was going on but was shocked when he and Nicole later found Aden beaten up on the beach.
Geoff was uncomfortable when Irene asked him to babysit Ollie while she had to work. Geoff attempted to keep the boy entertained whilst doing his homework but when Ollie spilt orange juice over his work and then repeatedly insisted Geoff wasn't his daddy, Geoff snapped at him and reduced him to tears. He admitted to Irene that finding out Claudia's baby wasn't his had left him disappointed that he wasn't going to be a father. When Annie and Jai went missing on the school trek, Geoff persuaded Alf to let him help look for them. He tried to keep an eye out for Nicole when she got drunk at a party, being on the verge of going to look for her after she hitch-hiked when Sid brought her home.
He was shocked when Belle told the family she was dying but found the strength to stay with her and comfort her after Irene and Annie had both left in distress. Afterwards, he went to speak to Nicole on learning she'd been hiding the news but was shocked when she kissed him, telling her he didn't think it would help. He later found her drunk at a party and told her she was better than that before taking her home. However, in the aftermath of her death, Geoff found himself unable to cope, starting a fight with Liam when he turned up at her funeral on drugs before finally taking Belle's car, which she had left to him, and skipping town with Ruby, who had just found out Charlie was her mother and took him along on a trip to see Charlie's aunt Michelle.
After a week away, Geoff realised he needed to go back to town and support his family. However, he ended up dropping out of school and suggested to Irene that he could help Aden out on her prawn trawler. Irene agreed to give it a trial but on their first day the two boys bickered with each other. Geoff tried to give Aden advice on how to fix the overheated engine but Aden threw the instruction book he was reading into the water. Things got nasty as Aden mocked Geoff for dropping out of school and Geoff mocked Aden for sneaking into Belle's room at night and they ended up coming to blows. When the fight saw Aden nearly drown, Geoff resuscitated him and they called a truce.
Since their time away, Geoff and Ruby had been increasingly close and she confided in him about Charlie kidnapping Grant. He admitted to Aden that he had feelings for her, which only intensified when he accidentally walked in on her in the shower, but since she was dating Xavier he saw her as off limits. Like Aden, he was unhappy about Nicole spendingtime with Liam and tried to warn him off. When he noticed how extreme Aden's reaction was, he began to suspect he had feelings for Nicole. Xavier saw the connection between him and Ruby and asked Geoff to stay away from her but he wasn't able to do so. When he and Charlie found Ruby collapsed at the house, they rushed her to hospital and found out she had diabetes. With Ruby and Xavier's relationship now over, Geoff admitted he had feelings for her and they shared their first kiss
He tried to help her with her diabetes but she was annoyed by his constant references to it. After they'd spoken to Tony and Rachel, they managed to work out what the other one wanted and strike a balance. When Irene lost her trawler berth, Geoff found himself out of work and failed to find any further employment. He was annoyed when Donna turned up at the house, being very mistrustful of her especially when she started drinking. However, he ended up spending a day working as Donna's gardener. His unemployed status gave him the opportunity to spend more time with Ruby and he began to consider sleeping with her, after Aden persuaded him that if he loved her it was the right time. After a number of false starts when they were interrupted by Irene, then he was dragged in to helping out at the Diner and then they were disturbed at Donna's place by Orson, the pair slept together after Ruby arranged a surprise for him in her room.
Geoff became caught up in Ruby's plans to help the refugees, making gift packages and collecting money, but tried to dissuade her against hassling John Palmer in public. When the race riot started up over the rally, he helped save Leah and Hazem from the mob then fought the fires at the Diner along with Alf. He was injured protecting Ruby from a burning beam, receiving severe burns to his back that left him with permanent scarring.
When he was discharged from hospital, he found it hard to cope with what had happened, despite confiding in Martha and Xavier, refusing to accept people's sympathy and wanting to forget about the riot and how he couldn't protect anyone. He snapped at Ruby when she kept asking if he thought she was to blame for the riot and then broke up with her and got into a fight with one of the rioters when he saw him at the surf club. Alf suggested he go to the church for answers and he met with the new reverend, Elijah Johnson, admitting to him that he felt he'd lost his way. The conversation led to him deciding to take a job as a missionary overseas, planning to study to be a minister on his return to Australia, and after saying goodbye to Irene and Ruby he left for the city.