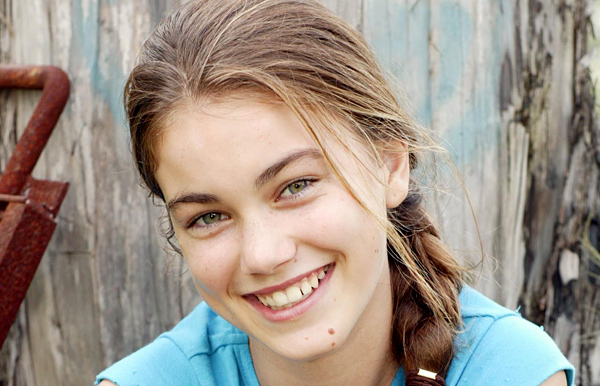 Annie Campbell (2007-2009; 2010)
Charlotte Best
Episodes: 4443–4968; 5028–5063
Parents: Jim & Tania Campbell (both deceased)
Siblings: Geoff Campbell
Occupation: Student
---
Fourteen year old Annie was first seen in a stable with her brother Geoff. Martha and Jack had just been on a disastrous picnic which ended with her being stranded in the middle of no where, so she camped out in their paddock. Thankfully for Martha, Geoff was able to drive her back to town. As a thank you, Martha suggested that they have a milkshake in the Diner – which Annie was very pleased about!
A few days later, Sally went to visit the Campbell's farm to talk to Annie and Geoff's grandfather, Bruce. Annie had been injured by a piece of barbed wire and needed to go to hospital. Whilst there, Sally asked Bruce where Annie attended school. He replied, saying that she was taught at home and received a good education through hard work and study of the bible. Annie told Sally when she met her at the beach later, however, that she wasn't being home schooled.
Inside Geoff and Annie's parents' will was information regarding money set aside for their education. By that time, Bruce didn't really have a choice and agreed to enrol Annie and Geoff at Summer Bay High.
Not having received much of an education prior to being enrolled at the school, Annie found reading and writing difficult. But Lucas Holden was soon able to help and started to tutor her. Geoff didn't particularly approve of Lucas teaching his sister, believing he was a bad person, and told him to stop. It was no skin off Lucas's nose as he had already told Annie that he couldn't help her anymore.
With Annie spending more time at school, her farm 'duties' started to slip – much to Bruce's annoyance. Struggling to get out of bed at 4.30am was hard enough at the best of times but Annie now had the added pressure of an uncompleted assignment hanging over her head. In need of some extra help, she again approached Lucas and asked him if he could give her some guidance. But Lucas's feelings hadn't changed. He also told her that they weren't friends, leaving Annie in tears. After a despreate plea for an extension was dismissed, Annie went to the Hunter house and begged Lucas again for his help, which he finally agreed to. After finishing the bulk of the assignment, a tired looking Annie simply needed somewhere to rest and chose Lucas's bed for a nap after he had left. Worried about where she was, Geoff and Bruce started to search around for her, only for Bruce to hit the root when he found her asleep on Luc's bed! Outraged at what he saw, Bruce grabbed his grandaughter and took her outside.
Later on Annie was relieved and pleased to have received a C for the assignment and asked Lucas whether he wanted to have lunch with her. Lucas declined her offer but suggested to Belle that she should go instead. When the two met up at the Diner, Belle quickly sussed that Annie had a cruch on Lucas. Belle then revealed that she was the first girl he'd slept with, leaving Annie horrified. After claiming that she would be eaten alive at school, Belle gave Annie a teen mag and suggested she read the sealed section.
Following the Belle and Lucas revelation, Annie met up with him at the beach and started to talk about how she felt she knew him but now felt disappointed because of the perfect image she'd built up in her head. Watching from a distance was Bruce, who looked far from happy at seeing his grandaughter spending more time with Lucas. Returning to the Campbell farm, Annie and Geoff were shocked to find Bruce nailing down the windows of her room. Furious that he witnessed her and Lucas talking again, Bruce then claimed that Annie had brought pornography into the house and demanded that she pray for forgiveness. Feeling as though she had no choice but to go along with her grandfather's wishes, Annie got down on her knees before her bedroom door was locked.
A couple of weeks after the incident, Annie was still having some trouble with an assignment. When Brad told her to simply hand in what she had done so far, Don Fisher later commented that more time should be set aside for remedial reading classes.
Arriving at Summer Bay High and realizing that she had in fact left her assignment at home, Annie rushed back to retreive it and found Geoff unlocking a cabinet which Bruce had previously made 'off limits'. While trying to shut the door, Annie broke a small china box. Leaving Lucas to hand in her assignment so she could buy another box, she claimed that she was more worried about getting in trouble with Bruce than any school punishment she might be given. Shortly after telling Lucas that she was able to find an exact match for the box, Annie was shocked to find many of the sheep dead in one of the farm sheds!
A rather distressed Annie was in no mood for dealing with Aden at school and when he started teasing her about her 'weird' family, she started to attack him – leading to after school detension for her.
When Bruce was found unconscious at the farm, Annie and Geoff were informed at the hospital that he had suffered from a heart attack, not angina. Bruce was cautious about telling either of them about his deteriorating health and so tried to play it down, but neither Annie or Geoff were under any illusions regarding their grandfather's ill state of health.
Becoming increasingly worried that Geoff was keeping something from her, Annie went into Geoff's room and had a look inside his bag. Inside was rabbit poison! The final piece of the puzzle was put into place when toxicology results confirmed that the sheep were poisoned and with a chemical that was commonly used to poison rabbits. Annie was furious with Geoff but perhaps not as angry as he was when he found out Bruce had been making her bail the hay, hence the blisters on her hands.
Annie later plucked up the courage to confront her grandfather and claimed that it was useless working on the farm if he died in the process, but Bruce wouldn't hear any of it and again locked her in her room. Coming to her rescue was Lucas but with Bruce holding a shotgun, things were starting to get ugly. After Bruce insisted that they weren't going anywhere, both Annie and Lucas were locked in the bedroom – with all exits nailed down. Thankfully Geoff was able to free them before any physical harm was done and him and Annie moved into Tony's. The day had taken a toll on Annie, but Geoff was sure that if they stuck together they'd be okay.
When Annie seemed unusually quite and complained of feeling ill, Irene had her concerns. Finding her crying at Tony's, she asked her what was going on. Annie then revealed that she thought she was dying because she was bleeding. A man she knew died of cancer and he had also found blood. Irene handled the matter in her usual fashion and tried to calm a tearful Annie down, explaining that what she was going through was completely normal. But Annie wasn't convinced and thought it was something terrible, as Bruce had never talked to her about periods. Not understanding why her body had to change, Annie walked off and was later found shoplifting at a corner store. At first Geoff was quick to have a go, but Irene was much more understanding considering the products she stole. Believing a female influence would be good for her, Irene suggested that Annie move in with her and Belle at the beach house. Annie and Geoff were sceptical to begin with but agreed in the end.
Both with few friends to hang out with, Annie and Rory stayed together during a school excursion. When they walked off to go to toilets, the two returned to find the bus driving off. Don Fisher had forgotten some worksheets back at the school and needed to head back to collect them and having forgotten to do a roll call thanks to some disruptive students, Annie and Rory were left stranded. But help soon came in the form of Henk and Cassie, who drove them back.
When Annie found out she'd failed an assignment, she was understandably upset. Not understanding how Brad could have failed it, Annie asked Sally if she could mark it again, angering Brad but he later apologised for his anger. Annie decided she wanted to make peace with her grandfather and approached Reverend Hall for help. Reverend Hall visited Bruce, found him in a bad way and took him to hospital. Annie was devastated to see him so sick and wanted to move home to help him but he announced he had hired Michael, formally Jonah, to help him. Annie got on well with Michael, despite everyone's attempts to keep her away from him.
Her crush on Lucas continued to develop as he helped her study. When he stopped sessions in order to concentrate on his HSC, a scheming Tam told her that Lucas liked her and that that was the real reason he had stopped the sessions. An excited Annie tried to kiss Luc and was devastated when he pushed her away. She ran away to the farm and was found in a state by Michael the next day who took her to hospital. After some convincing by Michael Bruce came to visit Annie in hospital and they were reconciled with Bruce agreeing to let her and Geoff move back to the farm.
After watching Geoff's football game, Bruce collapsed on the farm and Michael announced that he was dead, leaving Annie devastated. When Bruce's will was found, everyone was shocked to hear that he had appointed Michael as Geoff and Annie's legal guardian. An upset Annie tried to find peace on the farm but instead she found Michael and Martha naked in the barn and told Geoff who attacked Michael. They were banned from the funeral as a result but the news that the farm was about to be repossessed bought about a reconciliation. Despite Michael's best efforts, they lost the farm and Annie and Geoff moved back in with Irene.
Annie was gutted when Geoff won a scholarship for his football and left the bay but he returned after hearing the news that Reverend Hall was the hospital attacker and had a brain tumor. When Reverand Hall escaped from police custody, Annie went looking for him and almost died when he tried to drive the car off the cliff in order to save her innocence. She was saved by Roman and Geoff and Reverend Hall was re-admitted to hospital for surgery but he later died. After his death Annie lost her faith completely and nobody's efforts could get through to her. She got drunk and was found by Aden but everyone assumed Aden was responsible for her state and Annie failed to correct them. Her crisis deepened when Sally was stabbed by Johnny Cooper but Sally's story of her hear death experience revitalized Annie's faith and she told the truth about Aden.
She tried to set Geoff up with her friend Melody and was delighted when Geoff agreed to date her. When Melody confided in her about Axel attacking her, Annie told Geoff, Belle and Aden. She befriend new boy Jai Fernandez but was horrified when, after an accident which saw Axel killed, Jai tried to jump off a cliff. He survived and confided to Annie that he thought he was invincible. He jumped up on the roof to get his schoolbag, terrifying Annie so she decided to teach him a lesson by climbing on the roof herself. She was injured and ended up in hospital.
In hospital she and Jai kissed but a concerned Irene and Miles banned them from seeing each other so they communicated through Ruby. Their relationship progressed until Irene and Miles finally relented. They had a brief rocky patch when Annie believed Jai wanted a sexual relationship with her but they sorted things out. When Ruby developed a crush on Miles and Annie saw him kissing a dark haired girl she told Bartlett but the girl turned out to be Kirsty, leaving Annie with some explaining to do. She and Jai found traces of arsenic in soil samples for a school project and told Belle who linked the findings to the toxic waste dumping at the development site.
Annie and Jai decided to go for a picnic, but VJ tagged along. He ended up wandering into a storm drain, just hours before a storm and Jai and Annie decided to look for him. They split up, but only Jai and VJ came back out, leaving Annie trapped inside with the water levels rising. Charlie dived in to rescue her and was nearly killed herself. Annie tried to reach out to Melody after she went off the rails but when she got stoned and ran out on the night of the formal, Annie and Jai convinced Kane to go look for her. They swerved to avoid Melody and crashed into the school hall, nearly dying in the resulting inferno.
Martha told Geoff and Annie that she had bought their old farm but Annie didn't take the news as well as she expected. The arrival of 'Scruffy' soon cheered her up though. She helped Irene and Lou get back together and set sail on Lou's yacht for an extended sea vacation. In Irene's absence, Annie found out about Belle's drug addiction and told Geoff, who told everyone. Annie struggled to forgive Belle but when Aden abandoned her, Annie was left to care for her. When Belle collapsed and was admitted to rehab, Alf enlisted Pippa to come and look after Geoff and Annie.
She was horrified when Irene was arrested on her return from her boat trip and struggled to cope with her imprisonment and drinking. Hearing that Geoff had slept with Claudia and got her pregnant added more stress to Annie**, especially when Claudia told her she was considering having an abortion. She was delighted when Irene was released from prison but shocked when she came downstairs to find Irene drinking. She told Belle and was upset to find out that she already knew. Despite clearly being uncomfortable around her, she was left alone in the house with Irene. When she found Irene drunk, Annie poured away her bottle of booze and both of them were horrified when Irene responded by backhanding her across the face. Annie found it hard to forgive her and she found even more to worry about when Ruby revealed she was planning to sleep with Xavier. She feared Jai would want them to sleep together as well but he assured her that wasn't the case. Afterwards, she and Geoff helped Irene over recent events by arranging a memorial for Lou.
However, it turned out her issues with Jai weren't as resolved as they appeared. When he got drunk at Ruby's birthday party, he told Annie he often thought about sex and wanted to know how long she wanted to wait. Upset, Annie broke up with him. Once he had sobered up, he invited Annie round for dinner to try and make things up. The meal went well but then Annie found a pornographic magazine in Jai's bag and stormed out. When she heard that Jai had been shot when he and Xavier had fooled about with one of Bruce's old shotguns, she declared she wanted nothing to do with him.
Ruby wasn't willing to give up on the pair and arranged to have Annie and Jai paired up on the school trek, which she and Annie had tried to get Trey banned from. When Jai decided to take a "short cut", he and Annie ended up lost in the bush. Their problems were compounded when it became clear Jai hadn't had his gunshot wound treated and it became infected. Annie managed to keep a clear head, keeping Jai conscious and moving as his condition worsened, but was relieved when they were found by Miles and Martin and Jai was taken to hospital. She was extremely excited by Belle's hen's night, joking about drinking alcohol, doing Belle's hair and organising a competition to make bridal dresses out of toilet paper.
Annie made the acquaintance of Dexter Walker when they ran into each other at the surf club and seemed instantly attracted to him, later spending time with him at a party on the beach. Not long after, Belle and Aden returned from their honeymoon with the news Belle was dying of cancer. Annie ran down to the beach in tears and was found by Dexter, who comforted her. After Belle had bequeathed Annie her camera before she died, both Jai and Dexter offered her their support but she made it clear she only wanted to be friends with them, although she was touched when Dexter gave her an album he had made full of photos Belle had taken. Despite claiming she wasn't ready for a boyfriend, when Dexter kissed her she ended up kissing him back. She persuaded him to keep the relationship secret, worried about upsetting Jai, but instead he walked in on them kissing. She told Dexter they would have to spend time apart until Jai was used to them but was devastated when Dexter and his family left town not long after.
Annie rebuffed further advances from Jai and then ran into Romeo Smith, who she was simultaneously attracted to and infuriated by. She tried to take her mind off things by tracking down Dexter but when she went to the house she found Sid with Nicole. She reluctantly told Irene what she'd seen, which resulted in the rest of the town assuming they were having an affair. Looking for a distraction, she signed up for a surfing class only to learn Romeo was the instructor and was left with further confused feelings when he kept singling her out for demonstrations and telling her she was hot but after briefly planning to quit she ended up going back to the classes after someone sent her an anonymous love poem and enjoying herself. Ruby encouraged her to flirt with him but she proved hopeless at the task. However, she was pleased when she received another poem and when Romeo handed her a third poem he'd written, she wrongly assumed he was responsible for the first two. She asked him for private surfing lessons and acted a lot more forward towards him. Then Romeo backed off and when she confronted him about it, he admitted he was feeling guilty because he'd agreed to help Jai get back with her. Annie told him if he was interested he should meet her at the Diner and when he didn't show she told him to forget it.
Annie found it hard to know how to react with Jai and Romeo when Kirsty suffered a miscarriage. Jai told her he was dropping out of a school exchange trip to Japan and suggested she took his place, since she'd previously decided not to apply because she wanted to stay with Romeo. She was disappointed when he later changed his mind but hid it to wish him well. She ended up on the trip anyway when another student dropped out and when she learned Romeo had arranged it, she gave him a farewell kiss and promised they would explore their relationship further when she got back.
Annie initially chose to spend her school holidays in Japan but after an e-mail from Martha telling her how much Irene missed her she decided to return to Summer Bay. She then told Irene that she'd been offered an opportunity to stay on in Japan for another six months and hadn't decided whether or not to take it. When she ran into Romeo again, she told him about the offer and that he had six weeks to persuade her to stay. She admitted to Ruby that she thought she loved Romeo and was considering staying in Summer Bay for him, something both Irene and Ruby advised her against.
Despite still officially being on the exchange programme, Annie had to attend classes at Summer Bay High. She persuaded Romeo to join her in auditioning for the school play of Romeo and Juliet, since it was taking place before she was due to go back and would give them a chance to spend time together, and was surprised when she won the role of Romeo, with Romeo playing Juliet. This led to them rehearsing together and rediscovering their feelings for each other, although she was frustrated when he didn't kiss her so solved the problem by kissing him herself on the beach. She helped him overcome his stage fright and worries about cross-dressingand the pair shared a heart to heart after staying behind in the school hall after hours for some secret rehearsals. He later surprised her with a romantic dinner at the school after which they admitted they loved each other.
However, Annie was disappointed to realise that nothing Romeo had done had changed her mind about returning to Japan and when she encouraged him to raise his game, he accused her of already having made her mind up and told her that if telling her he loved her wasn't enough that was her decision. She felt disappointed that Romeo seemed to have given up on trying to persuade her but ultimately they decided to just concentrate on enjoying their last few days together. She spent her last night in Summer Bay at the school production before admitting to Romeo she was going back to Japan in the morning. They shared one last emotional goodbye before Irene drove her to the airport.