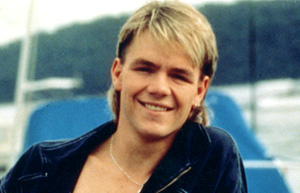 Adam Cameron (1989-1994; 1999)
Mat Stevenson
Episodes: 338–1413; 2656–2702
Parents: Ian & Bridget Cameron (both deceased)
Occupation: Kiosk worker, Bonza Burger Franchise Owner
---
Adam was the only son of Ian and Bridget Cameron, the former of whom died while Adam was halfway through his Diploma in Education course. With his mother having died some two years earlier, a now orphaned Adam, inherited the family estate which consisted of a modest house and a small amount of life insurance money. Much against the advice of other relatives. Adam decided to sell the house and use the money to buy a yacht to live on.
Adam came to Summer Bay while on his way north to the Barrier Reef, where he planned to run charter trips on his yacht, but unexpected damage left him stranded. He eventually repaired the yacht and set up a charter business but he fell victim to a gang of contraband smugglers. who left him stranded on an island after scuttling his boat. With no insurance money forthcoming, he had to find a way to support himself.
He did this by settling in Summer Bay and taking on a part-time job at the Surf Club and any other odd job that came his way. Despite his lack of money, his charm and wit made him a hit with the local girls. He was involved in a few scams which never succeeded. Strong minded and with a deep sense of injustice it was difficult to know what Adam was thinking and his childhood traumas had left him resiliant. He tried to become independent and set up his business; unfortunately, he was ripped off and so his entrepreneurial spirit was dampened.
Despite all the bad things that happened to him in the past he refused to let anything get him down and so was resolutely cheerful. His house was burned down while Sam was there. Adam saved him, but lost everything he had there. He decided to leave the Bay.