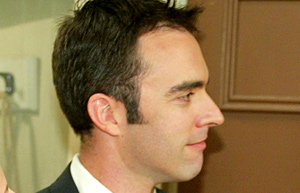 David Callahan (2003, 2004)
Felix Williamson (2003, pictured); Nicholas Cassim (2004)
Episodes: 3623-3633, 3757-3760
Occupation: Lawyer
---
David was Shelley Sutherland's fiancè, who came to town to defend Dani when she was accused of trying to kill Kane. He immediately managed to get Rhys and Scott offside by performing an aggressive mock cross examination on Dani, in which he accused her of wanting Kane dead. Afterwards, he met Rhys, Shelley, Dani and Jade for a family dinner where he insisted it was important Dani trust him and Rhys put aside his reservations and supported David. David and Shelley later ran in to Morag in the Diner and, although Shelley was less than pleased to see her, David, who was already acquainted with her, was friendly towards her.
David did his best in court but testimony from Flynn and Noah about Dani's mental state and Dani's own outburst at Kane saw her found guilty and sentenced to jail.Scott and Jade both blamed David, thinking he wanted Dani found guilty. David, however, started work on an appeal, thinking their best bet was finding the truck driver who saw Dani after the accident, even when Scott told him they'd be looking for another solicitor. He accompanied Rhys, Shelley and Scott to the jail where Dani only agreed to see Scott and David, not wanting to see her parents break down. The pair did their best to keep her cheerful. Afterwards, they received a visit from Morag, who told him the presiding judge (ie herself)'s actions outside court might give grounds for appeal. Not long afterwards, David returned to the city with Shelley.
David didn't visit Summer Bay again until the following year. When Kirsty needed a kidney transplant, Shelley was found to be a match but was worried that David, who had a phobia of scars, would leave her if she was a donor. She eventually went ahead with the operation but David stayed away until Scott spoke to him on the phone and lambasted him for not being there for her. He went to see Shelley in hospital but was annoyed with her for not consulting him and continually returning to town to help the Sutherlands, was and unimpressed when she forced him to look at her scar.
Scott and Dani asked him for his help with Felix Walters, a uni student who had been stalking Dani. David first forced Scott to apologise for his comments on the phone. He then confronted Felix on campus and presented him with a restraining order telling him to stay away from Dani. However, when Felix was beaten up not long afterwards, David refused to believe Scott and Dani knew nothing about it. He distanced himself from the affair and made a rapid return to the city.
When the Sutherlands visited Shelley in the city a few weeks later, she admitted that David had walked out on her after the operation.