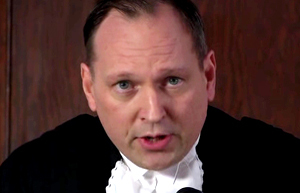 Judge Blake (2008, 2011)
Rhett Walton
Episodes: 4662, 4726, 4727, 5216, 5401
Occupation: Judge
---
Presided over Kane Phillips' trial in which he pleaded guilty in order to get Kirsty and Irene off the hook. He ordered that the prosecution's illusion towards Kane's history with Dani be struck off the record. He delivered his verdict saying that despite Kane's excellent character references he couldn't get past the fact that Kane went on the run rather than face the music and sentenced him to 9 years.
He also presided over Aden Jefferies' trial and ordered an adjournment when Aden shouted from the gallery and fired his lawyer. He delivered a verdict of guilty of imprisonment but not guilty of manslaughter. He announced that though there were circumstances mitigating, it was up to the likes of Aden to rise above some issues. He sentenced him to 100 hours community service.
Judge Blake next appears when Morag tries to get Alf out on bail having been arrested on suspicion of murdering Penn Graham. Blake reminds Morag that Alf was being held as he posed a threat to a witness in the area and her application was only considered because she claimed to have had new evidence. Morag replies that she is no longer obligated to be in the city and can therefore keep an eye on Alf for the time being by moving in with him.
Blake is seen once again as the judge of Casey Braxton's case which saw him commit arson in an attempt to destroy evidence which would have implicated his brothers. Blake commented that while it was Casey's first offence and his character references were persuasive, the crime was serious and it was more a matter of luck that nobody had been injured in the fire. In order to send out a message to Casey and his friends that such acts will not be tolerated, the judge sentences him to thirty days juvenile detention.