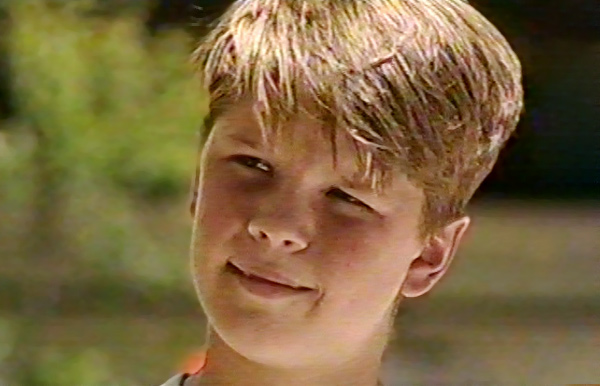 Justin Bell (2002)
Mitchell Eirth
Episodes: 3207–3213
Parents: Maggie Bell
Siblings: Jasmine Bell plus an unnamed brother
---
Justin Bell was a street kid who incurred Alf's wrath he managed to break one of the surf club pool cues. Flynn talked Alf out of calling the police, and then tried to talk to Justin about what had just happened. He told Flynn that he was sleeping on the streets and Flynn told him that there was always a bed at the drop-in centre if he needed one.
Some policemen came to the drop-in centre later that day looking for Justin. Justin came to the centre looking for a bed that night and Shelley mentioned it to Flynn. Justin had been seen shoplifting in Yabbie Creek and Shelley wanted to talk to him about it. Flynn said he would talk to it. Justin, worried that Flynn would get the police on him, ran off.
Justin then went and met Flynn in the caravan park. Flynn said that he was going to help Justin. Justin said that his mum was nuts and that she wouldn't want to him. Flynn then met Justin's mother, where he found out that Justin had been violent and that she had to throw him out of home. She had an AVO against Justin.
Justin then had a run-in with Kirsty when she asked him to leave the caravan park. Fortunately Flynn arrived on time to apprehend him. When Flynn mentioned his talk with Justin's mum, Justin he stormed off.
However, Justin met up with Flynn at the drop-in centre, when Justin came to the drop-in centre after being beaten up. Shelley hassled Flynn about calling the police to tell them of Justin's whereabouts and he eventually relented, much to Justin's disdain. After talking to the police, Justin stormed out the drop-in centre, saying he couldn't trust Flynn, before collapsing in the surf club.
He was rushed to hospital where he was treated by Charlotte, though there was no permanent damage. When Charlotte asked him who he wanted her to contact she said Flynn. Reluctant to stay at the hospital any longer than he needed to, he tried to escape. Charlotte tried to stop him, so he attacked her before making a run for it.
Flynn eventually caught up with Justin in a shopping mall where he managed to apprehend Justin until security arrived and he was taken into custody.
However Justin then claimed that Flynn had assaulted him, and seeing a chance of some money to feed her family, Mrs Bell went along with the story and tried to blackmail Flynn. Flynn managed to talk her out of it, but not before Noah had called the cops, and Mrs Bell was also in trouble.