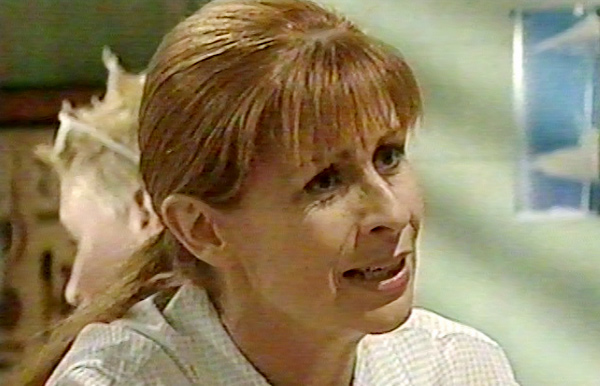 Maggie Bell (2002)
Helen O'Connor
Episodes: 3208–3230
Children: Justin & Jasmine Bell plus another unnamed son
---
Maggie was the mother of Justin Bell, a boy that Flynn was trying to help at the Drop-In Centre. Flynn visited her to discuss him only to find that Justin had lied to him about his background, and Maggie had thrown him out of the house when his violent outbursts became too much for her. When Justin broke into her house and stole her younger children's money, Maggie went to Flynn for help.
Although Justin was arrested not long afterwards, he claimed that Flynn had assaulted him. Maggie told Flynn that she would back up Justin's story unless he paid her $1,000. Flynn managed to convince her to drop the matter but by then Noah had already reported her to the police for blackmail. Maggie was distraught when she was informed she could be facing fraud charges and, when the police came to the house to talk to her, she locked herself and her children inside and engaged in a stand off with them.
Worried about the effect on Maggie and her children if the police broke down the door, Flynn convinced Inspector Carter to give him 10 minutes to talk to her by himself. Despite Flynn's best efforts to convince Maggie to open the door, it was to no avail. When he spotted Maggie's two youngest children at the window, Flynn spoke to her daughter, Jasmine and asked her to open the door so they could help her mum get better. The kids opened the door and a distraught Maggie was taken to hospital, where she was put under sedation whilst awaiting psychiatric assessment.