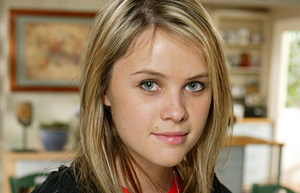 Tamsyn Armstrong (2007)
Gabrielle Scollay
Episodes: 4507-4547
Parents: Heather McCabe and Robert Armstrong
Siblings: Rachel and Brad Armstrong (half siblings)
Occupation: Student
---
From the first moment she arrived in the bay it was obvious that she was going to be trouble! Not only did she try and steal Jack Holden's post but she stole a picture of Rachel Armstrong along with Jack's watch. Tam had told Rory that she used to live at their place. Rory let her have a look around her 'old house' and that's when she stole the photo of Rachel.
Jack broke into a car and found the picture of Rachel. Heather, Tam's mother came along and wondered what Jack was doing. Jack told her that she had found things from his house, in her car.
Everything became clear though, when Heather and Tam visited the school looking for Brad. Back at Rachel's place, Brad introduced her to Tam and Heather and said that Tam was their half sister! Heather explained that she and Rachel and Brad's father Robert got together after he said that he was having marriage problems. Heather also explained that she had a gambling addiction and needed someone to look after Tam. Her first option, was to get Rachel and Brad to look after her. Heather said it would just be until she got sorted out at a retreat programme. They said that they simply couldn't, considering Rachel worked at all sorts of hours at the hospital. But Heather didn't take no for an answer and went to the retreat programme, leaving Tam on Rachel's doorstep.
Things were difficult at first with Tam refusing to listen to anything Rachel said and with Rachel working shift work she soon handed care of Tam over to Brad. The problem was that Brad, having just been jilted by Sally, was living out of a motel and Tam was distinctly unimpressed even going so far as to tell the woman next door that Brad was her teacher who was holding her against her will. The neighbour called the police and though Tam eventually admitted the truth, it was too late for Brad's job prospects.
After that relations between the two thawed a bit and Brad eventually rented a new place and gave Tam her own bedroom. The offer of a real family environment was too much for Tam who really started to begin to settle in the bay. She had a crush on Geoff Campbell but his sister Annie warned him off her so Tam got her revenge by telling her that Lucas liked her when he didn't. She then began getting closer to Aden Jeffries despite everyone warning her off him.
Things improved for Tam when her mother returned and landed herself a job but Heather struggled to stay away from the gambling machines and even stole money off Leah to fund her habit. Tam stole the money off Viv, a wealthy client of Ric's but Heather had already won the money back leaving Tam in a difficult position with Geoff who had seen her steal the money. She managed to return it anonymously and Heather landed herself a new job at the hospital.
With things back on track Tam began to settle in at school and got closer to Aden who invited her to his formal. Upset about hearing from Rachel that Brad had a new job in Tasmania, Tam allowed Aden to get her drunk and went down to the beach with him where things got a bit heated. Cassie came to her unwilling rescue but not before Aden's friend had filmed her. By the next day the video was all round school and Tam was humiliated so when Brad suggested she and Heather move to Tasmania with him, she agreed readily and after saying her goodbyes, left the Bay.