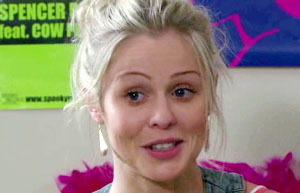 Daisy Alexander (2008)
Jessica Smith
Episodes: 4682 – 4689
Occupation: University Student
---
Daisy was Mattie's roommate at Uni. They got on really well and Daisy ribbed Mattie about Nathan being interested in her. She also sensed she was not over Ric and quizzed her about him. Mattie showed her a picture and Daisy said that he was quite cute but the hairstyle was questionable! Daisy encouraged Mattie not to think about Ric and tried to talk her into going to a party as she said she would protect Mattie from Nathan. However, Mattie still refused to go.
When Nathan continued to pursue Mattie, Daisy said she should give it a shot but Mattie said no as he wasn't Ric. Daisy talked her around and told her to ring Ric to tell him they should see other people.
After Ric turned up in WA and found Nathan in Mattie's bed, Daisy bumped into Ric on the campus. She tried to get Ric to talk to Mattie and he finally agreed. However Mattie and Ric had another fight so Daisy told Mattie that Ric wassn't just here for a holiday, he was there permanently.