Neighbours Spoilers – New photos show 'Save Our School' riot as old faces return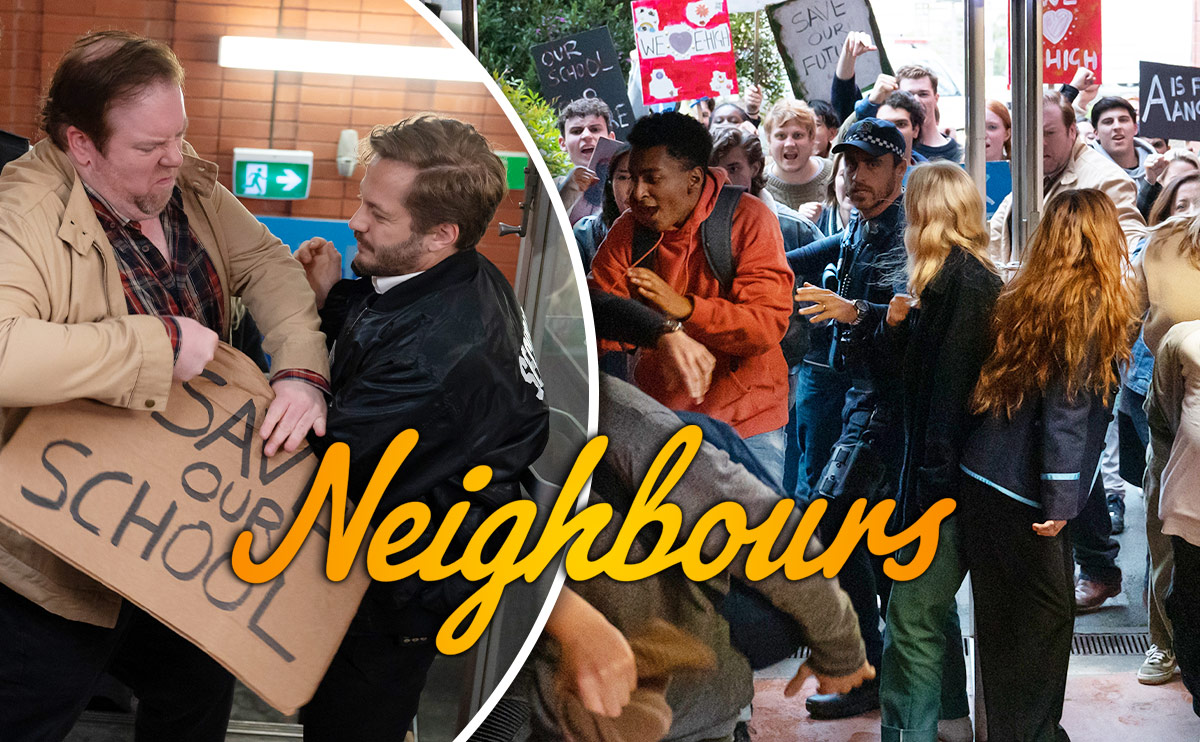 Neighbours has released new photos showing dramatic scenes as pupils of Erinsborough High past and present come together to 'Save Our School,' leading to a riot and dramatic consequences.
A number of familiar faces are set to return to Erinsborough as part of a campaign to save Erinsborough High. The school is currently set to close due to a drop in attendance figures, with the site set to be redeveloped for Terese Willis' (Rebekah Elmaloglou) 'Eirene Rising' project.
The development has caused a rift between Terese and Jane Harris (Annie Jones), the school's current principal, who has done all she can to save the school from closure, including trying to poach parents and students from nearby Anson's Corner High.
Things came to a head as Jane showed the rival school's parents around Erinsborough High, where she bumped into Terese, who was showing her architect around the site.
In tense scenes, Jane snapped and ripped up plans for Terese's new development in front of her, not realising that the swathes of parents were watching on.
In recent weeks, the school's closure was confirmed, with Jane left devastated that Erinsborough High was soon to be no more.
The storyline was expected to lead to a major campaign, with ex-pupils and teachers returning to Erinsborough to try to save it.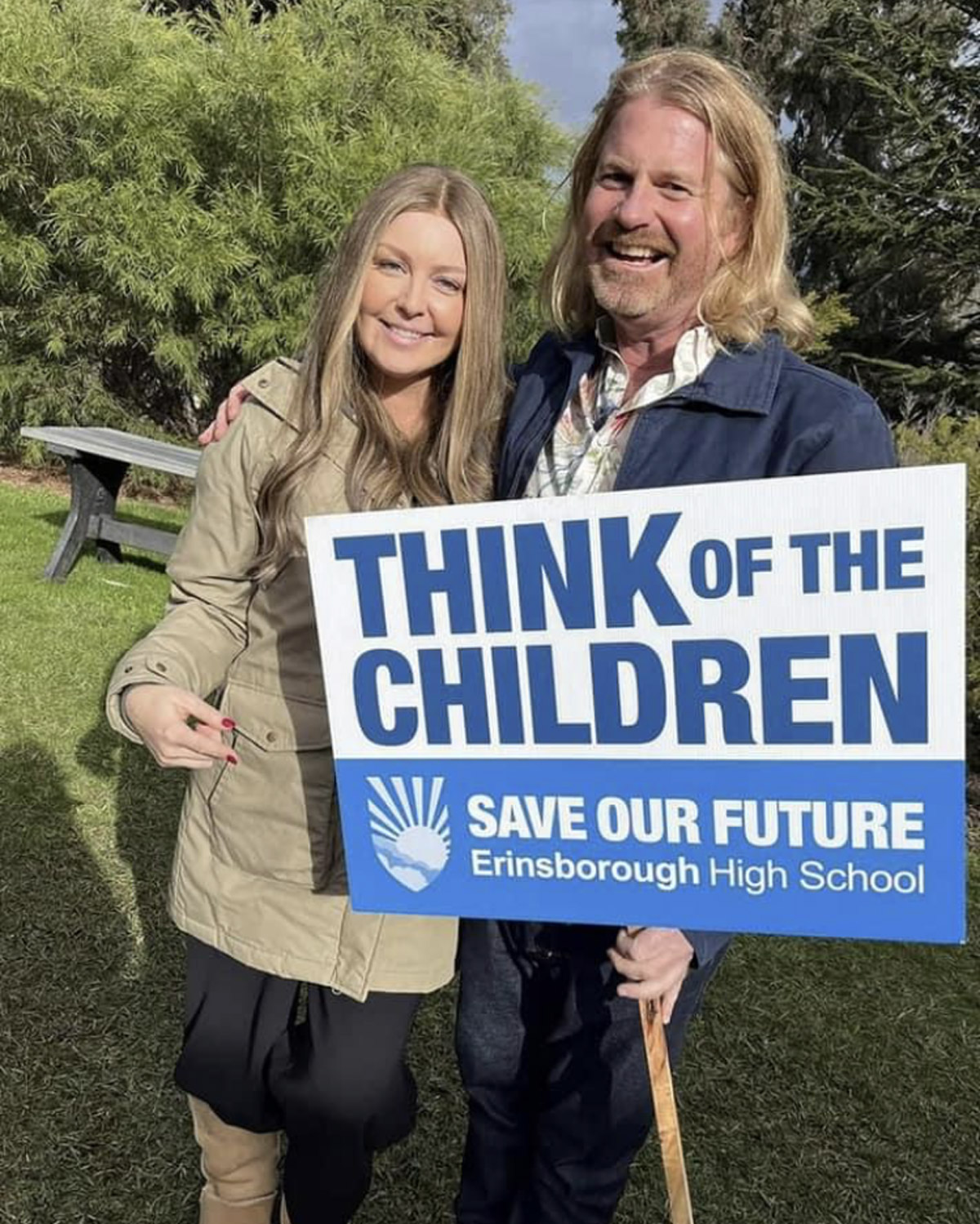 Earlier this year, Neighbours alumni Kate Keltie (Michelle Scully), Brett Blewitt (Brett Stark) and Melissa Jarrett (Jade Amenta) were all pictured at Melbourne's Nunawading studios.
A photo on a Facebook Story showed Kate and Brett holding a sign reading "Think of the children. Save our future," suggesting that a number of legacy characters would head back to Erinsborough to campaign to save the school.
Now, new photos show that that's exactly what will happen. As well as Michelle Scully, Brett Stark and Melissa Jarrett, there are also returns for Summer Hoyland (Jordy Lucas) and Marty Muggleton (Nikolai Egel).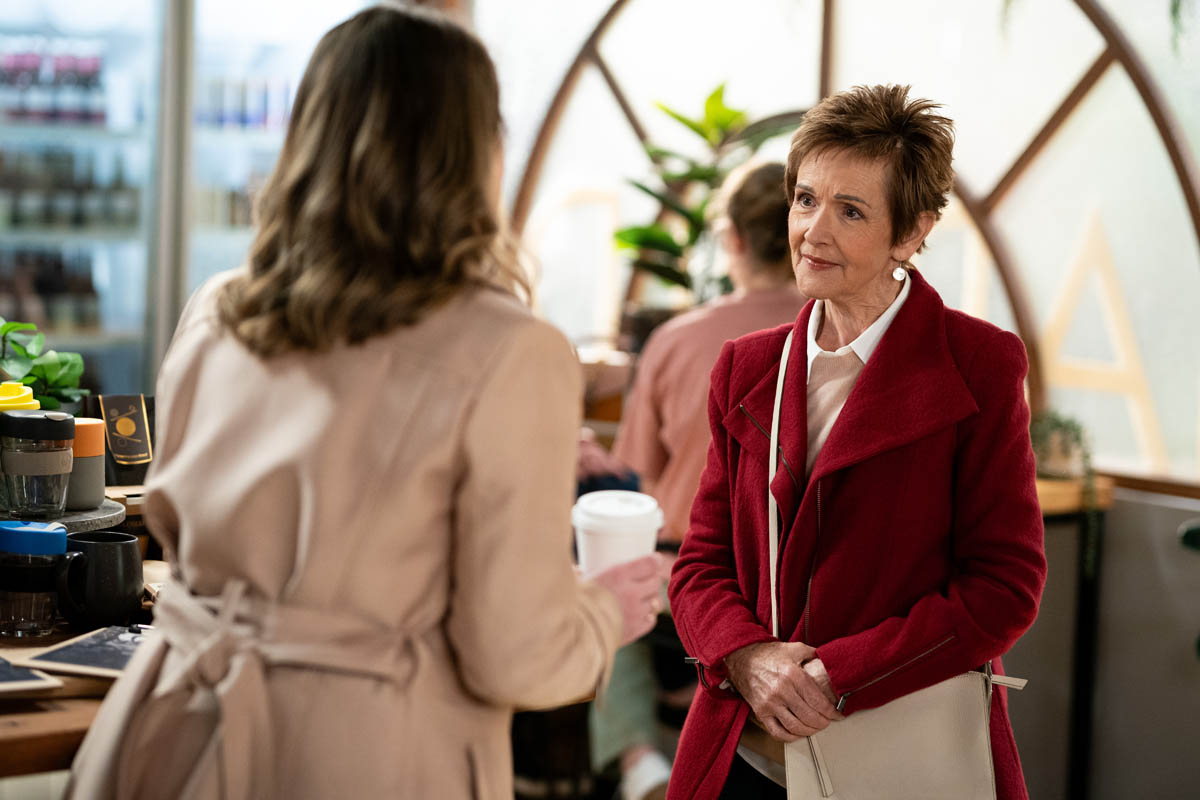 New photos show Susan reconnecting with Summer, her former pupil, at Harold's.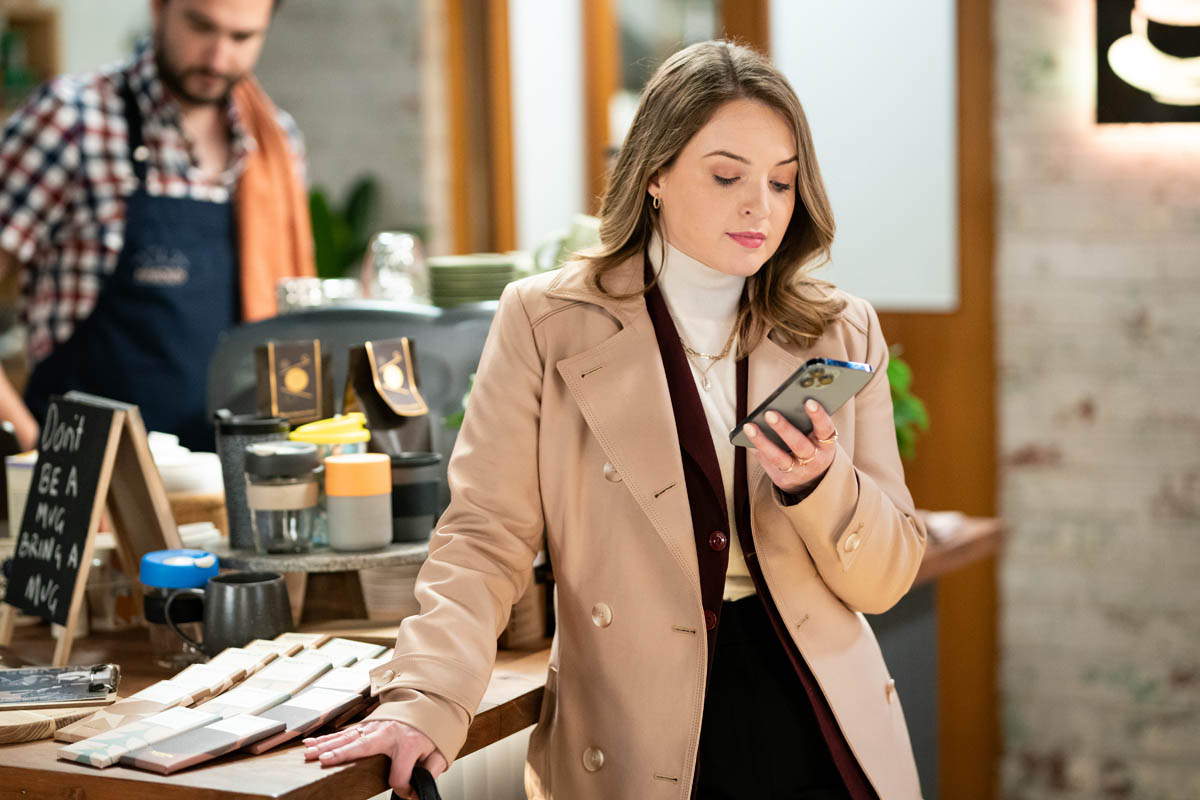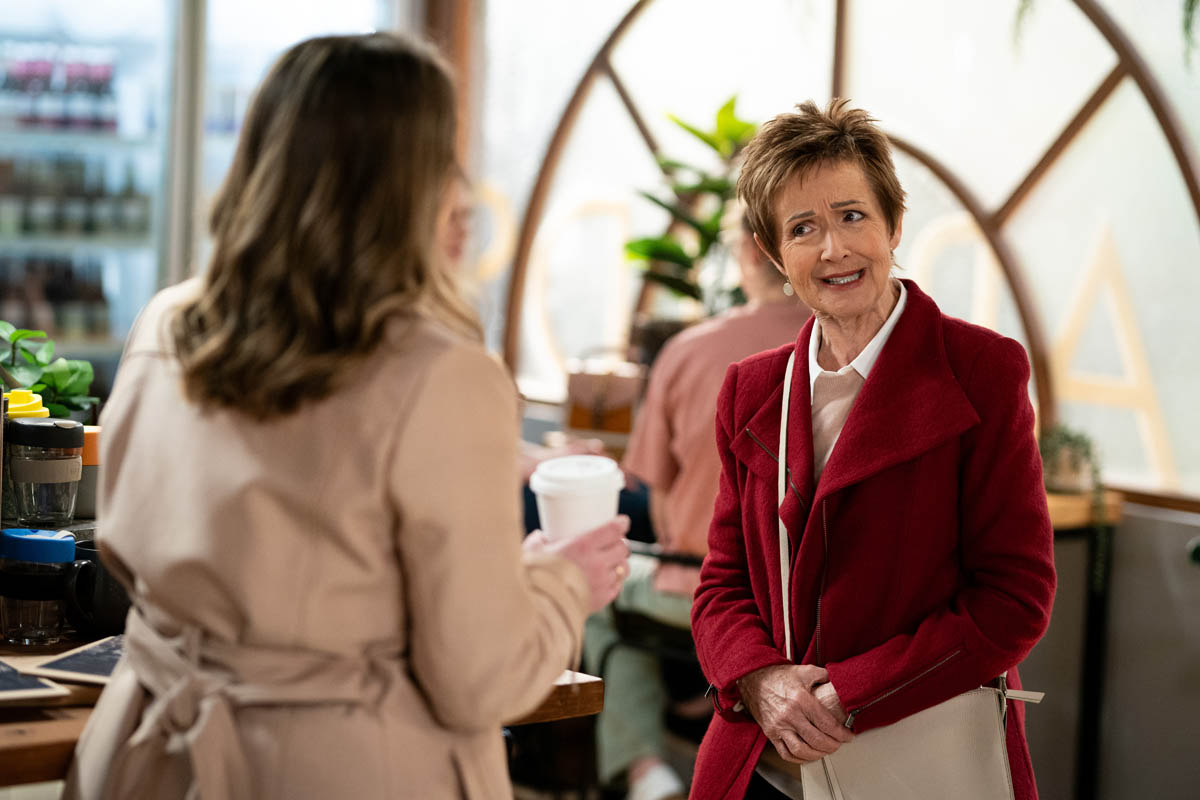 Other photos show the campaign building at Erinsborough High, with Summer – who is now working as a presenter at Rise FM – interviewing Brett and Melissa.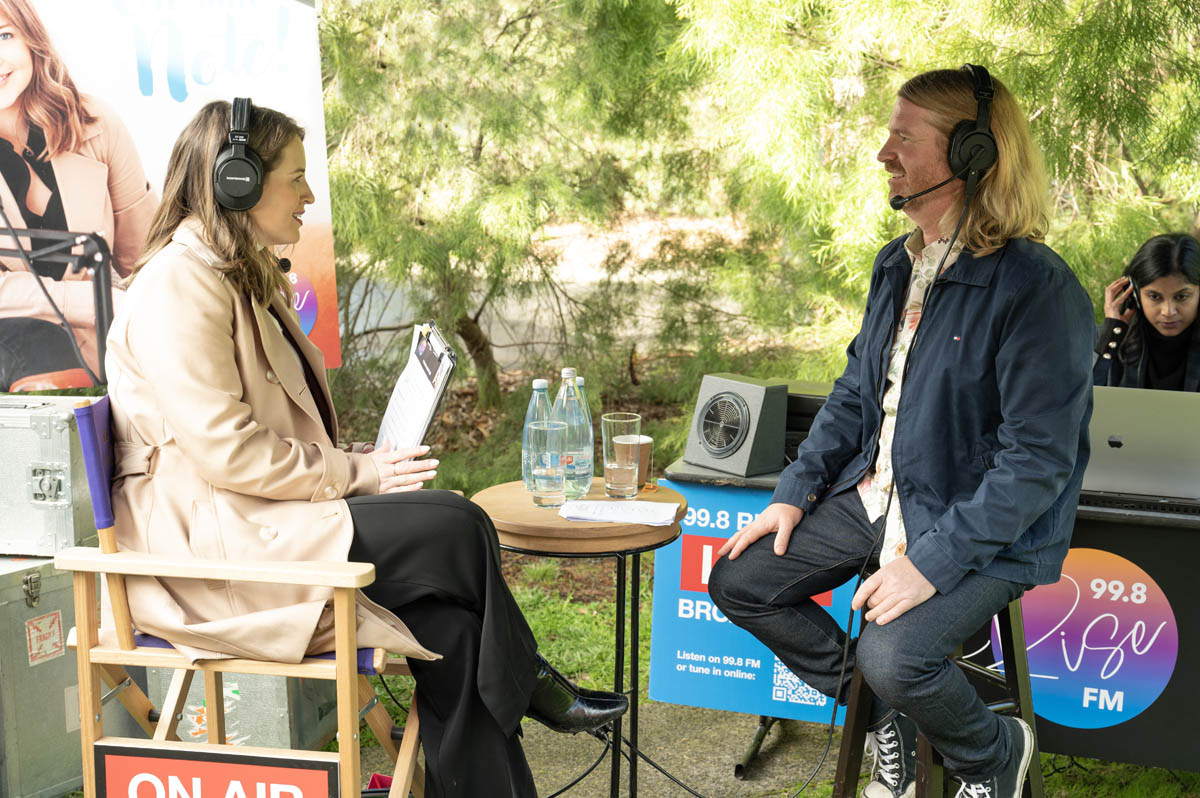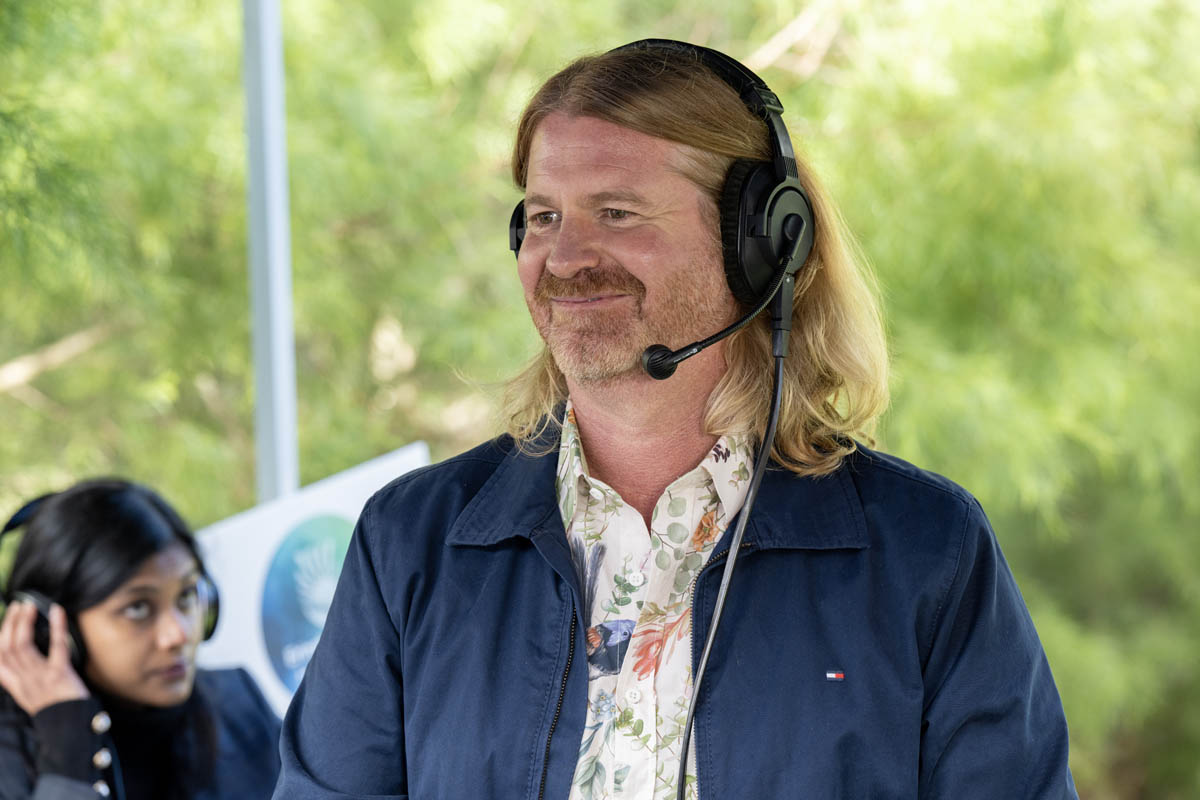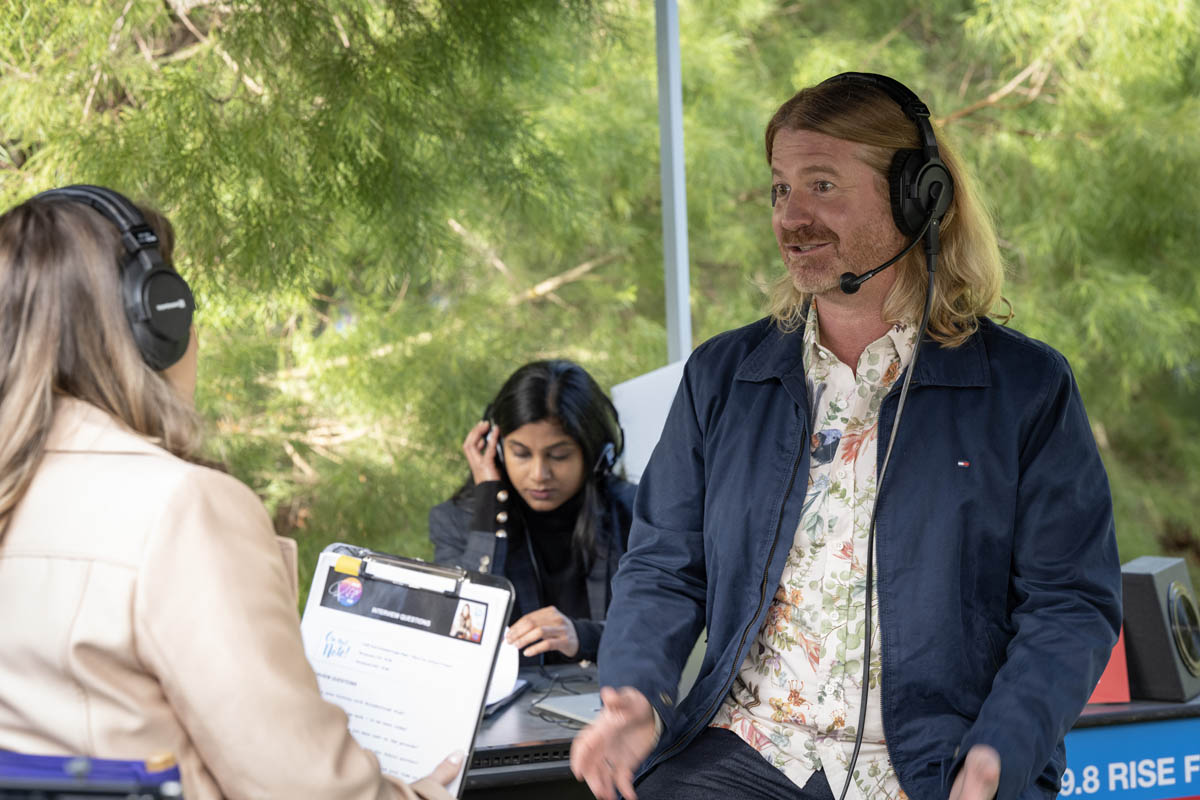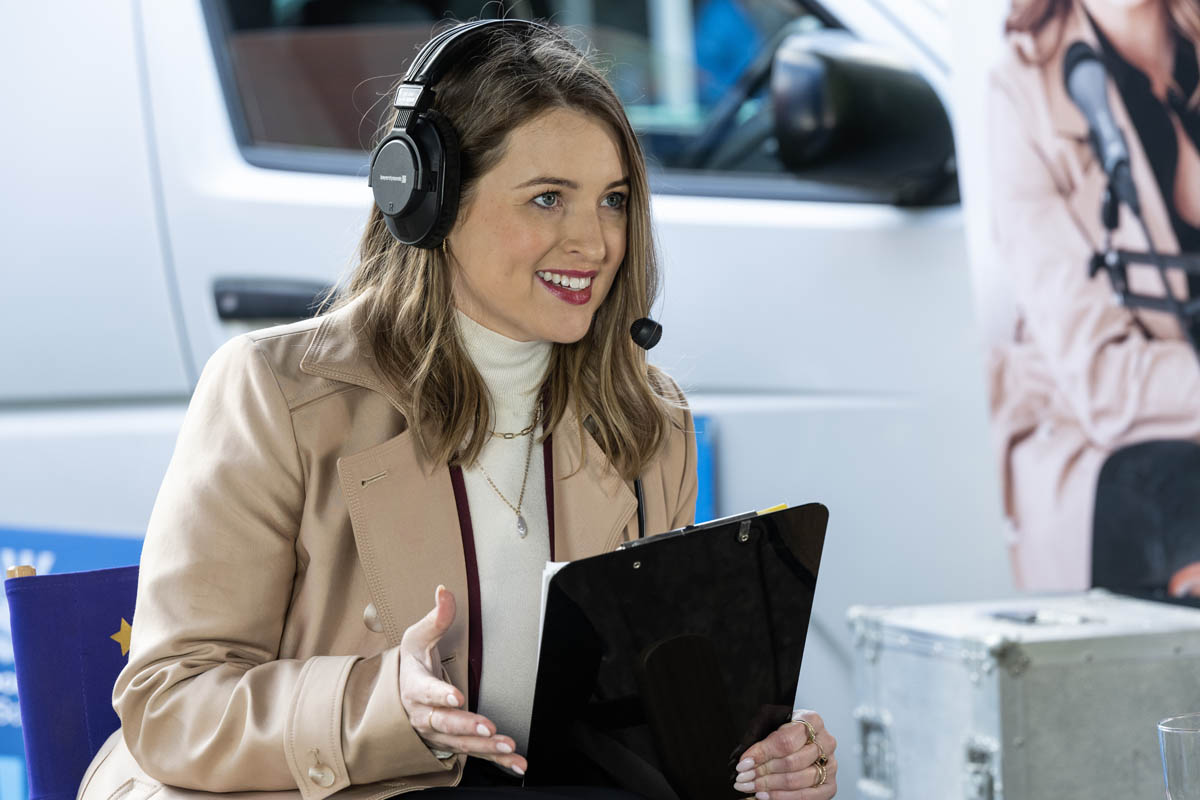 The photos also show the return of Michelle Scully, who last appeared in 2004.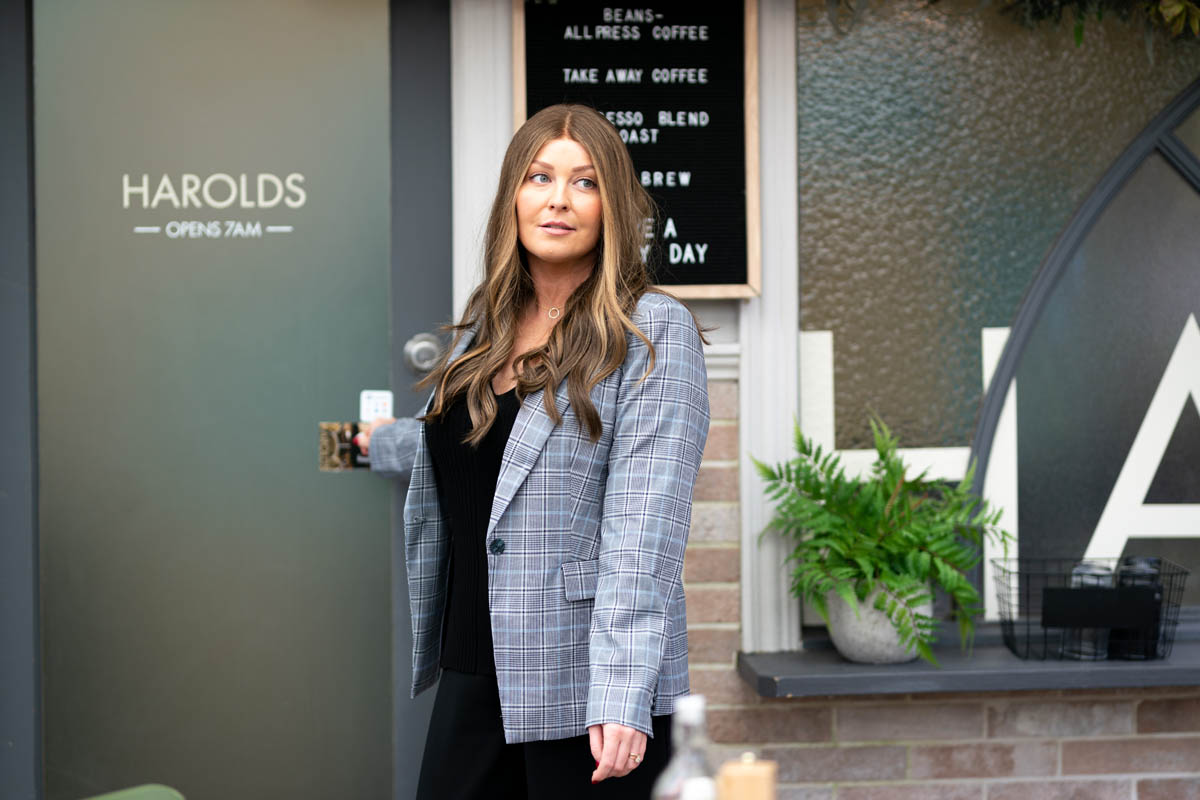 Then, things turn ugly as current and former staff and students storm past police and security and break into the school, leading to a riot.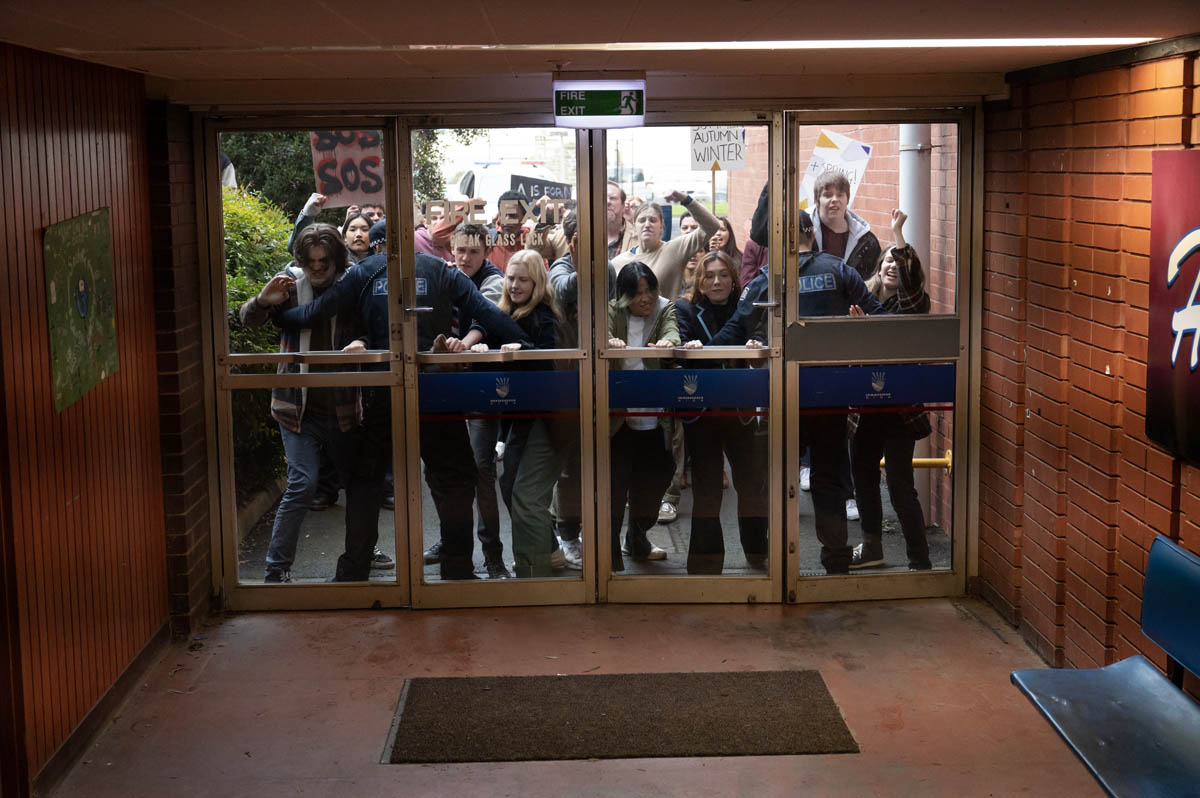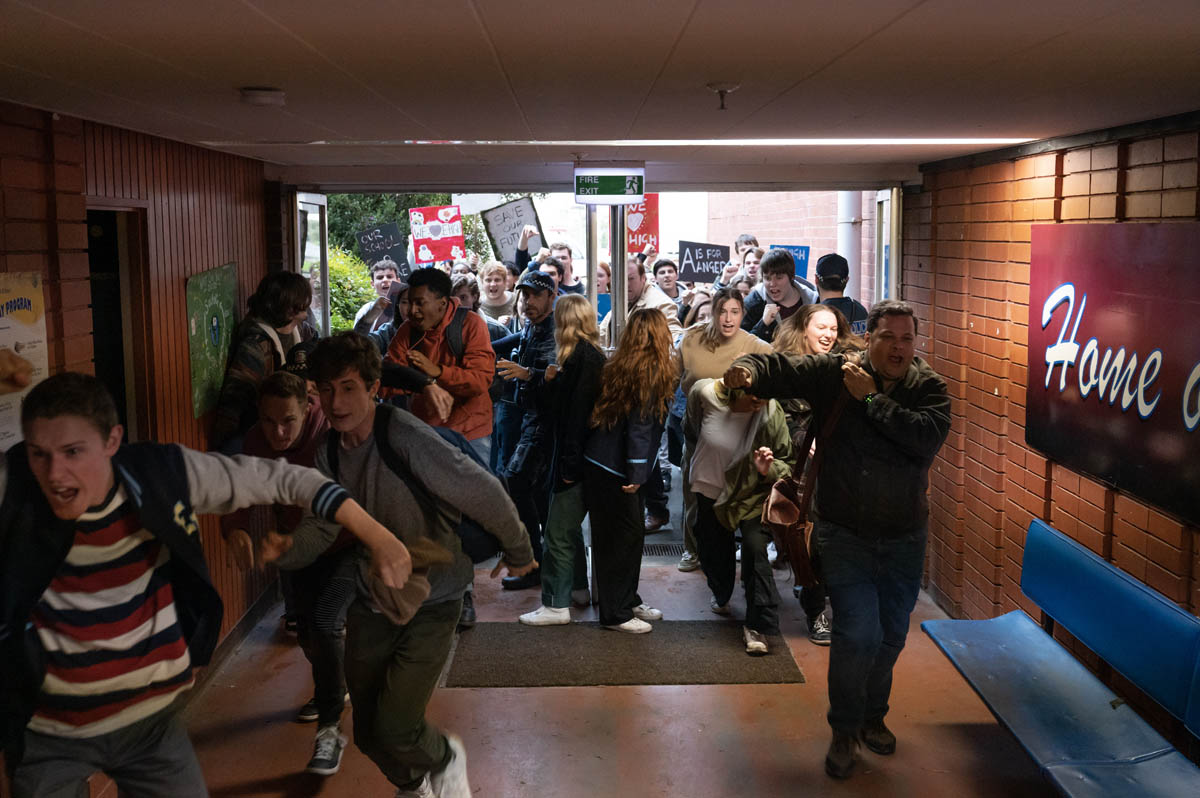 At the forefront of the riot is former teacher Marty Muggleton, with pictures showing him being grabbed by a security guard.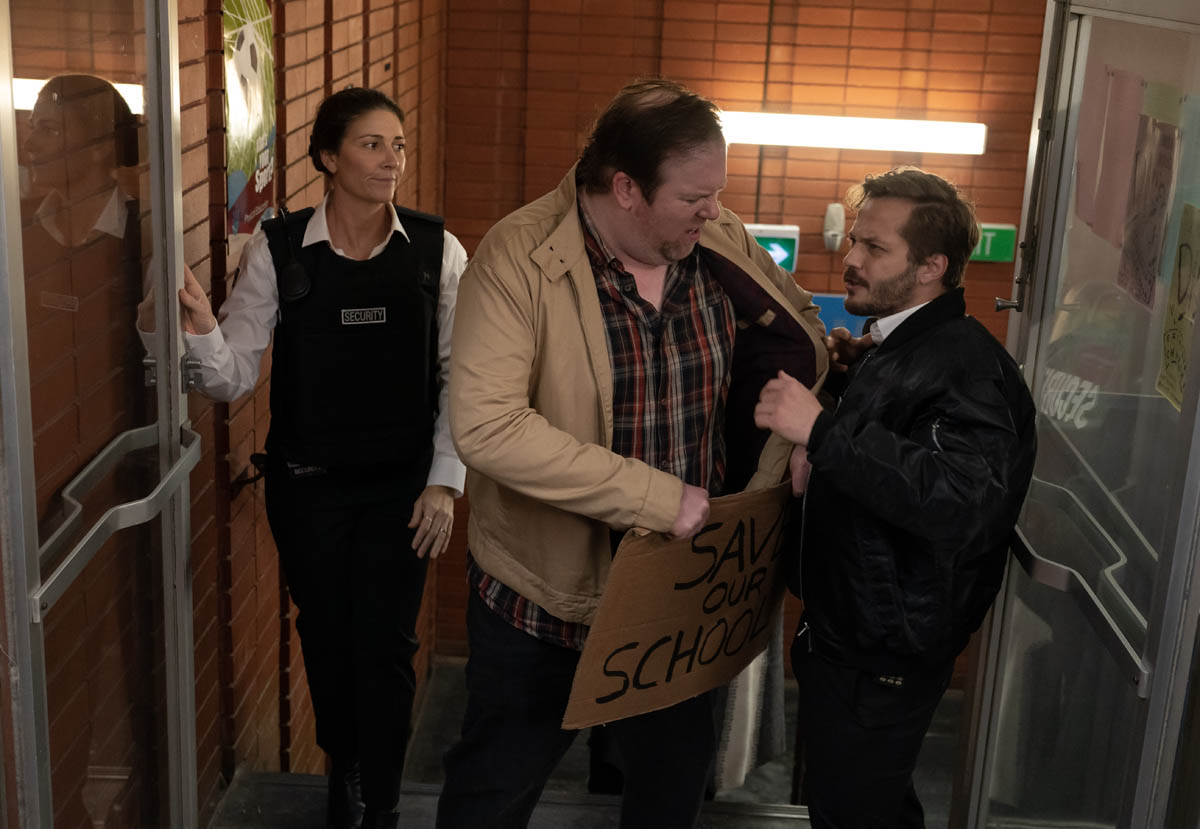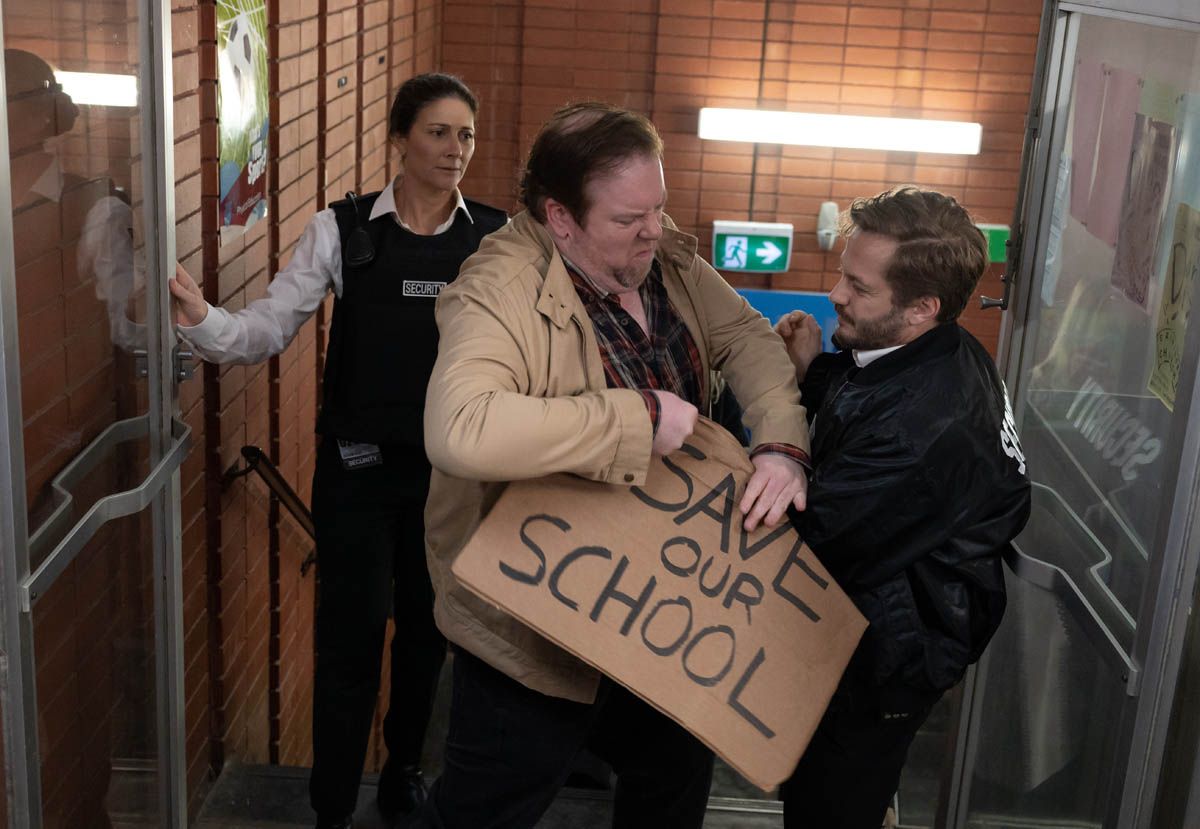 David (Takaya Honda), Aaron (Matt Wilson), Chloe (April Rose Pengilly) and Nicolette (Hannah Monson) also find themselves caught up in the drama.
While the former pupils have the best of intentions, the Erinsborough High riot is set to have a dramatic ending, with the residents of Ramsay Street facing the devastating consequences of their protest.
Will they succeed in their mission to save Erinsborough High, or have they just put the final nail in the coffin of the school?
New episodes of Neighbours air Monday–Thursday on Network 10 and 10 Peach in Australia, and on Amazon Freevee in the UK.
---
Monday 27th November (Episode 41 / 8944)
Byron struggles with a loss.
Nicolette prepares to disrupt the status quo.
Nell tests Toadie's kindness.
Tuesday 28th November (Episode 42 / 8945)
Aaron and David have a clash of values.
Toadie makes a personal call.
Cara tries her hand at interior decorating.
Wednesday 29th November (Episode 43 / 8946)
Byron rallies help to deal with a sensitive issue.
Dex and JJ work together to rekindle the romance between their mums.
Haz struggles with setting boundaries.
Thursday 30th November (Episode 44 / 8947)
David gets an intriguing new job offer.
Haz reaches the end of his tether.
Susan must pick a side.
Monday 4th December (Episode 45 / 8948)
Crowds descend on Erinsborough High, in a last ditch effort to 'save our school'.
Tuesday 5th December (Episode 46 / 8949)
The residents of Ramsay Street face the devastating consequences of their protest.
David makes a tough confession.
Wednesday 6th December (Episode 47 / 8950)
Toadie struggles with a web of complex emotions.
Nicolette's future is thrown into uncertainty.
Wendy and Andrew reach breaking point.
Thursday 7th December (Episode 48 /8951)
Toadie is forced to reassess his comfort zone.
Terese has a surprising proposal for Jane.
Wendy gets a new perspective on her feelings.
Nicolette confronts Chloe.
---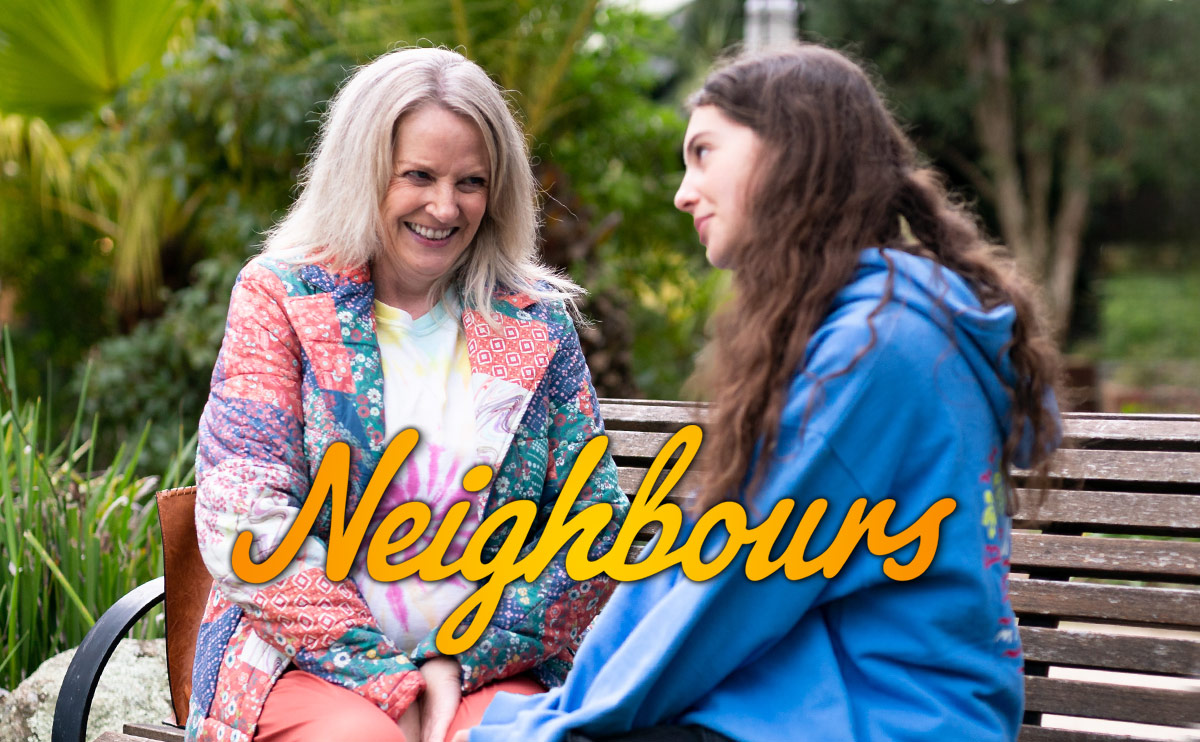 Neighbours has released the next set of spoilers and photos for late November and early December, covering the aftermath of Flashback Week and its massive repercussions.
Spoilers in your inbox every weekend!