Married at First Sight Australia – Bronte and Harrison rocked by "other woman" scandal
Tonight's Married at First Sight Australia on E4 sees the wedding of Bronte and Harrison end in disaster when Harrison is accused of having another woman on the outside.
The experiment returns to UK screens tonight, with 10 new couples meeting for the very first time, and marrying there and then. The show has been airing in Australia for the past 5 weeks, and now us Brits get to follow the drama on E4 and All4.
The first wedding of the new series sees Lyndall and Cameron get married without a hitch. Lyndall, who has cystic fibrosis, has been given a new lease of life after being approved for a new drug, and wants someone who is "happy to lean in and take a risk."
She's been paired with chippie Cameron, who helps build hospitals and schools in remote, indigenous communities, and they quickly become one of the show's most promising couples.
The same can't be said for Bronte and Harrison, whose dramatic wedding day features in the very first scenes of the show, as we see Bronte pulled aside by her best friend and told some shocking news about her new husband
READ MORE: Meet this year's Married at First Sight Australia participants
Bronte, 28, tells us she believes "love conquers all" and that falling in love in the experiment would mean everything to her.
"I'm so ready to just take this leap and meet the man of my dreams," she tells producers. "Hopefully. Like, get the ring on this finger, right now."
She's been hurt and heartbroken many times, and doesn't like that this generation is all about finding "the next best thing", with everyone having multiple people on the go at once.
Oh dear. As we soon discover, dating multiple people isn't something her match has as much of a problem with.
Her soon-to-be-husband Harrison, 32, is quick to admit that he's a polarising character, and is okay with the fact that some people don't like him.
"It's fine. I mean, not everyone has taste," he tells us.
However, the experts think that his dominant nature is simply a defence mechanism for the 32-year-old carpenter, who builds luxury homes across Sydney. John Aiken believes that underneath the bravado, "there's a caring father."
Harrison "takes the notion of marriage very seriously," so wants someone who meets of all of his values. His Mrs Right would be someone with equal values to him, and he needs faithfulness – "without trust and loyalty, there isn't a relationship."
When the wedding begins, there's a mixed reaction from the crowd when one of the bridal party tells Harrison he's a lucky guy, prompting a response of "she's not doing too bad herself" from the groom.
"I'm really nervous about this guy," the bridesmaid whispers, describing him as "a bit cocky."
However, her fears are allayed when the bride walks in, and Harrison tells Bronte that she literally took his breath away.
Bronte describes her new husband as stunning, and that he made her feel like it was just the two of them in the room. So far so good.
Harrison is equally happy with his match. "Bronte legitimately blew me away. She's absolutely stunning, I just felt all the air leave my body."
Yet, as the pair walk out of the venue and enjoy their first moments as husband and wife, the mysterious Lady in Pink from the opening scene watches them closely. Drama is on the way!
Jessica, credited as Bronte's friend, explains:
"As soon as I saw Harrison, my heart just sank for Bronte, because I knew that I recognised him, and that he was the person that I was warned about. Harrison is pretending to be someone that he's really not, and I have proof."
At the wedding reception, when Harrison goes to get some father-in-law time, Bronte is impressed, considering she's always had to force her ex-boyfriends to make more effort with her family.
Then, her friend Jessica pulls her over for a chat. She tells her that she has a friend from Sydney, and that friend has a boyfriend who she's been dating for the last month and a half, and who is "about to go on MAFS."
"Babe, it's him… it's Harrison."
According to Jessica, Harrison has been planning a future with this other girl. Jessica has pictures of her and Harrison together, and reveals that Harrison had even been talking to the other girl about what would happen if she got pregnant before he went on the show.
Bronte is devastated by the revelation, calling it her worst nightmare.
"What? Oh my god, no, no, no, you're lying. Like literally, are you serious?"
Wasting no time, Bronte rushes over to confront her husband right away. She goes in blunt and direct:
"So you know we're talking about honesty? Who's the 20-year-old that you have on the outside?"
However, Harrison denies it. "I'm dead serious. I don't have anyone."
Yet he's backed into a corner when Bronte gives more details on the messages, and he finally has to give her the truth. He explains that he was "seeing a number of girls" before coming into the experiment – "I'm a single guy in Sydney, and yeah, I didn't know if this was going to last a week, a month, the entire experiment."
"But I'm not in a relationship with anyone, they're just people I was seeing. I'm not going to hide from who I was. I was single and dating around."
He tells Bronte that there was someone who he had a crush on for a really long time, and they connected "like a week before doing this." He admits that it sucks that the pair met right before the experiment began, but that now he's in the experiment, he's going to give it 100%.
Turning things around onto Bronte – which, as we'll see in the weeks to come, is a trick he's very good at – he tells her that he was single before the experiment, "so why are you attacking me over this?"
While Episode 1 ends with uncertainty over Bronte and Harrison's future, the pair eventually get through their wedding day scandal.
They spend their wedding night apart, and in a chat with the producers, Harrison isn't happy that things about his life outside of MAFS were brought up in such a negative way on his wedding day.
Bringing Bronte coffee in the morning, the pair immediately began chatting about what happened the night before, as Harrison once again reiterates that he had a life before the show, and it was inevitably going to follow him in at some point.
Bronte does understand that, but she fears she'll just be replaced, disposable. This line of girls that Cameron has waiting, what's to stop him just going back to them?
"I want you to know that I've left that behind to be here for this process," he assures her. "Because we're married now and I take that seriously. And I want you to be part of my life."
Bronte confesses in a cutaway interview that it'll be tough to come back from, as she's had her heart broken "so many times". But she does want to learn to trust again, she tells Harrison, and actions speak louder than words.
While Bronte and Harrison bring plenty of drama for the show's first few weeks, the "other woman" scandal soon becomes less of an issue.
In Wednesday's episode, we have NEW news, when Bronte's sister gets in touch with yet more allegations. But this time, they're defending Harrison!
The sister claims Jess may have been upset at having not been a bridesmaid, and that could've been the reason she made the allegations. She'd spoken to the bridal party and was confused about why she wasn't a bridesmaid – as we see some convenient shots of Jessica looking forlorn whilst staring longingly at the trio of bridesmaids in the front row.
Cue some major shock from Bronte. Problem solved, her husband is a saint after all, and Jessica clearly "stirred shit", as Bronte puts it, because "she couldn't handle the fact that this wasn't about her."
"My poor husband has been absolutely annihilated. The poor guy, all he's done is come in here and try to start again."
What?!
She agrees to pretend like nothing ever happened and just get on with her relationship with her new husband. Well, let's hope she's right, and that Harrison is the perfect committed gent from here on out…
Something tells us the drama is far from over.
Married at First Sight Australia airs on E4 and All4, Monday–Thursday at 7:30pm.
---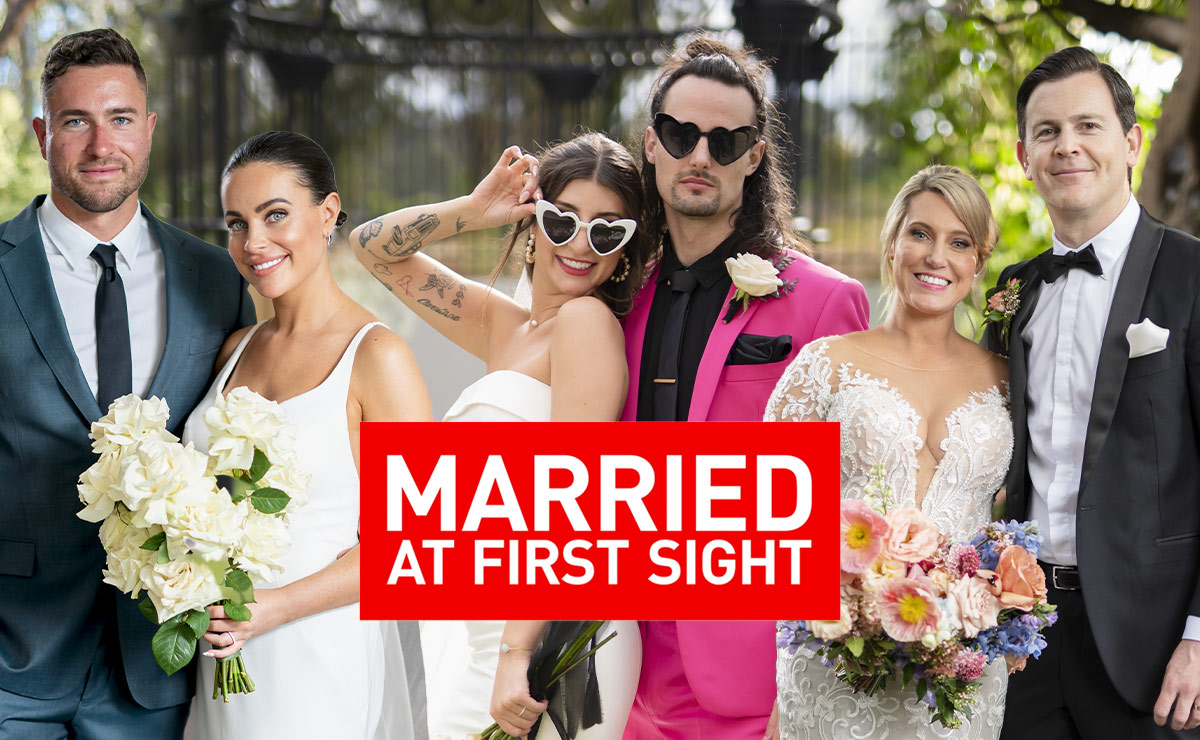 Meet the 10 brand new couples hoping to find true love, and/or social media stardom.
Spoilers in your inbox every weekend!