Married at First Sight Australia starts tonight on E4!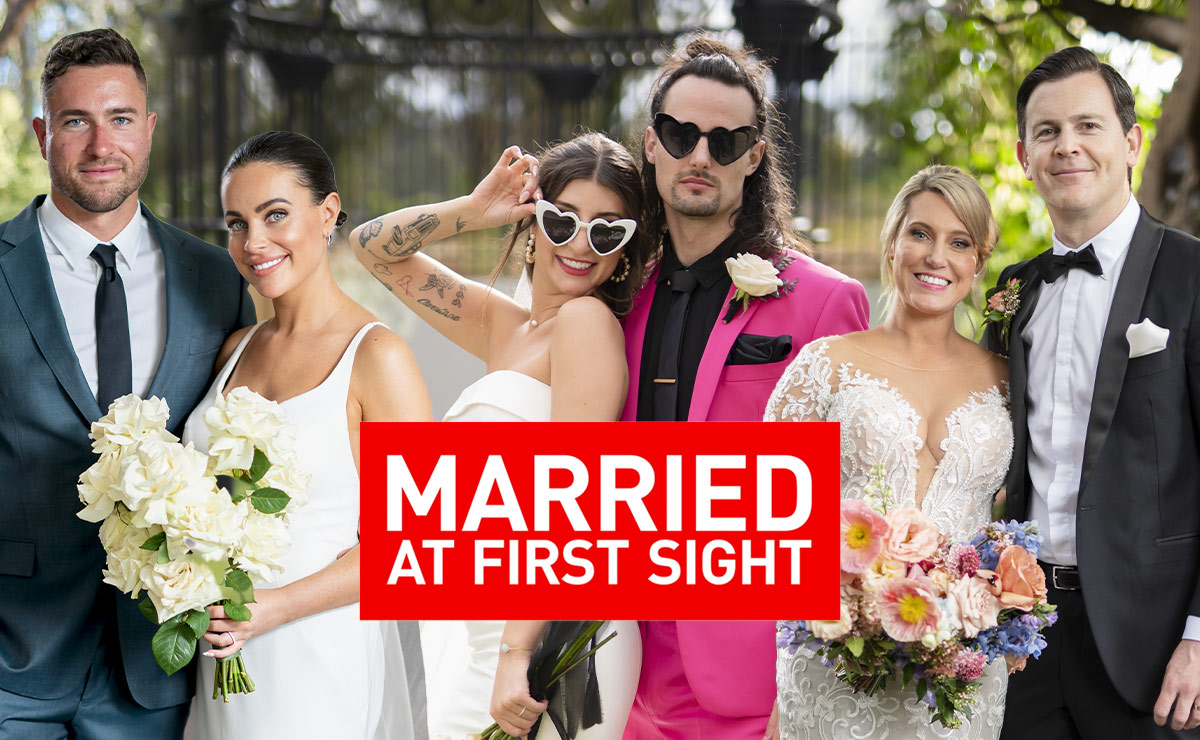 Tonight sees the long-awaited return of Married at First Sight Australia to British screens, as we meet 10 brand new couples hoping to find true love, and/or social media stardom.
The show and its UK counterpart have become two of E4's biggest hits in recent years, and viewers can't get enough of the loving gestures and romantic moments… oh, and the never-ending drama and scandal that follows certain contestants wherever they go.
Of course, the Australian version has the added benefit of endless good weather, beautiful scenery, mullets, and heaps of fair dinkum Aussie slang.
This year has the usual mix of sweet, genuine couples, those who aren't quite sure, and some absolute trainwrecks, and we're already hooked.
The series kicked off in Australia on 30th January 2023, and is already over halfway through. In the five months it's been on the air, we've already seen plenty of drama, scandal and betrayal, with more sure to come. Now, us Brits get to witness it for ourselves.
The drama begins tonight at 7:30pm on E4.
"It's the national experiment that's got the whole world talking," we're reminded in the first couple of minutes of the opening episode. "The experiment's sole focus remains unchanged. To help people find true love."
With rumours of producers being caught orchestrating scandals – (the Daily Mail recently reported that producers stepped in to create drama when things were going a little too well at the homestays) – we're not convinced that's the experiment's sole focus, but we love it anyway.
Get ready for the "phone number scandal," shush-gate, a butt-dial controversy, as well as an event that producers dubbed "biggest shock ever to rock a wedding."
Watching over proceedings are ​​relationship experts John Aiken and Mel Schilling, along with clinical sexologist Alessandra Rampolla. Viewers of Married at First Sight UK will recognise Mel from the British version of the show.
Now that British viewers can finally see the new season, we take a look at what's in store.
When is Married at First Sight Australia on TV?
It's back at 7:30pm tonight (Monday 6th March 2023) on E4, but watch out, it's on twice in one night!
The first edition airs at 7:30pm until 9pm, with a second edition at 10pm until 10:35pm. So we get a full two hours of Married at First Sight on the opening night!
It's then on Tuesday, Wednesday and Thursday nights at 7:30pm.
We assume the double episode is just for the opening night, and subsequent Mondays will have just one episode at 7:30pm.
Expect drama from the first second of the opening episode, as we're introduced to our first bride – Bronte – gushing over her new groom.
"He's so lovely. Like, he's so nice. Like, I'm actually just genuinely blown away that he's a nice person, and I'm hoping that he's here for the right reasons," she tells a friend.
"I want this marriage to work and I will do anything in my power to make it work."
Oh dear. Sorry, Bronte, but something tells us that's not going to happen.
"I need to tell you something," her friend confesses. "So, my friend told me about this guy…"
The audio is muffled, but between shots of the wedding party enjoying themselves and toasts being raised "to happily ever after", we hear the friend tell Bronte something, to which the new bride reacts in shock.
"What? Oh my god, no, no, no, you're lying. That's my worst nightmare. Like literally, are you serious?"
And so begins the big drama of the series. Read more about Harrison's big secret here…
Who are the MAFS Australia 2023 couples?
The series begins with 10 couples, with another two "intruder" couples introduced a few weeks in. Our first 10 Married at First Sight Australia couples for 2023 are:
Alyssa and Duncan
Bronte and Harrison
Caitlin and Shannon
Claire and Jesse
Janelle and Adam
Lyndall and Cameron
Melinda and Layton
Melissa and Josh
Sandy and Dan
Tahnee and Ollie
The episode begins with the traditional bucks and hens night, where the 10 brides all meet in one venue, while the 10 grooms meet in another, and they get to know each other in their final night of freedom before their weddings.
Lyndall and Cameron
The first bride to arrive is Lyndall, who tells us that she definitely thought a lot about her wedding day when she was younger. However, she was diagnosed with cystic fibrosis when she was just three weeks old, and learning that the average life expectancy was just 32 years meant that she never thought she'd have a life with someone.
"How could I ask someone to be with me forever when my forever is a lot shorter than theirs?"
Now, a new life-saving drug is expected to add decades onto her life, and she doesn't want to waste any more time now that she actually has the possibility of growing old with a family and kids.
She's paired up with Cameron, who admits he's a fish out of water in the city, coming from the Northern Territory, where he works as a chippie.
He's used to working in remote, indigenous communities, "like 900km from Darwin," and while he loves it, being so far away from everyone means "it's not easy to meet girls at all."
"Yeah, I do get a bit lonely," he admits.
Cam, who has never been in a relationship, says he's going into the experiment a little bit scared and unsure, but that he's got a lot of love to live and that he's ready to meet the right girl.
Bronte and Harrison
The second participant to arrive, Bronte, tells us she believes "love conquers all" and that falling in love in the experiment would mean everything to her.
"I'm so ready to just take this leap and meet the man of my dreams. Hopefully. Like, get the ring on this finger, right now."
Hopefully she won't learn to regret rushing into things when she learns of her husband's big secret.
When we meet Harrison, it's clear not lacking in confidence.
"Fun, outgoing, adventurous, spontaneous" is how he describes himself, and as the camera focuses in on his bulging biceps, it's obvious that he's already found true love.
Will he find a girl who can compete with his love for himself?
Yet he does have a heart… Maybe. He opens up, telling the boys: "I was in a relationship, then I found out that she just, like, cheated on me."
But, before things can get too emotional, he points out that it's their last night of freedom. "Come on, let's do shots, let's get f***ed up."
Melissa and Josh
Melissa, a 41-year old hairdresser, goes in hard, telling us on the car journey to the hen do: "Well I look like the girl next door, but I like to see myself actually as a little freak in the sheets.
"I'm no regular mum. I am sassy, I am loud, and I love to spice things up. I love role-playing. Yeah, sex is huge for me."
We soon learn that her dream guy is Thor, as she wants a "big hammer."
She doesn't make the best first impression on fellow bride Melinda, when she reveals that she'll definitely be having sex on the first night and seems taken aback that Melinda has no intention of doing the same.
"Melissa was overpowering," Melinda said of the sex-obsessed hairdresser. "I just was waiting for it to be over."
Her husband, Josh, 40, is a dad and an advertising client director.
He's been changed by his separation from his long-term partner, saying: "Who you were previously for so long, that person doesn't exist any more."
He's a big fan of romantic comedies, sees himself as a romantic at heart, but hasn't been single since 2008.
He's experienced breadcrumbing, has been lovebombed, catfished, and has "experienced a very high stage-five clinger as well."
However, he's definitely not the outgoing, strong, confident type that Melissa was hoping for. Have the experts made the right decision in giving her "what she needs, but not necessarily what she wants."
Claire and Jesse
Jesse is a guitarist and marriage celebrant who thinks most people would describe him as "pretty arrogant and cocky" when they first meet him.
He describes his fussiness as the bane of his existence, and gets the ick from pretty much anything. We get to see see his audition tape, where he lists just some of his dislikes as:
someone who's obsessed with their social media;
pumped up lips;
long eyelashes;
power lifters;
wine snobs;
vanilla, basic, boring;
people who don't listen;
pouting;
addicted to their phone
The list goes on!
Will he get the ick from Claire, a 31-year-old kindergarten assistant and car lover?
She grew up in a greek family and is always told she's too loud, too much, too energetic… but despite her energy levels, she's soft, romantic and sensitive.
She wants someone funny, honest, who knows himself and can express himself. Will Jesse be just what she's looking for?
Sandy and Dan
Aussie-born Sandy, whose parents are Indian-Punjabi, explains that as part of her culture, "talking to boys and having male friends was not the norm.
"So even though I'm 36, I feel like a 20-year-old in the dating world. And that's why I need the experts to help me."
She's going up against culture, tradition and her parents by taking part in Married at First Sight, but "shouldn't have to worry about what other people think."
Her parents won't be coming to her wedding, as they're not on board with the process, but she has the full support of the other brides, who remind her how important it is to put herself first.
Dan, 42, the owner of a digital marketing business, from Queensland, who describes himself as a very driven person who's worked very hard and accomplished a lot in life.
He describes his daughter as his biggest success. He's looking for someone strong and independent, sure about herself, who "lives a life of purpose guided by her own strong values."
He wants to be able to support them in their own growth and path.
Alyssa and Duncan
"Work hard, play hard" is the mantra of hopeless romantic Duncan, 36, who admits he lives a pretty structured life Monday–Friday, but that outside of work he likes to get on his motorbike or get to the beach.
He's looking for "that love that knocks your socks off" and instantly gives the guys something to worry about when he arrives at the buck's night, with Jesse commenting that you could crack a beer open on his chiselled jawline.
His bride Alyssa, 35, was brought up in Utah, though now lives in Sydney.
She was raised as a Mormon, so was brought up with the religion's strict beliefs – no alcohol, no caffeine, "we couldn't even express our emotions" and had to "turn off any emotions that aren't happy or joyful."
She's looking for love, her prince charming, and absolutely would not mind if they were tall, dark and handsome.
Melinda and Layton
Melinda, 32, a CEO in the fashion and beauty industry, and her dream is to have "all of it."
"Why can't I have everything I want?"
She tells us that everyone doubts her – they see her as blonde, unintelligent, and they don't believe she can possibly be this successful businesswoman.
She enjoys being the boss, thriving on the challenge and competition. Her career definitely gets in the way of her love life, "and guys get upset, they don't like it."
The practically ancient 32-year-old wonders if she's missed the boat(!), but thankfully she's not ready to give up on love.
She wants someone with a kind heart and a genuine human. But also someone who "knows what he wants, is confident within himself, and is always wanting more."
She's been matched with equally successful Layton, 35. He's the CEO of an animal health company, whose approach to life is "go the extra mile," and claims he has "borderline perfectionism."
When we meet him in a later episode, we're treated to shots of him climbing, rowing, and pulling up in his Porsche. He's a successful dude who "spent years putting [his] life on hold to build [his] career," and now it's time for love.
He's only had two serious relationships, and didn't make the time he needed to make. Now his company is "super successful," he's ready to let someone in.
He wants someone equally driven and motivated who he can thrive with.
Caitlin and Shannon
Shannon is a 30-year-old personal trainer from Victoria. He can get rowdy, likes to be cheeky, but is still respectful, kind and loyal.
He's had his heart broken, having been previously engaged for 7 years, and has now been single for 12 months.
He's got a baby girl, loves being a dad, but has put love on the back burner as a result, and finally believes he's ready for love again.
His wife is Brisbane-based makeup artist Caitlin, whose general type of guy is "one who looks like he'll ruin my life."
She's been cheated on in the past, and seems to have a pattern of seeking out the wrong guys. She admits that her being an open book and her lack of boundaries opened the door for her to be taken advantage of.
She wants a guy who accepts her for who she is, who she can be herself with, and with whom she doesn't need to dull her shine. She wants someone kind, genuine, cheeky and with a great sense of humour.
Janelle and Adam
Janelle, 28, is a beauty influencer, who became "a full-time content creator" when she broke up with her ex.
She's close to her family, describing them as having been strict on her as a kid, but nothing but supportive of her in her career, her lifestyle, and everything.
She described the quality of men out there as "horrible" when she went on dates after her breakup, so is hoping the MAFS experts can find her something better.
She's always been the financially stable one and wants something different with her partner. She's hoping for someone who is career focussed and has a stable career, something which is important to her family as well.
Adam, 35, is an entrepreneur with his own online startups, mentioning businesses in the crypto and NFT spaces, as well as an online business centred around competitions.
He's been in love once, in a 10-year relationship which "almost went to a marriage," but they broke up when he "made a mistake."
He moved to the UK shortly after, which is where he started his business, but now he's back in Australia and "100% moving home for love."
Tahnee and Ollie
The final pair are Tahnee and Ollie, who are also this year's youngest participants. Tahnee is a 27-year-old PR manager from New South Wales. She considers herself a catch, and is confused as to why nobody else does.
She's been through Tinder, Hinge, Bumble, "all of those," but realises they're not the best way to make connections.
"No-one's honest with each other about their intentions online, it's very just churn and burn."
She just wants a nice, normal, committed man, "someone genuine, authentic, and just overall a really kind, nice person".
Ollie, from Perth, is a professional voiceover artist. He's been ghosted enough times to drive him off the apps, and is fed up with the difficulties and superficialities of modern dating.
"Honest, transparent, what you see is what you get, that's me."
Married at First Sight airs in the UK, Monday–Thursday at 7:30pm on E4 and All4.
In Australia it airs at 7pm on Sunday, and 7:30pm Monday–Wednesday on Nine.
---
Monday's Married at First Sight Australia on E4 sees the wedding of Bronte and Harrison end in disaster when Harrison is accused of having another woman on the outside.
Spoilers in your inbox every weekend!