Coronation Street Spoilers – Stephen murders Teddy in new attack!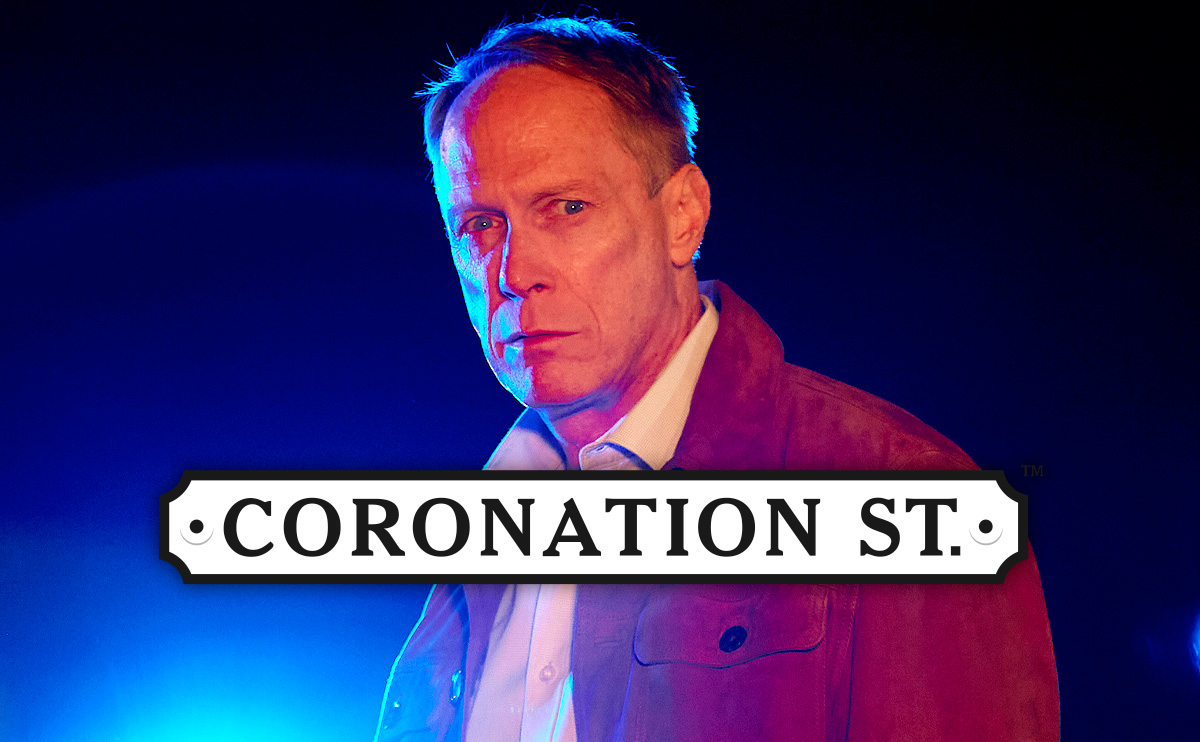 As Stephen becomes Coronation Street's latest serial killer next week, actor Todd Boyce shares his thoughts on what's going through Stephen's head…
Stephen (Todd Boyce) has been living on tenterhooks over the past few months, as he's desperately tried to keep his killing of Leo Thompkins (Joe Frost) under wraps. Up until now Stephen has managed to get away with it by the skin of his teeth, but he's forced to take drastic action next week… as he finally resorts to murdering Leo's father, Teddy (Grant Burgin)!
Having recently returned from Canada, Teddy had discovered that Leo had never made it over there, and the texts that came from his phone were in fact sent from Weatherfield. When Stephen intercepted Teddy en-route to the Rovers, he was about to tell Jenny (Sally Ann Matthews) everything he'd discovered, including his belief that Stephen had something to do with Leo's disappearance.
Stephen thought all his prayers had come at once when Teddy was knocked over by a van only seconds later.
Whilst Teddy survived the accident, Stephen came close to finishing him off in the hospital as he lay in a coma, before being interrupted by Jenny.
"It was extremely close," Todd told EverySoap and other media during a press event last month. "If he hadn't been interrupted, Teddy would have been a goner!"
Since Teddy woke up, with no memory of his trip to Canada, Stephen has managed to convince him of an alternate narrative of events, claiming that Teddy had seen Leo who wanted nothing more to do with him. But he's always known it was a risky strategy that could be blown apart if Teddy's memory returned…
"He's putting lies in Teddy's mouth," Todd explains. "He's a wreck! I don't know if he just figures that if he gets mouthy he'll kill him, but he's taking a huge gamble."
Next week, Stephen tells Gail (Helen Worth) that he's worried Elaine (Paula Wilcox) is reading too much into their friendship. Although Stephen is holding a torch for Jenny, he's kept Elaine on side whilst knowing she could be a source of cash as the sale of her house went through.
"Elaine's a lot of use to him" Todd admits. "She's quite openly said that she's not after him in a romantic way and he's quite comfortable with that. But he doesn't want to hurt her feelings because he knows she actually does fancy him. He just fancies the socks off Jenny, and he's really in another world, where he could just imagine her coming to live with him in Milan with his fortune…"
After overhearing Stephen's conversation with Gail, Teddy then takes it upon himself join Stephen and Elaine at their table.
Whilst Elaine is a bit put out by the interruption, Stephen is secretly grateful. When Teddy later explains that he thought he'd step in to help him, Stephen shows his gratitude and offers to buy him a drink. But when Teddy suddenly starts to remember something about the accident, Stephen goes into panic mode…
Later in the week, Elaine has the feeling that Stephen is going cold on her now, and confides in son Tim (Joe Duttine) that he's only done so after she lent him £12,000 to invest in Sarah's (Tina O'Brien) business. Tim is horrified to learn of the loan, and Jenny's ears also prick up.
Meanwhile, Stephen is relieved when Teddy decides to abandon another trip he was planning to take to investigate what happened to Leo. But when Billy (Daniel Brocklebank) then says something to Teddy, it triggers another memory… all of the sudden the floodgates open, and the truth about what happened before the accident all comes back him.
Teddy goes to confront Stephen at the factory, telling him that he now remembers everything, including the details of their conversation just before the accident. Stephen tries to calm an irate Teddy as he leads him inside to talk things over.
Once in the office, Teddy lays out his theory, that Stephen was doing everything he could do stop him going to Canada because he had in fact killed Leo, in an attempt to have Jenny all for himself.
Stephen tries to talk Teddy round, but when he announces that he's going to report him to the police, it seems Stephen has run out of options. Grabbing a nearby holepunch, Stephen whacks Teddy over the head… and claims his second victim.
Whilst Stephen's first murder was largely accidental, Todd figures that Teddy's death was more premeditated.
"I think he's going to try everything he can to talk down Teddy, but he knows if that doesn't work he's probably going to have to kill him. With Leo he was just hiding his financial malfeasance, but now he's got one body down, he's perfectly willing to cover that up with another murder."
Now Stephen has another dead body on his hands, and whilst Leo handily managed to fall into an industrial bin which concealed him until later that evening, Teddy lying dead on the office floor isn't quite as inconspicuous.
The answer lies in a particular Christmas present that we saw Stephen receive…
Gail, David (Jack P Shepherd) and Shona (Julia Goulding) had all laughed at the irony of Audrey (Sue Nicholls) buying Stephen a car roof box for Christmas, considering that he doesn't even have a car anymore, and we later saw a frustrated Stephen attempting to fit it onto Audrey's car instead.
Now suddenly having a use for it, Stephen hauls Teddy's body into the roof box, but then finds it too heavy to lift back onto the car. That is until Kevin (Michael Le Vell), Abi (Sally Carman-Duttine) and Tim come along. On seeing Stephen struggling, they offer to give him a hand, blissfully unaware of just what is inside!
Todd can certainly see the funny side of the scenes as things descend into an almost farce-like situation.
"There's probably ten characters that come in very close proximity to his dead body unwittingly, which is very very funny.
"I got the scripts and I emailed Iain (MacLeod, Corrie's producer) saying 'God almighty, I was in an over-the-moon situation already playing this character, but now I'm just beside myself'. It's Hitchcock-ish, it's just really black and heart in your throat… it's great! Some people help him, and Audrey could be implicated if things go wrong!"
And naturally, something does go wrong… with Teddy safely tucked away in the box on top of Audrey's car, Stephen comes back out of the factory to find the car has disappeared.
It's then that Sarah reveals Audrey has gone to visit friend Bev in the Peak District, leaving Stephen horrified!
Whilst we'll have to wait and see how Stephen manages to get out of this situation, Todd gives us a teaser on who Stephen could be setting his sights on next…
"Carla's getting on his wick a bit," he admits, to a room full of gasps. "She's humiliates him on two occasions in front of his former colleagues from when he was a bigwig in Milan. They've come to Underworld and Stephen's pretending he's doing some consultancy work whilst she's got him out the back. She spoils his cover and tells him 'Go get back to packing', and so she crushes him in front of them. Also she's also got a business that he wouldn't mind getting his hands on!"
So can we expect Stephen to be carted off to prison anytime soon? Producer Iain MacLeod reveals that the story is set to continue for some time yet…
"We're trying to treat it a bit like a film noir, where this guy⁠—due to his fatal flaw of arrogance, egotism and desire to be top dog⁠—gets driven into increasingly desperate acts over the next 12 months or so. There's lots and lots to come, and I really love it. It's in the best tradition of Corrie villains."
"If you were to compare him to our esteemed bad guys of the past, he's got shades of Richard Hillman about him I think," Iain adds. "That pomposity and refusal to accept that you're on the bones of your behind, and the desire to present this image of the successful guy. Everything about this story I find really exciting."
---
Monday 16th January (Episode 10852/53)
Aaron and Billy are worried when they can't get hold of Summer.
Mike unlocks the nursery door to find Summer inside unconscious – his plan has gone badly wrong.
Tyrone and Fiz are horrified to discover Hope has been listening to a John Stape cassette.
Amy reveals that Jacob has gone, but Nick fears that Damon has got to him.
Jenny is impressed at Stephen's kindness.
Wednesday 18th January (Episode 10854/55)
When Mike tells the police that Summer was extorting them, Paul takes things too far.
Teddy's memory starts to return.
Nick is wary when Damon suddenly seems on side, and soon learns the truth about the businessman's dodgy history.
Daniel vows to track down Daisy's old friends and invite them to the wedding.
Fiz and Tyrone get a new pet.
Friday 20th January (Episode 10856/57)
Stephen kills again.
When Daisy gets another bouquet of flowers, she points the finger at the wrong man. Who is her admirer?
Gemma decides on a new business idea.
Fiz and Tyrone begin to regret their new pet.
Spoilers in your inbox every weekend!