Coronation Street Spoilers – Bernie Winter is kidnapped!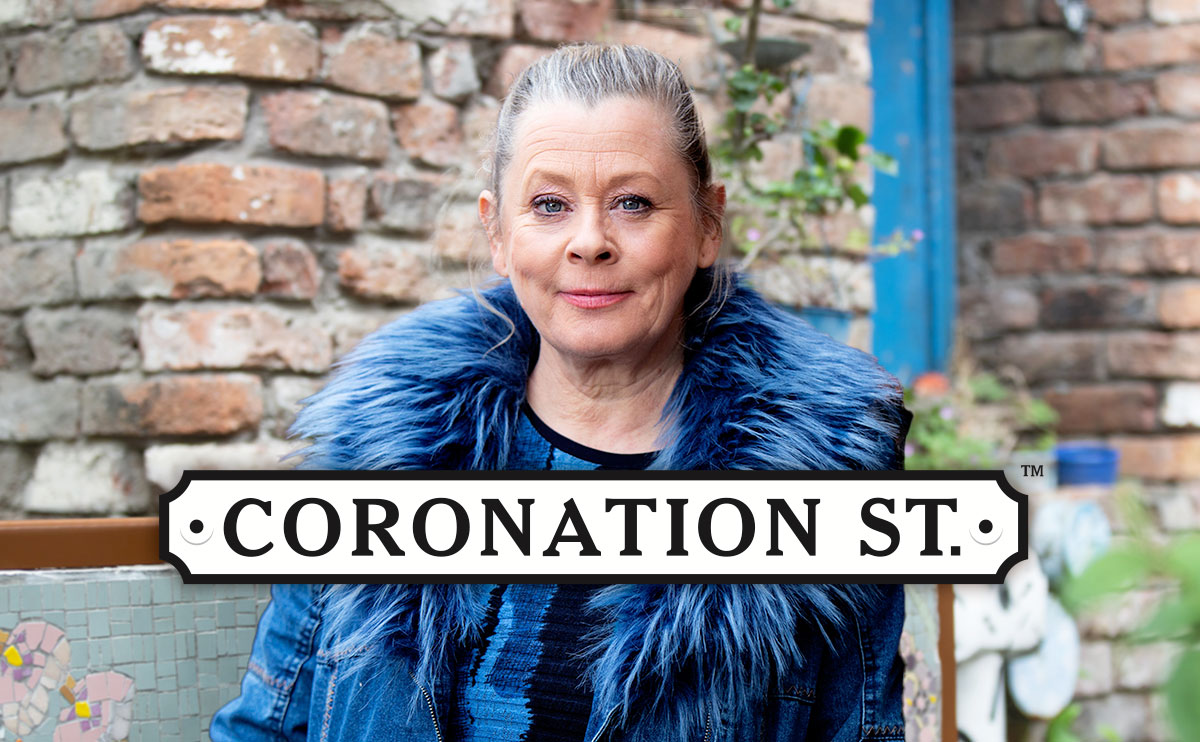 Next week on Coronation Street, Bernie finds herself kidnapped as she tries to track down Fern, while Fern's supposed ex-husband Howard slips up – just whose side is he on?
In October, Fern (Gabrielle Glaister) disguised herself as Bernie (Jane Hazlegrove), bagged herself a job as a cleaner in a jewellery shop, and stole a number of expensive items from the store before vanishing. Her phone has been disconnected and nobody has seen her since.
Bernie was arrested for the crime, with the police convinced she was guilty after seeing the CCTV footage of a woman matching her description exactly.
With Fern's phone disconnected, the police have no leads, and Bernie's story that a doppelganger was the one responsible isn't very convincing. When Bernie gets a letter with the date of her court hearing, she realises she has to do something.
Later this week, Bernie disguises herself as Fern in an attempt to find her home address. She heads to Fern's country club where she tries to trick the receptionist into handing over her personal details.
When it doesn't work, she waits until the receptionist is out of the way and uses her computer to try and access Fern's details. It's at that moment that she's rumbled by another health club member, who immediately sets about asking who she is and what she's doing on the wrong side of the reception desk.
When she feigns ignorance and pretends to be Fern, the stranger reveals himself to be Howard, Fern's ex-husband! While Bernie and Fern may look near identical, Howard can certainly tell the pair apart.
However, Bernie appears to be in luck. When she explains to the man that Fern stole her identity and landed her in court, he isn't surprised.
He tells her that his ex-wife is a con artist, and it seems like he's willing to help Bernie track her down.
In next week's episodes, beginning Monday 14th November, Bernie comes up with a plan to lure Fern in.
Knowing that Fern wouldn't turn down the opportunity of scamming the residents of Coronation Street out of yet more money, she suggests that Howard (Gordon Peaston) and Dev (Jimmi Harkishin) throw a party to celebrate a fake lottery win. They'll post the photos online and hope that it's enough to lure Fern in.
Before long, the plan is in action as they head to the Bistro along with Gemma (Dolly-Rose Campbell) and Paul (Peter Ash) and host their fake winners' party. It appears that Fern takes the bait, as Howard calls at No. 5 soon after and explains that she has been in touch and wants to meet him in the car park of Freshco's.
However, it's not that easy, and there's a big shock in store for Bernie.
Later in next Monday's episode, as Bernie waits at the bus stop, a van pulls up. Before she knows it, a man jumps out, throws a bag over her head and bundles her into the back of his van!
Where is he taking her, and just how much danger is she in?
Then, in the episode on Wednesday 16th November episode, it's revealed that Howard may not be on Bernie's side after all.
Bernie appears to escape her kidnappers, as by Wednesday she's safely back in No. 5… though we'll have to wait until next week to find out why they let her go.
When Howard calls at No. 5 again, he slips up as he states the value of the jewellery that Fern stole.
Gemma's ears prick up. Considering he's Fern's ex, how exactly would Howard know the value of the loot… unless of course he had something to do with the robbery!
---
Monday 14th November (Episode 10795-10796)
Alya makes an enemy of Griff after sharing her suspicions with Yasmeen.
Is Spider putting himself at risk by pushing Mike away from Griff?
Bernie tries to money-trap Fern, but finds herself kidnapped.
Adam offers Dee-Dee a job at the solicitors, and she wants to hire Alya as her legal secretary.
Debbie tells Nick she's selling her share of the bistro.
Wednesday 16th November (Episode 10797-10798)
Roy shows up Griff as Weatherfield discovers his true agenda.
A slip-up from Howard raises Gemma's suspicions.
Yasmee and Stu put on a united front as Eliza moves in.
Nick and Leanne can't make Debbie a good offer.
Friday 18th November (Episode 10799-10800)
Toyah rumbles Spida.
How will David react when he meets Griff and his mates?
Nick learns that Harvey has agreed to see Sam.
Spoilers in your inbox every weekend!