Episodes 6688–6691
Monday 3rd to Thursday 6th July 2017 on Seven
---
Hunter King's (Scott Lee) criminal past will come back to bite him this week, as he receives a visit from his grandmother Peggy (Caroline Gillmer) who threatens to expose his secrets.
Viewers will remember that Hunter caused havoc when he first arrived in Summer Bay back in 2015, during efforts to get to know his (as was believed at the time) father Zac MacGuire. After initially being told by his mother Charlotte (Erika Heynatz) that Zac wanted nothing to do with him, Hunter burnt down Leah & Zac's house out of revenge—with Charlotte later framing Billie Ashford for the crime.
When Charlotte then admitted that Zac didn't actually know about Hunter, he attempted to forge a relationship with Zac. But after a big bust-up, when he felt that Leah was getting in the way of that, Hunter stole a safe from the Diner to get back at her—a single act that would set of a tragic chain of events.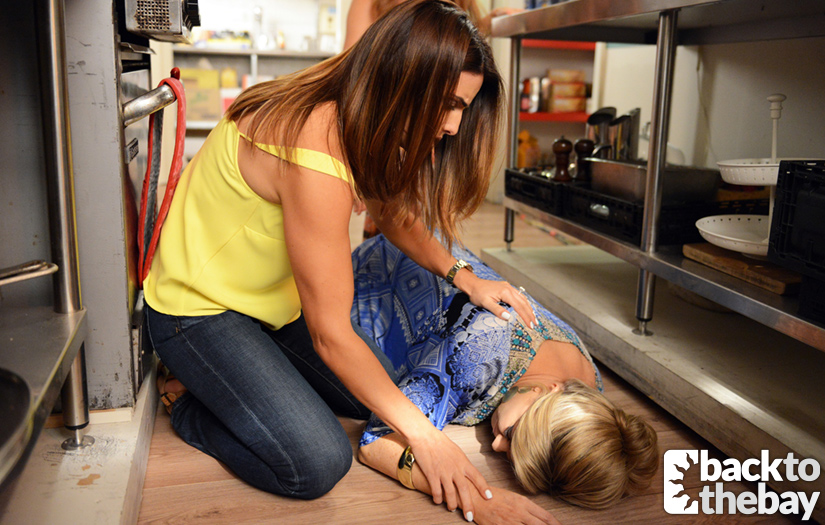 In removing the safe, Hunter inadvertently left some exposed wiring and knocked over a bucket of water, which caused Marilyn to be electrocuted and end up in a coma. On awaking, she was found to have lost the past 20 years of her life in a severe case of retrograde amnesia. Whilst Marilyn's memories eventually returned, it caused a huge strain on John & Marilyn's marriage.
Furthermore, when Denny Miller spotted the Diner safe in Charlotte & Hunter's apartment, a tussle between Charlotte and Denny ended with Denny being killed after falling and hitting her head.
Charlotte covered up the death, burying both Denny's body and the safe out in the bush, but it would only be the beginning of Charlotte's downfall as she desperately tried to protect her son.
After also killing blackmailer Trystan Powell, who had worked out what she had done, most of the town ended up turning against Charlotte for one reason or another. With Kat hot on her heels, Charlotte finally cracked and publicly threatened to reveal everyone's secrets. Later that night, Charlotte wound up dead after being shot in a struggle with Josh Barrett.
Whilst Hunter later admitted at Billie's trial to being behind the arson attack on Leah & Zac's house, the secret of what happened at the Diner has been hovering over him ever since, with only girlfriend Olivia (Raechelle Banno) being privy to the true circumstances—or so he thought…
When Charlotte's mother Peggy rocks up in Summer Bay, Hunter tells her that he's found out Zac isn't his father—and the insinuation that Charlotte may have lied about it doesn't go down too well with Peggy, who blasts her grandson for making such accusations.
She then reveals that she knows all about the robbery, and the fact that a woman was electrocuted—Charlotte had told her in tears over the phone. Peggy tells Hunter that he completely ruined Charlotte's life, when all she was trying to do was protect him, and that it's his fault her daughter is dead.
"Hunter's past is coming back to haunt him," Scott Lee told TV Week. "That's a shame, as he's turned into a bit of a sweetheart. The fact Peggy knows what Hunter did scares him—he might end up in jail."
Shaken by Peggy's threats to go to the authorities, Hunter and Olivia later receive a visit from the police who want to bring them both into the station for questioning—has Peggy really dobbed in her own grandson?
Whether she has or not, Hunter is forced to confess his crime to Irene (Lynne McGranger)—how will she react to the news that someone living under her own roof was responsible for causing so much hurt in Summer Bay?
---
For other storylines and a full rundown of what's to come over the next couple of weeks, visit our Australian Spoilers page.
---
Visit Summer Bay!
If you're in Sydney, why not take the time to visit the beautiful Palm Beach (Summer Bay) yourself – you may even be lucky enough to spot some filming and take some snaps with cast members!
The Official Home and Away Tour departs from central Sydney four days a week, and costs just $99 per person. For more information, and to book tickets directly through the official tour provider, click here or on the button below.