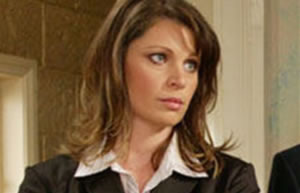 Tracey Thompson
Sarah Enright
Episodes: 4192 – 4212
Occupation: Detective
---
Peter Baker spoke to Tracey on the phone a couple of times before she actually came to the Bay. He knew her as 'TT', which we later found out were her initials…Tracey Thompson.
Tracey came to the Bay to help Peter uncover the Zoe case, but at the time of her arrival, Peter wasn't dealing with the whole thing very well. Many a time, she told him to get a grip and pull himself together.
Peter's flat had been broken into so him and Tracey headed back there to check things out…Zoe was the one responsible of cause. They investigated a draw which was in exactly the same place as it was before they arrived. Peter slowly opened up the draw, and found a bomb! Tracey rushed out and told all the residents in and around the block of flats to get out as soon as possible. Peter tried to disable the bomb but as the counter reached zero, Peter and Tracey dived onto the floor expecting the 'bomb' to blow… but it didn't. All they heard was a simple alarm clock. Yet again, Zoe had Peter falled.
Back at the station, Tracey told Peter to get a grip on things. When Sally found a light bulb saying 'Tick Tock' on the outside of it in her house she immediately went to see Peter. Him and Tracey told her that she shouldn't say anything to anyone else as it would cause a panic. Instead Peter and Tracey went to the caravan park house and told everyone that Zoe was still alive. Peter and Tracey told them to keep quiet about the situation.
At Jack and Martha's engagement party. A tape was sent to the caravan park house, when it was played images of Sally, Peter and Leah were played…all the people that were targeted by the stalker the year before. The words 'Tick Tock' were repeatedly played in the background too. Peter arranged a town meeting for the day after. Jack, Tracey and Peter headed back to the police station. Peter played the tape over and over again at the station. Tracey then suggested that maybe someone was helping the stalker…someone from Summer Bay.
The next day at the surf club, the residents of Summer Bay gathered for the town meeting. Peter and Tracey told everyone the situation involving Zoe. Suddenly they heard a loud noise from outside. They investigated and found a car had blown up. Everyone was understandably unnerved by the event.
Tracey was getting very concerned that Peter was losing the plot and told him to go home from the station and take a break. That was before Peter found a camera in the air vent in his office! That was were Zoe was getting her information from. Peter went home after Tracey practically begged him too.
Peter went home and was trying to work out what the 'Maxine Trood' anagram meant. He eventually uncovered it as to mean 'I am next door'. That was when Peter discovered he was living next door to the stalker! Tracey soon arrived when Peter raided Zoe's flat. Inside they found a bag of fertilizer. Later on at the station Peter got an email entitled 'Tick Tock', he opened it up to find it was from Zoe, she wanted to meet him at the old abattoir. He went on his own and found Zoe. Later on, Jack came along and was held hostage. Tracey and the other officers arrived and captured Zoe. Back at the police station, Peter and Tracey took Zoe into the interview room and gave her a grilling. Peter told Tracey that he was sure she had something else planned.
Jack and Martha's wedding day arrived and Zoe was sent off to the city to go to maximum security. Peter and Tracey agreed to meet up together a week later. That never happened though. At Jack and Martha's wedding, Zoe turned up with Tracey! It turned out that Tracey was working alongside Zoe all along. That was how she knew that she was alive. Peter was shocked as were the other wedding guests. A few moments later the barn exploded into flames. It was initially thought that Zoe was the one responsible for the explosion, but we later found out that it was planned so that Peter could go into witness protection.
Profile written by bttb-rox.