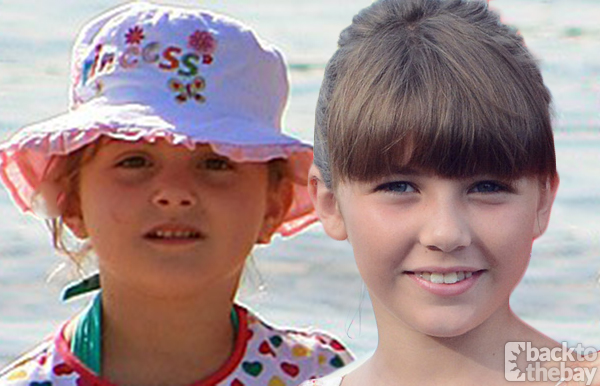 Philippa Rose Saunders (2004-2008)
Riley Stevens; Anouk Povaly; Noah Fraser; Isabelle Bell-Dickson; Jessica Taylor Lorenxo; Mia Szczenpanik; Leila Szczenpanik; Bojanna Main; Tameka Main; Phoebe Falconer; India Falconer; Chloe Marshall (2007-2008)
Episodes: 3755–4609
Date of Birth: 4th June 2004
Parents: Flynn Saunders (deceased) and Sally Fletcher
Siblings: Ric Dalby and Cassie Turner (fostered)
---
After discovering that Sally was suffering from cancer in 2001, it was also discovered that Sally couldn't have children. At the time, Sally had some of her eggs frozen.
After failed attempt with Sophie being the surrogate mother, Leah offered and three quarters of year later Pippa was born. However during Leah's pregnancy, the surrogacy had caused problems, with Flynn falling for Leah, and the fall out causing Jesse to split with Leah. Even the birth was without drama, when Jesse and Leah had put their troubles behind them when Jesse had to drive Leah to hospital and then Sally and Flynn couldn't be found.
Since then, Pippa has gained a foster brother and sister in Ric Dalby and Cassie Turner and lost a father when Flynn tragically died of cancer. With Mum Sally moving on to new love Brad Armstrong and him, along with 'Uncle Alf' moving into the Caravan Park, Pippa gained a whole new set of family members.
Pippa was shocked when Brad left the Bay, so much so that she started talking to Brad as if he was still there. Her mum Sally was concerned at first, but after discussing it with Rachel and remembering her own experiences with Miles, let Pippa have her imaginary friend.
When Alf was minding Pippa, he went out to move his ute for a woman near a caravan, unaware that she had followed him. She went to grab her teddy she had dropped, just as Alf began to reverse the ute, with her being struc down just as Sally walked into the park. She was battered and bruised and lucky to be alive.
Pippa has now gone on a world adventure with her mum, Sally, and foster sister Cassie. She left the Bay in April.