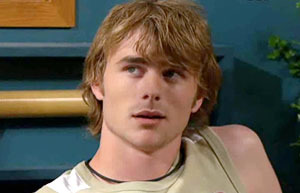 Hal Enpace (2006)
Leigh Scully
Episodes: 4183 – 4193
Occupation: High School Student
---
Hal, along with his sidekick Lawrence, led Lucas's astray during his rebellion phase. Hal was first seen in the surf club trying to steal a sandwich from Noah's. This allowed him to 'bond' with Lucas as he was very anti-Beth at the time.
A few days later Hal and Lawrence were at the surf club again, ribbing Lucas about his 'relationship' with Lee. After an encounter with Beth over another sandwich they didn't pay for, Hal decided it would be a good idea to have a party in Noah's after closing time and encouraged Lucas to steal Beth's keys. Lucas went through with the plan and they ended up drinking half the stock and trashing the bar. In the morning when Beth discovered what had happened she was furious and told Hal that she was going to tell his parents and that he had to pay her back for all the drinks he consumed.
When Lucas was helping in the surf club, as part of his punishment for trashing Noah's, he bumped into Hal and Lawrence. They encouraged him to drop his work at Noah's and go and 'paint up the lighthouse' instead. As they were walking near the diner they spotted Barry Hyde, who had just been charged with Josh's murder. Hal started hurling abuse at him and calling him a murderer. He then decided to break into Hyde's flat, along with Lawrence and Lucas, and graffiti the apartment instead. Lucas was caught and questioned by the police but we never found out what happened to Hal and Lawrence.