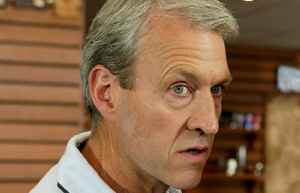 Lou De Bono (2009)
David Roberts
Episodes: 4783-4825
Spouse: Donna De Bono (separated)
Occupation: Trawler owner
---
Lou was the owner of a prawn trawler and one of the Diner's suppliers. Leah informed him that his trawler captain, Don "Gibbsy" Gibson, had offered Aden a job and then given it to someone else after a misunderstanding, prompting Lou to instruct Gibbsy to employ Aden as well. Aden's replacement, Joey Collins, worried that one of them would be sacked but Aden quizzed Lou who promised that both their jobs were safe. After Joey was raped, Belle confronted Lou about sexual harassment on his trawlers, prompting Lou to quiz Aden and Robbo Cruze, who was responsible for her rape, about Joey quitting suddenly.
Colleen was aware that Lou had recently come out of a relationship and asked him to donate some seafood for a charity event at the Diner. The event in question turned out to be speed dating and she'd been hoping to get Lou involved. Instead, he offered to help out in the kitchen so Roman could take part, where he and Irene got on well. Not long after, he sent her flowers and asked her out to dinner. His original plan consisted of an expensive restaurant and an opera but Irene cancelled after ripping the dress she'd been planning to wear. Lou collected her anyway and took her for fish and chips on the pier.
Unaware of Irene's alcoholism, Lou kept sending her bottles of wine and giving her drinks. When he wondered why she never spoke about herself, she came clean about her past. Lou told her that he was impressed with how she'd turned her life around and he also came from the wrong side of the tracks, preferring the company of down to earth people like her rather than the local social set. However, the pair were unaware that someone was photographing them.
Lou took Irene for a meal at the yacht club but had to leave her alone when Hugo asked about renting a boat shed from him. Irene was then accosted by Lou's wife Donna and left. Lou followed her and told her he and Donna were separated but she was unhappy that he hadn't been honest with her. After failing to win her over with flowers, he visited her at home and explained he and Donna would have been divorced years ago if she hadn't kept trying to get a better divorce settlement and she had hired a private detective to follow them. Despite having strong feelings for Lou, Irene didn't want to be involved in such a messy situation.
Lou spoke to Annie at the Diner and she let him know Irene was helping out on Martha's farm. He persuaded Irene to accompany him to the wharf where he showed her his private yacht. He asked her to go away with him for a while so they could spend time together. Irene agreed and the couple were waved off by Belle, Geoff, Annie, Alf, Miles and Kirsty.
However, several weeks later, the boat was found drifting with Irene alone onboard. She revealed that they had been sailing through the night to get home after hearing of Belle's drug problems. She heard a sound like a gunshot during the night and when she woke up the next morning Lou was gone. Not long after, Alf, Miles and Hugo found Lou's body in the water out at sea and a post-mortem revealed he had been shot dead.
Both Irene and Donna were suspected of murdering him and separately spent time on remand. It wasn't until several months later that the truth was finally revealed: Lou had seen the boat that Hugo and Derrick Quaid had been using for the people smuggling operation and Derrick had shot him so he couldn't identify them. Hugo had boarded Lou's boat to investigate and Lou had recovered enough to stab him, with Hugo knocking him into the water during the struggle.