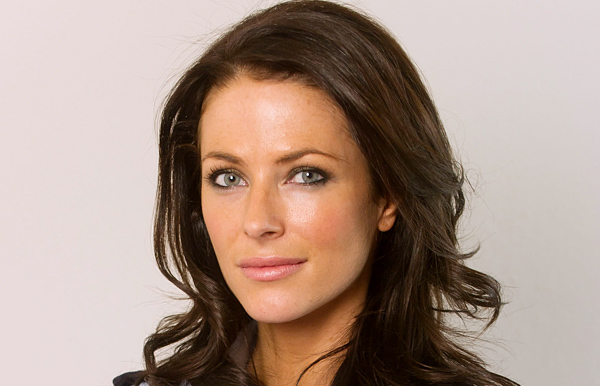 Sergeant Charlotte Buckton (2008-2012)
Esther Anderson
Episodes: 4655–5437
Date of Birth: 7th June 1978
Date of Death: 24th January 2012
Parents: Ross & Elsie Buckton (deceased)
Step Parents: Morag Bellingham (stepmother)
Children: Ruby Buckton
Occupation: Police Officer
---
After nearly colliding on the road, no-nonsense and sharp tongued cop Charlie Buckton immediately got off on the wrong foot with Morag Bellingham. Walking into the diner later on, Charlie told Morag that thanks to the police database she knew who she was. Charlie then claimed that she came to tell her to leave her father alone. With Ross having overheard his daughter's little chat with his partner, the three sat down, only for Charlie to tell Ross that her sister hated boarding school and that by "shacking up" with Morag after "only two months of grieving", her father was making a fool of himself.
Next to feel her force was Jack, who now had the pleasure of working with her as his new partner.
Charlie couldn't believe it when her father told her that he was selling their home in the city. Even though she hadn't lived there for years, she didn't want to lose the childhood memories that were wrapped up in the house and couldn't understand his decision.
During a heated discussion on the beach Morag and Charlie made it more than clear where they stood with each other. Morag, as always, tried her damndest to put her in her place and suggested that she start listening to Ross instead of assuming she knows the truth about everything.
Trying to get Charlie to give Morag a chance was Roman, who ended up failing miserably. In the course of one day, Charlie argued with Jack about his vague police records, upset Colleen at the Diner after refusing to take a coffee 'on the house', accused Alf of selling alcohol to minors, got Jack offside again whilst dealing strongly with a psyche patient and had a go at Rachel at the hospital. Welcome to Summer Bay, Charlie!
Following her rough day, Roman offered to buy Charlie a drink at Noah's. After he commented that it was pretty difficult to rub everyone up the wrong way and yet some people manage to do it, Charlie sat down to drink the beer by herself. Later meeting up on the beach, Charlie admitted that being fast tracked wasn't all it's cracked up to be and that experience counts for a lot. Unexpectedly the two shared a kiss but Charlie ran off shortly after, leaving Roman quite literally in the dark. Meeting up at the gym the following day, Charlie apoligized for what happened and agreed to meet up with him again soon for a drink.
As if one Buckton in the Bay wasn't stressful enough, it was now time for Charlie's sister Ruby to make an entrance. After finding her kissing someone in the Surf Club, Charlie sat down with Ruby and Ross to have a chat. Slightly anxious about how his youngest daughter was turning out due to the "delinquent" she was with, Ross and Charlie ended up in a row, with Charlie putting the blame firmly on his shoulders and Ross responding with "so much for looking out for your sister". The mood between father and daughter was further dimmed when Ruby revealed that she was asked to leave school because her and Pat were caught hugging and kissing.
Though similar in other ways, Charlie was suprised when Ruby explained that she was happy for Ross and Morag to be together and couldn't understand why her sister didn't share her approval. Charlie admitted that it was because she felt Ross was always letting her down.
After pulling Nicole over for speeding, Charlie discovered that she was driving without a license and later blasted Roman for not being aware of it. But they swiftly managed to patch things up and spent the night together after going out for a drink. While Roman was still asleep, Charlie got ready to go out but was surprised to find a DNA kit beside the bed. Clicking on that Roman was the father of Martha's baby, Charlie unwittingly let onto Jack. She and Roman continued their off on fling with her helping him check out Elliot Gillan and find Nicole after she went missing.
She told Roman she loved him which caused him to back off from her and Charlie felt she had ruined things. She was there to support him though when Jack attacked him, getting charges against him dropped. When Elliot took his revenge on Roman by kidnapping Nicole, Charlie lied to get a helicopter to find her. She also broke the rules by allowing Roman to go in and see Elliot whilst he was in police custody, getting herself into trouble but keeping Roman onside. He continued to keep her at a distance though so she agreed to a date with Angelo. The date went well but Charlie realised part way through that it was Roman she wanted and Angelo encouraged her to go for it. She went to Roman's and demanded a relationship or a split from him and Roman having been jealous of her date with Angelo, agreed to a relationship with her.
When her father Ross returned from his honeymoon it became clear that something was wrong with him when Charlie found him wandering the streets. He later turned up at the station ordering an investigation which Jack discovered had closed years earlier. Morag insisted on taking him for tests and Charlie reacted furiously on Morag for keeping quiet about what was going on. Charlie was devastated to find out that Ross had Alzheimer Disease. She clashed with Morag on how to care for Ross and eventually decided he should move in with her and Ruby at Leah's. Charlie and Ruby struggled to cope though and Ross took the situation into his own hands by deciding to move away from the city to a care home. Charlie was gutted but accepted his decision.
She again told Roman he loved him but he failed to say it back. They argued after he took Aden's side and she took Angelo's after the Aden/Belle affair was revealed. She later apologised but was horrified when Roman admitted that it wasn't working and that he wanted them to break up. She went into a self destructive spiral, drinking and refusing Ruby's offers of help. She rescued Annie from a storm drain but nearly died in the process and was rescued by Roman causing her even more bitterness. When Martha returned to the bay Charlie was able to confide in her and after a disastrous attempt by Martha to get them back together, Charlie realised Roman still loved Martha. The revelation allowed her to move forward and she was granted a promotion at work and hooked up with Angelo.
She ran the rescue operation after Kane's car crashed into the school hall and was the hero when she pulled Kane from the building seconds before it exploded. She was devastated by jack's death and determined to find his killer, hauling Tim Coleman in for interview. Obtaining his phone, she became suspicious of Angelo and set him up by texting him from Tim's phone. She plotted an investigation to find evidence that Angelo had killed Jack and had to ask Martha to keep quiet after she discovered what was going on. She set up a sting to catch him but it was foiled by Tim Coleman and she raced round to Jack's wake to arrive in time to hear Angelo confess. He admitted his guilt and when forensics confirmed his bullet had killed Jack he was taken away.
She helped miles look for Melody on the streets of Melbourne and after a difficult night they sahred a brief kiss but the next morning they agreed that it happened simply because they needed someone there for each other. Aden asked her to get involved after Joey Collins was raped by Robbo and Charlie managed to convince her to press charges. She tracked down an old girlfriend of Robbo's, Tanya, and she hoped she would make a statement to help Joey's case against him. However, she left without signing her statement. Joey was worried that pressing charges against Robbie would lead to her brother, Brett, finding out about her sexuality. When Brett kicked her out of the family home, Charlie invited her to stay at Leah's.
Charlie and Joey continued to get closer and Charlie was concerned about the strength of her feelings for Joey. After finding Tanya dying after a hit and run, Charlie went looking for Joey and found Robbo trying to drown her. She saved her life but Joey refused to move back to Leah's so Charlie went to visit her and they shared a kiss. Charlie rejected Joey the next day but Joey persisted and Charlie finally admitted she liked Joey too and they began a relationship. Joey's brother threw a spanner in the works when he reported Charlie for taking advantage of Joey. Banned from seeing Joey, Charlie got drunk and slept with Hugo. Joey found out about the affair and decided to leave town, leaving Charlie devastated.
Charlie threw herself into work in an attempt to recover and had plenty to deal with when a severed hand turned up on the beach and Hugo Austin was attacked by a shark. Her troubles continued when ex boyfriend and Jack's murderer Angelo was bought in to investigate the case. He rubbed everyone up the wrong way, causing Charlie to have to peace keep. She made it clear she didn't want him around but when she realised he wasn't going to be leaving she agreed to be professional towards him and even helped Tony to do the same. She had her work cut out for her when Angelo arrested both Belle and Irene and though she let Belle out, she was unable to release Irene.
Charlie was highly suspicious of Gardy after the break-in at Trey's place, even after Roman vouched for him. Miles eventually told her what was going on and she arranged protection for his and Roman's families. She finally worked out that Gardy was attempting another robbery at the warehouse he had targetted earlier but arrived too late to do anything except mop up the mess left behind, Gardy having already fled, injured and empty-handed. She tried to convince Roman to get legal representation in the aftermath but failed.
Charlie's professionalism was tested to the limits when Martha informed her that Tony and Angelo had gone missing after going fishing on Jack's birthday. She and Martha raced to the cliff top where they saw Tony cause Angelo to slip over the edge and then save his life. She was prepared to arrest Tony but Angelo refused to make a statement against him. She apologised to Angelo if she'd made things difficult for him and told him he needed to forgive himself, insisting on taking him to the hospital to get his wounds seen to.
The pair became closer at work and Charlie confided in him when she learned Ruby was planning to sleep with Xavier, a decision she strongly opposed. She was jealous when Angelo started seeing May Stone and accidentally let slip to her about him killing Jack. After leaving Ruby's birthday party in the mistaken belief she and Xavier were spending the night together and learning Angelo lied about working to avoid May, she went round to see Angelo and ended up spending the night with him, only to quickly make herself scarce the next morning. When Hugo asked her to speak to Angelo about him pressing criminal damage charges against Xavier, he accused her of having a relationship with him and she caused further gossip by going to lunch with Hugo to discuss handling Xavier and Ruby. She admitted to Angelo she had feelings for him but pointed out he was still with May. Angelo finished with her and when May caught them kissing she told the whole police station before reminding Charlie that she had been willing to support Angelo in public despite how people felt about him. Facing the gossips at the station, Charlie spoke to Angelo and agreed to start a relationship.
Not long after, Charlie was giving Jai a telling off after learning he and Xavier had been messing about with a shotgun when she found herself plunged into another crisis when Ruby and several other students went missing on the school memorial trek. She ended up going into the bush to search for them but was distracted when Trey faked a collapse in front of her and could again only clean up the mess after his bomb left Hugo injured. She tried to find Trey in the aftermath and suspected his mother was covering for him but decided to let her go and keep an eye on her (although in the end, Trey was apprehended largely thanks to Kirsty persuading him to turn himself in). In the meantime, she had her first public outing since getting together with Angelo when Belle and Leah encouraged her to go to Belle's hen night. She tried to talk to Martha, who told her it was up to her who she dated but she would never forgive her or understand.
When Ross and Morag came to town, Ruby persuaded Charlie not to tell them about her and Angelo but the truth came out when Charlie was run over while on a date with Angelo, ironically by Joey's brother, suffering a dislocated hip. A further truth was revealed when Doctor Young noticed a caesarean scar and Charlie, like Ross, reacted badly to the news that Ruby had slept with Xavier. Morag confronted Charlie in front of the family with her theory that Charlie had had a baby and Charlie claimed she had a baby son when she was sixteen who died. However, a confused Ross told Morag the baby was adopted and Ruby overheard them talking. Charlie told first Angelo and then Ruby the truth: She was raped by her boyfriend Grant Bledcoe when she was fourteen and Ruby was her daughter. She ran away to stay with her Auntie Michelle, unable to cope, and by the time she returned Ruby had bonded with Ross and Elsie. She was devastated when Ruby ran away, ending up in an argument with Martha when she agreed to let Ruby stay with her and accusing her of wanting revenge on her for dating Angelo and also letting her resentment towards Ross for not letting her press charges spill out. When Ruby finally returned, she reluctantly let her move in with Irene. The experience helped her find Harry Holden when he was kidnapped, realising that Jane wouldn't harm him and correctly guessing that she had rented a property in Rachel's name to hide him.
Charlie was faced with more upheaval when Ross decided to go into a home. She was horrified when Ruby tracked down Grant, inadvertedly leading him to the Bay, and petrified when he turned up at her house, hysterically forcing him out the door. When she later found Ruby talking to Grant by the beach, she was even more horrified when she seemed to believe his story they had had consensual sex. She even refused to discuss Ruby's feelings for Geoff with her, only wanting to talk about Grant. After getting into an angry and potentially violent confrontation with Grant at the Diner, where Angelo had to drag her away from him, Charlie tracked down two other women Grant had raped but neither was willing to make a statement. In desperation, she knocked Grant out with a taser and kept him tied up in an abandoned building, trying to force him to confess the truth and seeming prepared to beat it out of him. Ruby turned up and convinced Charlie to release him, but a comment from Grant made her realise Charlie was telling the truth, which had been Charlie's objective all along. She tried to keep things quiet but Ruby wanted people to know and Charlie reluctantly told Angelo. It wasn't enough for Ruby, especially when both Charlie and Morag refused to tell Ross, and she ended up storming back to Irene's after spending a bit of time at the house.
When Grant turned up dead, Charlie was prime suspect. She was suspended from work and shown photos that suggested Angelo was cheating on her, prompting her to break up with him. After Ruby falsely claimed she had seen Charlie in bed asleep at the time of the murder, Charlie was reinstated. Robert then took her and Angelo along on a stakeout during which he gave them some relationship counselling, telling Charlie she needed to trust Angelo and showing her more photos where it was clear he was working. Angelo confessed to her that he had been given an undercover assignment and shared some of the details with her. When Hugo told her that Robert had been asking questions about Xavier backing up Ruby's story, she advised him to tell Xavier to tell the truth. After Ruby had admitted the story was a lie, Charlie was suspended again and finally arrested but already knew that Ross had killed Grant during a failed attempt to warn him off. Ross confessed and was charged with murder while Charlie was left to rebuild her relationships with Angelo and Ruby.
Charlie spent the next few months alternately worrying about Ruby during her diabetes diagnosis and relationship with Geoff and helping Angelo out with his people smuggling investigation. Although she wasn't happy with Angelo using Bambang as bait, she helped him arrest Derrick Quaid when he tried to kidnap the boy. She was shocked when she learned Ruby had needed hospital treatment for low blood sugar and, when Rachel agreed that she didn't seem to be taking proper care of herself, arranged to move in to the beach house while Irene was away to keep an eye on her. She was also forced to charge Miles when Ian Radcliffe accused him of assaulting his son Riley and relieved when Riley admitted Ian was responsible and she was able to drop the charges. She was annoyed with Angelo when he punched Hugo, accusing him of losing perspective, and ordered an internal investigation. At the end of year Christmas party, she and Ruby seemed to be on the road to a reconciliation but then Charlie received a call saying Derrick had escaped. In the 2009 finale, Charlie followed up a lead about shipping crates and found a group of illegal immigrants imprisoned inside one, only to be knocked unconscious by Hugo.
She recovered to find herself out on Hugo's boat, with him planning to leave her stranded on an island until he'd made his escape. She manage to feign unconscious and get hold of his gun but they were interrupted by the arrival of Suzy. Hugo distracted her while Charlie got on the boat and took Suzy prisoner, but when Suzy ended up unconscious in the water and Charlie had to dive in after her, Hugo made his escape. Charlie got back to dry land in time to discover that Angelo had captured Hugo, then comforted Martha when he was apparently shot and killed.
Charlie went away with Angelo for a few days to get over the trauma, hence missing the race riot where Ruby was endangered and Geoff was injured. She was pleased to learn that Angelo was staying at the station and that she was being promoted to leading senior constable but found the shine taken off it when Angelo was promoted to sergeant over her. She felt unable to congratulate him, moving her things out of the office and losing her temper with a graffiti vandal, until he promised her their relationship was more important to him than the promotion. When he suggested they move in together, she lied to him that Leah didn't want him to move in with them, even though she'd been fine with the idea, and rejected all his other suggestions before admitting she found it a big step. When Angelo suggested they buy a place together, she literally had a panic attack at the idea before eventually admitting she wanted things to stay as they were. When Angelo found out, he accused her of being a commitment phobe. After weighing up the evidence and talking things over with Aden, she decided he was right and broke up with him, feeling she couldn't give him what she wanted. After a tense first day working together, she ended up telling him they couldn't be friends either and should have no contact outside work. However, he then surprised her by turning up at the house and kissing her. She told him they should just be friends and confided in him that she was considered taking her detective exams.
Having recently joined Martha in helping Leah through a panic attack at the Diner opening and reflected on how she wished she'd received more counselling after what happened with Grant, she was persuaded by Leah to book a series of sessions with counsellor Michael Patton, although Ruby had to talk her into going through with it and she ended up being evasive with Angelo about why she couldn't work. She confiding in him about her troubled relationship history and her relationship with Angelo and how she wanted a relationship with him but was worried he wouldn't wait for her. She was thrown to see Angelo with Michael, who he claimed he was buying a fishing boat from. She was annoyed when she found Angelo had followed her to the sessions, thinking Michael was her boyfriend. Some advice from Leah and Ruby and an apology from Angelo led to her forgiving him.
Charlie found herself having to investigate Larry Jefferies' disappearance and was concerned when the evidence pointed to Aden and Justin being involved. When she learnt from Leah about Vinnie dying in witness protection, she offered to explain the rules to VJ. On receiving the blood results that showed Justin had been found amnesiac and covered in Larry's blood, she asked him and Aden to accompany her back to where Justin had crashed his car but the visit proved fruitless. When an amnesiac Justin confessed to seeing Larry injured, Charlie ordered another search of the area around the car crash and found evidence Larry's body had been buried and then dug up and saw Aden's car driving from the scene. Aden and Justin separately confessed to hiding the body and she was on the verge of charging them with conspiracy to murder when a phone message from Larry turned up that proved his death was an accident.
Charlie was shocked when Angelo told her Hugo was alive and had absconded from witness protection and took nearly as much flack from Martha and Gina over it as he did. She was also worried that Ruby had been helping Xavier search for him. She went on a date with Angelo after they'd shared a spontaneous kiss in the office which turned into a visit to the farm and brief car chase. It didn't stop her sleeping with him, which left her with mixed feelings. She went to see a counsellor who told her she needed to make a choice, after which she told Angelo she wanted to be with him. After they had taken an unconscious 'Killer' into custody following his encounter with Tony and Hugo, Angelo sent Charlie to the farm after Martha told him Eaves was corrupt, where she persuaded Hugo to turn himself in, only to end up letting him go to protect him from Eaves. She managed to drive Eaves off after he had shot Hugo, after which she and Angelo were nearly shot themselves and had to be rescued by Tony. When Angelo reported that Martha and Hugo had escaped, she strongly suspected he had let them go and advised him to stick to his story. She insisted to Investigator Wilson that she believed in his innocence, bringing suspicion upon herself and prompting Angelo to confess. When he told her he loved her, she told him she felt the same but ended up having to arrest him for being drunk and disorderly after he drowned his sorrows over being forced to resign. She felt guilty when she was made sergeant in his place.
Charlie was asked to look into a number of thefts at the caravan park and, while taking statements, noticed Colleen acting suspiciously. She followed her to her mobile home and found the stolen items there. Although Colleen claimed she just found them there, Charlie had no choice but to arrest her, although the complaint was later dropped. Her police car was torched by Penn around the same time but Charlie was unaware of who was responsible. Charlie encouraged Angelo in setting up his restaurant, although she managed to upset him by doubting his ability to open on time. When he acknowledged she was right, but was saved by an injection of cash from Penn, they made up. She suggested to Angelo that he have a trial run with friends to see if the restaurant would work and helped him out with the evening. However she began to worry he was running himself into the ground. She tried to spend her day off with Angelo but he was called back to work at the restaurant and later confided in her about how he failed to inherit the family restaurant because he covered for his brother. She also met Bianca at the restaurant and got on well with her.
She was shocked when Ruby told her that she had a crush on Liam, although when she confronted him he insisted nothing had happened. Liam told her Ruby had been getting drunk and, when she found Ruby buying alcohol off Indigo outside Angelo's, shewas forced to report them and the restaurant. When she learned Irene had suggested Ruby buy it as a present, she took Ruby back to live with her. She was annoyed when Irene gave Indigo a job at the Diner but Irene retorted she should stop blaming other people for Ruby's behaviour and left her thinking she was a bad mother. Ruby then got drunk again so, after talking to Irene, Charlie persuaded her to go to a rehab clinic.
She shifted her attentions to helping Angelo with his brother Paulo's debts, trying to dissuade him from getting further into debt himself, and considered taking the money from the people smuggling operation off Xavier to help them out but Angelo talked her out of it. She accompanied them to the racecourse, unaware they were hoping to win enough money for the debts, where she caught a pickpocket and won a fashion contest. She was annoyed to find out what the brothers were up to and persuaded Angelo to tell his parents what was going on. She then arranged for Angelo and Paulie to have breakfast together before Paulie left, so they could sort out their differences. She was forced to charge Alf with grievious bodily harm when Penn accused him of attacking him but dropped the charges when Penn changed his story.
When Leah and Miles that Penn had been causing trouble for the family, she took him down the station for questioning but had to let him go and was unable to convince Alf to tell her the full story. She was called upon to investigate when Penn went missing and had to treat Alf and Angelo as suspects. She wasn't happy when Robertson returned to town to take over the investigation. Alf told her about his affair with Penn's mother and asked her to keep him informed but she felt dutybound to share the information with Robertson. She wasn't convinced by Robertson's list of suspects so he accused her of compromising the investigation and took her off the case.
After Angelo admitted he'd been tempted by Shandi Ayres, Charlie was hurt when he said he'd never felt comfortable with her and suggested the two of them and Ruby move in together. She had a brief panic attack when the day came to move in together but a chat with Leah left her calmer. She was very reluctant to give Ruby a driving lesson, since she and Ross argued when he tried to teach her, and did her best to stay calm only to find Ruby reacted better when she was assertive with her. When Alexander Pitt, the driving instructor she hired as a replacement, used Ruby for a bit of fun, Charlie pulled him over and threatened to charge him with various motoring offences if he didn't apologise. However, she also warned Ruby she was getting a reputation for being easy. She was slightly bemused when Dexter chatted her up to make Graves jealous and, when Ruby took her driving test, spent the afternoon preparing to cheer her up only to learn she had passed. When she found Ruby had been driving a stolen car, she grounded her even though she had a date for the formal and argued with Angelo when he suggested the punishment was too harsh. Ruby went to the formal anyway and Charlie tried to drag her out until Angelo stepped in and told Ruby to leave. When Ruby threatened to leave town, Charlie apologised to her and they seemed to be back on track. She saw Roo chatting with John and guessed they were trying to get the people smuggling money to Martha and Hugo, subtly advising Roo against it. She was bridesmaid at Bianca's wedding but didn't seem to do much when it descended into chaos.
Six weeks later, Charlie had broken up with Angelo, moving back in with Leah, and her father Ross had died. She buried herself in organising the funeral but arguments with Ruby and Morag at the wake led to her and Angelo sleeping together, although they both acknowledged afterwards that it didn't mean anything. She led the reinvestigation into Penn's murder after Robertson insisted Alf was responsible, tracking down the real Shandi Palmer and joining up with Angelo to arrest the fake Shandi, Daria Hennessey. After Irene told the police where to find Will, Charlie helped extract a confession from him. She rushed April to hospital when she was found with chemical burns and investigated the theft of the chemicals from the school.
She attended a singles' night at Angelo's restaurant only to witness it descending into a brawl. She subsequently had her hands full with the River Boys, investigating Dexter's disappearance where she made it clear she was going to throw the book at Pee Wee and Rick for stranding him in the bush. She investigated when VJ was injured surfing, making a point of going to see Brax, and told him when VJ remembered what had happened and cleared them. She also questioned Brax over an act of vandalism at the surf club, which turned out to have been committed by a local kid, and investigated Brodie over the theft of Colleen's mobile home with her inside. When Brodie turned up with a bruised face and offered Colleen money as an apology, Charlie realised Brax had given him an unofficial punishment. She was concerned when Angelo went into partnership with Brax and checked out the alcohol Brax had supplied him with, thinking it was from a liquor store robbery, only to find it didn't match the numbers she'd been given. She was also worried when Leah agreed to a date with Brax and told Ruby to stay away from the family when she spent time with Casey. She wasn't happy when Ruby admitted she'd slept with Romeo, who was in a relationship with Indigo, either and, when Ruby was hospitalised with high blood sugar, had a go at Romeo and worried Ruby might have depression.
She arrested Darryl Braxton when he kissed her but his lawyer, Cameron Sangster, quickly made it clear an assault charge wouldn't stand up in court and she was forced to drop the matter. She also found out he had acquired the alcohol as repayment of a loan from Bill Lawson, a struggling shop owner he had lent money to, but felt that if he employed an expensive lawyer like Sangster he was probably dodgy anyway. John told her that Xavier had taken the Ford V8, which Xavier wasn't licensed to drive, and asked her to look into it without pressing charges but she said she'd react to whatever she found. After questioning Heath and the River Boys about whether they'd seen him, she found Xavier walking having run out of petrol and gave him a lift back to the car only to find Ruby and Casey in a state of undress on the back seat. Although she didn't press charges, she gave Ruby a lecture about her recent behaviour with boys and told Brax to keep Casey away from Ruby, but later admitted to him that she was out of her depth, prompting Brax to advise her to keep calm and pick her battles. When Ruby said Casey was the only person who'd supported her, Charlie reluctantly agreed to them dating. When Irene told her that several of the students had been sent a cartoon about Ruby's encounter with Casey, she went to the school in an official capacity and demanded Gina investigate it, annoying Ruby who would rather see the matter dropped.
She shared her concerns about Brax with Angelo and he tipped her off when he overheard Brax making plans with the River Boys, but when Charlie turned up at the drop they were just buying jelly beans. She seemed to take against Casey again, coming down hard on him when she caught him trying out the scooters for Angelo's restaurant and, when he joked about Ruby doing his homework for him, took it seriously and asked Gina to look into it. She was left feeling bad when Ruby told her she was helping Casey because he was dyslexic and, after initially objecting to Ruby attending Casey's science competition appearance, congratulated him when he won. She accepted an invitation to a family barbeque but managed to get them uninvited by Brax by making a sarcastic remark about his mother, having to beg him to let them come when Ruby was upset. She tried to make a cake to impress them but when she was called out to a party at a holiday home she found Casey there. Finding out that the partygoers didn't have the owner's permission, she wanted to charge Casey and suspected Ruby was involved. When Brax arrived at the station and told her he'd give a statement saying he found Ruby's bag at the mansion, she refused to back down but did withhold the information from the other officers and the case was dropped through lack of evidence. When Brax came round to see her, she slept with him but regretted it afterwards and said it wouldn't work, pulling out of the family barbeque and throwing away the cake she'd made, although she did tell Ruby she wouldn't stand in the way of her and Casey.
When Leah called her after finding two boys left in a car outside the Diner and she found the boys and their mother Cathy were living there, she was impressed when Brax got her a job and they began seeing each other in private. She was uncomfortable when Ruby and Casey tricked her and Brax into spending time together on a family outing, insisting they had to keep their relationship secret. She was also uncomfortable when John told her he thought the River Boys were dealing drugs at the surf club and spoke to Brax about it. When Elijah was attacked by Billy McVeigh, she had the job of informing Elijah Billy had made a counter accusation that Elijah had made advances towards him. She was shocked to learn Ruby had put her on a dating site but agreed to give it a go. Ruby arranged a date for her but she cancelled it and went to the restaurant to spend time with Brax instead, meeting up with him for a liaison on the beach despite Angelo warning her Brax was up to something at the national park. She acted as security for the surf carnival, where she ended up cheering for Ruby in the Mangrove River team. When she realised tension was rising in the aftermath, she unsuccessfully tried to remove Ruby from the area then broke up a fight between the supporters, during which she was hit on the head with a thrown bottle. She tried to dismiss the matter afterwards, saying they'd never be able to find who was responsible, but both John and Constable Watson insisted the matter be investigated anyway.
She missed a call from Angelo about a drug crop at the national park because she was having a liaison with Brax and, when she did follow up on the message, there was no sign of Angelo or the drug harvesters. Although Heath was found at the scene and the police suspected he and Brax were involved, they couldn't prove anything, even after she found evidence Heath had sent Angelo a threatening note and then organised raids of the restaurant and the Braxton house. She organised an examination of an apparent grave that turned out to be an asbestos dump site and learned Angelo had been dumped at a city hospital by Brodie. She caught Brodie doing a drug deal after getting a tip off from Brax (although she managed to lose him at the scene and he wasn't picked up until later) but told Brax she was still going to keep digging. She quizzed Angelo when he came round but he claimed not to remember anything and also had to deal with Brodie escaping from custody. She took the road block away when Brax told her a large amount of drugs was being delivered to a remote house but when she got there she found Keith Irwin giving Colleen a massage and only a small quantity of drugs on the premises and suspected Brax had set her up.
It didn't seem to dampen her enthusiasm for him and they met up at a motel, where she told him she was planning to sit her detective's exam. She came home to find Ruby had been tested for chlamydia and hadn't been able to get in touch with her. She saw through Bianca's attempts to get her to a surprise birthday party and nearly told the partygoers about her relationship with Brax, stopping when Morag made a speech about how her father would be proud of her. Angelo found out about them and confronted her at the motel, where she insisted Brax wasn't involved in the attack on him and begged him not to say anything. It was enough to make her break up with Brax but it only lasted a few days. She investigated unofficially when Marilyn disappeared with George but was forced to make it official when Nicole made a complaint (although in the end no charges were brought when George was returned safely). She was suspicious when she learned Heath had hired out the Blaxland and spoke to Brax about it. She later received orders to intercept the boat and retrieved a quantity of drugs but Heath wasn't onboard and she suspected Brax had tipped him off. She was forced to arrest Romeo, who was on the boat, but called Morag to represent him and he was soon released.
When she heard Ruby and her friends had gone surfing at the notorious Nelson's Noose, she drove out there and called an ambulance for Xavier, who had had an accident, missing her detective's exam. She was concerned when she found out Bianca had slept with Heath and deliberately harrassed him for supposed drink driving, only for him to go round Bianca's house and threaten her. When she saw Heath's car speeding, she pulled it over only to find his mother Cheryl behind the wheel and was forced to give her a ticket. She told Bianca to call her if Heath turned up again but when she did, Brax deleted the warning text message and Charlie didn't find out what was going on until it was over. She took Brax to task over the incident but he insisted his way of handling it was best. She was later called out to the Braxton house when Cheryl threw Casey out and, after opposition from Leah, let Casey stay on their sofa until Brax found them somewhere to live. She was worried when Brax's ex-girlfriend Tegan Callahan realised they were an item and asked Brax to sort it.
She was called in when Xavier was involved in an accident and revoked his scooter license for carrying a passenger. She investigated when Bianca was raped and questioned Heath was a suspect. Under pressure from Inspector Joyce to get a result, she was told by Bianca that Heath was a drug dealer and asked Brax for information. When she searched Heath, she found nothing and realised Brax had tipped him off. She then received an anonymous tip of a confrontation between Heath's River Boys and Jake Pirovic's gang and descended to arrest everyone involved. She learned the tip-off was from Brax but Ruby saw them together and Charlie swore her to secrecy, saying something could happen to them if she didn't keep quiet. When Cheryl came to the station and threatened her and Ruby, Charlie arrested for assault after she poked her but released her without charge.
She approached Liam about testifying, which resulted in him being beaten up. She was concerned when Heath was released on probation and horrified when Brax was brought in for questioning after being accused of laundering drug money, realising he was guilty. She ended the relationship but Ruby convinced her to go and make it up with him, only for her to find Tegan in his bed. She also arrested Heath for drug possession. She spoke to Bianca again about the rape, learning her attacker had a bull tattoo, but played little part in solving the case.
When Jake was released on bail, she worried about Ruby being caught in the crossfire and dragged her away from the Braxton house. When Ruby told her she and Casey had been kidnapped by Jake and Brax had rescued them, Charlie checked out the scene and found Jake locked in a car boot with bags of drugs, arresting him for possession. She then found Brax had been stabbed in the incident and took him to hospital. Just as she was considering admitting she still had feelings for him, Tegan turned up and claimed Brax was the father of her daughter Darcy. When Ruby later told her it wasn't true, she tracked Brax down and comforted him. She initially insisted they remain friends but ended up sleeping with him again, only to be concerned when Heath returned and revealed he knew they were together and then Jake's brother Hammer went after the Braxtons for revenge. She told her superior Inspector Joyce of the relationship and he decided against taking action, leaving her to warn the River Boys not to go after Hammer's gang. When the two gangs squared up on the beach, Charlie and her officers intervened and separated them. However, it only delayed the matter as Stu Henderson was attacked and a brawl broke out between the gangs at the surf club while Charlie was occupied pulling Hammer over on his way to the fight.
When Summer Bay was hit by a storm, she was called out to a car crash and found a badly injured Tegan was the driver. She sat with her while she was cut out but Tegan later died. She investigated when Brax was seen beating up Hammer and ignored his warnings the gang was after her, only to be shot in the arm in a drive-by shooting. She suspected Hammer but he had an alibi, since he was reporting his car stolen at the time. She was approached by Cheryl, who told her she knew about her and Brax and pointed out the gunman at Tegan's funeral. He was arrested for attempted murder but Charlie had further trouble when someone burnt down Hammer's base. Hammer then kidnapped her and used her to lure Brax to a storage container, intending to kill them both and make it look like murder and suicide, and when a fight broke out she was forced to kill him to save Brax. She was briefly suspended and upset Brax wouldn't still be honest with her about the fire.
When she returned, Georgie presented her with evidence Casey was responsible. She went to the house to arrest him only to find Brax didn't know where he was. She gave him 24 houts to turn himself in and accepted his confession. She later exchanged stories with Bianca about their respective feelings for Brax and Heath and also alerted Brax when Cheryl was arrested for assaulting a debt collector. She turned Brax away when he turned up at her house but when she found him drunk about what was going on with Casey she took him home. He asked her to stay but they were interrupted by Heath and Charlie left. She was humiliated at Casey's court case when his lawyer, Hayley O'Connor, nrought up her and Brax's relationship and had to field questions from the press. She got into a row with Hayley when she accused her of sleeping with Brax and Bianca had to stop her going after him again. When the news made the front page, she went for a drive with Brax and kissed him, only to find one of Hayley's earrings in the car and realise they'd slept together. She then had to cope with Colleen giving her opinion on matters.
She was jealous when she saw Brax and Hayley on the beach together and, when Sid asked her to investigate the theft of a sheet from his prescription pad, she went to see Brax on the pretext of questioning him about Stu, who was a suspect. She questioned him again when she investigated a service station robbery where one of the robbers had had a tattoo. She went on a date with Simon Peet, the service station manager, but told him she wasn't ready for a relationship. She was on the verge of calling Brax, after insisting to Leah that he'd changed, when she heard evidence that DNA and dental evidence on an apple left at the scene indicated Brax was the getaway driver. She led a search of the house which found the clothes worn by the getaway driver but refused to arrest him, believing he'd been set up by Hayley and a couple of River Boys working for Jake, which resulted in her being taken off the case. She told Joyce of her theory and he investigated but one of the robbers, Benji Perrin, identified Brax as his accomplice. She then tipped off Brax to the fact they'd be transferring the evidence and left the vehicle unattended, allowing him to steal it.
Wanting to get away for a while, she persuaded Bianca to join her at a lodge but Brax and Heath followed them down and she ended up spending the night with Brax. As they were returning to the Bay, Charlie and Brax's vehicle was involved in an accident with Liam's bike when he hit them coming out of an intersection. Realising it would look bad if they were seen together, Brax carried a semi-conscious Charlie from the scene, leaving Heath and Bianca to pretend they had been in the car. Charlie recovered in a motel, where she was unhappy about what Brax had done. She went to the station where Joyce told her the other robber had been arrested, meaning Brax was in the clear, and resigned from the police.
She was still under investigation from Internal Affairs and also faced difficult questions from Bianca, forcing her to admit what had really happened. Brax cheered her up by taking her to the beach but she then discovered that he had cleared them by planting the stolen evidence on a drug dealer whose drugs were also in the package. Disgusted with what she'd become involved with, she broke up with him and ignored his invitation to meet her at a motel. She made plans to go to the city with Ruby and asked Brax to leave the River Boys, which he agreed to, deciding to go to the city with them. When Liam questioned her about her and Bianca's falling out, she admitted the truth. She was concerned that Brax wanted Heath to go with them and learned Heath was falling in with Geoffrey King, a criminal who was trying to persuade Brax to sell him the restaurant.
Since she was still serving out her notice, John warned her Heath was dealing drugs and, after she pulled him over and searched him, she found the drugs and arrested him but delayed processing the paperwork. She was also called out to investigate when Sid beat up Stu and sympathised with him defending his daughter. After spending the night with Brax, she prepared for her last shift but as she was about to leave the house she was surprised by Jake, who shot her twice. She was found by Ruby, Brax and Casey and rushed to hospital but it was found her brain had been starved of oxygen and there was no chance of recovery. Ruby made the decision to turn off her life support and the three of them sat with her as she died.