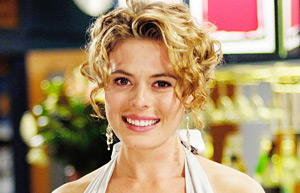 Emily Vincent/Armstrong (2006)
Libby Richmond
Episodes: 4245 – 4275
Marital Status: Brad Armstrong (2006)
---
Emily Vincent mysteriously arrived in Summer Bay after Brad Armstrong has permanently posted to Summer Bay High as the new school principal. She arrives on Kim and Rachel's doorstep whilst Brad is visiting his sister to make an announcement that Emily is his fiancée.
She was working with indigenous kids in Western Australia as a community worker. One of her boys was upset because this teacher kept hassling him at school, some narrow minded jerk who later got fired, she fronted up at the school to have it out with this guy and he was unbelievably bigoted by the time she had finished with this guy she was completely worked up and she drove right into Brad's car as she was leaving. They swapped details for insurance purposes and she drove away with half a bumper bar scraping along the road. There was something about Brad that attracted her to him so she rang him up to invite him to have a drink down at the pub. And the rest as they say is history. She blew her no claim bonus but it was worth it.
They were going to live in the flat above the Diner as they saw the advertisement on the internet. They moved to Summer Bay to be closer to Rachel and since Emily was an only child and craves to have siblings. Emily left her bag behind when visiting Rachel and Kim, the contents fell out and she found some medication.
Emily Vincent married Brad Armstrong in an intimate wedding ceremony at the Surf Club with only the celebrant, Kim, Rachel and Leah in attendance. It was a brief but elegant wedding tinged with sadness as only Brad, Emily and Rachel knew the truth about Emily's illness and the reason for marrying so suddenly.
Emily has leukaemia – acute myeloid leukaemia and it was pretty much well advanced. Brad and Emily had been together for one year when they became engaged. She was engaged when she got the news of her leukaemia. She thought that she was high on love and no time to think about food but then she got a chest infection that she couldn't get rid of. She's too far gone for treatment and she decided to spare herself the extra pain. They were already engaged when they got the news, she gave him the option of backing out but he wanted to marry Emily more than ever. Her gift to Brad was the wedding ceremony.
She confided in Sally when Brad was being weird around Sally and Emily wanted to tell her the truth so that she could be of support to him. When she arrived home she told Brad that she went to visit Sally at the school and told her everything. She wanted to start to let people know, she wanted to know that he'd have friends for her own peace of mind and that she liked Sally.
Emily told Rachel that when she found out about the leukaemia she completely went to pieces, first it was like she was paralysed with anger then wanted to give up and through all that time Brad was amazing and was her rock and pulled her through. She had come to terms with her leukaemia but Brad hasn't and he's been blocking it out and not coping at all which worried her. Brad wanted to go travelling but it did not matter to Emily and she was afraid that if she had died overseas then Brad would have been there all alone with no support. She was scared that when she was gone that Brad would not cope.
Emily told Colleen about her illness and Brad wasn't too happy about it as he did not want everyone to know just yet and the children at school do not know either but eventually they do.
Emily felt light headed and dizzy, she had gotten up too suddenly and Brad suggested that she go and see a doctor. She made an appointment to see her specialist at the hospital and asked Sally to go with her for moral support. Emily didn't want Brad to know or come with her because she wanted to spare him from all that for the moment. After visiting the specialist the news was not that great, her platelet count was down and that she thought that she had more time to prepare herself for the inevitable. Emily suffered a nose bleed after her appointment. She didn't want to burden Brad with the news about the specialist and that she wanted to protect him from the truth, even though Sally advised her against it. In the end Emily changed her mind and was honest with Brad as she told him everything the specialist had said that her platelet count was down and if it continued to do so, there was nothing else that they could do and they gave her a couple more weeks to live.
Brad had a surprise planned for Emily – a boat trip to a secluded beach for a romantic picnic. After lying down for a while Emily got up felt dizzy and fainted. She was unconscious so Brad took her back to Summer Bay where he found Macca and Cassie on the beach and told them to call an ambulance. She was taken to the hospital where her white blood cell count was very low, she had a temperature because of an underlying infection that her immune system was too weak to fight it off. The antibiotics were unlikely to take effect this time, that she might not recover this time and that she only had a few days to live. She also received a blood transfusion. She awoke while Brad was stroking her, asked if Sally would visit and Brad told her that he would stay with her but sleep on a trundle bed during her stay in hospital. Sally eventually came to visit and they had a moment with Brad and Rachel in the background.
Brad was at Sally's place after she invited him for dinner but she received a phone call to say that Emily's condition was deteriorating. Since the phone call Emily's blood pressure had dropped even more but she was holding on and she ordered some very mild pain relief and that she was comfortable enough. She also was having difficulties breathing and only had a couple of hours left to live.
She started to talk about plans for the future to take Brad's mind off the fact that she was dying. She was planning for them to take a holiday to Rome, make their way up north to the Cinque Terre, walk along tiny coastal villages along the Via dell'Amore (lover's lane), they could have lunch and a sleep then spend time swimming in the Mediterranean. Maybe by the time they get back to the Bay she'd be pregnant with their first child named Gertrude "Gertie" Armstrong and she's be the naughtiest little girl in Brad's school and extremely adoring of her younger brother Roy. Emily would rather call the dog Roy.
Emily had dozed off to sleep while Brad and Sally were chatting, he broke down and proclaimed that he wanted more time with Emily and she woke up to see that the two friends were embracing each other and she smiled as that was her plan all along.
After her blood pressure was checked Emily asked Rachel if she could take Brad home and get her favourite Henry Lawson book for her as it was a ploy to get him out of the room so that she could talk to Sally. She gave her a letter to give to Brad after she was gone. Emily asked Sally to look after Brad when she was gone and needed to know that he would be okay.
They were reminiscing about their first date together, the thoughts that they had and how they watched the sunrise together. Emily's final request was to watch the sunrise with Brad one last time. As the sun rose they sat on the headlands under a blanket with Brad's arms around Emily and she died peacefully in her sleep after thanking him for everything. Brad kissed his wife goodbye before she was brought back to the hospital on a stretcher and her body covered with a sheet.
Emily was cremated, a lovely moving service which was conducted by Brad was held to commemorate Emily's life, there was a flowered wreath with a photo of her displayed on a table, family and close friends were in attendance and it was held on the jetty. After the short service, her ashes were scattered by Brad into the sea and it was followed up by a wake at the Surf Club.