Oz Preview – House of Horror
Episodes 6728–6731
Monday 11th to Thursday 14th September 2017 on Seven
---
The search for Robbo's (Jake Ryan) true identity takes a surprise twist this week, when he and Kat (Pia Miller) make a disturbing discovery at an abandoned house.
Since his unusual arrival in Summer Bay, "Robbo" as he was named by the nursing staff has had no recollection of who he is or where he came from. Discovered camping on a remote beach when Alf, Scarlett and Justin took a fishing trip there, Robbo knocked out Alf and hid out in the boat in order to make it back to civilisation.
When Alf later discovered him still hiding out in the boat a couple of days later, a stand off between the pair revealed that Robbo appeared to be suffering from some form of amnesia following a blow to the head, and had simply lashed out in fear when Alf came across his camp. Taken to the hospital, Robbo couldn't recall any details but strangely appeared to recognise Kat.
When Scarlett and Kat took Robbo back to the beach a couple of weeks later to try and uncover more clues, Kat was shocked to find a photo of herself amongst his possessions. Worried for her safety, Robbo was later requested to take a polygraph test which showed that he was telling the truth – he really didn't have any idea on how or why he came to the bay.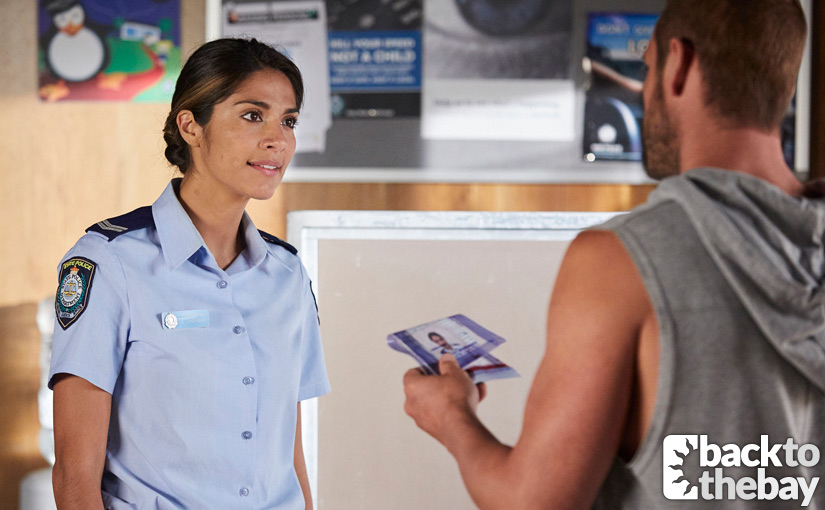 As Kat began to warm to Robbo, he showed remarkable combat abilities after saving Kat, Brody and Ziggy from being held at gunpoint by Zannis—bringing Kat to the conclusion that he could have been a cop in his former life.
This week, with Kat not making any further progress with the investigation, Robbo takes things into his own hands and is able to draw up a list of people he may have known on the computer. "Robbo's search keeps coming to dead ends. It's very frustrating." Jake told TV Week. "Scarlett suggests they use his tattoos to search online for connections."
With Kat then able to trace the addresses of these people, she and Robbo take a trip to try and uncover his past. Whilst there's no joy at the first address, where the resident doesn't recognise Robbo, it seems the duo may be getting somewhere when Robbo has a glimmer of recognition as they approach the second house.
"He doesn't have a clear memory of it, but there's something about the house he's drawn to" Jake continued. "What they discover inside shows his instinct was right."
Noticing that the door is ajar and with no sign of life, Kat and Robbo proceed with caution and head into the back garden, where they find the remnants of a burnt photo.
Though half the photo has been destroyed, and only shows a woman with an unidentified man's arms lovingly holding her, Robbo realises that the tattoos on the man's arms are his own.
As Kat and Robbo tentatively enter the property they find a disgusting smell permeating the household, and Kat soon discovers what's causing it—a woman's dead body!
Could the woman Robbo's former partner? If so, was she murdered and could the perpetrator also be on the hunt for Robbo…?
---
For other storylines and a full rundown of what's to come over the next couple of weeks, visit our Australian Spoilers page.
---
Visit Summer Bay!
If you're in Sydney, why not take the time to visit the beautiful Palm Beach (Summer Bay) yourself – you may even be lucky enough to spot some filming and take some snaps with cast members!
The Official Home and Away Tour departs from central Sydney four days a week, and costs just $99 per person. For more information, and to book tickets directly through the official tour provider, click here or on the button below.