UK Preview – Romances & A Secret Revealed
Episodes 6556-6560
Monday 6th to Friday 10th February 2017 on Channel 5
---
Tori (Penny McNamee) and Nate (Kyle Pryor) finally get their act together this week, though perhaps not in the way they expected!
Last week, Nate and Tori caught up over a glass of wine and lamented their recent failed relationships with Ricky and Duncan respectively. They then realised that for the first time since they met, that they're both officially single. www.backtothebay.net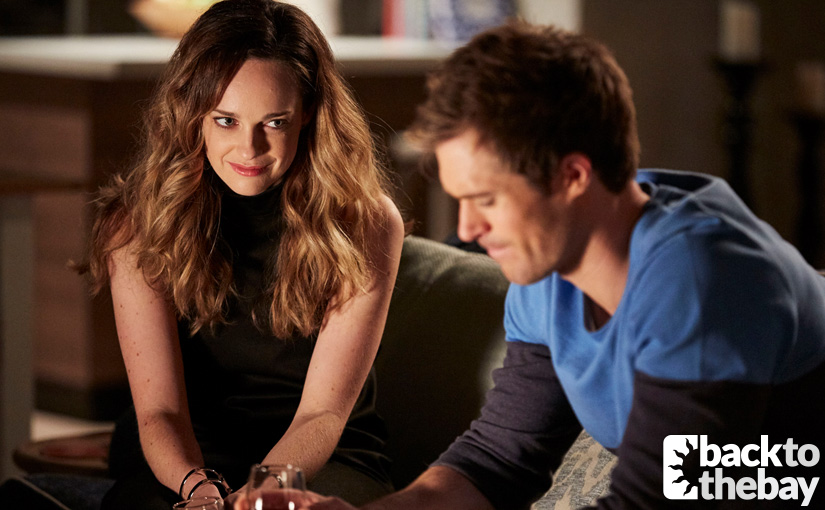 However just as they went in for a kiss, they were interrupted by Bianca knocking on the front door and the moment was lost, with Tori leaving Nate to catch up with his old friend.
"Nate has made his feelings for Tori known to her — and she's attracted to him" Penny told TV WEEK. "But she feels he's still the dangerous option given his dating history".
This week the pair make plans to have dinner, but find themselves with some unexpected alone time when they get trapped in a broken-down lift at work… and as the tension between the pair sizzles, it's not long before they give in to temptation! www.backtothebay.net
Later the pair meet up to discuss what happened. With Nate teasingly keeping his cards close to his chest about his thoughts on the steamy encounter, a nervous Tori worries she's scared him off when she says she doesn't want a 'casual' arrangement. Luckily Nate feels exactly the same way. www.backtothebay.net
With the tension out the way, the couple kiss, though with the possibility of her first serious relationship since going into witness protection, Tori knows in the back of her mind that she soon may have to come clean to Nate… www.backtothebay.net
---
Meanwhile, Justin (James Stewart) & Phoebe's (Isabella Giovinazzo) relationship reaches a new stage this week, when Phoebe admits to Justin that she loves him. With his fears about losing those most dear to him, Justin has been holding back from committing to Phoebe. Taken aback by her declaration, Justin walks out, leaving Phoebe devastated. www.backtothebay.net
Talking to Ash and Matt after a failed attempt to patch things up with her, Justin explains that he's never said "I Love You" to a woman before. He certainly doesn't feel ready to do so now, given that he's trying to slow down his relationship with Phoebe, not speed it up.
He later tries to apologise again to Phoebe and explains his fears of entering into a proper relationship – he does love her, but he's too scared.
However, Phoebe believes that Justin is just using the family's situation as an excuse – she understands he's been hurt and he needs to protect himself, but Phoebe needs to protect herself as well – from him.
Will the couple be able to pull themselves back from this? www.backtothebay.net
---
Elsewhere in the bay, Raffy (Olivia Deeble) finally learns the truth about the Morgan family being in witness protection, and what really happened to her mother.
Despite being told to keep it secret, Raffy attempts to confide in policewoman Kat (Pia Miller), but Phoebe is able to stop her before she says too much.
Unfortunately this only fuels Kat's curiosity into the family's secret – could her own investigations endanger the family further….? www.backtothebay.net
---
For other storylines and a full rundown of what's to come over the next few weeks, visit our Upcoming UK Episodes page.
Stay up to date...