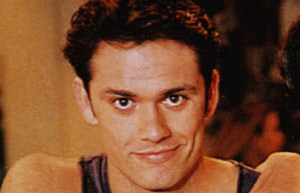 Rob Storey (1994-1995)
Matthew Lilley
Episodes: 1508–1690
Marital Status: Donna Bishop (engaged in the past)
Occupation: Handyman; Teacher; Boatshed Owner
---
Rob first came to our attention in the middle of 1994 when Roxy began to fall for him. Whilst walking along a road in a suit, a car drove by splashing him with mud. To get them back he stuck a potato in their exhaust. When he tells Roxy about what he did to get back at the guy, Roxy starts having a go at him and says he won't be living at the beach house.
Alf was soon betting with Rob that he wouldn't be able to get a date with Roxy, and at Angel and Shane's engagement party he recalled a story of how he had to call off his engagement to Donna because she had went off to university to Shane and Roxy began to soften towards Rob. She agrees to a date with him at Alf's house, whereupon she poured a plate of spaghetti over him.
The ice soon melted between the two and they soon found themselves stuck in a lift at a shopping mall. Due to the heat, they begin to take their clothes off until the door finally opened, revealing Rob on top of Roxy in front of a large crowd. However, this just set back their relationship, until a few weeks later Roxy told Rob that she was indeed interested and within a week or two they had got together.
Rob has used to be a teacher and things said by Roxy and Jack began to lead to Rob regretting his decision to give up teaching. He then decides to get a job at Summer Bay High, however on his first day there, he is breathalised and provides a positive test. Don has a go at him when he turns up to the school late on his first day. Don then had Rob fix his oven. Whilst he was doing that Irene walked in to find Rob and Roxy kissing on the floor, though they manage to convince Irene to keep it a secret from Don.
Rob and Roxy were then trusted to look after one of the teenagers party's at Alf's house, when Shannon and Selina began arguing over Curtis, Rob was forced to turn the hose on them. However, after that instead of supervising the kids Rob and Roxy end up kissing in the shower and the microwave gets stolen. Whilst in the shower Rob discovers a lump on one of Roxy's breast and it's discovered she has breast cancer. Roxy then tries to push Rob away, saying that she doesn't want him to go through the breast cancer ordeal. They don't split up however, Roxy begins to feel that Rob doesn't want to touch her anymore. A conversation in the surf club solves that problem.
Donna then arrives in Summer Bay as a teacher and counsellor at the school and she begins flirting again with Rob. However Donna was warned off Rob by Ailsa, who told her about Roxy's cancer. Rob was then to drive the boat the brings Santa ashore at Christmas in Summer Bay. The boat broke down however and Alf joked after airlifting Irene to safety that they would come and collect Rob next Christmas. We weren't so lucky, as Rob returned in 1995