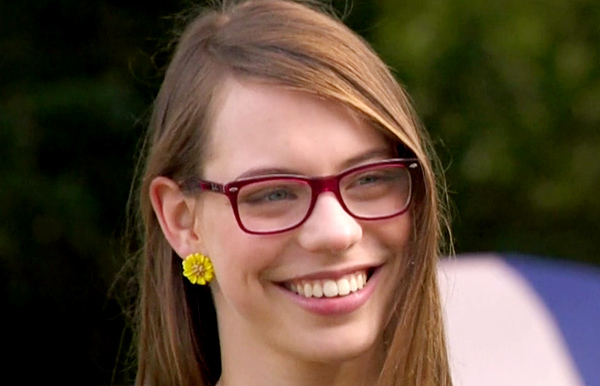 Skye Peters (2015-2016)
Marlo Kelly
Episodes: 6330–6445
Parents: Carol Peters
Siblings: Lisa Peters (deceased)
Occupation: Student
---
When Jett asked John if a friend could stay with them while he was visiting Summer Bay, John was somewhat thrown that the friend turned out to be Skye, Jett's new girlfriend. Skye explained that she went to the sister school of the military school Jett attended and they had met while working behind the scenes on a joint musical. She claimed that her mother was away and Jett introduced her to VJ and Phoebe, but John realised she was hiding something. She explained that her mother Carol blamed her for the death of her sister Lisa in a car crash; she had swapped seats with Lisa shortly before the crash because she wanted to sit in the shade and Lisa's side had taken the impact. As a result, she had run away from home. When John offered to go with her to see her mother, Skye initially ran away, but after a chat with Leah she returned and agreed.
When John and Jett returned with Skye to her home town, they ran into a boy, Christian Thomas, who branded Skye a liar. Skye ran away again and when John tracked her down she admitted that Christian had been a friend and she had told lies to him after Lisa died but insisted she was telling the truth about Carol. They met with Carol, who told them she'd been worried about Skye and apologised for her treatment of her. Skye was relieved that things seemed to be sorted and said goodbye to John and Jett. However, after they had gone, Carol turned on Skye for bringing people into her home to judge her, locking her in her room and confiscating her phone and laptop.
A few weeks later, Skye turned up at John's having got away by breaking a window and he helped her take out an AVO against Carol. He then offered to let her stay with him. She befriended Oscar and helped him deal with Maddy getting together with Matt straight after they broke up. However, Carol then turned up and tried to force her to go home with her, denying mistreating her and telling her to write a farewell note. Oscar arrived and helped Skye stand up to Carol, with Skye telling her Lisa's death was her fault for speeding. Carol broke down and was taken away for psychiatric care. Oscar supported Skye when she visited her and convinced her to stay in Summer Bay. When Jett broke up with her, not wanting to pursue a long distance relationship, she worried John wouldn't want her anymore but he assured her she was still welcome; however, he then had to go and see Marilyn, who had been in a hiking accident in Europe.
John arranged for her to stay with Irene but her arrival brought a jealous reaction from Olivia. She befriended Hunter but was upset when she overheard Olivia badmouthing her to him. Hunter took her along to basketball practise to cheer her up and afterwards Olivia apologised for her behaviour. They then teamed up to lecture VJ and Hunter when they got into a fight in class. On learning Zac was being held on remand for Charlotte's murder, Skye went to the caravan park with Olivia to support their friends. Having a crush on Oscar, she invited him for a pizza at Angelo's to cheer him up and got dressed up for what she thought was a date, dispensing with her glasses for the first time; however, he had invited Matt, Maddy, Josh and Evelyn along, and by the time Skye arrived he was kissing a uni classmate, Zara Leonard. Skye confided in Olivia that she had feelings for him but insisted she was going to get over it.
She was introduced to Claire Lewis, who Irene believed to be her long lost daughter, and was a reluctant sidekick to Olivia in her attempt to prove that Claire was an imposter. Despite trying to avoid Oscar, she helped his family prepare a special lunch for Leah and stand up to a lynch mob at the caravan park. VJ convinced her to sneak into a uni party with him where she was frustrated to see Oscar hook up with two different girls and ruined his chances with the second one by telling her about the first. Afterwards, Oscar told her that he wasn't ready for another serious relationship. When Evelyn asked her how she was, she realised she knew about her crush on Oscar and, believing he'd told her, angrily told him she was over him.
She was unable to side with Olivia over Hunter when Lindsay Ford caused trouble between them but did try to cheer her up with movies and cake. When VJ innocently took them to Lindsay's beach party, Skye stood up to Lindsay and covered for Olivia when she nearly hit Lindsay at work. She asked VJ to teach her to surf and realised he liked Billie when he spent most of the lesson watching her. VJ convinced her to pretend to be his girlfriend, suggesting it might make both Billie and Oscar jealous. However, she was upset when VJ kissed her as part of the act, telling him a kiss should mean something, although they soon made up. She supported Olivia when she found out she was pregnant and let Irene know what was going on.
She befriended a young man she found with breathing difficulties, who introduced himself as Wayne, and invited him along as her date to Josh and Evelyn's engagement party, only to find out he was Tank Snelgrove, who had abducted Evelyn and put Josh in a coma the previous year. However, after chatting to him she became convinced he'd changed, despite Irene and Oscar both warning her off. She was disgusted when VJ punched Tank on seeing them talking, and when Tank offered to stay away from her she kissed him. However, she refused his suggestion that they go back to his place. VJ saw them kissing and told Evelyn, who also tried to warn Skye off. Skye spoke to Tank and they admitted that they'd both been using each other, since Skye still had feelings for Oscar and Tank had them for Evelyn. She told Evelyn in the hope it would convince people they were wrong about him but instead it just increased the hostility; Oscar offered to hang out with her but she realised it was just to keep her away from Tank and told him she didn't need pity, while even Olivia dubbed her stupid when she tried to confide in her.
When she learned Tank had been injured in the explosion that killed Oscar and Hannah, she went to see him in hospital but left when he told her he had accidentally caused the explosion, telling him he really was the monster everyone claimed. She tried to confide in Olivia at the wake but Hunter overheard and announced it to the gathering, forcing Skye to have to share what she knew with everyone. When Tank kept messaging her, she went to the hospital to tell him to leave her alone and he revealed it was actually Andy who caused the explosion. He asked her to keep quiet but when Evelyn thanked her for telling them about Tank she told her and Josh the truth. Neither John nor Tank was happy with her for sharing the information and John tried to order her to stay away from Tank but she ignored him and sneaked off for a liaison on the beach, although Tank was reluctant to get intimate with her, knowing she was inexperienced. She insisted she loved Tank and, when John stole her phone, accused him of being like her mother. She invited Tank round and slept with him. Olivia was sympathetic when she confided in her but she ended up in another argument with John when he found out she'd met Tank on the beach.
She was disgusted when someone let down Tank's tyres and ended up in another row with John in which she revealed they'd slept together. She learned Greg was planning to take a job in the city so he and Tank could have a fresh start and asked to go with them. When Greg refused, Skye convinced Tank to run away with her, even though it meant violating his parole, and left a note behind for John, also visiting Olivia to say a subtle goodbye. She ignored their attempts to call her as they left town and notified DoCS as to her new address. She returned briefly to collect her things and say goodbye to John, telling him she needed to stand on her own, and left behind a photo of the two of them that he tried to give her. A few days later, Roo assured John that Greg would keep an eye on Skye; the implication was that Skye and Tank had ended up living with him in the city after all, but this was never stated outright.