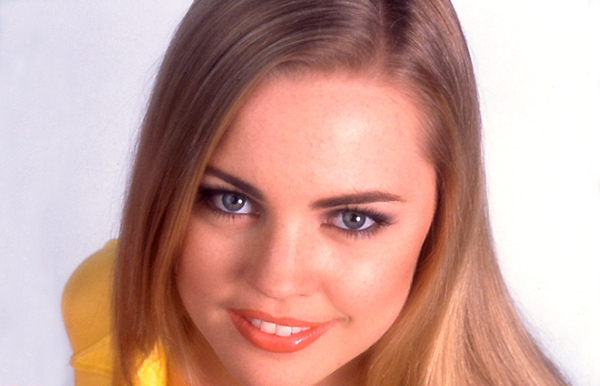 Angel Marie Brooks/Parrish (1993-1996)
Melissa George
Episodes: 1202–2000
Parents: Raymond & Sarah Brooks
Siblings: Francine Brooks
Marital Status: Shane Parrish (1995-1996); Simon Broadhurst (c. 1997-present)
Children: Dylan Parrish, Shane Parrish Jr. & Colin Broadhurst
Occupation: Student; Waitress
---
Teenage runaway Angel Brooks arrived in the Bay in 1993, and got off to a bad start by selling Shane Parrish fake concert tickets. Shane pestered her to pay him back, which she did eventually.
Angel had been living on the streets and collapsed of an infection and was hospitalised soon after her arrival. Damien, visited her in hospital and took pity on her, even trying to get Pippa to take her in. Pippa didn't have room but persuaded Fisher to take her in instead even though Shane was also living there. There were constant arguments between the two but there was also a very obvious chemistry between them.
Angel and Shane fell in love and in 1993 and initially tried to keep their relationship a secret from Fisher but he walked in on them kissing and the truth came out. Very little was known about Angel at first but her biggest secret was soon to be revealed when Shane, doing work experience at the police station found out that she had a son. Angel was furious, and so was Shane who publicly dumped her, saying he did not want to be associatedv with someone who had a child at fourteen and gave it up.
Eventually Shane's brother Nick persuaded him to talk to Angel and she told him her mother had thrown her out when she was pregnant and she had been forced to give her son up to the father's mother. Shane persuaded her to find her son, and helped her to trace him. Initially, her son Dylan caused friction between Angel and Shane but the matter was resolved and Angel was pleased when Shane and Dylan got on so well together.
Now solid in their relationship, Angel and Shane began planning their wedding but disaster struck when Alf accidentally knocked Angel down while she crossed the road. With Angel in a wheelchair, wedding arrangements were going to be called off but she was determined that they go ahead. She married Shane in 1995, in one of the most moving moments in home and away history when Angel stood up and shakily walked down the aisle.
For a while things went well for Shane and Angel but it wasn't to last. Problems occurred when Shannon set her cap at Shane and tried to seduce him from Angel. Though nothing happened between them, Angel was led to believe that Shane had cheated and she decided to leave the bay in a seaplane, which crashed. Angel and Dylan were later found and reunited as she apologised to Shane for not trusting him.
More problems followed when Dylan was diagnosed with lukeamia and Angel seriously contemplated having a child with Dylan's Dad in order to provide a bone marrow donor for him. Her plans were scuppered though when she fell pregnant herself with Shane's baby. Luckily Dylan survived anyway after extensive chaemotherapy and Shane and Angel began looking to the future.
Things couldn't stay happy for the Bay's golden couple for too long though and more disaster was to strike when Shane was knocked off his motorbike and was seriously ill in hospital with a damaged spleen. He seemed to recover and things were great for a while but the worst was still to come when on a picnic to celebrate their anniversary Shane collapsed. With passing tourists trying to help her, Shane was taken to hospital but it was already too late. In one of the biggest tear jerkers in home and away history Shane died in Angel's arms.
Angel was grieving for a long time but she found some peace when she went into labour during one of the worst floods in home and away history. unable to get her to a hospital Alex and Shannon instead attempted to get her to Pippa;'s. Their way was blocked though until a mysterious figure on a motorbike led them safely through the bush. Angel was taken safely to Pippa's and gave birth to a healthy girl who she named Shane. Convinced that the mysterious biker was Shane, who had guided her and her baby to safety, Angel finally found comfort from his death.
When Englishman Simon Broadhurst, arrived in the Bay, he became detirmined to investigate the matter of who knocked Shane off the bike. Eventually it was revealed that the policeman, who had been so supportive of her since Shane's death was actually the person responsible for knocking him off his bike and subsequently causing his death. Simon declared his love for Angel but she felt it was too soon after Shane's death so he left to return to England.
When Summer Bay was hit by an earthquake Angel's house was one of the casualties. She was devastated at losing the home she had shared with Shane and began to question whether she should stay in the bay. When Simon returned and told her again that he loved her, Angel decided life was too short and made the decision to leave the Bay with him.
In 1996 (episode 2000) an emotional Angel and Dylan left the Bay to start a new life with Simon in England.