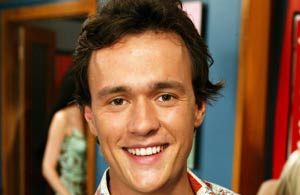 Ashton Nader (2006-2007)
Ben Guerens
Episodes: 4297-4348
Marital Status: Rianna Nader
Children: Jessica and Declan Nader
Occupation: Police Officer
---
First appeared in episode 4297 when he chatted Martha up in Noah's Bar and then spent the night with her. The next day when Martha arrived at the hospital to see ex-husband Jack who had been badly beaten, she was introduced to Jack's old friend Chooka, none other than Ash. After some soul searching Martha and Ash finally told Jack about them and after Jack guttedly realised that his marriage was over, her gave them his permission and with Ash now based in the Bay as a police officer, they started dating.
Martha's Auntie Morag though took an instant dislike to Ash and on questioning Tony, it was revealed that Ash had once run away from his responsibilities. When confronted by Martha he owned up to it as a mistake and Martha forgave him. Morag though remained unconvinced and was certain he was hiding something and set about trying to figure out what.
Initially she believed he was corrupt and involved in Johnny's gang but in the season finale Ash's secret was revealed. He was actually married with two children.
Ash managed to keep up the pretence though for a few more weeks until his wife and children turned up in the Bay to surprise him. Initially managing to keep his wife from speaking to anyone involved with Martha, Ash was rumbled when Morag spotted him and asked questions, only to have Ash's wife confirm that they were married.
Confronting Ash with an ultimatum he admitted the truth to Martha but managed to convince her that he was ready to end things with his wife, that Martha was the one he wanted to be with and much to her family's horror, Martha believed him. However Ash continued to live his double life and when Ash's wife once again showed up in the Bay Martha was forced to pretend that she was a work colleague of Ash's.
Ash's lies caught up with him though when Jack took a phone call from Ash's wife and realised he was still very much married. He told Martha the truth but Martha initially reacted angrily, refusing to believe him but the doubts had been planted and Martha went to his house only to find his wife oblivious and Ash still keeping up the pretence. Realising he had lied to her, a devastated Martha banished him from her life and Ash returned to his family without knowing that Martha was pregnant with his child.