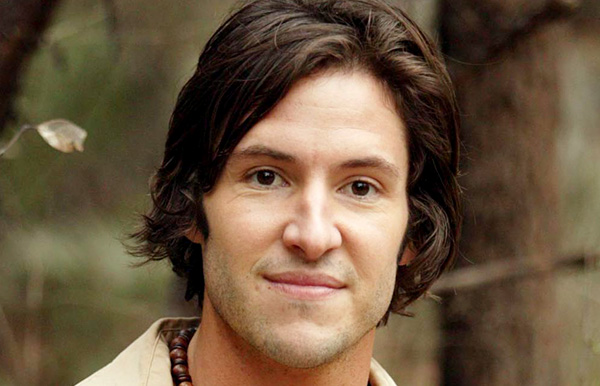 Michael "Jonah" Abraham (2005-2006; 2007)
James Mitchell
Episodes: 4090–4133; 4505–4559
Foster Parent: Florence "Mumma Rose" White
Occupation: Farm labourer
---
The son of the infamous Mumma Rose, the leader of a sect called the Believers, Jonah was first heard of after Tasha went to visit her sick brother Dylan and was comforted by what Jonah had to say. Back in the bay she convinced Robbie to invite Jonah and some of his friends over for dinner and despite his initial scepticism, he was soon won over by them. Tasha continued to fall fast to The Believers' ideals and Jonah tried to convince her to join them. Robbie was horrified when she told him of her indecision and gave her an ultimatum, Tash chose the Believers.
At the camp Jonah and Tasha were caught in a cyclone and when Robbie came looking for Tash and tried to convince her that Mumma Rose was evil, Jonah insisted he leave. As he left the camp Robbie was pushed in the river and when he was seen clinging to a tree branch by tash and Jonah, Jonah reached out a hand to rescue him. He lost his grip though and Robbie was washed downstream. He later accused Jonah of pushing him.
After finding out that Mumma Rose had taken Tasha's mobile phone, he confronted her and also asked her about pushing Robbie. She admitted it and suggested that Jonah should get rid of Robbie before she had to do it for him. Jonah received a tip off that an ex believer Rebecca was on her way into town and promised to take care of it. Rebecca later disappeared and Jonah was almost caught by Tasha, washing blood off his hands. Mumma Rose threatened Jonah to keep things moving with Tash and he used chopping wood as a way to get closer to her. They shared a kiss and Tasha admitted to another believer that she was confused about her feelings for Jonah.
Martha arrived at the commune seemingly wanting to spend time with Tasha and instantly aroused Mumma Rose's suspicions, but Jonah convinced her that Martha was good for Tasha. After telling Mumma Rose that he needed more time with Tash, she insisted that she'd do things her way and drugged Tasha's drink. The next morning Tasha told Jonah that she felt sick but he told her that a few people at the commune had food poisoning. Jonah later told Mumma Rose that Tasha had no recollection of what had happened the night before. He was involved in holding Martha hostage after she uncovered the truth about Rebecca but when she got away, the police turned up to arrest him. He was threatened by Jack but refused to admit anything and Tasha continued to believe him. Jonah was seen paying off Josh West to keep the commune and asked for another favour. When Martha's test results returned, they showed no traces of having been drugged, further convincing Tasha that Martha was lying.
Tasha overheard Jonah and Mumma Rose talking and realised that Martha was right. She made several attempts to escape but Jonah unwittingly stopped them all. Tasha overheard Mumma Rose and Jonah talking about Rebecca, and tried to help her escape but they were caught by Mumma Rose and Jonah, who tied Tasha up on Mumma Rose's orders. Visiting Tasha with food, Jonah was moved by her pleas to help her and slipped her a key. He was caught by Charity but Jonah insisted that it was his word against her's. Jonah lied to Robbie when he came looking for Tash and rescued Tasha from the Shed after she set it on fire while trying to escape. He told Tasha what The Chosen One meant but Tasha insisted that it wasn't true but that Jonah was a good person and that he could help her escape.
He tried his best but they were both caught and restrained and he suffered a severe beating. Later he confided in Tash that his whole life had been a lie but she insisted he was a good person and with Rebecca's help they made another escape attempt. A weak Jonah was recaptured and Tasha was caught trying to help him but she turned The Believers on Mumma Rose by insisting that she was the chosen one and that they should obey her. In the meantime Rebecca had alerted the police and the camp was raided. Robbie tried to attack Jonah but Tasha defended him and he later confessed everything to the police and was arrested.
Not long after, Tasha found out she was pregnant and it dawned on everyone that she had been drugged and raped. Robbie went to the prison to confront Jonah but was refused access. Charity confirmed his suspicions however and told him Jonah regretted what had happened.
Two years later, when Martha ran out of petrol, she flagged down a passing ute and found out it contained Jonah. Terrified, she locked herself in her vehicle. Jonah left but later returned, left a full petrol can and apparently left again. In fact, he watched from further down the road as Martha and Irene filled up the car. He was accosted by Jack but insisted he had simply been waiting to retrieve the can. Jack took Jonah to the Diner and told the locals that Jonah had been paroled. Jonah explained he was in town to sell the Believers' farm and had taken up a labouring job at a farm nearby. He later grabbed hold of Martha when she left the Diner and asked her to let him explain but she ran off when he screamed.
Jonah was next encountered by Geoff and Annie when they went to visit their estranged grandfather Bruce in hospital: Jonah was working for him on his farm, using the name Michael. Annie went to visit him on the farm and, when Irene and Geoff turned up, Irene was shocked to discover Jonah and Michael were the same person. Jonah insisted he had simply reverted to his birth name but Irene told him to stay away from Annie.
Annie however insisted on giving him the benefit of the doubt and used him to pass on messages to Bruce. Irene tried to call a town meeting to let everyone know Jonah's past but Bruce put a stop to it. Frustrated, Martha went to the farm and vandalised Jonah's car. Jonah caught her and chased her, with them ending up in an old mineshaft that promptly collapsed on them. Jonah took the opportunity to tell her the full story: He had been fostered by Mumma Rose who drugged and brainwashed him into believing he was her son Jonah, who had died in a car accident. After that, she set up the Believers cult to convince herself "Jonah" was important. He also revealed that tests in prison had shown he was infertile and thus couldn't be the father of Tasha's baby: He had been drugged himself and hadn't realised another member of the cult had raped her. Since Tasha and Robbie had since left the bay and were bringing up Ella as their own, Martha agreed they shouldn't pursue the matter.
Having failed to attract the attention of searchers, Jonah and Martha had to spend the night together trapped in the shaft, huddled together for warmth. Next morning, they were separated by a further collapse but Jonah managed to attract the attention of Annie and first he and then Martha were rescued. Although many locals remained suspicious, Martha softened towards him somewhat. When corrupt cop George Watson threatened to cancel his parole for drinking on the beach, Martha stepped in, saying he wasn't aware of local bylaws, and called him Michael for the first time.
Despite this, Alf and Martha were concerned when he followed them from the hospital, but when Jack pulled him over he explained he had simply been trying to return Martha's wallet, which she had dropped. Soon after, Michael was the one who found Annie collapsed at the farm from pleurisy. Martha got him to convince Bruce to visit her: Bruce, who had a heart problem, was worried about letting his grandchildren see him die. Bruce was reconciled with Geoff and Annie but Irene refused to let Annie return to the farm if Michael was there, prompting Michael to move out to the Believers' old farm.
George and Jack found Michael changing a tyre and George demanded $300 to not report him for missing a check-in at the police station. Michael confided in Martha and also told her he'd been having dreams about her since they'd been stuck in the shaft, which Martha had as well although she denied it. Michael agreed to help Geoff on the farm and got Martha and Lucas to help as well. He and Martha kissed but the moment was broken when Bruce died of a heart attack.
It was discovered that Bruce had made Michael trustee of the farm and guardian of Geoff and Annie until they were old enough to take over. Alf and Irene suspected him of conning Bruce but Martha defended him. Michael and Martha ended up sleeping together in the barn only to be discovered by Annie. She told Geoff, who threw Michael off the farm and barred him from Bruce's funeral. Michael stayed with Martha at the Diner flat and they went to the funeral together; Annie defended them so Reverend Hall reluctantly let them sit at the back. Afterwards, Geoff and Michael cleared the air.
However, when Michael looked over the farm's papers, he learned they were heavily in debt and the bank were about to foreclose, having to break the news to Geoff and Annie. He accompanied Martha when she broke into the repossessed farm to try and retrieve some of the Campbells' things, which resulted in them being arrested and him almost losing his parole. Michael tried to plead the Campbells' case and even tried to sell his farm cheaply to pay off the debt but in the end could only get them permission to retrieve personal belongings, as well as looking after their dog Scruffy.
Michael and Martha's relationship began to falter when Jack being shot brought up old feelings between the two of them, despite Jack being engaged to Sam. Michael told Martha he loved her but, despite insisting it was him she wanted to be with, she was unable to fully reciprocate. Jack visited Michael's farm on official business to do with his parole, resulting in a heated row after which Jack accidentally ran over Scruffy. The dog recovered but it caused further tension with Jack and Sam, especially after Martha was caught trying on Sam's wedding dress.
After Martha was assaulted by the hospital attacker, Michael argued they should move away together. He got in an argument with Jack over his dragging Martha into his relationship issues and ended up punching him. With the farm sold, Martha agreed they should leave town and they had a farewell dinner with their friends. Jack failed to turn up and Michael went looking for him, only to tell him not to come, and told Martha he was busy with work. Annie also agreed to them taking Scruffy, since she couldn't look after him at the beach house.
Michael and Martha travelled through several coastal towns looking for work but Martha always wanted to move on and Michael suspected she wanted to stay away from Jack. He drove back to Summer Bay with her asleep in the ute and told her to resolve her issues. Martha told him Jack was happy with Sam but Michael deduced she'd be with him if he wasn't and refused to be second best. After spending a last night with Martha at her flat, Michael left town for good with only Scruffy for company.